Side-opening Aeroplane Sheds
The earliest known aircraft hangars or sheds were side-opening aeroplane sheds. The first of these was built at Leysdown in Kent for the Short Brothers and then moved to Eastchurch by 1910. The sheds became the standard Royal Flying Corps (RFC) hangar until approximately 1916. Rare examples survive at Montrose with three built in a crescent shape. The Montrose hangars are coupled but they were also built as single sheds. Construction materials varied with examples using steel, timber, concrete, corrugated iron or corrugated asbestos sheeting.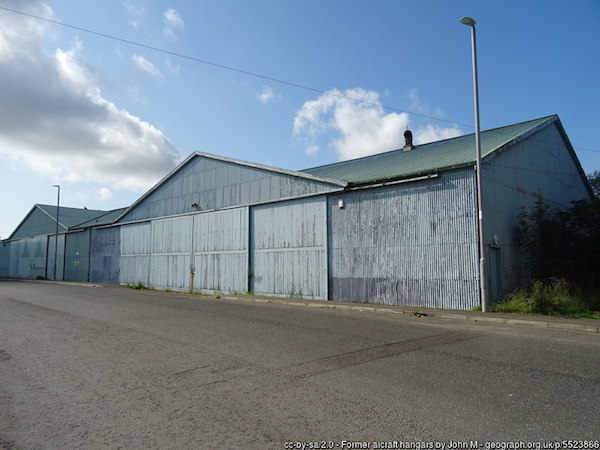 Side-opening Aeroplane Sheds at Montrose.
General Service Aircraft Shed (Belfast, Belfast Truss)
General Service Aircraft Sheds, also sometimes known as Belfast or Belfast Truss hangars, started being built from 1916. There were varying types, and from 1917 the hangars were built with a distinctive latticed Belfast Truss roof. Later sheds were constructed with brick and timber wall posts, replacing timber cladding or cement. Coupled General Service sheds were relatively common, two examples survive at Leuchars in Fife and have been in constant use since 1918.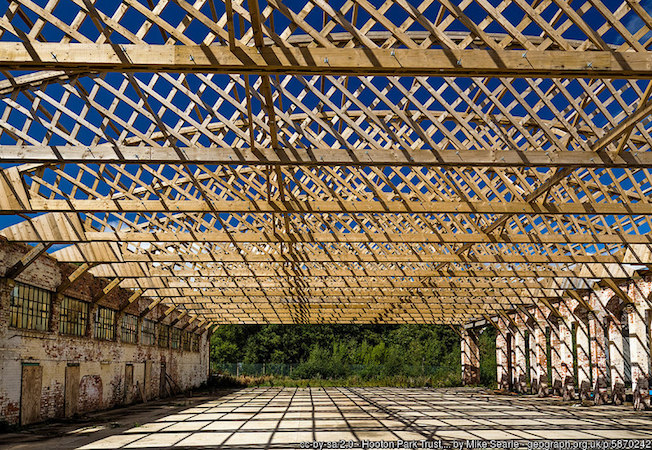 Work in progress on the restoration of a First World War Belfast Truss hangar roof at RAF Hooton Park.
Bessonneau
The Bessonneau hangar was the first transportable hangar used by the RFC and later the RAF. The French designed hangar was first used by the RFC in the First World War and remained in use until finally being replaced by the Bellman hangar from 1936. Built using timber and canvas, they were designed to be rebuilt by 20 people in just 48 hours. The last surviving Bessonneau hangars were at Halton, Odiham and Weston-super-Mare but none now survive.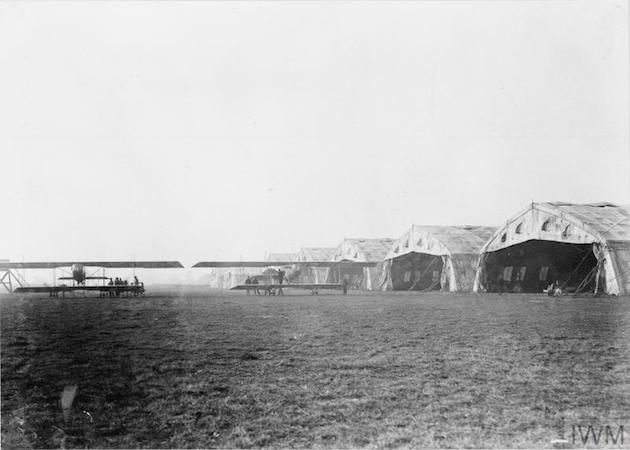 Bessonneau hangars at Ford, 24 October 1918. © IWM (Q 113464)
Bellman
The Bellman hangar was a transportable hangar designed in 1936. The relatively simple unit system of construction meant that it could be erected and dismantled by unskilled workers relatively quickly. Primarily made of steel, around 400 Bellmans were built between 1938-40. One of the main issues with these hangars was a lack of roof height. However, there are many examples still in use at airfields in Britain today, including Cosford in Shropshire and Yeovilton in Somerset.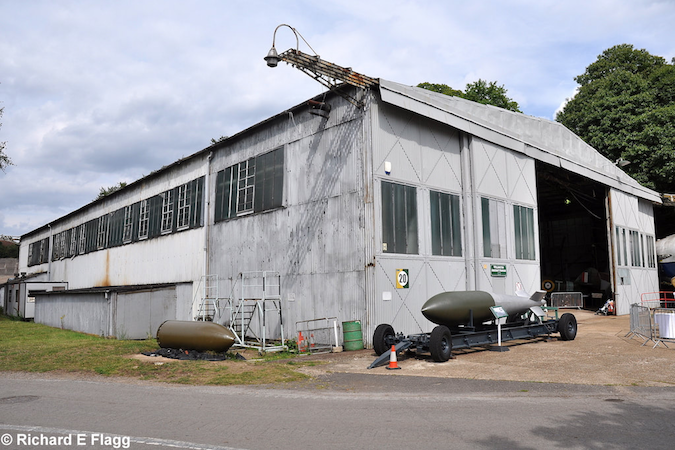 A Bellman hangar (the Wellington hangar) at Brooklands, 8 August 2010. © Richard Flagg
Blister
Blister hangars were relatively small, temporary arched sheds built from either timber or steel. They were designed in 1939 and used throughout the Second World War. The first example appeared at Biggin Hill, south of London. After the war many were put to use as agricultural or industrial buildings and some are being used at airfields today, for example at Denham in Buckinghamshire. Over 3,000 were built in the UK and abroad.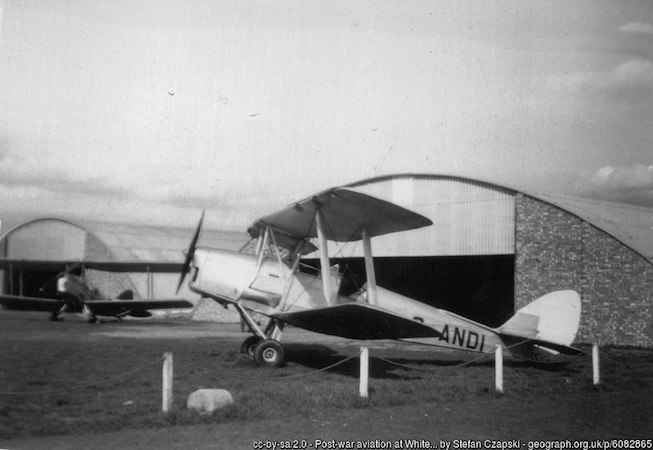 Blister hangars and de Havilland Tiger Moths at White Waltham, 4 April 1960.
T2
After it was decided that the Bellman hangar was obsolete, Type T hangars were developed with higher roofs. The most successful of these was the T2. These metal hangars became the standard temporary hangar for the RAF during the Second World War and over 900 were built after a development period of two years. Examples survive around Britain, such as at Desborough in Northamptonshire.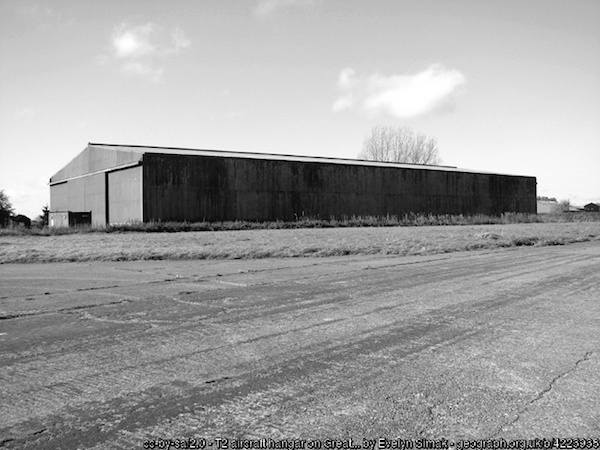 A T2 hangar at Great Massingham, 27 October 2014.
Type C
The airfield Expansion Period, from 1934-39, led to the need for a new permanent hangar for RAF airfields, catering for the need to house larger aircraft. This hangar became known as the Type C and allowed aircraft manufacturers to produce aircraft with a wingspan of over 100ft. The steel structures initially had walls clad with brick, part of an effort to be in keeping with other buildings and the surrounding countryside. This was later changed to reinforced concrete for increased protection from bombing. Type C hangars were built at almost every early Expansion Period airfield with examples surviving at airfields around Britain, such as at Hemswell in Lincolnshire.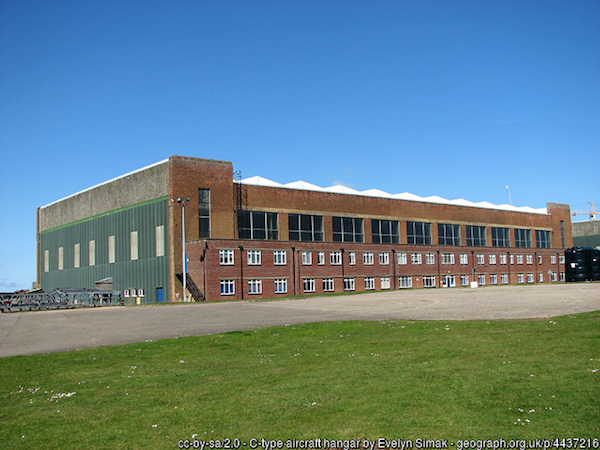 A Type C hangar at Bircham Newton, 18 April 2015.
Type J and Type K
These hangars were essentially the same design, but used for different purposes. Built from 1939, Type J hangars were used for aircraft maintenance on operational airfields while Type K designs were used for the storage of aircraft on Aircraft Storage Unit (ASU) airfields. Arched steel trusses were supported by steel columns, with a roof of thin steel plates. Annexes were built from brick or concrete and used as offices and workshops. Examples of both types survive at a number of airfields, for example Swinderby in Lincolnshire (Type J) and Hawarden in Flintshire (Type K).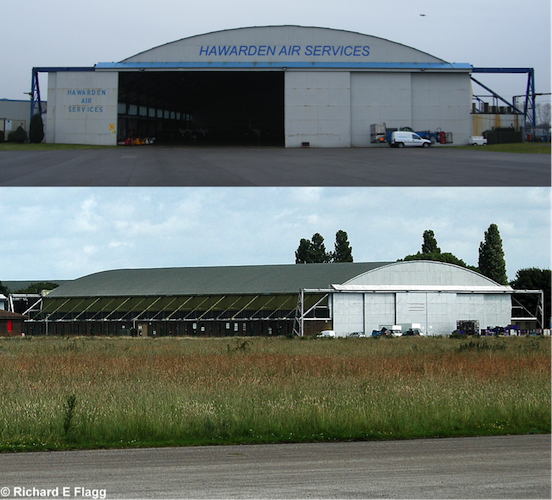 Above: A Type K Aircraft Shed at Hawarden, 2012. Courtesy of the Clwyd-Powys Archaeological Trust
Below: A Type J Aircraft Shed at Swinderby, 1 June 2007. © Richard Flagg
Type L
As aircraft production increased with the start of the Second World War, the need for aircraft storage increased. This led to the design and production of the Type L hangar, similar in design to the preceding Type E. This type was constructed using a series of closely spaced triangular steel arches, which were then covered with a layer of concrete, earth and turf. Sliding steel doors gave an opening of 70ft. These hangars were primarily built at aircraft storage facilities. Various examples survive around Britain, including at Wroughton near Swindon and Llandow in the Vale of Glamorgan.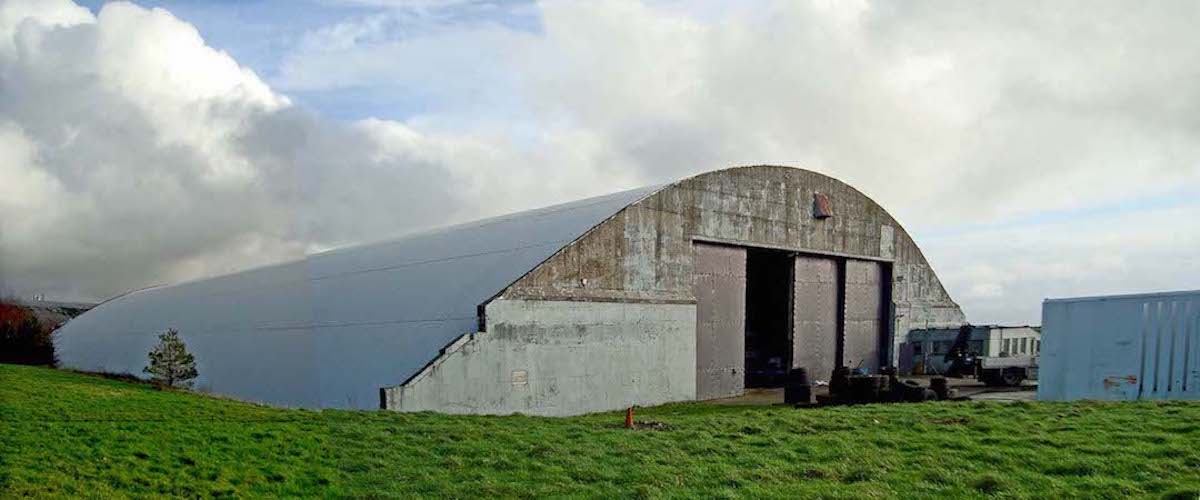 A Type L hangar at Llandow, 2012. © Copyright GGAT HER Charitable Trust/Cadw
Lamella
Lamella hangars were developed from the German Lamellendach (segmental roof) design. The first hangar of this type was built at Heston in 1930 with a maximum span of 82ft. There were a few variations of the design and could be constructed using concrete, timber or steel. A number of examples survive around Britain, for example four at Kemble in Gloucestershire that are Grade II listed.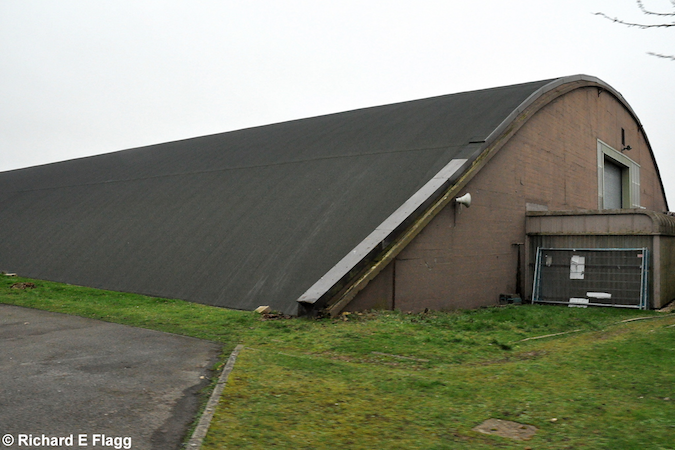 A Lamella hangar at Brize Norton, 13 February 2013. © Richard Flagg
Share this page