| | |
| --- | --- |
| Also known as: | Broomfield / Broomfield Industrial Estate / Montrose Aerodrome / RAF Montrose / RFC Montrose |
| County: | Angus |
| Current Status: | Industry / Museum / Open land |
| Date: | December 1913 - 4 June 1952 |
| Current Use: | Disused |
| Used By: | RAF / RFC / Civil / RCAF |
| Landing Surface Types: | Unpaved, later metal |
One of Britain's most historic and best preserved disused airfields, Montrose came into being at the end of 1913 when No 2 Squadron moved there from its previous base of Upper Dysart, following the unit's epic movement to this more southerly location from Farnborough in the early part of that year. More pioneering long distance flights continued in what remained of peacetime.
Montrose fell quiet for some time after No 2 Squadron returned to Farnborough in June 1914 but became fully active again from the summer of 1915 as a major World War One airfield for flying instruction. No 6 Reserve Aeroplane Squadron headed a number of other squadrons – including some bound for Canada – which eventually merged to be known as No 32 Training Depot Station (TDS) in July 1918, by now operating familiar aircraft types of the day such as the Avro 504, Royal Aircraft Factory SE5a and Sopwith Camel.
The TDS closed in May 1919: its airfield similarly shut down during March 1920 but reopened for further military training duties on 1 January 1936 by holding in turn No 8 (Service) Flying Training School and then, from the start of 1942, No 2 Flying Instructors School. Over time aircraft progressed from more advanced biplane types such as Hawker Harts and Audaxes as owned by No 8 SFTS to Airspeed Oxford, Miles Magister and Master plus North American Harvard monoplanes once No 2 FIS primarily gained control of Montrose. However, the airfield's strategic position was also considered important enough to see various RAF Fighter Command Hawker Hurricane and Supermarine Spitfire squadron detachments being based here in the first half of World War Two, Montrose suffering considerable damage and fatalities during the Battle of Britain.
Once No 2 FIS disbanded on 11 July 1945, the airfield continued in RAF service by accommodating Maintenance Units, No 63 arriving from Woolsington in March 1947 and leaving for Edzell three years later. Montrose finally passed out of RAF parenting supervision to War Office control in June 1952 – though, even in this instance, 30 married quarters still remained under Air Ministry supervision for years afterwards – but continues to remain extremely prominent. Many buildings (including exceptionally rare pre-WW1 hangars) now formed part of the town's Broomfield Industrial Estate. In this south-eastern part of the airfield also exists the Montrose Air Station Heritage Centre, while the landing area continues to be mostly untouched with the metal runways still in place.
The following organisations are either based at, use and/or have at least potentially significant connections with the airfield (as at 01/09/2011):
Angus Council Economic Development Division
Charlton Garage
Crown Worldwide Movers Ltd
Embrion Ltd
Gindera Motors Ltd
Global Rentals UK 
Howdens Joinery
Jamie's Transport Services
JTP Autos Ltd
KRC International Ltd
Leiths Montrose Precast
Loch Duart Ltd
McKay's Transport
Mike Don
Montrose Air Station Heritage Centre
Montrose Business Centre 
Montrose GVTS
Montrose Library
Montrose Model Aero Club
Montrose Powder Coating
Montrose Roselea JFC
Munros Interiors
Pert Bruce Construction Ltd
Plasboard Plastics Ltd
Practical Car & Van Rental
(Royal Burgh of) Montrose Community Council
Safetykleen
Scottish Business In The Community - Angus
Sleepyhillock Cemetery
Sundolitt Ltd
Watson's Garage (Montrose) Ltd
Wilco Cabs
Main unit(s) present:
No 2 FIS
No 2 FIS (Advanced)
No 2 Sqn
No 3 Sqn
No 6 RAS
No 6 TS
No 8 Anti-Aircraft Practice Camp
No 8 FTS
No 8 SFTS
No 11 RS
No 17 Sqn 
No 18 RAS
No 18 RS
No 18 TS
No 21 Group
No 25 Sqn
No 32 TDS  
No 36 TS
No 39 RS
No 39 TS

41

st

Aero Sqn

No 43 Sqn
No 44 MU
No 52 TS
No 63 MU
No 80 Sqn
No 82 (Canadian) RS
No 83 Sqn
No 85 (Canadian) RS
No 108 Sqn
No 111 Sqn
No 132 Sqn

138

th

Aero Sqn

No 141 Sqn
No 145 Sqn
176th Aero Sqn
No 224 Sqn 
No 232 Sqn
No 233 Sqn
No 248 Sqn 
No 260 MU
No 263 Sqn
No 269 Sqn
No 310 Sqn
No 416 Sqn
No 598 Sqn
No 602 Sqn 
No 603 Sqn
No 614 Sqn 
No 1632 (AAC) Flight
No 2749 Sqn RAF Regiment
No 2789 Sqn RAF Regiment
Aerial Photos Ltd
BOAC
C.D. Barnard Air Tours Ltd
Photographs from the unveiling of the ABCT memorial marker on 19 May 2012: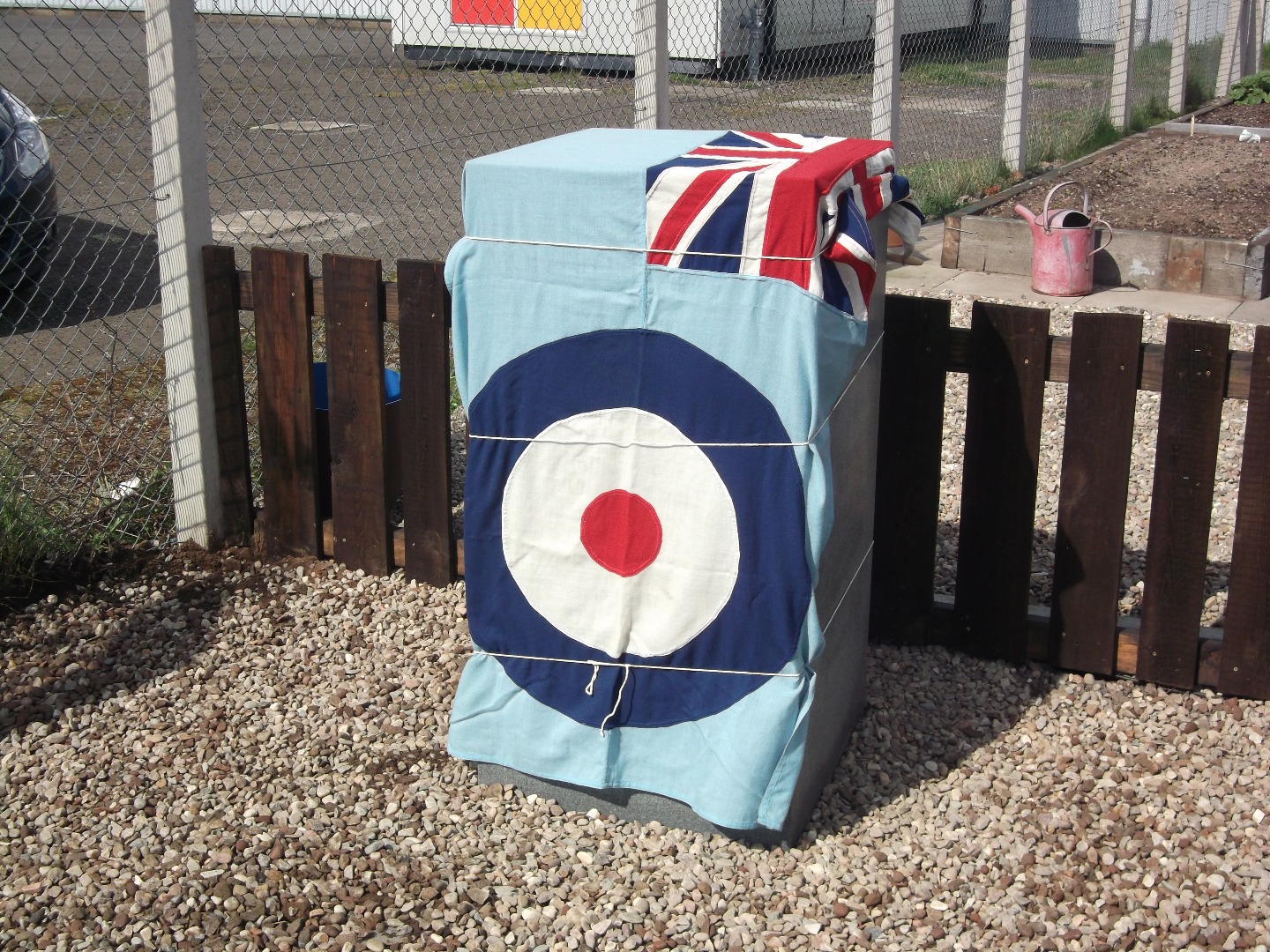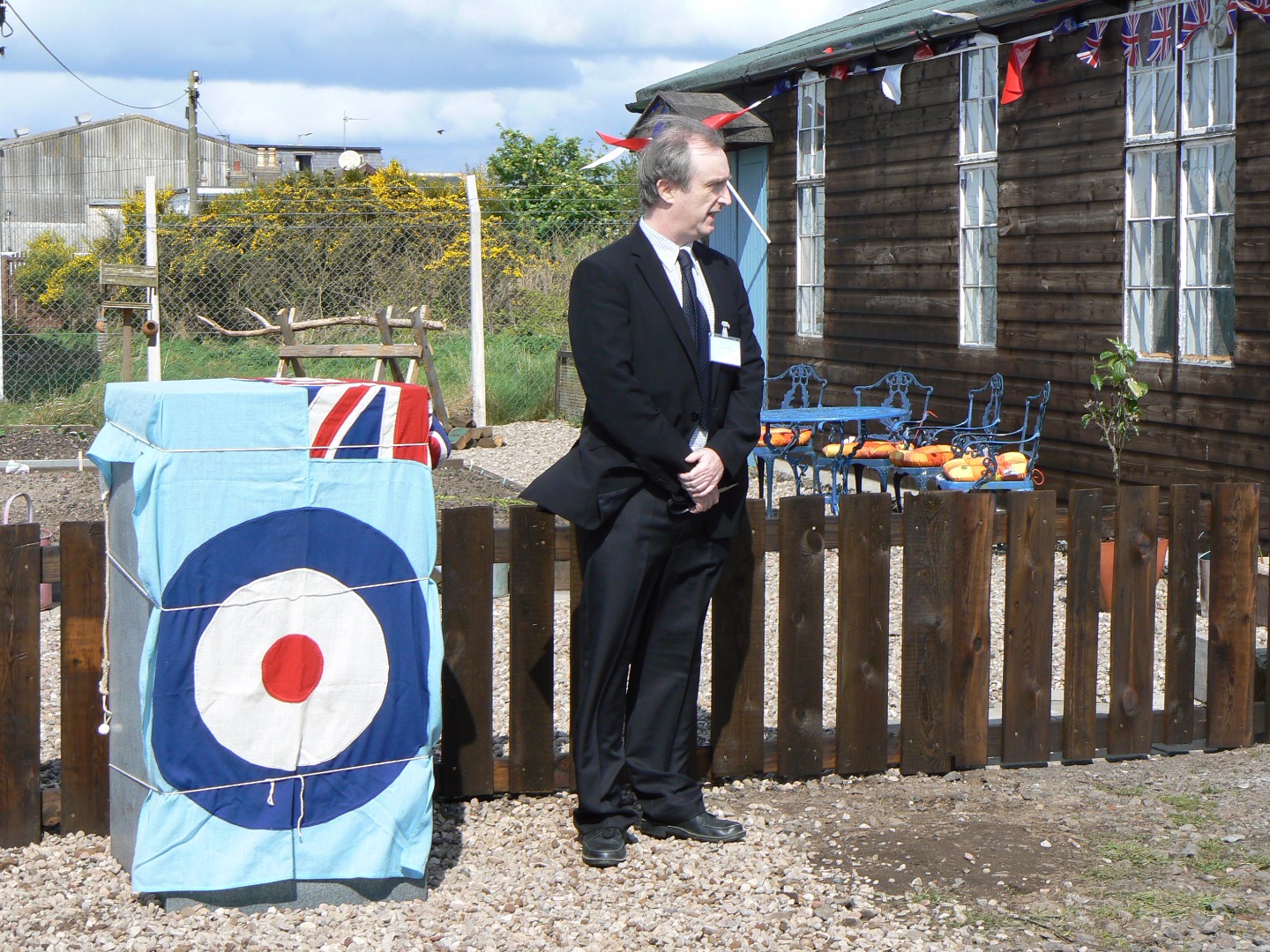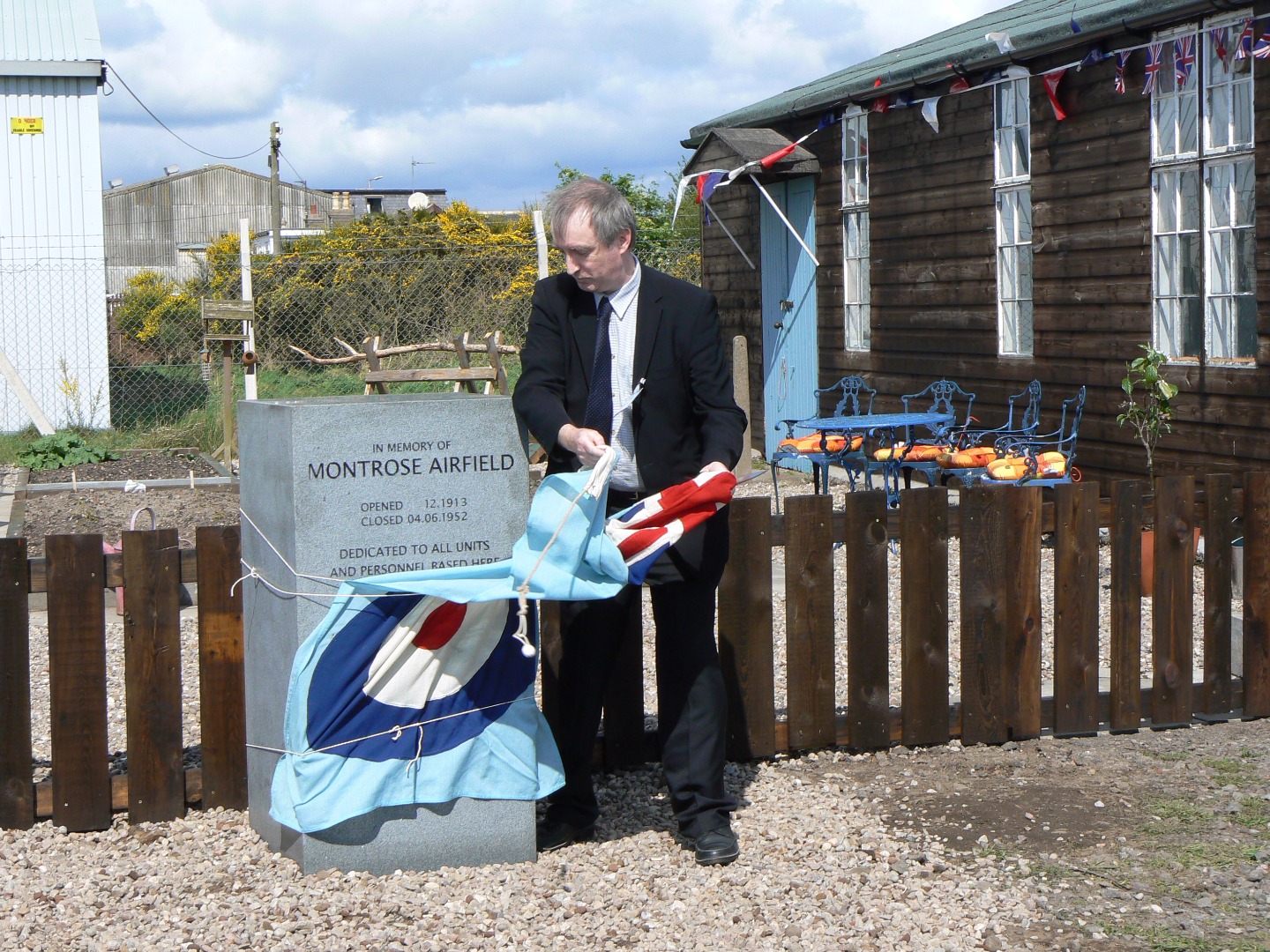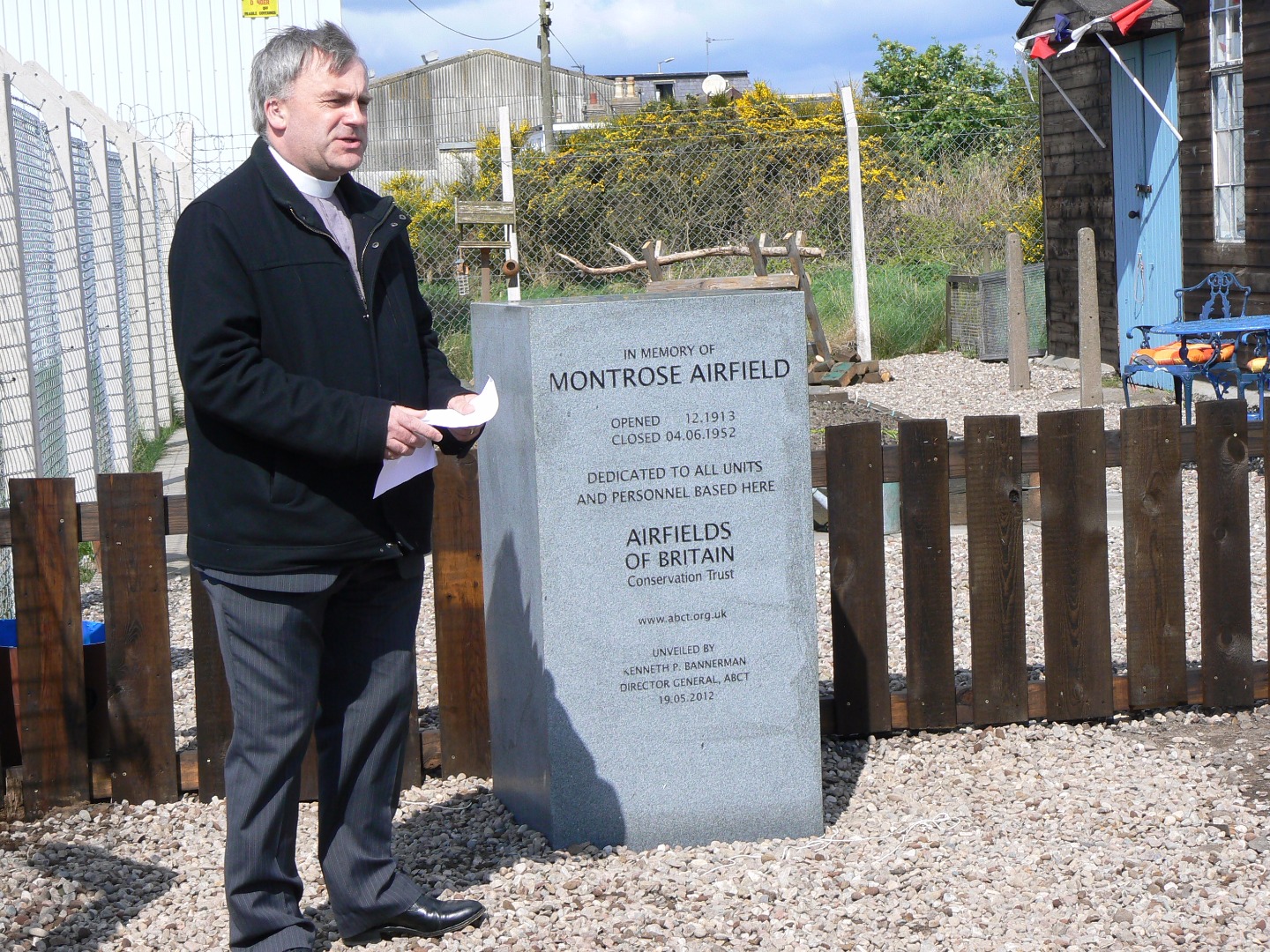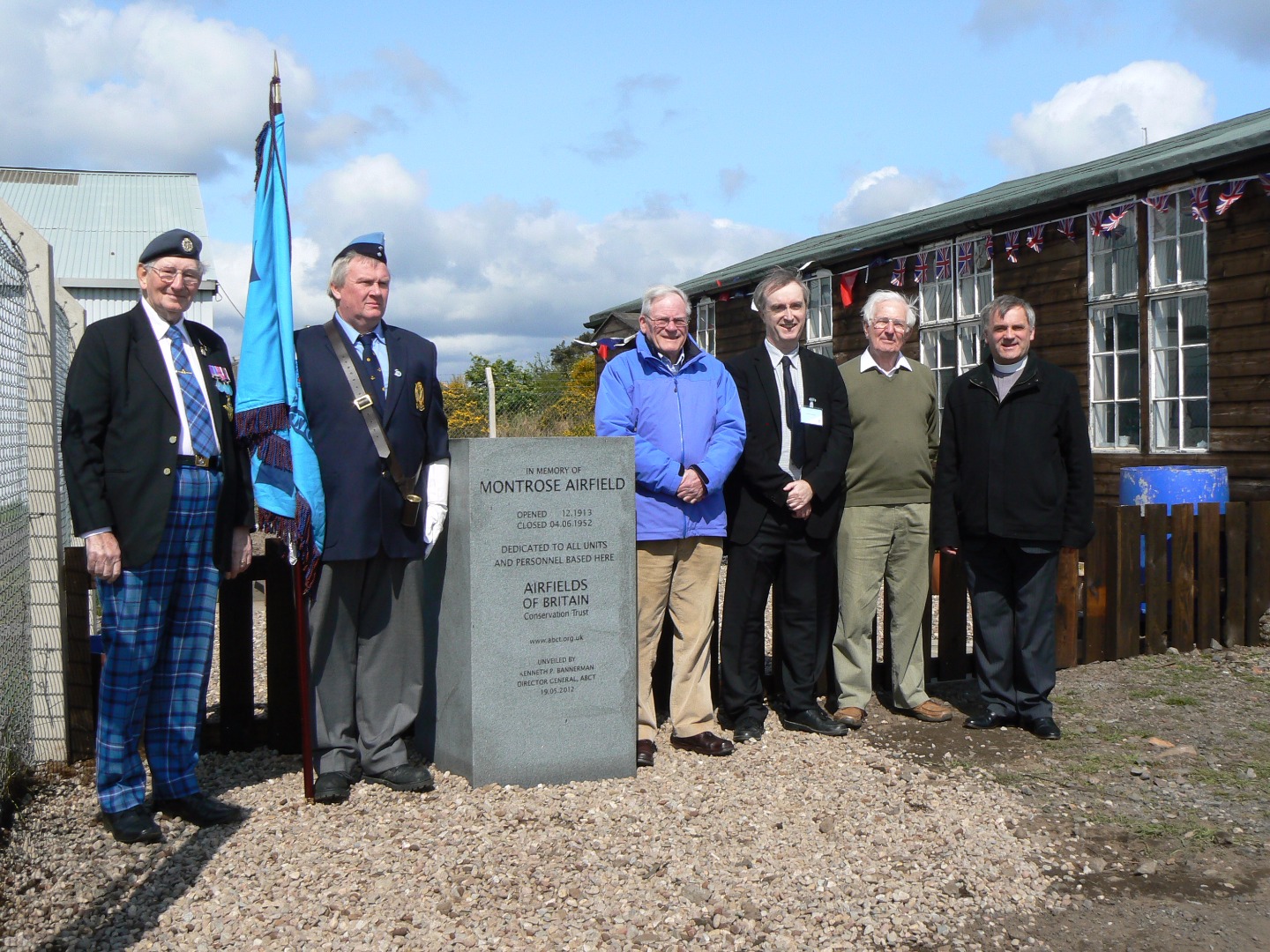 Aerial footage of Montrose, 9 January 2016. Courtesy of Graeme Davidson