| | |
| --- | --- |
| Also known as: | Leuchars Aerodrome / Leuchars Junction / Leuchars Station / RAF Leuchars |
| County: | Fife |
| Current Status: | Army barracks (main position) / Aviation |
| Date: | 1918 - 31 March 2015; subsequent limited use to present |
| Current Use: | Limited flying |
| Used By: | RAF / RAF (Dutch) / RAF (Norwegian) / FAA / Civil / RAAF / RCAF / RNZAF |
| Landing Surface Types: | Unpaved, later paved |
| Aircraft Roles: | Fighter / Maritime patrol / Naval aviation / Trainer / Transport |
Leuchars, near St Andrews, has had a long and eventful military history. The first unit to arrive to spend any significant time at Leuchars was the Grand Fleet School of Aerial Fighting and Gunnery, which was at the site from the end of 1918 until 1920. At various times between 1920 and 1922 Nos 3, 203, and 205 Squadrons at what had now become RAF Base Leuchars operated aircraft such as Sopwith Camels, Parnall Panthers and Airco DH.9As. Subsequently, various Flights resided here while away from aircraft carriers as part of the Fleet Air Arm of the Royal Air Force. 
Leuchars was one of the main RAF Training Bases through the inter-war period. No 1 Flying Training School later reformed at the airfield in the spring of 1935, training Fleet Air Arm pilots before moving to Netheravon in 1938. Armament training was also carried out between 1935 and 1939, using the range at Tentsmuir.
A major change occurred during 1938 as Leuchars passed to RAF Coastal Command control, with Avro Ansons of Nos 224 and 233 Squadrons moving in as the summer ended. By the time of Germany's invasion of Norway anti-shipping patrols had become the primary task for these and various subsequent units, which often stayed for considerable periods of time. Notable among them mid-war were Handley Page Hampden elements, Nos 144 and 455 Squadrons. Other prominent aircraft types around this time included Bristol Blenheims, Beauforts and Beaufighters, as well as Lockheed Hudsons, while the de Havilland Mosquito landplane portion of Norwegian No 333 Squadron formed at Leuchars on 10 May 1943 prior to moving to Banff in September 1944. By the end of the Second World War several U-boats had been sunk by aircraft flying from Leuchars.
Leuchars always proved a versatile airfield, not least in wartime, by accommodating aircraft in widely differing roles. A long-term resident of the airfield moved to the site in the spring of 1940, the Communications Flight for No 18 Group, with a very wide variety of aircraft employed during and after the Second World War. The Flight remained at Leuchars, aside from briefly staying at Turnhouse into the 1960s. Photographic reconnaissance aircraft became most important residents during 1941-44, especially once No 540 Squadron formed with Mosquitoes in October 1942. No 3 Armament Practice Camp restarted armament training at Leuchars from November 1941, continuing to operate until the end of the war and eventual disbandment in September 1945.
Some of the most unusual missions to be carried out during the Second World War from Leuchars were by civilian Mosquitoes. Operated by BOAC, these aircraft transported important ball bearings and machine-tool steel from Stockholm through enemy airspace; passengers travelled within the bomb bays of the aircraft. The Americans mounted broadly similar and equally dangerous flights using Consolidated Liberators, complementing the more offensive maritime patrol RAF examples of Nos 206 and 547 Squadrons over the final year or so of fighting.
Varied forms of flying continued to take place after 1945, with the School of General Reconnaissance reforming at Leuchars in 1946, before disbanding in 1947. Operational Conversion Units used Leuchars at this time, training pilots on aircraft such as Supermarine Spitfires, de Havilland Mosquitoes and Vampires. No 120 Squadron maintained the maritime reconnaissance role with primarily Avro Lancasters until leaving for Kinloss as the decade ended.
Perhaps the role that Leuchars is most famous for began in the early 1950s as both day and night fighters moved in once the station switched to RAF Fighter Command control. No 151 Squadron's Vampires were eventually replaced by Gloster Meteors, de Havilland Venoms and subsequently Gloster Javelins by the end of the 1950s as part of the squadron's ten year residency. Another long serving unit was No 43 Squadron, initially operating Meteors, then followed by Hawker Hunters from 1954. The unit moved to Cyprus and then Aden during the early 1960s before disbanding, then reforming at Leuchars in 1969, flying McDonnell-Douglas F-4 Phantoms. More Javelins and English Electric Lightnings of Nos 11 and 23 Squadrons in turn appeared before the 1970s saw the arrival of No 111 Squadron, as well as the RAF Post Operational Conversion Unit (later known as the Phantom Training Flight) to train Fleet Air Arm aircrews. After many years, shore-based operational naval activity returned for a time too, between 1972 and 1978, when Phantoms of No 892 Squadron were not aboard HMS Ark Royal. During all this time Search and Rescue (SAR) helicopters also ensured that Leuchars continued to be firmly in the public eye, as did two University Air Squadrons to a lesser degree.
The RAF's Phantoms were replaced by the Panavia Tornado F3 during the late 1980s, continuing to provide air defence cover for northern Britain and countering any possible Russian threat. These were replaced by the Eurofighter Typhoon, with No 6 and then No 1 Squadrons reforming at the start of the 2010s to operate the type as the Tornados were retired. The Typhoons however moved to Lossiemouth in 2014, taking with them the responsibility of the northern Quick Reaction Alert, with aircraft at Coningsby in Lincolnshire continuing to cover the south. Leuchars was transferred to the Army shortly afterwards and the majority of flying has since ceased, aside from limited use as an Emergency Landing Ground and for training. The two runways therefore remain in good condition, in addition to the hangars and support buildings. Two rare First World War Double Royal Flying Corps General Service Aircraft Sheds are among the buildings to survive almost the entirety of Leuchars' military life. About the only aspect of aviation here which has tended to struggle has transpired to be civil aviation, as it has never gained a firm foothold over the years since the Second World War despite many local hopes, though civil and military aircraft use has as a general rule never easily mixed at Britain's airfields.
The following organisations are either based at, use and/or have at least potentially significant connections with the airfield (as at 01/07/2013):
Leuchars Community Council
Leuchars HIVE

Royal Scots Dragoon Guards Royal Armoured Corps
The following alternative information/mass media sources have at least potentially significant connections with the airfield (as at 31/12/2015):
Leuchars Community Website
The Newport, Wormit & Forgan Archive - photographs relating to Norwegian use during World War Two
Main unit(s) present:
No 1 FTS

No 1 PRU 'C' Flight

No 1 PRU Mosquito Flight

No 1 Sqn

No 3 APC

No 3 ATC

No 3 School of General Reconnaissance

No 3 Sqn

No 6 Sqn

No 8 (Coastal) OTU

No 10 BAT Flight

No 11 Sqn

No 12 AEF

No 14 Sqn

No 18 Gp Comms Flight

No 22 Sqn

No 23 Sqn

No 25 Sqn

No 27 Sqn RAF Regiment

No 29 Sqn

No 42 Sqn

No 43 Sqn

No 72 Sqn

No 74 Sqn

No 82 Sqn

No 86 Sqn

No 105 Sqn

No 107 Sqn

No 109 Sqn

No 111 Sqn

No 114 Sqn

No 120 Sqn

No 125 Expeditionary Air Wing (Fighter)

No 144 Sqn

No 151 Sqn

No 160 Sqn

No 202 Sqn

No 203 Sqn

No 205 Sqn

No 206 Sqn

No 217 Sqn

No 222 Sqn

No 224 Sqn

No 228 OCU

No 228 Sqn

No 229 OCU

No 233 Sqn

No 235 Sqn

No 236 Sqn

No 237 OCU

No 254 Sqn

No 264 Sqn

No 275 Sqn

No 281 Sqn

No 320 Sqn

No 333 Sqn

No 401 (Fleet Fighter) Flight

No 402 (Fleet Fighter) Flight

No 403 (Fleet Fighter) Flight

No 404 (Fleet Fighter) Flight

No 405 (Fleet Fighter) Flight
No 406 (Fleet Fighter) Flight

No 415 Sqn

No 421 (Fleet Spotter) Flight

No 441 (Fleet Reconnaissance) Flight

No 442 (Fleet Reconnaissance) Flight

No 443 (Fleet Reconnaissance) Flight

No 443 (Fleet Spotter Reconnaissance) Flight
No 443A (Fleet Reconnaissance) Flight
No 444 (Fleet Reconnaissance) Flight

No 445 (Fleet Reconnaissance) Flight

No 445 (Fleet Spotter Reconnaissance) Flight

No 446 (Fleet Reconnaissance) Flight

No 446 (Fleet Spotter Reconnaissance) Flight
No 447 (Fleet Spotter Reconnaissance) Flight
No 449 (Fleet Spotter Reconnaissance) Flight
No 450 (Fleet Spotter Reconnaissance) Flight

No 455 Sqn

No 461 (Fleet Torpedo) Flight
No 462 (Fleet Torpedo) Flight

No 489 Sqn

No 519 Sqn

No 540 Sqn

No 541 Sqn
No 542 Sqn

No 544 Sqn

No 547 Sqn

No 602 Sqn

No 603 Sqn

No 605 Sqn

No 607 Sqn

No 612 Sqn
No 612 Sqn RAuxAF

No 800 Sqn

No 801 Sqn

No 802 Sqn

No 809 Sqn

No 810 Sqn

No 811 Sqn

No 814 Sqn

No 819 Sqn

No 822 Sqn

No 892 Sqn

No 1420 Flight

No 1477 (Norwegian) Flight

No 1510 BAT Flight

No 2745 Sqn RAF Regiment 

No 2846 Sqn RAF Regiment
No 2860 Sqn RAF Regiment
No 2954 Sqn RAF Regiment

Aberdeen, Dundee & St Andrews UAS

Aircraft Torpedo Development Unit

Autair

BOAC

Coast Defence Torpedo Bomber Flight

East Lowlands UAS

East of Scotland Universities Air Sqn

Grand Fleet School of Aerial Fighting & Gunnery

Loganair

Phantom Conversion Flight

Phantom Training Flight

PRU

RAF Leuchars Flying Club

RAF Base Leuchars
RAF Post Operational Conversion Unit
RAF Training Base Leuchars
Scottish Sector
St Andrews UAS
St Andrews & Dundee Universities Air Sqn
Target Facilities Flight, Leuchars
Temporary Armament Training Camp, Leuchars
Temporary Armament Training Station, Leuchars
Queen Elizabeth II presents a Squadron Standard to No 43 Squadron at Leuchars, 1957. Courtesy of British Pathé
Footage of English Electric Lightnings operating from Leuchars, 1965. Courtesy of British Pathé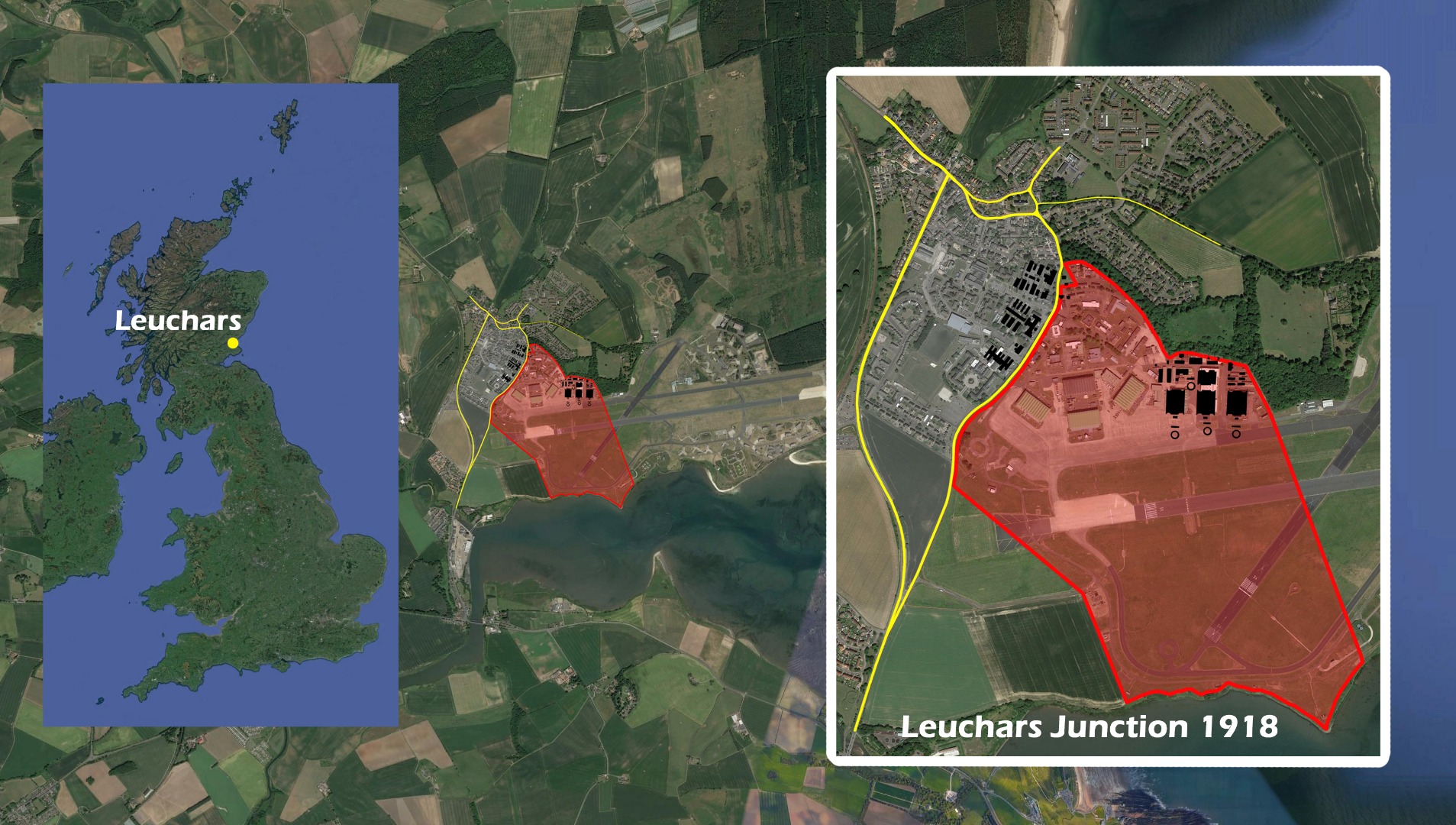 Plan of Leuchars, 1918. Courtesy of Ed Andrews
| | |
| --- | --- |
| Decoy Airfield(s): | |
| Associated Airfield(s): | |