| | |
| --- | --- |
| Also known as: | Edinburgh Airport / Edinburgh International Airport / RAF Turnhouse / RFC Turnhouse / Turnhouse Aerodrome |
| County: | City of Edinburgh |
| Current Status: | Aviation |
| Date: | Opened 1915 |
| Current Use: | Active |
| Used By: | RAF / RAF (Czech) / RAF (French) / RAF (Norwegian) / RAF (Polish) / RFC / FAA / Civil / Civil (foreign) |
Now far better known as Edinburgh Airport, Turnhouse began as a grass landing ground in 1915 before becoming a more expansive airfield a year later for the Royal Flying Corps. For much of the First World War, Turnhouse was a major airfield for the defence of Edinburgh and was home to a number of Home Defence, Reserve and Training Squadrons. This included two Canadian Reserve squadrons that formed in 1917. However, neither of these stayed long and soon moved out.
The airfield became RAF Turnhouse after the RAF formed in 1918. Turnhouse also became a Fleet Aeroplane Depot from this year, providing a location for ship-borne aircraft to land, be repaired and train from. The end of the First World War brought a rundown and the airfield entered a period of uncertainty, becoming embroiled in a quite publicised dispute between the authorities and landowner, former Prime Minister Lord Rosebery. 
In October 1925 No 603 (City of Edinburgh) Squadron was formed at Turnhouse as a day bomber unit of the Auxillary Air Force. This unit remained at the airfield until 1939. During the 1930s, major expansion work took place at Turnhouse due to its location close to Edinburgh and key industries that needed protecting. In 1939/40 three concrete runways were built and at the start of the Second World War the airfield became a Sector station.
Turnhouse saw heavy use during the Second World War and No 603 (City of Edinburgh) Squadron acquired Supermarine Spitfires in September 1939. This squadron claimed the first Luftwaffe bomber to be shot down over the British mainland on 16 October of that year. The unit moved to Prestwick in December but returned for a few months in 1941 and much later in the war.
A number of Spitfire units formed at Turnhouse in 1940 and 1941, with most leaving after a few months for other airfields around Britain. One of the longer residents was No 4 Aircraft Delivery Flight, which delivered new or repaired aircraft to operational squadrons between January 1942 and July 1943. No 17 Group Comms Flight also arrived in January 1942 and remained at Turnhouse until the autumn of 1945. Anti-aircraft co-operation squadrons were present as well for some time.
Fleet Air Arm units also visited during the Second World War, usually on short detachments while their aircraft carriers were in the Forth. American aircraft were frequent visitors during the last few years of the war, often on rest and recreation flights to Edinburgh.
No 603 Squadron continued to operate Supermarine Spitfires from Turnhouse after the war, although there was a gap of almost a year in which the squadron had disbanded. Reforming in 1946, the squadron then re-equipped with de Havilland Vampires in the spring of 1951. From the early 1950s to the mid 1960s, United States Air Force (USAF) transport aircraft were relatively frequent visitors to Turnhouse, due to the nearby US base at Kirknewton.
Even before Turnhouse became Edinburgh Airport, flights linking Edinburgh to London began in 1947 operated by British European Airways (BEA). After briefly closing in 1961 to strengthen the main runway, the British Airports Authority (BAA) took control in 1971 and built a brand new runway to the north-west of the site. The airport added to their existing portfolio of London airports at Heathrow, Gatwick and Stansted. This helped an issue with crosswinds at the airfield and a new terminal was constructed at the same time. The new runway and terminal were completed in 1977 and Edinburgh Airport was officially opened by Queen Elizabeth II. The Royal Air Force continued to have a presence at Turnhouse until 1996 when the RAF base closed and was shortly afterwards incorporated into the civil airport.
International services operated to Amsterdam and Dublin in the 1980s and other international services soon followed. The 1954 terminal building was demolished in 1994 but the airport underwent significant improvements during the early 2000s with the terminal being majorly renovated. Other work carried out included extensions to taxiways, as well as a brand new, 57 metre high, £10 million control tower that was completed in 2005. As of 2016, Edinburgh Airport is the busiest airport in Scotland, recently overtaking Glasgow, and passenger numbers look set to continue to increase. Unfortunately, little remains of the RAF section of the airfield since its closure and subsequent major demolition.
The following organisations are either based at, use and/or have at least potentially significant connections with the airfield (as at 01/09/2011) :
5th Gear Ltd
Accessorize
American Express
Best of the Best Supercars
Boots
Butlers Chauffeur Drive Ltd
Caffe Nero
Costa Coffee
Dixons Travel
DoubleTree by Hilton Hotel Edinburgh Airport
EAT.
Edinburgh Airport Travelodge
Empark UK Ltd
Europcar Edinburgh Airport
Extrordinair Limited
Flying Scot
Fringe Bar & Eating Place
Global Infrastructure Partners
Green Motion Car and Van Rental
Hertz
Hilton Edinburgh Airport
Holiday Inn Edinburgh Airport
ICE - International Currency Exchange
Inside & Out
Jo Malone
Liquorice Tree
M&S Simply Food
MAC
Plane Parking Edinburgh Airport
Quality Hotel Edinburgh Airport
Rolling Luggage
Servisair
Signature Flight Support
Spectrum Interactive Limited
Starbucks
Sunglasses
Superdrug
Swissport UK
Tabard IT Ltd
The Airport Gallery
The Collection @ Edinburgh
The Gathering Deli Cafe & Takeaway
The Gathering Restaurant & Lounge
The Sir Walter Scott
The Turnhouse
The West Cornwall Pasty Company
Thermidors Seafood & Champagne Bar
Thomas Cook Extras
Thrifty Car and Van Rental
TNT Edinburgh (Air Hub/Depot)
VisitScotland Edinburgh Airport iCentre
Wetherspoon Express
Wetherspoons
WFS Worldwide Flight Services
WHSmith
WHSmith Books
WHSmith Cafe
World Duty Free
YO! Sushi
Notable Past Associated Organisations:
Aviance UK
BAA Limited
BAA plc
British Airports Authority
Main unit(s) present:
No 3 Sqn

No 4 Aircraft Delivery Flight

No 6 GS

No 7 AACU

No 12 AEF

No 13 Gp AAC Flight

No 17 Gp Comms Flight

No 18 Gp Comms Flight

No 26 RS

No 26 TS

No 44 Sqn

No 59 OTU

No 63 Sqn

No 64 Sqn

No 65 Sqn

No 66 Gp Comms Flight

No 66 (Scottish) Group

No 66 (Scottish Reserve) Group

No 71 (Signals) Wing Calibration Flight

No 72 (Signals) Wing Calibration Flight

No 73 TS

No 77 Sqn

No 81 Sqn

No 83 Sqn

No 84 (Canadian) RS

No 88 Gp Communication Sqn

No 89 (Canadian) RS

No 104 Sqn

No 122 Sqn

No 123 Sqn

No 129 (RAF) Wing

No 130 Wing

No 132 (Norwegian) (Fighter) Wing

No 141 Sqn

No 151 Sqn

No 164 Sqn

No 165 Sqn

No 197 Sqn

No 207 Sqn

No 232 Sqn

No 241 Sqn

No 242 Sqn

No 243 Sqn

No 245 Sqn

No 253 Sqn

No 263 Sqn

No 268 Sqn

No 289 Sqn

No 290 Sqn

No 303 Sqn

No 309 Sqn

No 312 Sqn

No 329 Sqn

No 340 Sqn

No 341 Sqn

No 598 Sqn

No 603 Sqn

No 607 Sqn

No 661 GS

No 666 Sqn

No 801 Sqn

No 807 Sqn

No 808 Sqn

No 848 Sqn

No 882 Sqn

No 884 Sqn

No 886 Sqn

No 895 Sqn

No 1353 AAC Flight 
No 1968 Reserve AOP Flight
No 2753 Sqn RAF Regiment
No 2770 Sqn RAF Regiment
No 3508 (AAC) Servicing Unit
Aer Lingus
Air Anglia
Air Ecosse
Air France
Air UK
Alitalia
Austrian Airlines
BA Connect
BEA 
BH Air
BKS Air Transport
Blue1
BMI Regional
bmibaby 
British Airways
British Eagle
British Island Airways
Brussels Airlines
Brymon Airways 
C.D. Barnard Air Tours Ltd
Caledonian Sector HQ
Capital Airlines 
Centralwings 
Channel Airways
CityJet
Continental Airlines
Czech Airlines
Delta Air Lines
Duo Airways 
East Lowlands UAS 
easyJet 
Edinburgh Air Centre
Edinburgh Flying Club
Edinburgh Flying Services  
Edinburgh UAS 
Ferranti Flying Group
Finnair 
Fighter Flight, Shetlands
First Choice Airways
Firth of Forth Group 
Flybe
Flyglobespan
Germanwings
Iberia
Jet2.com
KLM Cityhopper
KLMuk
Lothian Air Hire
Lufthansa
Malaysia Airlines
Midlothian Sector HQ
Monarch Airlines
Niki
Northern Communication Sqn
Northwest Airlines
Norwegian Air Shuttle 
Orbest Orizonia Airlines
Ryanair
Scandinavian Airlines 
Scottish Sector 
S.C.R.584 Training Unit
Spanair 
Thomas Cook Airlines
Thomson Airways
TNT Airways 
Turkish Airlines
Turnhouse Air Centre 
Turnhouse Flying Club
United Airlines 
Virgin Atlantic Airways 
Vueling 
Wideroe 
Marlene Dietrich at Edinburgh Airport, 1960s. Courtesy of HuntleyFilmArchives
Footage of Edinburgh Airport, 1965. Courtesy of clarkgore
More footage of Edinburgh Airport, 1965. Courtesy of clarkgore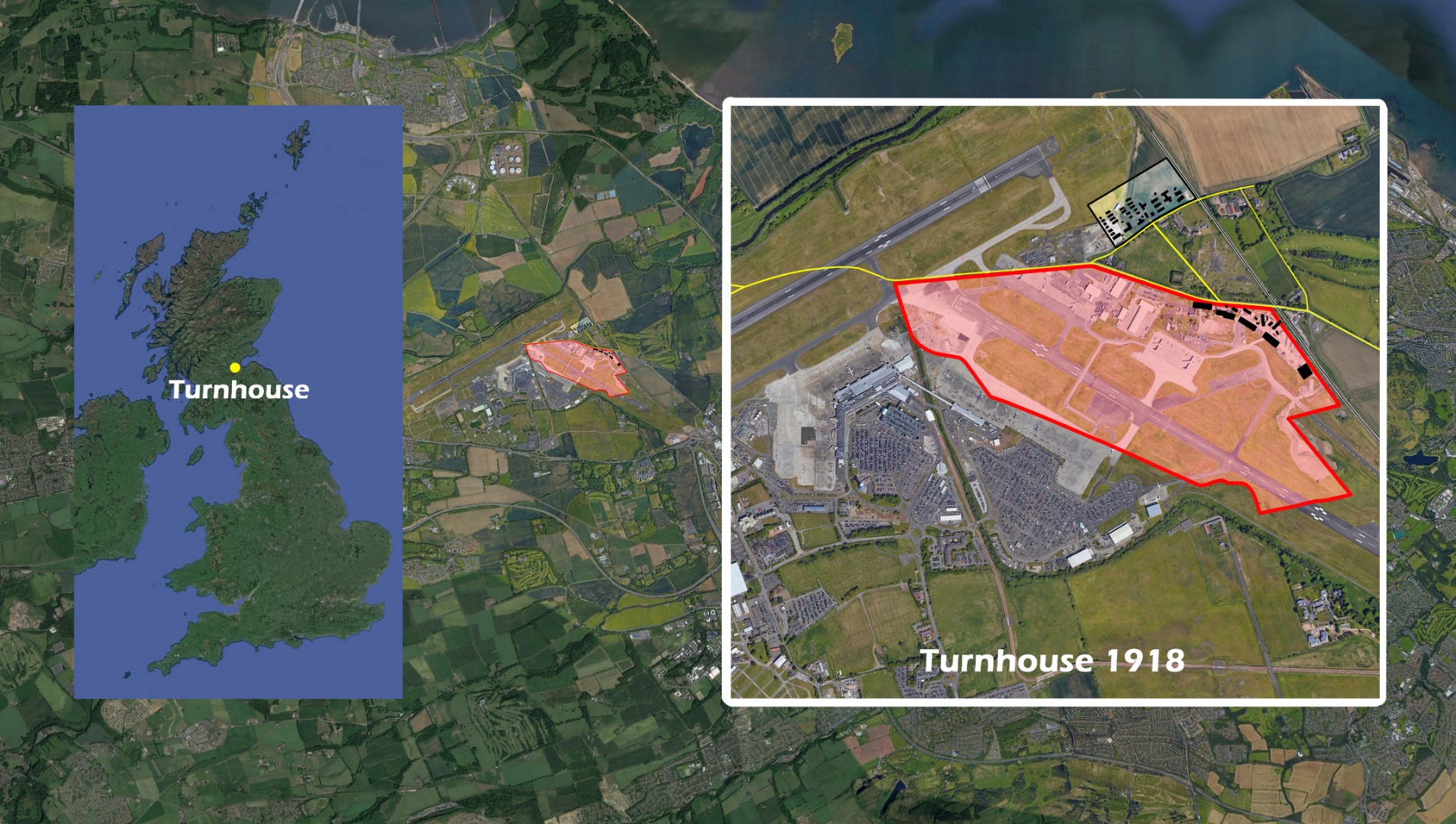 Plan of Turnhouse, 1918. Courtesy of Ed Andrews