| | |
| --- | --- |
| Also known as: | Charter Hall (misspelling) / Charterhall Aerodrome / Eccles Tofts Landing Ground / Greenlaw / RAF Charterhall / RAF Eccles Tofts / RFC Eccles Tofts / Slaughter Hall (nickname) |
| County: | Scottish Borders |
| Current Status: | Aviation / Farmland (main position) / Leisure activity |
| Date: | January 1917 (earliest known date) - 1947; subsequent limited flying to present |
| Current Use: | Limited flying |
| Used By: | RAF (main user) / RAF (Polish) / RFC (main user) / FAA / Civil (limited flying) |
| Landing Surface Types: | Unpaved, later paved (1942) |
| Prominent People: | Jim Clark / Richard Hillary / Jackie Stewart |
| Aircraft Roles: | Fighter (main role) / General aviation (limited flying) / Naval aviation / Trainer (main role) |
Charterhall began life as a First World War landing ground named Eccles Tofts for No 77 Squadron from at least the beginning of 1917 until 1919. The airfield is more famous however for its use during the Second World War, opening in the spring of 1942. Primary unit associated with Charterhall throughout the war quickly transpired to be No 54 Operational Training Unit which carried out instruction on types such as Bristol Beaufighters and Blenheims, as well as target towing carried out by Airspeed Oxfords. By 1944 de Havilland Mosquitoes were gradually replacing the Beaufighters and towards the end of fighting became the main aircraft used by the OTU. Unfortunately, as with many wartime training units, this airfield in particular gained a reputation for frequent accidents, one of them in January 1943 resulting in the death of badly burned pilot Richard Hillary who wrote famous aviation book The Last Enemy.
No 54 OTU left Charterhall in November 1945 for East Moor and a variety of units used the airfield for the next two years for short periods. These included No 3 Armament Practice Station, over two short spells, and a number of fighter squadrons flying Supermarine Spitfires, North American Mustangs and Gloster Meteors. The RAF left in 1947 and the airfield officially closed.
The site was left for agricultural use and later also motor racing from 1952. Various forms of this form of sport took place at Charterhall with drivers such as Jim Clark, Sir Stirling Moss and Sir Jackie Stewart all having competed there until its main heyday ended in the mid-1960s. Motorsport did however take place here as recently as 2013.
The site was equipped with two hard runways during the Second World War, a third runway never being completed. These, along with most of the taxiways and perimeter track remain relatively intact. Two of the original main hangars remain, although the Blister hangars and control tower have all been demolished. The site is now privately owned and there is a small unlicensed landing strip on part of one of the old runways, which is employed for minor civil use.
The following organisations are either based at, use and/or have at least potentially significant connections with the airfield (as at 01/07/2013):
Berwick & District Motor Club
Border Ecosse Car Club Ltd
Border Skip Hire
Duns Library
Gavinton Fogo & Polwarth Community Council
Leitholm, Eccles and Birgham Community Council
Notable Past Associated Organisations:
Main unit(s) present:
No 3 Armament Practice Station
No 54 OTU
No 77 Sqn
No 130 Sqn
No 165 Sqn
No 263 Sqn
No 303 Sqn
No 770 Sqn
No 772 Sqn
No 2780 Sqn RAF Regiment
Motor racing at Charterhall in the 1960s. Courtesy of smilinrik
Various photographs of Charterhall, 1982. Courtesy of 1tothirtysix
Rallying at Charterhall, 2012. Courtesy of CPL Motorsport Media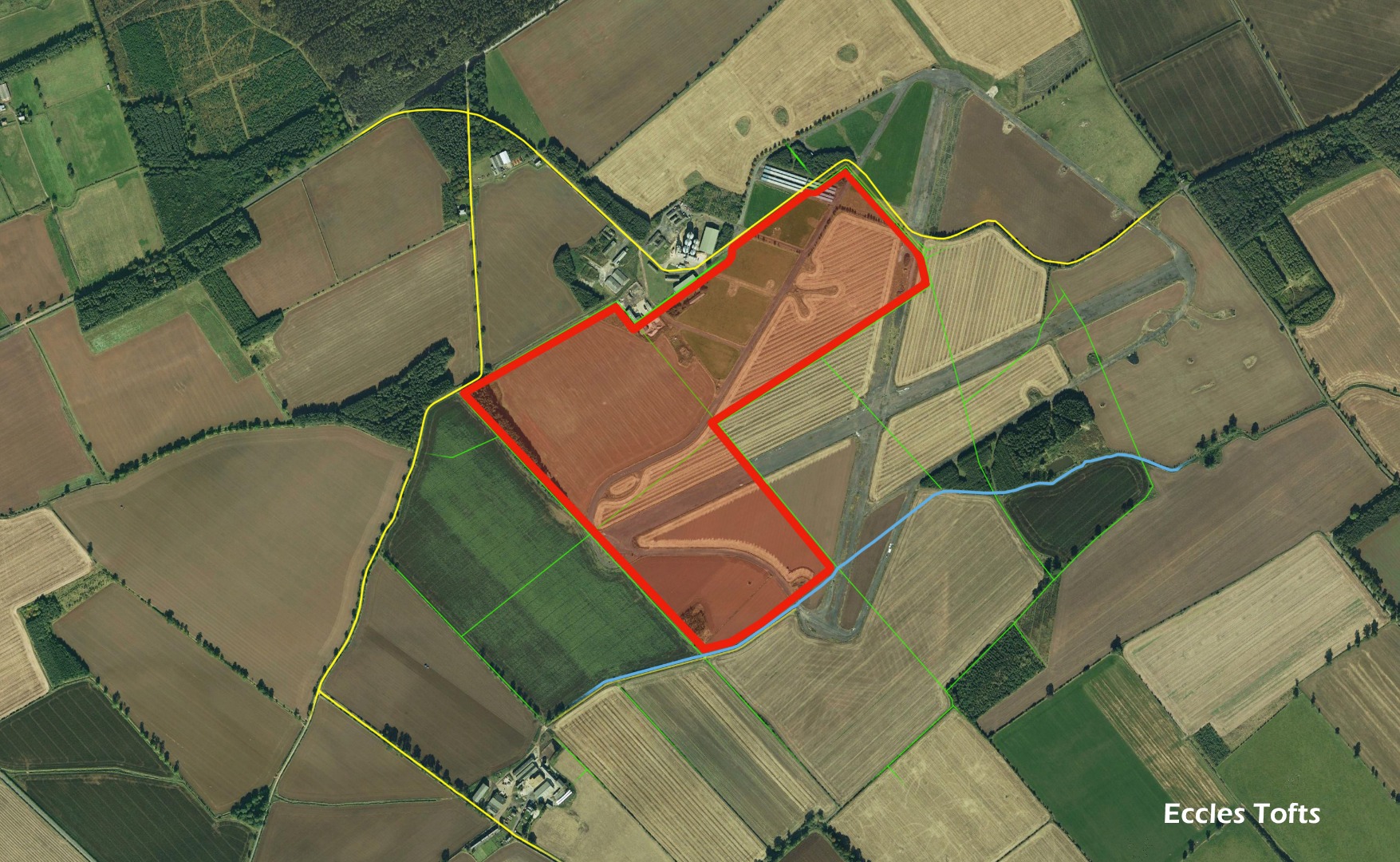 Plan of Charterhall (Eccles Tofts) during the First World War. Courtesy of Ed Andrews
| | |
| --- | --- |
| Parent(s)/HQ Airfield(s): | |
| Satellite(s): | |
| Decoy Airfield(s): | |
| Home Defence Flight Station(s): | |