| | |
| --- | --- |
| Also known as: | Durham / Hylton Aerodrome / RAF Usworth / RAF Hylton / RFC Hylton / Sunderland Airport / Usworth Aerodrome |
| County: | Tyne and Wear |
| Current Status: | Industry / Museum |
| Date: | October 1916 - 31 May 1984 |
| Current Use: | Disused |
| Used By: | RAF / RFC / FAA (lesser use) / Civil / USAAF (lesser use) |
| Landing Surface Types: | Unpaved, later paved |
| Aircraft Roles: | Airliner / Bomber / Fighter / General aviation / Trainer |
After the land was requisitioned during the summer of 1916, flying began at Usworth during the First World War in October 1916 when it served as a Flight Station for No 36 Squadron. Then known as Hylton, the airfield was used by various aircraft types, from inception to well into 1918, when the resident unit solely concentrated upon operating Bristol F2bs. The squadron however saw very little action in its primary task of mounting patrols to protect the general Newcastle area from enemy airship attack. By the end of fighting not only had the unit headquarters relocated to here but Hylton was officially renamed as Usworth, though the disbandment of No 36 Squadron in June 1919 saw the airfield soon being notified for relinquishment the following September.
Usworth again returned to use in the 1930s. This proved a protracted process as No 607 Squadron of the Auxiliary Air Force formed on 17 March 1930 but did not receive aircraft in the shape of Westland Wapiti day bombers until the end of 1932.The unit later flew Hawker Demons before switching to a fighter role later on in that decade and Gloster Gladiators. Empire Air Days took place annually at Usworth from 1934 until the outbreak of the Second World War, while regular RAF light bomber unit No 103 Squadron also resided at Usworth in peacetime. In terms of appearance the main point of note at this time became the locally famous and unique 'Beehive' Lamella hangar that soon became a prominent feature.
With the start of the conflict, improvements were made to the airfield, with two hard runways being built. Most of the buildings were situated to the north of the site, in two camps either side of the road. Fighters from Nos 43 and 64 Squadrons operated for short periods in 1940 and into January 1941. Usworth became crucially involved in the Battle of Britain when the Luftwaffe attempted a major second front attack on north-east England on 15 August 1940. No 607 Squadron, which had left its pre-war home for Acklington shortly after war broke out but returned in June 1940 with Hawker Hurricanes, assisted with several other airfields in successfully driving off the attackers.
Once No 607 Squadron had again departed in January 1941, in February of that year No 55 Operational Training Unit arrived from Aston Down and training became Usworth's primary role. Using mainly Hurricanes, this large unit also employed Ouston as a satellite before moving to Annan in the spring of 1942. A few months of Care and Maintenance followed until No 62 OTU formed in June, using Avro Ansons for training radar operators. However, the proximity of a balloon barrage at Sunderland meant that the unit transferred to Ouston in July 1943, essentially bringing to a close flying during the war, aside from some activity from No 31 Gliding School in 1944, which was renamed No 641 GS in 1955. Other subsequent military use around this time notably included No 14 Maintenance Unit employing Usworth from December 1944 to store aero engines.
Usworth struggled for some years post-war to establish a more defined role. No 23 Reserve Flying School formed in 1949 to use a variety of aircraft types until disbanding in 1953. Operator of the school, Airwork, also ran No 2 Basic Air Navigation School here from 1951 to 1953. The civilian Newcastle Gliding Club remained as another occasional resident in the 1950s but the RAF finally decided to leave the site in 1958. 
This was nevertheless far from the end for Usworth as it was bought from the Air Ministry by Sunderland Corporation to become Sunderland Airport. Active again from 1962, beginning its new role with airline charters, the airport continued to be used additionally for general aviation until its closure on 31 May 1984. Sunderland Flying Club had begun operations in 1963 as a major part of this. The site is now a major car manufacturing plant for Nissan, although the North East Land, Sea and Air Museums (NELSAM) provides a welcome reminder of the history of the site at its relocated position to the north of the factory. Sadly the 'Beehive' hangar was demolished in 2004 and only tiny scraps of the building remain as a memento.
The following organisations are either based at, use and/or have at least potentially significant connections with the airfield (as at 31/07/2018):
Nissan Motor Manufacturing (UK) Limited
North East Land, Sea and Air Museums (NELSAM)
South Hylton Local History Society
Washington History Society
Notable Past Associated Organisations:
Main unit(s) present:
No 1 AACU 'G' Flight

No 1 Gp Practice Flight

No 2 Basic ANS

No 2 Civilian Fighter Control Co-operation Unit

No 3 Radio Maintenance Unit

No 3 Radio Servicing Section

No 7 AACU

No 14 MU

No 20 Initial Training Wing

No 21 Initial Training Wing

No 23 RFS

No 27 GS

No 31 EGS / NE31 EGS

No 31 GS

No 36 Sqn

No 43 Sqn

No 55 OTU

No 60 Initial Training Wing

No 62 OTU

No 64 Sqn
No 72 (Signals) Wing Calibration Flight

No 103 Sqn

416th NFS

No 607 Sqn

No 641 GS

No 664 Sqn

No 776 Sqn

No 1965 Reserve AOP Flight

No 2739 Sqn RAF Regiment
No 2759 Sqn RAF Regiment

Air Crew Disposal Unit

Durham UAS

Glider Exercise Unit

Newcastle GC

Northern Parachute Centre Ltd
Northumbria Parachute Club
Sunderland Flying Club
Sunderland Parachuting Centre Ltd

Tyne-Wear GC
Photographs and video from the memorial unveiling at Usworth on 15th September 2018: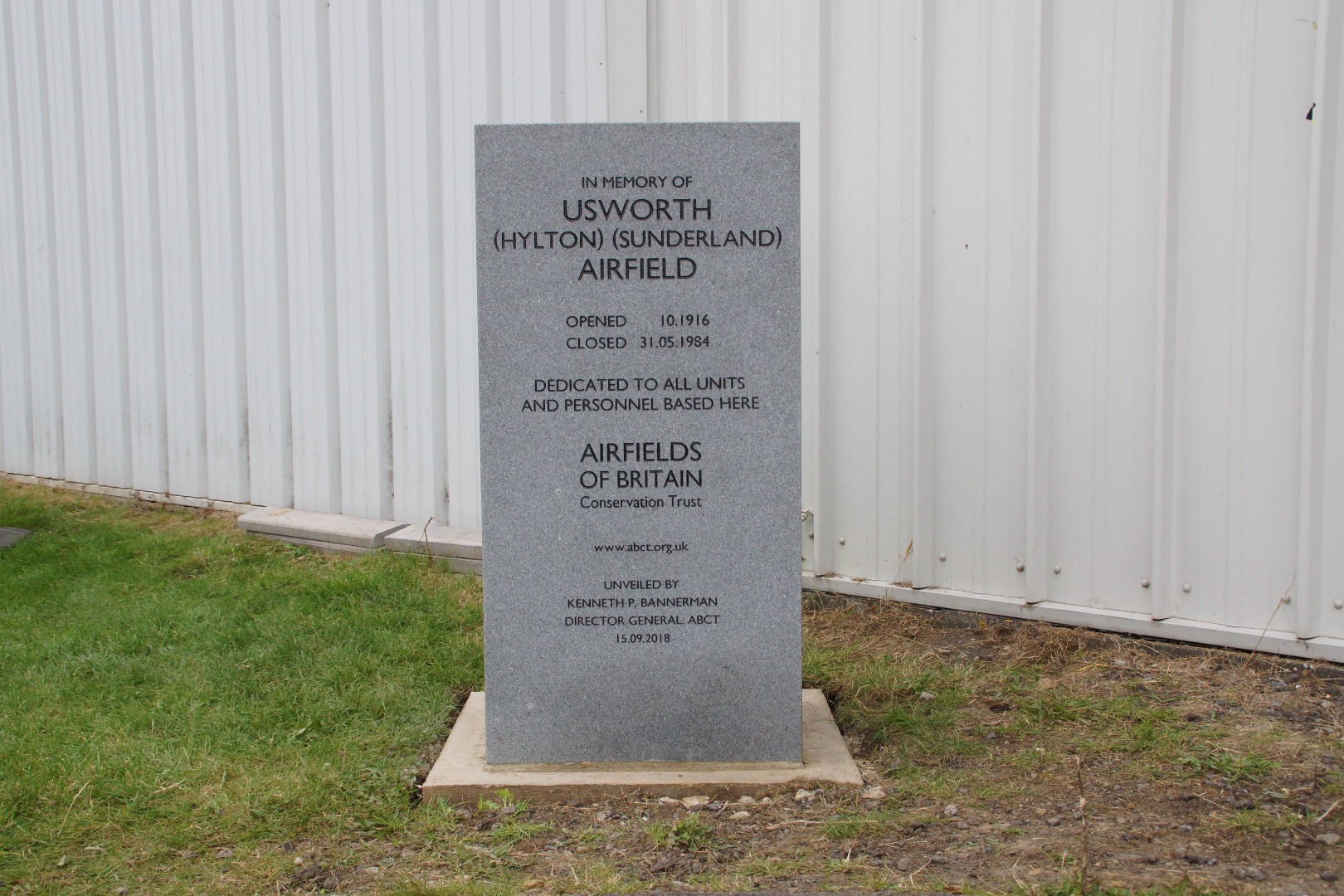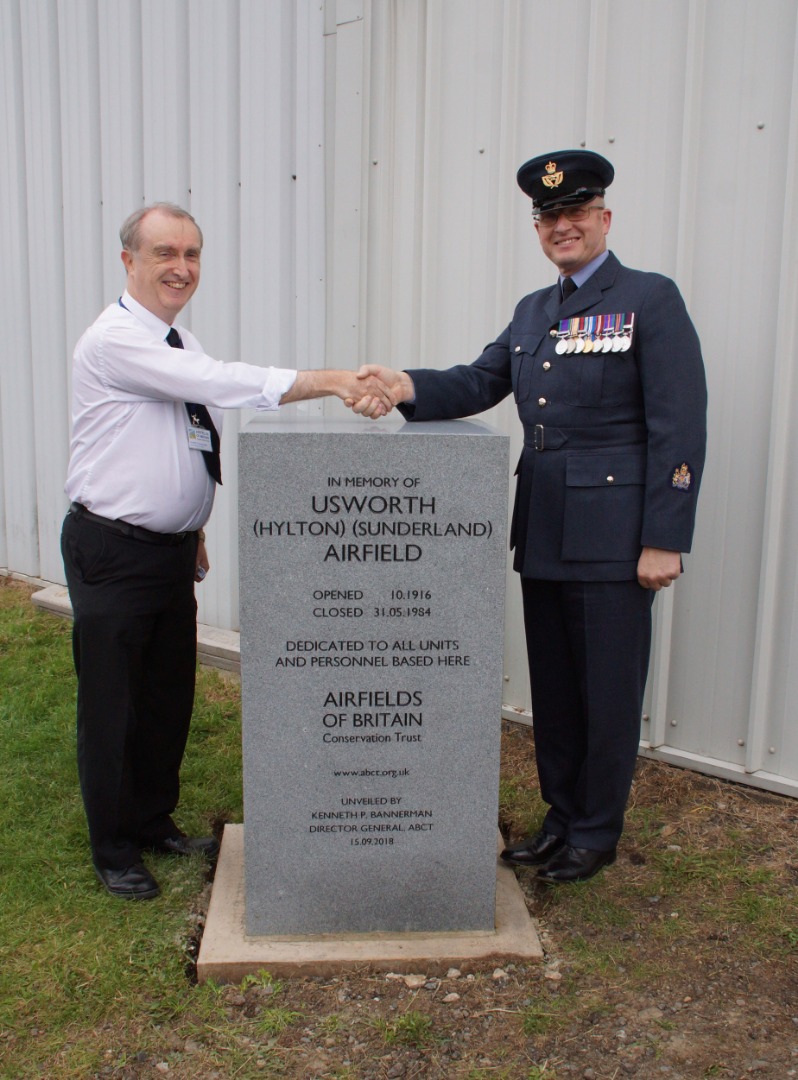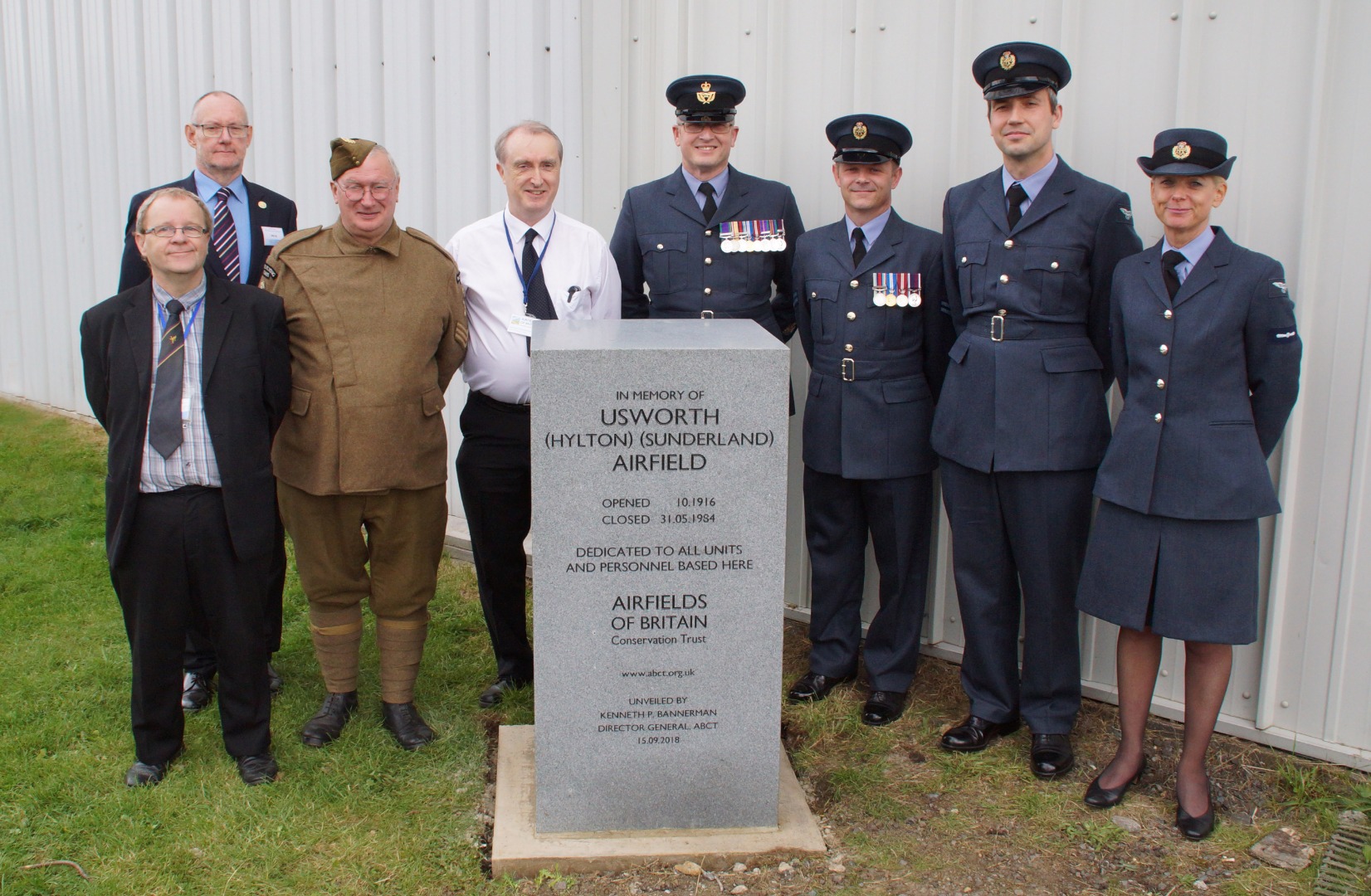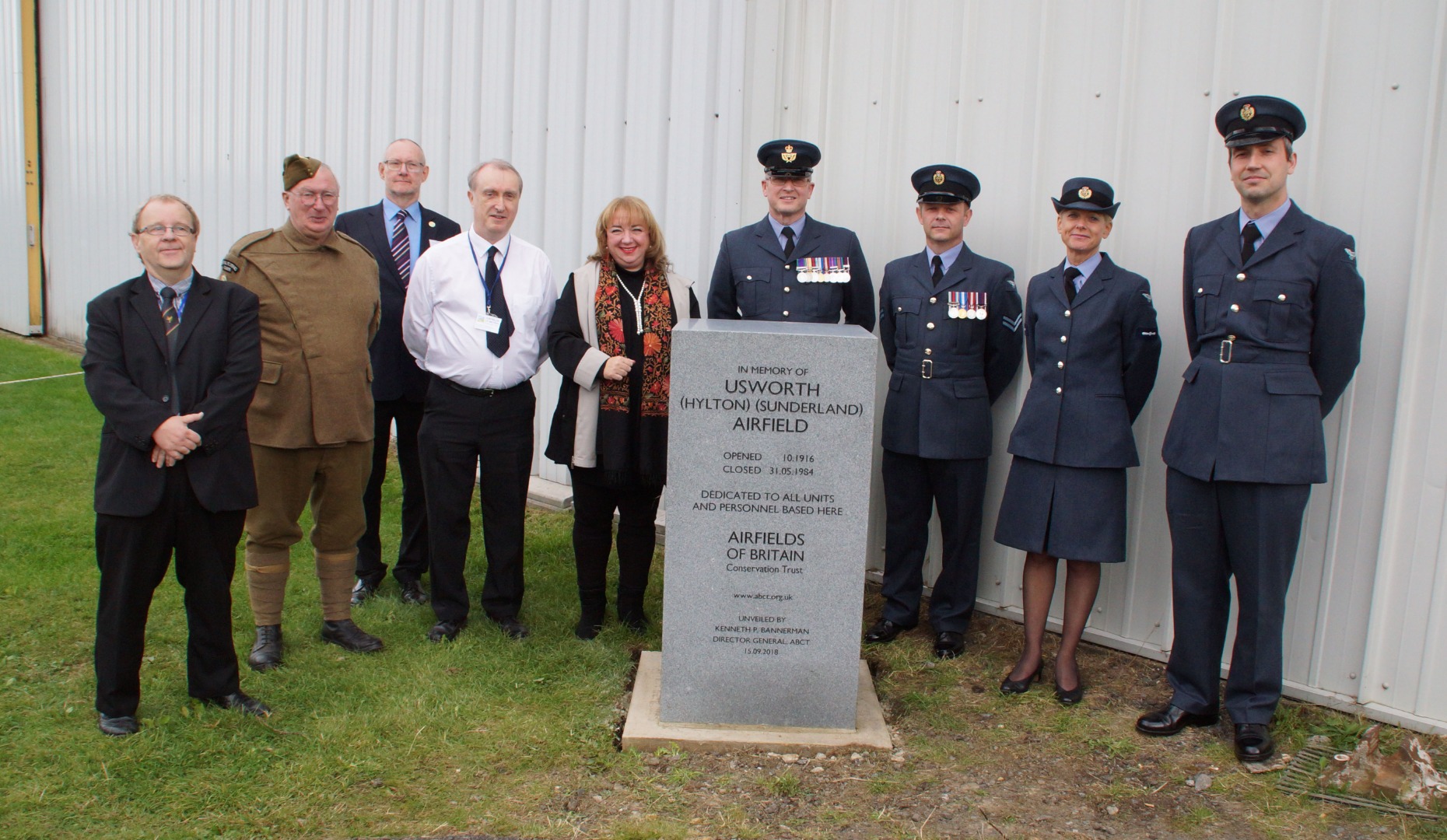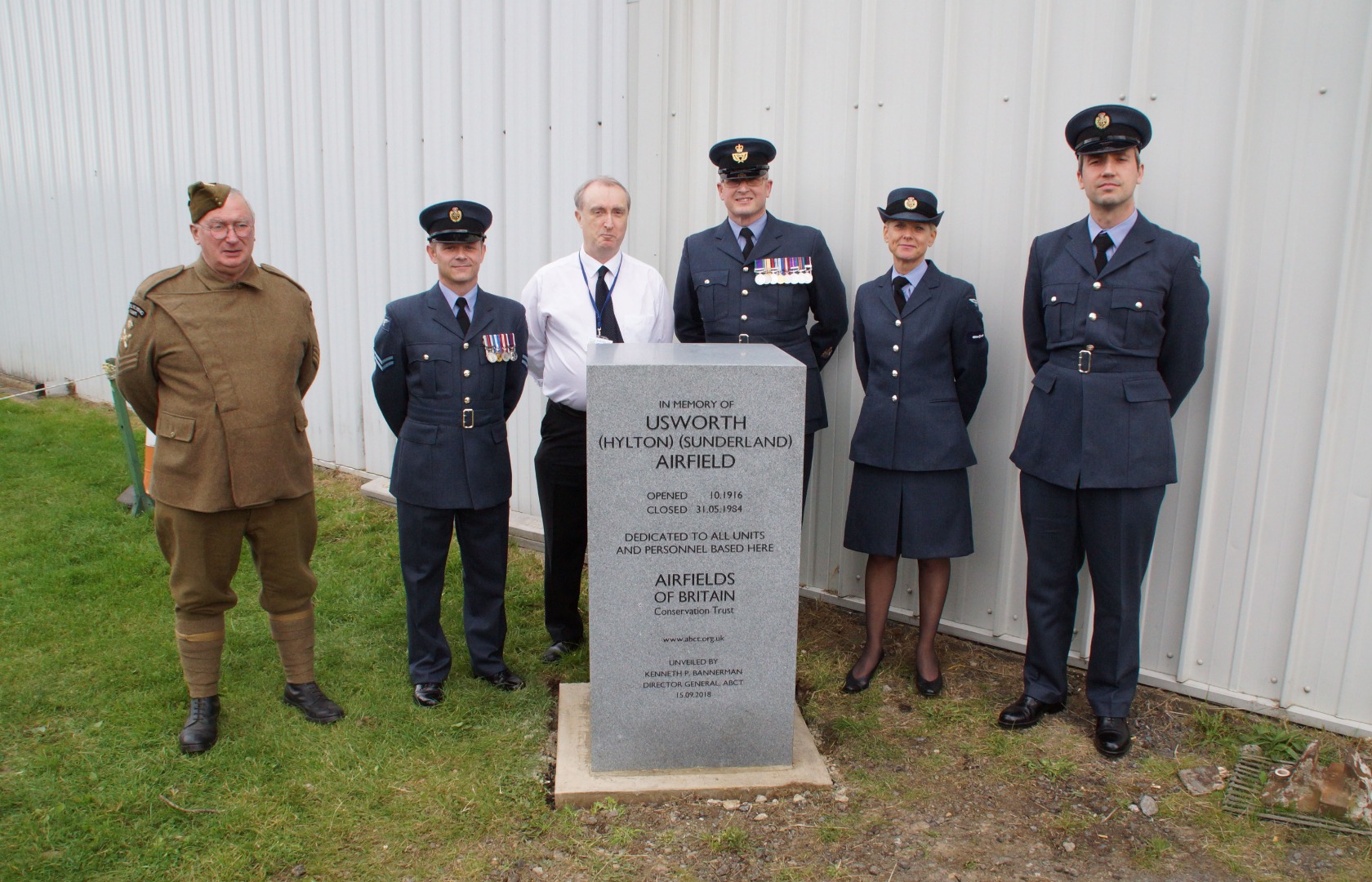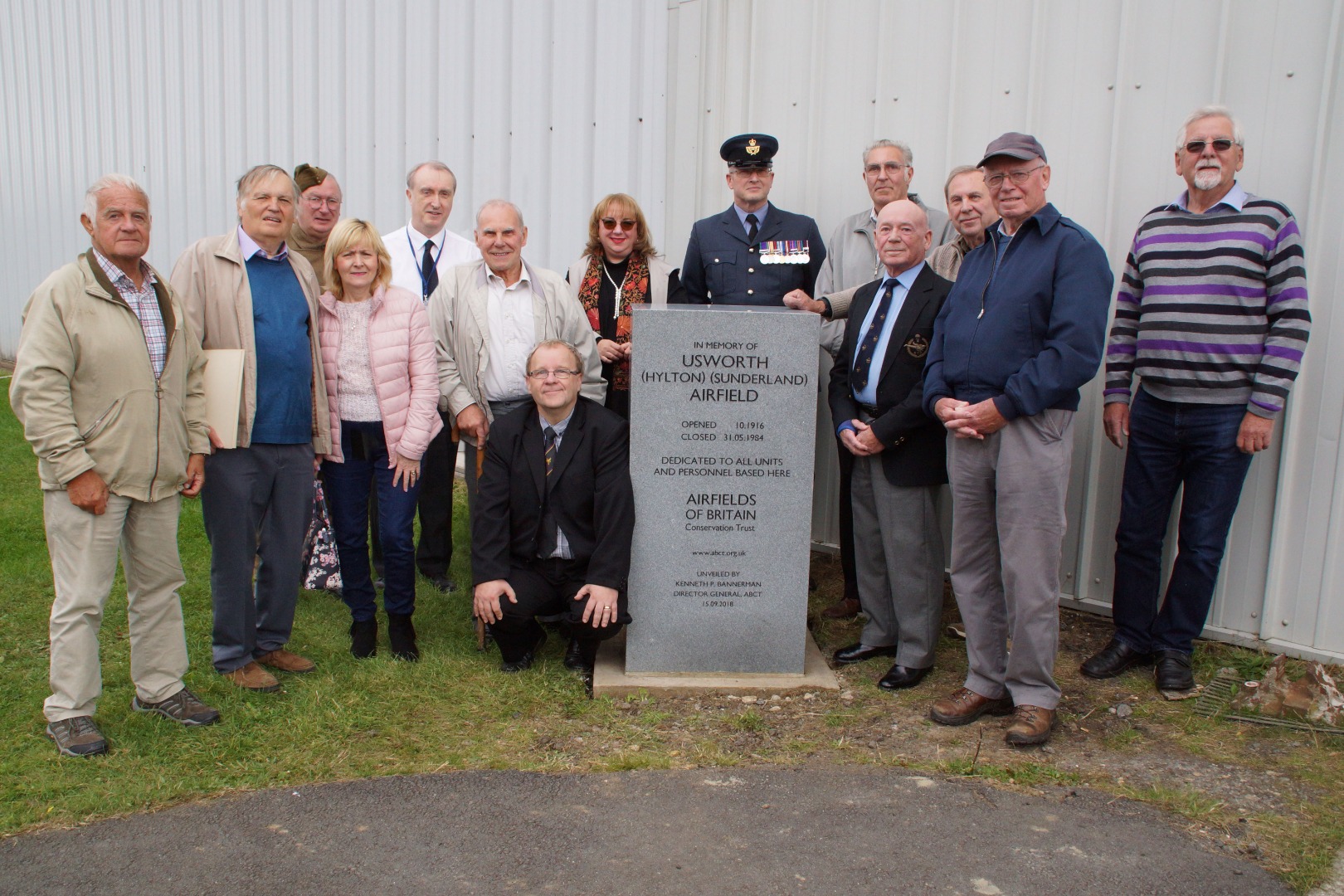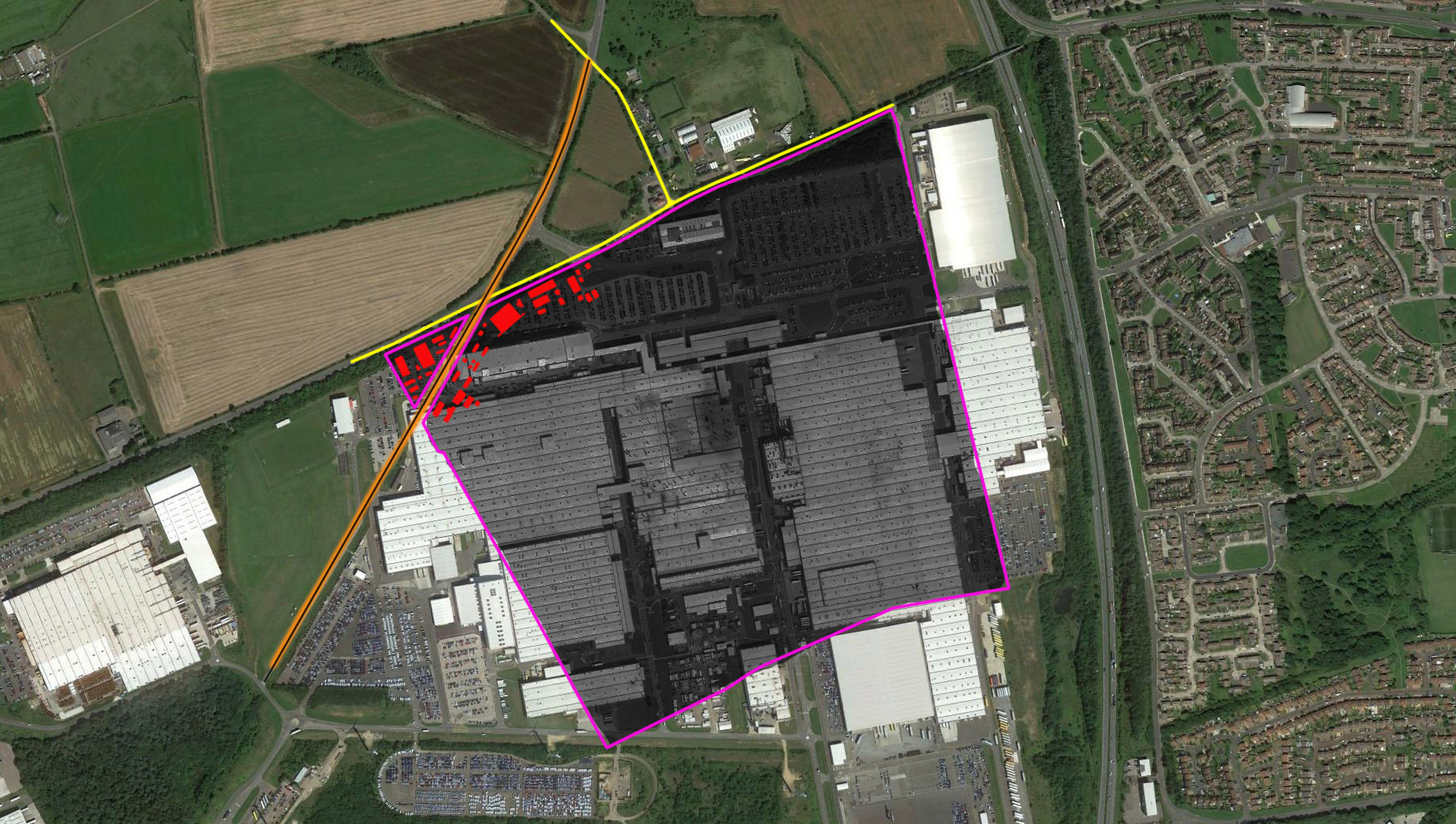 Usworth, 1918. Courtesy of Ed Andrews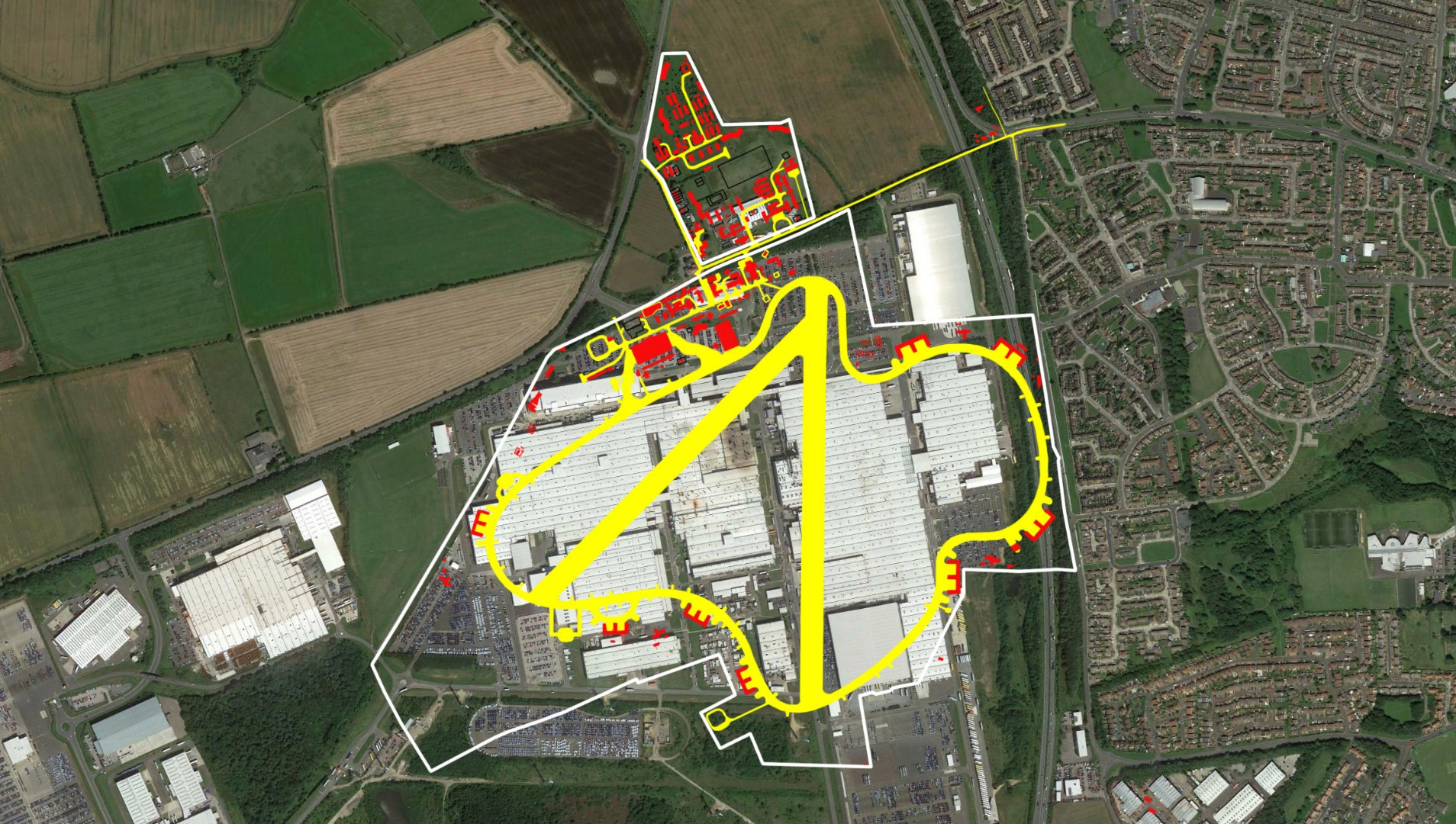 Usworth, 1945. Courtesy of Ed Andrews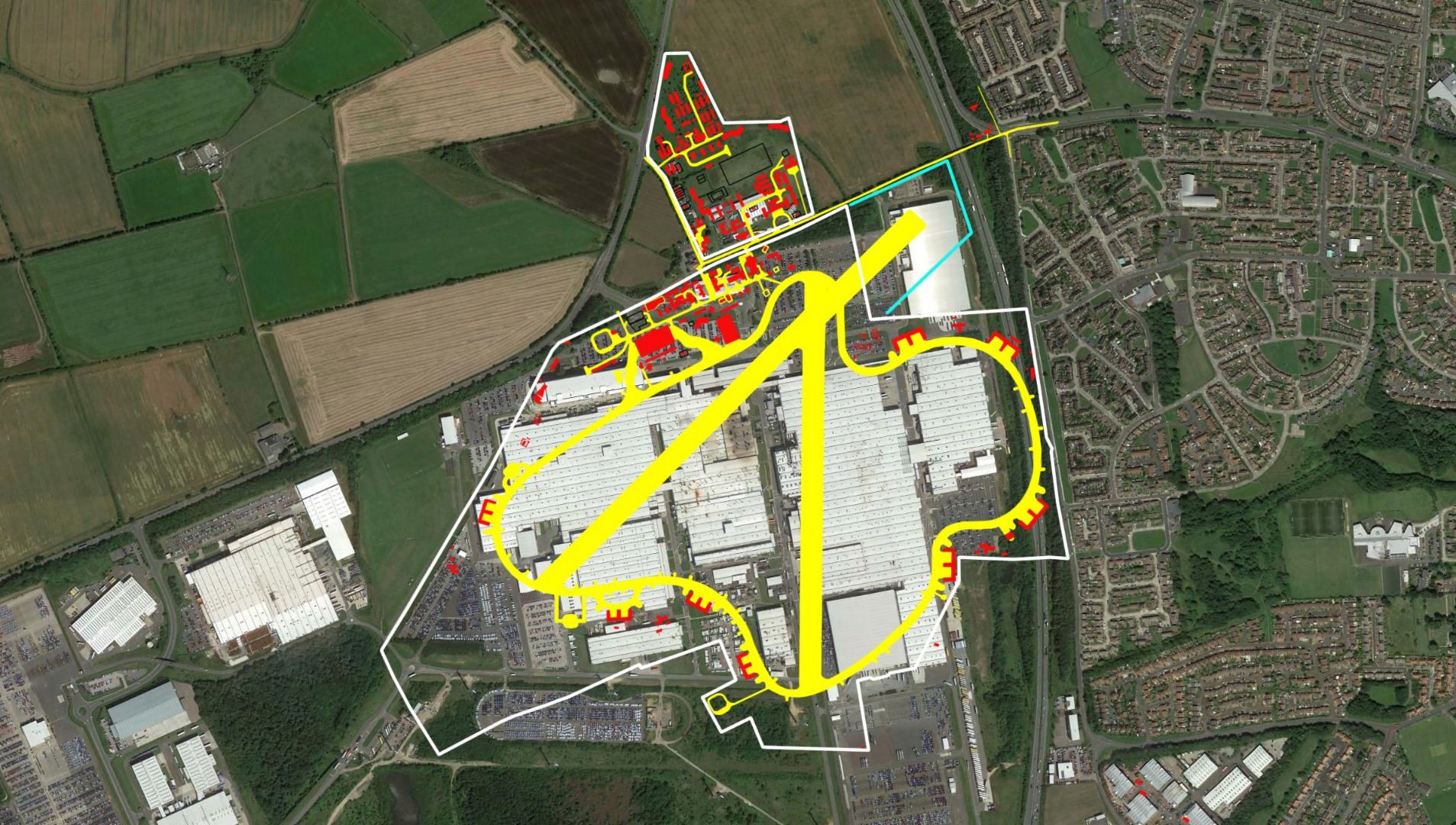 Usworth, 1945+ with the extended runway. Courtesy of Ed Andrews