| | |
| --- | --- |
| Also known as: | Bury Aerodrome / Bury Landing Ground / Marshal's Paddock / RAF Bury / RAF Upwood / RFC Bury / Upwood Aerodrome |
| County: | Cambridgeshire |
| Current Status: | Aviation / Farmland / Housing / Industry / Leisure activity |
| Date: | January 1917 - September 1995 |
| Current Use: | Limited flying |
| Used By: | RAF / RFC / Civil / USAF |
| Landing Surface Types: | Unpaved, later paved (1943) |
| Aircraft Roles: | Bomber / Fighter |
Famous Cambridgeshire bomber airfield Upwood was originally used during the First World War, initially being known as Bury, using land at Simmonds Farm. No 75 Squadron employed the airfield as a Home Defence landing ground from the early part of 1917. In 1918 the airfield's role switched to training with the arrival of No 191 (Night) Training Squadron (TS) in July and No 190 (Night) TS joining fairly shortly after, by which time Bury had not only evolved from a landing ground to an aerodrome with greater facilities but changed its name to Upwood on 24 September. These units operated a variety of aircraft until disbanding during May and June 1919. The site was quickly relinquished to become farmland again and would remain undisturbed until the 1930s, buildings such as some of the hangars surviving for many years.
Upwood reopened in early 1937 with two squadrons equipped with Hawker Hind bombers, soon replaced with the first examples of Fairey Battles. These units, Nos 52 and 63 Squadrons, left a few days after World War Two started in September 1939 for Abingdon and Bristol Blenheims of Nos 35 and 90 Squadrons soon appeared for training duties. No 17 Operational Training Unit (OTU) subsequently formed in April 1940, an amalgamation of the two Blenheim squadrons present. Upwood was a busy place at this time and aircraft also used satellites such as especially Warboys. No 1511 Beam Approach Training Flight flew from Upwood between October 1941 and April 1943, using Airspeed Oxfords.
All airfield residents had to go as major reconstruction work took place at the airfield, once No 17 OTU transferred to Silverstone in April, with three hard runways being laid. Upwood needed a few more months after tentatively reopening the following November after its stint on Care and Maintenance but was now earmarked for Pathfinder Force (PFF) use. De Havilland Mosquitoes and Avro Lancasters moved in once work was complete, part of the Pathfinder Force. The Pathfinder Navigation Training Unit (NTU) arrived from Gransden Lodge in June 1943, but due to the runway building taking place, the air echelon stayed at Warboys until entirely moving there on 5 March 1944.
Operational elements, No 139 Squadron flying Mosquitoes and No 156 Squadron flying Avro Lancasters, arrived in February and March of 1944. These units operated from Upwood for the remainder of the war and completing thousands of sorties in their vital pathfinder role. They were joined by No 1409 Meteorological Flight in the summer of 1945, flying more Mosquitoes.
Several Lancaster squadrons arrived in 1946, once the Mosquitoes had left and their home saw brief Transport Command involvement. Upwood's role as a heavy bomber base would continue as the Lancasters were replaced by Avro Lincolns in the late 1940s. No 230 Operational Conversion Unit formed at Upwood in 1953 to provide training on the type, returning to its former name of the Lincoln Conversion Flight two years later, and in January 1956 the unit moved to Hemswell. The Radar Reconnaissance Flight also used Upwood for just over three years from 1952.
The next generation of aircraft replaced the Lincolns in the mid 1950s, in the shape of the English Electric Canberra. First unit to use this jet-engined aircraft at Upwood was No 18 Squadron but the bomber version of the Canberra was already being phased out. The last Canberra squadron to leave was No 35 when it disbanded in September 1961 and brought to an end Bomber Command's frontline association with the type. Operational flying had to all intents finished here but the RAF still had plenty of use for its airfield.
The airfield was passed for use by various ground support elements such as the RAF Regiment and notably the RAF School of Education. Within a few years however these units had left as well. Real fears persisted that Upwood would close in the first half of the 1970s but it carried on in an accommodation overspill capacity for RAF ground station Brampton until RAF use ceased in 1981. It then passed to the USAF and the airfield was used to support Alconbury with various housing and services based there. The site was also home to the USAF's Mathies NCO (Noncommissioned Officer) Academy and NCO Leadership School. A rundown of USAF activities at Alconbury during the early 1990s meant that Upwood was needed less and the airfield was returned to the Ministry of Defence. Lingering American use saw the last USAF family moved out of Upwood housing in 2005, while the medical complex run by the 423rd Medical Squadron finally closed in October 2012.
Flying had returned to Upwood in 1982 with the arrival of Nene Valley Gliding Club. Members faced major uncertainty when the RAF stopped maintaining the airfield in September 1995 but, with some rejigging as to where flying would take place, they continue to operate from what is known as Marshal's Paddock, named after a local farmer and glider pilot who had leased the club the land. Other parts of the site are used for various industrial, leisure and residential purposes. The airfield is still very much tangible with many buildings remaining, including the C hangars, part of a runway and perimeter track. However, the outlook for at least parts of Upwood does not look at all good with extensive demolition planned for housing.
The following organisations are either based at, use and/or have at least potentially significant connections with the airfield (as at 01/06/2019):
Bury Parish Council
Nene Valley Gliding Club http://www.nvgc.org.uk/ 
Oypla.com LLP
Ramsey Town Council
Turbine Motor Works Ltd/TEAM Airparts
Upwood & Raveley Local History Group
Upwood and The Raveleys Parish Council
Notable Past Associated Organisations:
Herts County Auto and Aero Club
Main unit(s) present:
No 7 Sqn

No 11 BAT Flight

No 17 OTU

No 18 Sqn

No 21 Sqn

No 26 Sqn

No 35 Sqn

No 37 Sqn RAF Regiment

No 40 Sqn

No 48 Sqn RAF Regiment

No 49 Sqn

No 50 Sqn

No 52 Sqn

No 53 Sqn

No 61 Sqn

No 63 Sqn

No 75 Sqn

No 76 Sqn

No 90 Sqn

No 98 Sqn

No 102 Sqn

No 105 Sqn

No 109 Sqn

No 139 Sqn

No 148 Sqn

No 156 Sqn

No 190 (Night) TS

No 191 (Night) TS

No 214 Sqn

No 230 OCU

No 542 Sqn

No 1409 Met Flight

No 1511 BAT Flight

No 1552 RAT Flight No 4 Section
No 2739 Sqn RAF Regiment
No 2753 Sqn RAF Regiment
No 3503 Servicing Unit

Bomber Command Film Flight Unit

Lincoln Conversion Flight

Nene Valley GC

Pathfinder Navigation Training Unit

Radar Reconnaissance Flight

RAF School of Education
Photographs and video from the memorial unveiling at Upwood, 27th July 2019.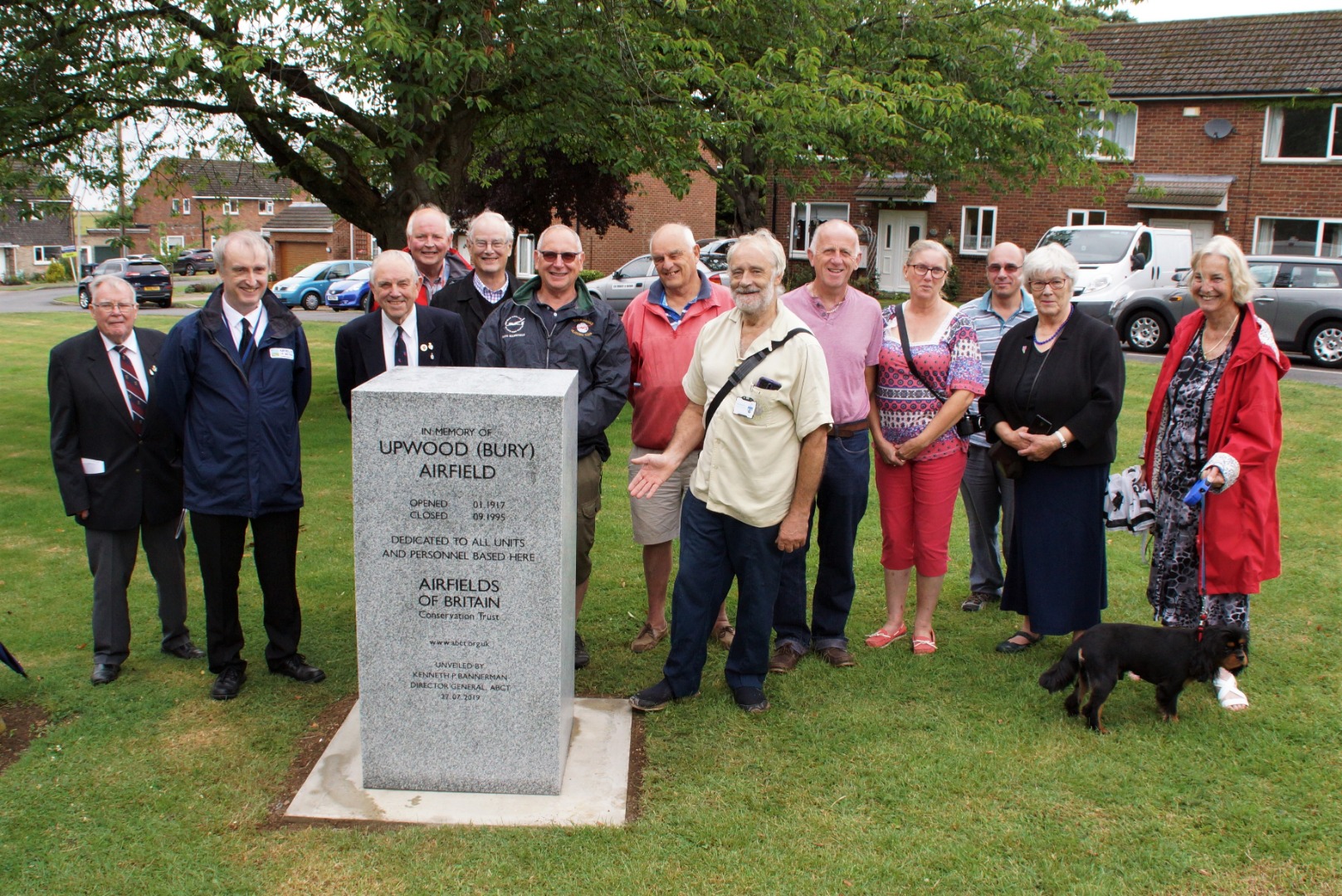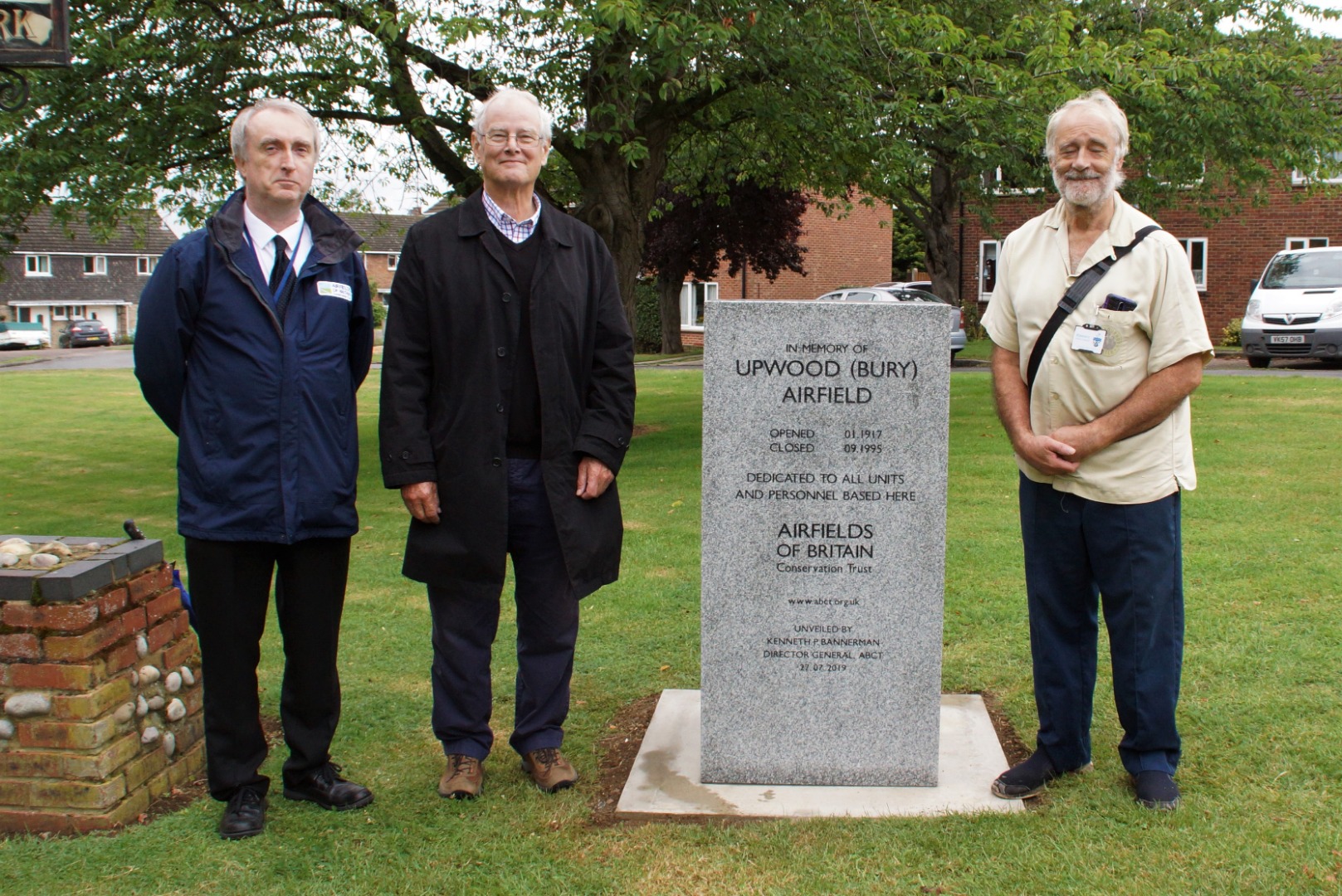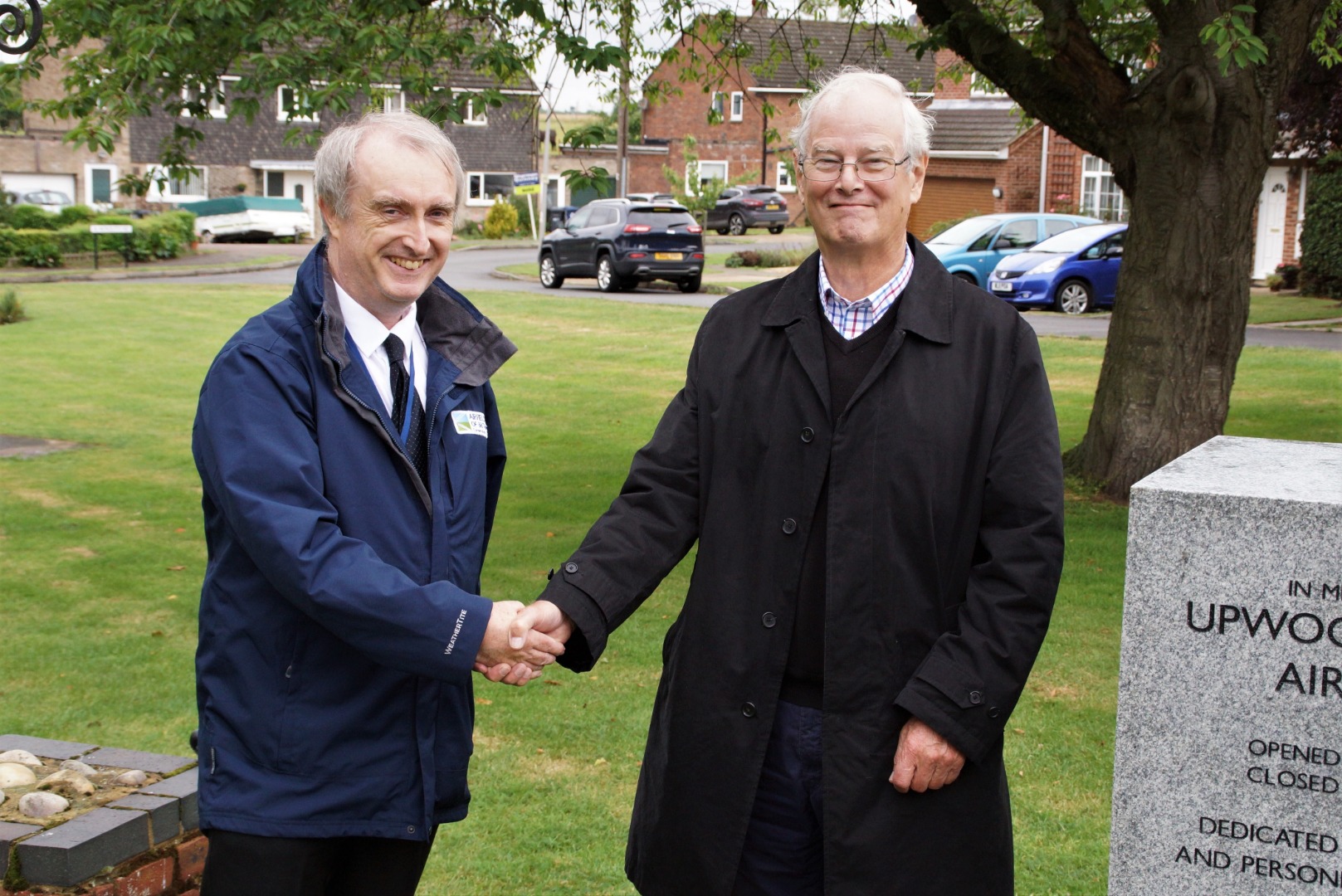 Kenneth Bannerman with Garth Slater, Vice-Chairman, Upwood and the Raveleys Parish Council.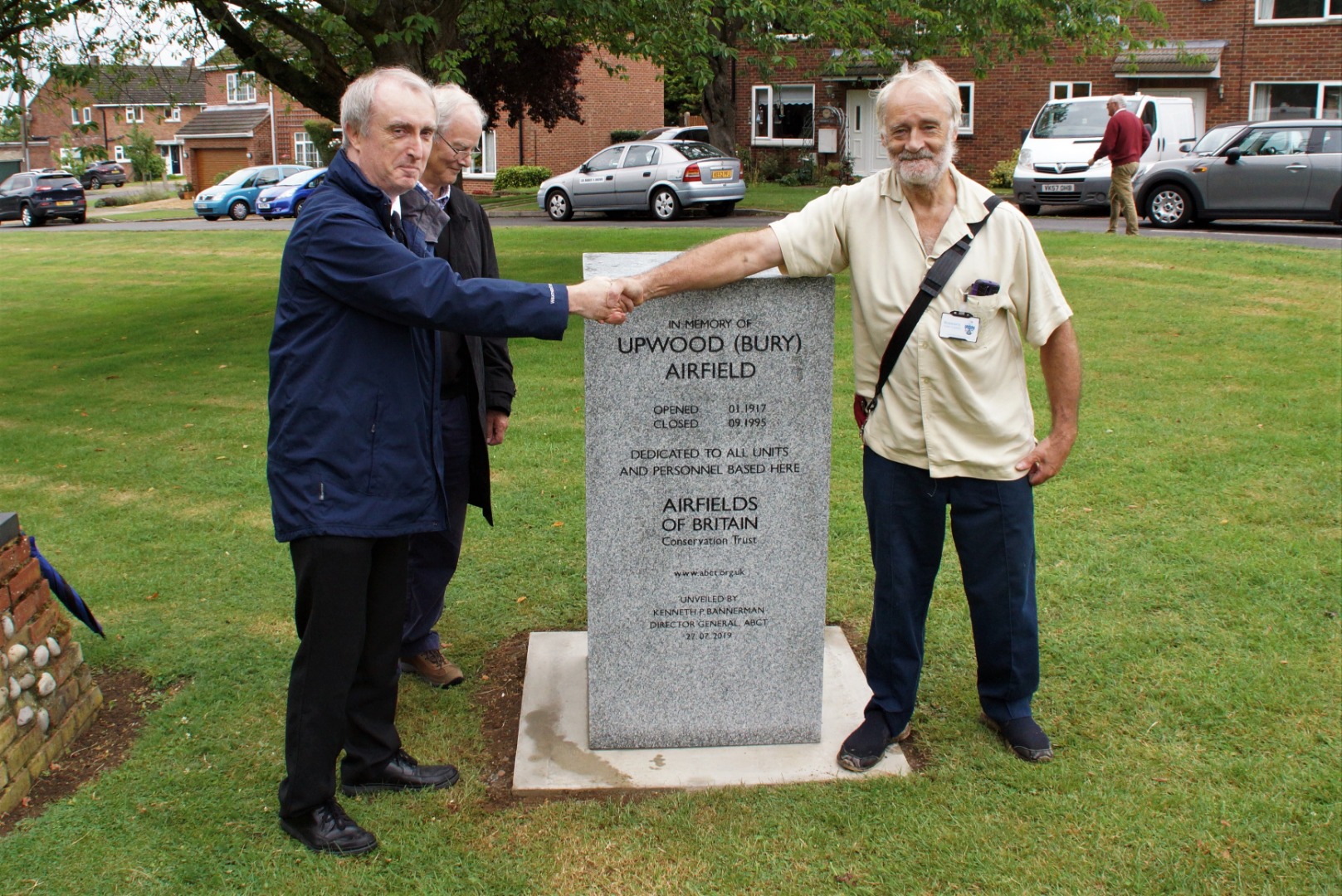 Kenneth Bannerman with Councillor Robert Brown, Ramsey Town Council.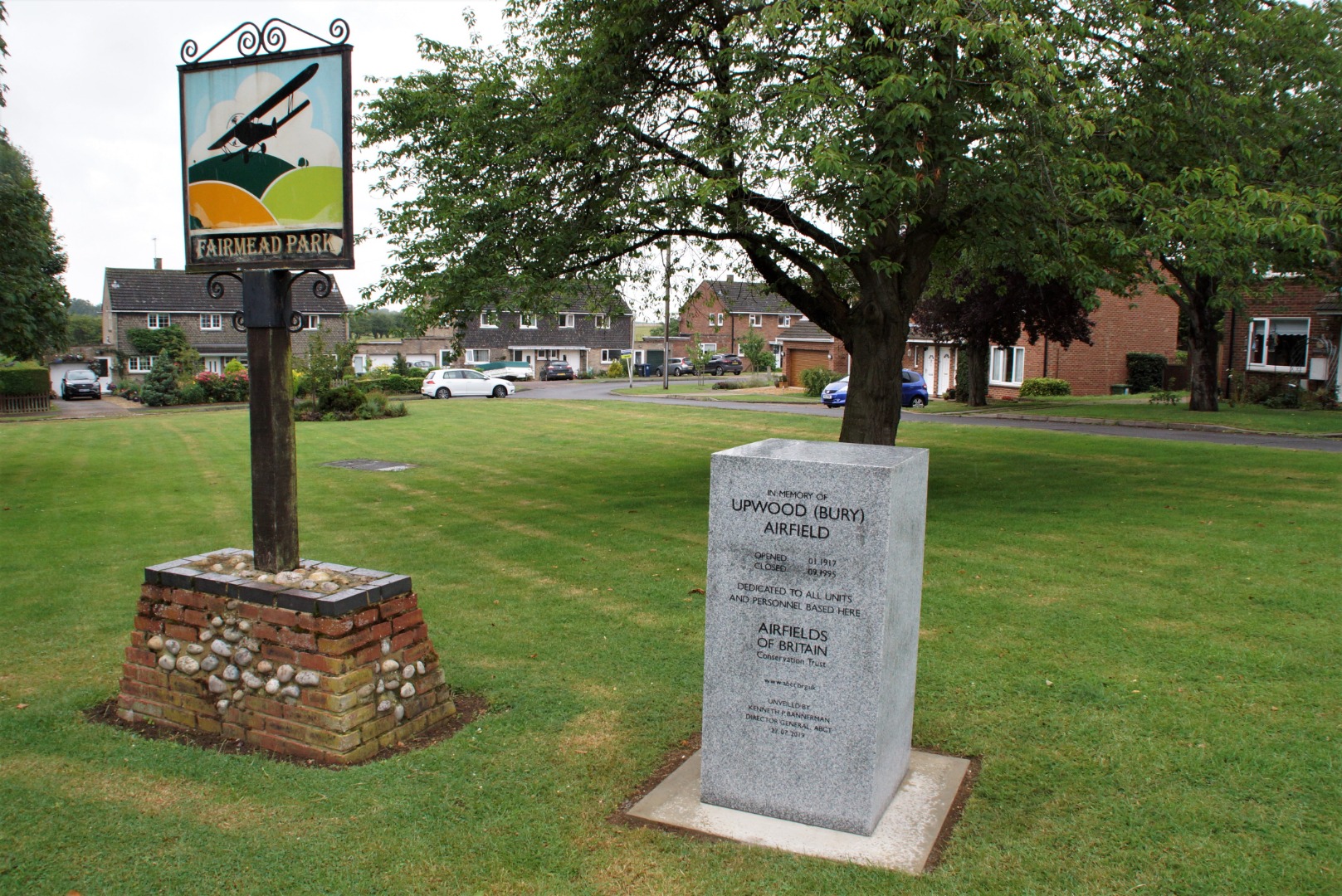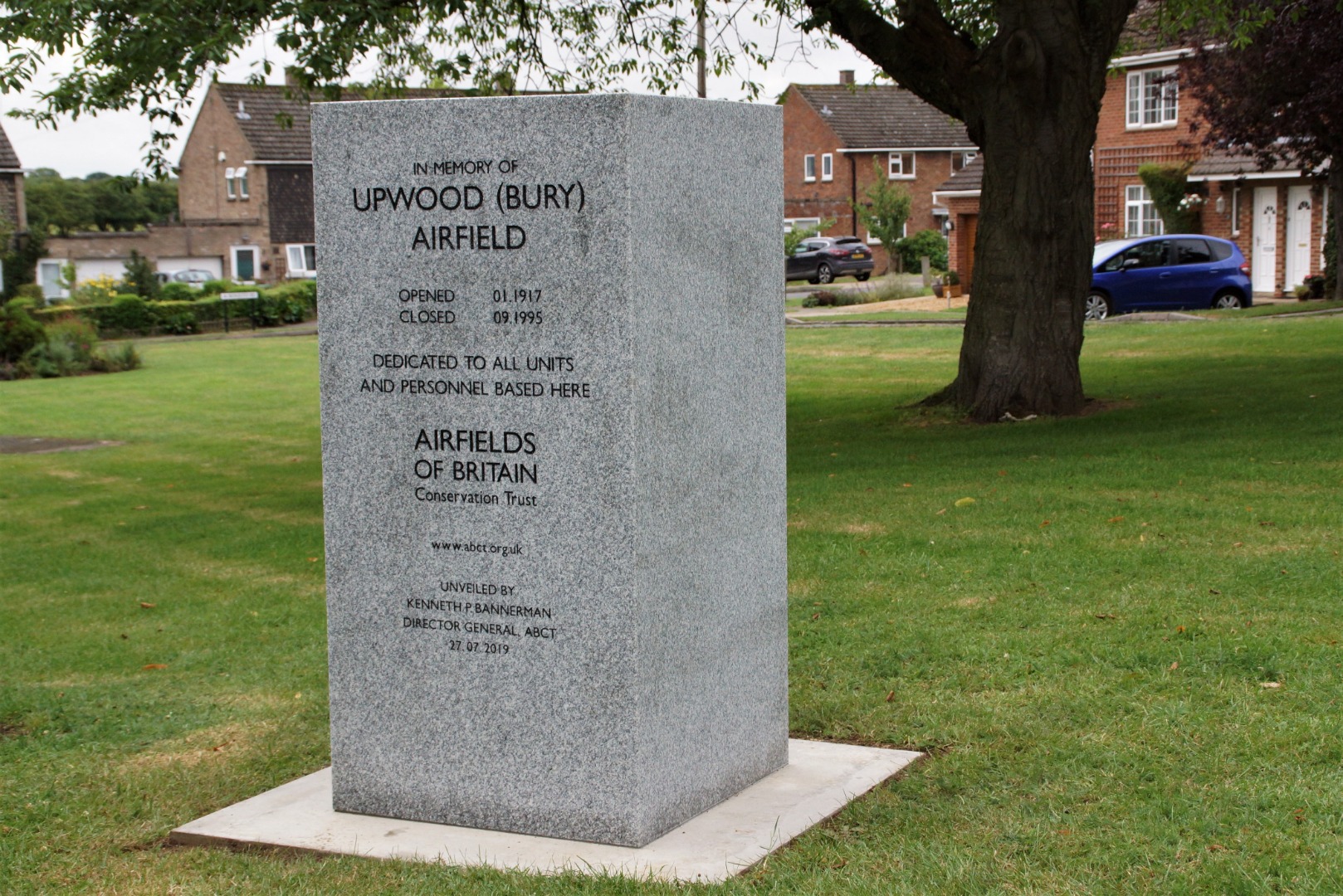 RAF pilots flying de Havilland Tiger Moths at Upwood, 1956. Courtesy of British Pathé
Noise tests being carried out, using aircraft from Upwood, 1965. Courtesy of British Pathé
Runways being taken up at Upwood. Courtesy of kaneedwards2001
Footage of RAF Upwood, 25 October 1983. Courtesy of Wesley Boyer
Drone footage of Upwood. Courtesy of Aaron Ferguson
Footage of Upwood, 25 January 2014. Courtesy of Eddie Eagle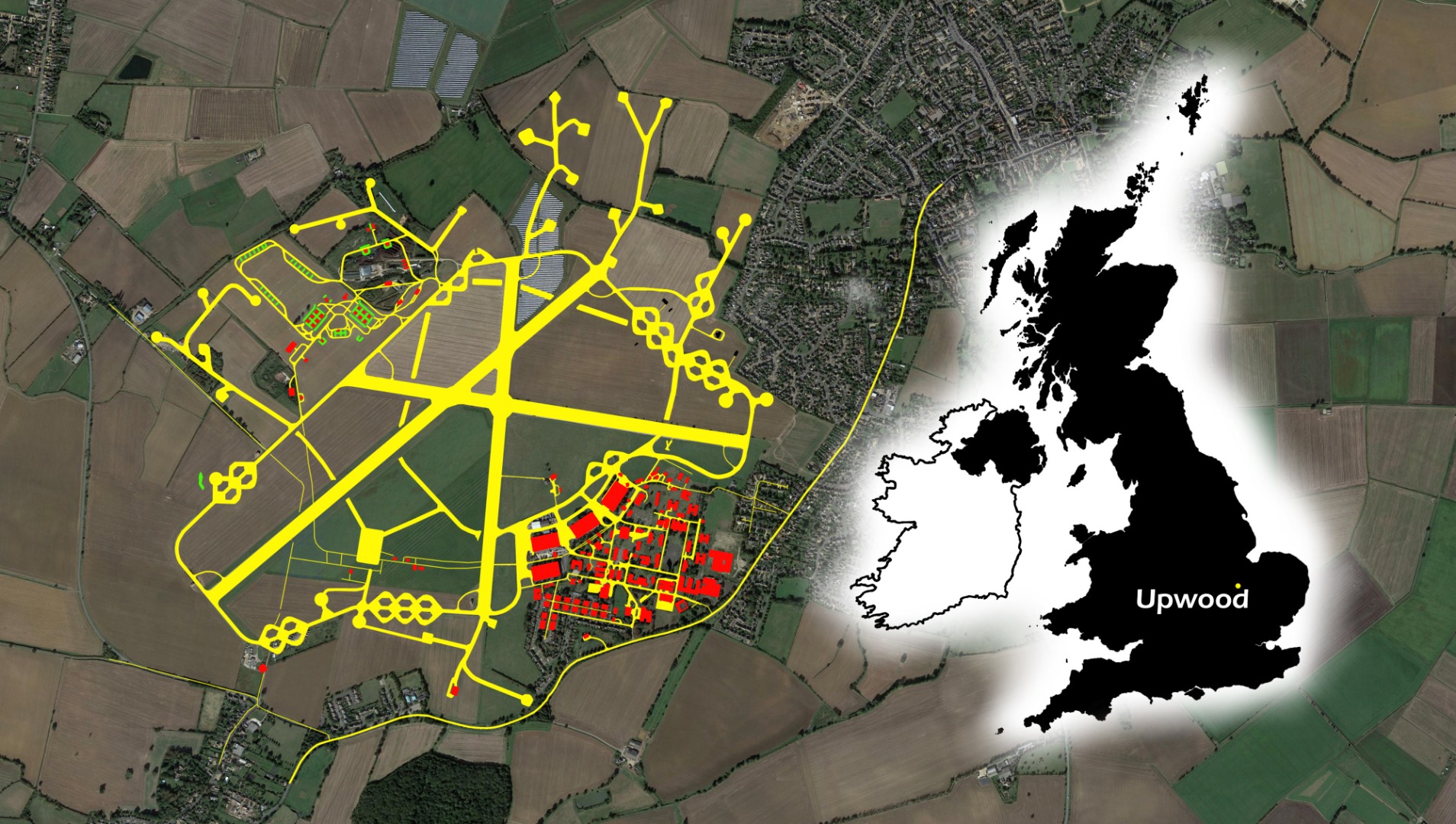 Plan of Upwood. Courtesy of Ed Andrews
| | |
| --- | --- |
| Parent(s)/HQ Airfield(s): | |
| Satellite(s): | |
| Decoy Airfield(s): | |
| Home Defence Flight Station(s): | |