| | |
| --- | --- |
| Also known as: | Morrich (unofficial local name) / RAF Tain / Tain Aerodrome |
| County: | Highland |
| Current Status: | Farmland / Range |
| Date: | 16 September 1941 (irregular use from 1938 as range LG) - June 1947 |
| Current Use: | Disused |
| Used By: | RAF / RAF (Czech) / FAA / RCAF |
| Landing Surface Types: | Unpaved, later paved |
| Aircraft Roles: | Bomber / Fighter / Maritime patrol / Naval aviation / Trainer |
Flying began at Tain from around 1938 as a supportive landing ground for the nearby bombing and firing ranges. In 1940 approval was given for the land to be developed as a satellite for the proposed Clay of Allan Airfield which subsequently became known as Fearn. Tain opened on 16 September 1941 under Fighter Command control, with Fearn now acting instead as its satellite. The first of many units making brief stays from both the RAF and Fleet Air Arm arrived in the form of Hawker Hurricanes from No 17 Squadron that month. During the spring of 1942 Bomber Command also sent detachments of Handley Page Halifaxes from No 76 Squadron. Tain's location gave the crews access to targets in Norway, and in particular the German battleship Tirpitz. Attacks on the ship were unsuccessful on this occasion.
This airfield had proved rather quiet while serving as part of Fighter Command, though had served as home for the important Coastal Command Development Unit (CCDU) between June 1942 and April 1943. After passing to that Command in February 1943, No 1 Torpedo Refresher School carried out anti-shipping training for both FAA and RAF crews until disbanding in January 1944. Activity now picked up as various Coastal Command strike units spent time at Tain for largely brief periods until the end of the war, operating aircraft such as Bristol Beaufighters.
With a significant runway extension, Consolidated Liberators of No 86 Squadron moved in from June 1944. The unit was busy, especially through June and July with anti U-boat operations, sinking several, for example U-534 only days before Germany surrendered. The squadron then moved on to Oakington in August 1945, as did the Czech No 311 Squadron, which from August 1944 had similarly operated Liberators. Other wartime Tain residents included a number of FAA Fairey Barracuda squadrons as well as part of No 4 (Coastal) Operational Training Unit using Miles Martinets.
Both No 1 Torpedo Training Unit (TTU) and the Coastal Command Instructors School (CCIS) arrived from Turnberry in November 1945, the CCIS residing at the site until disbanding in the spring of 1946. The TTU departed for Thorney Island as the year came to an end, to leave Tain on Care and Maintenance. The airfield finally closed in June 1947 to once again become part of the range, in 1954 seeing an unusual exercise whereby the eastern end of the NE/SW runway was deliberately blown up by bombs to test more improved runway repair techniques. It has become one of the busiest ranges in the UK and for years has been used by various NATO members. Tain continues to be used in this role, for strafing, as well as for inert and concrete bombs, rather than high explosive weapons. Part of the runways still remain, as well as many of the buildings including the control tower, with the land now also being used for agriculture.
The following organisations are either based at, use and/or have at least potentially significant connections with the airfield (as at 01/09/2011):
Inver Community Council
Tain Library
Tain Through Time
The Royal Burgh of Tain Community Council
Main unit(s) present:
No 1 Torpedo Refresher School

No 1 Torpedo Training Unit

No 4 (Coastal) OTU

No 8 AGS

No 17 Sqn

No 19 (P) AFU

No 76 Sqn

No 86 Sqn

No 123 Sqn
No 132 Sqn
No 143 Sqn

No 144 Sqn

No 186 Sqn

No 206 Sqn
No 235 Sqn
No 236 Sqn
Np 254 Sqn
No 279 Sqn
No 280 Sqn
No 281 Sqn

No 311 Sqn

No 404 Sqn

No 415 Sqn

No 417 Sqn
No 455 Sqn
No 489 Sqn
No 518 Sqn

No 519 Sqn

No 547 Sqn

No 801 Sqn

No 815 Sqn

No 817 Sqn

No 822 Sqn

No 829 Sqn

No 1491 (Fighter) Gunnery Flight

No 1491 (TT) Flight

No 2831 Sqn RAF Regiment

Coastal Command Development Unit

Coastal Command Flying Instructors School

Coastal Command Instructors School
Photographs and video from the memorial unveiling at Tain on Saturday 11th August 2018: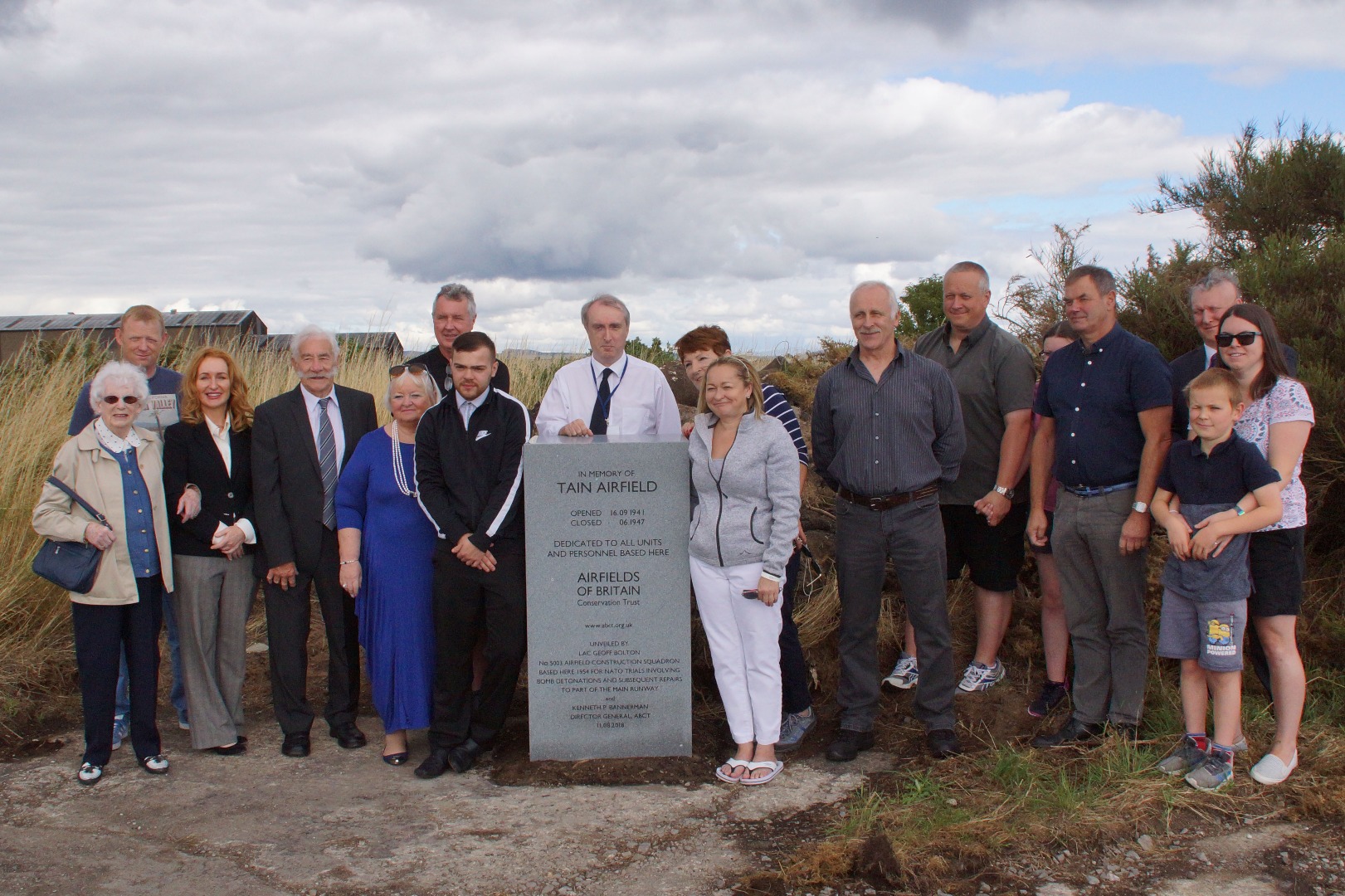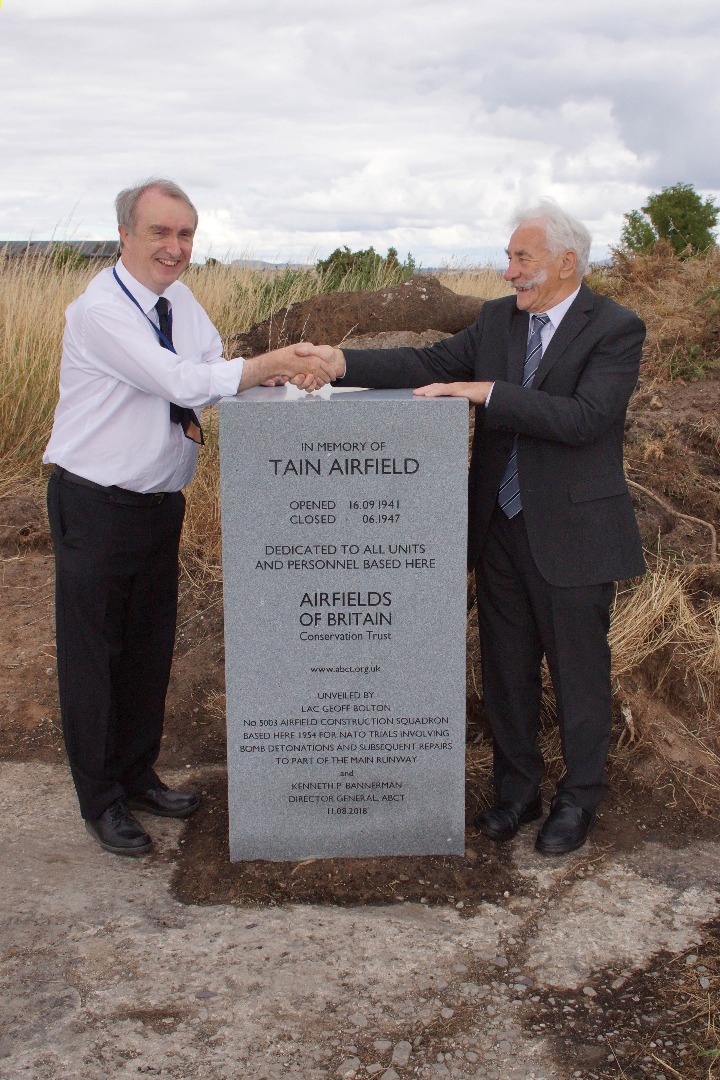 Footage of a landing and take off at Tain, c. 2015. Courtesy of Richard Robins-Bird
Highland Car Club at Tain, c. 2016. Courtesy of george Gf