| | |
| --- | --- |
| Also known as: | RAF Turnberry / RFC Turnberry / Turnberry Aerodrome |
| County: | South Ayrshire |
| Current Status: | Housing / Leisure activity |
| Date: | January 1917 - 17 September 1946 |
| Current Use: | Disused |
| Used By: | RAF / RFC / Civil |
| Landing Surface Types: | Unpaved, later paved |
| Aircraft Roles: | General aviation / Trainer |
Although heavily associated with golf, Turnberry has an equally long airfield history which goes back to January 1917. Aerial fighting and gunnery school training took place here for the rest of World War One under different nominal guises once the famous purpose-built course was converted for aviation use. Facilities at this time became quite considerable but soon disappeared after the Armistice of November 1918 and the airfield's closure not long afterwards, though the famous memorial – extremely rare for any of the Great War era to be seen at an airfield either then or since – was erected in 1923.

While Turnberry is primarily associated with World War Two, this place was before that period also recognised as one of the many civil landing grounds listed in the 1930s by the Automobile Association. Wartime brought the military back, to the chagrin of the golfing authorities. The airfield opened once again in a military training capacity after a delayed development phase under RAF Coastal Command control in February 1942 for initial use by No 5 (Coastal) Operational Training Unit. No 1 Torpedo Training Unit replaced this element as 1943 started, staying until the spring of 1944, by which time the OTU had already returned to Turnberry before it finally left again in August 1945. Now back came No 1 TTU, although the dominant unit at this airfield became the Coastal Command Flying Instructors School; under a slightly different title, both this unit and No 1 TTU moved to Tain in the middle of November 1945.

During this time of somewhat confusing unit movements, types of aircraft to be seen at Turnberry proved equally varied. Familiar designs based here included Bristol Beaufighters and Beauforts plus Handley Page Hampdens, these and other types combining to help with various aspects of Coastal Command training. The airfield itself coped well with all the associated pressure, despite certain geographical limitations which notably restricted the number of available hardstandings for parked aircraft.

There was a gradual rundown once Coastal Command officially withdrew from Turnberry in September 1946. Motor racing among other activities occurred in the next few years but by the early 1950s golf had once more returned to the fore, with much of the airfield being cleared. Nevertheless, much remains today, with all three runways mostly intact in breadth as well as length, proving useful for car parking during major tournaments. Flying has resumed occasionally in more recent years too, albeit without any sense of permanency. Another surprising survivor is the control tower which now serves as a private dwelling. Turnberry may not be altogether popular as an airfield in certain quarters, for perhaps understandable reasons, but there is no denying how it played a major part in the winning of both World Wars.

The following organisations are either based at, use and/or have at least potentially significant connections with the airfield (as at 01/07/2013):
Dunure Cemetery
Girvan (Doune) Cemetery
Kirkoswald, Maidens & Turnberry Community Council
Trump Turnberry - hotel used as Officers' Mess
Main unit(s) present:
No 1 Fighting School

No 1 School of Aerial Fighting

No 1 School of Aerial Fighting & Gunnery

No 1 Torpedo Training Unit

No 2 (Auxiliary) School of Aerial Gunnery

No 5 (Coastal) OTU

No 10 EGS / S10 EGS

No 10 GS

No 254 Sqn

No 618 Sqn

Coastal Command Flying Instructors School

Coastal Command Instructors School

Torpedo Training Unit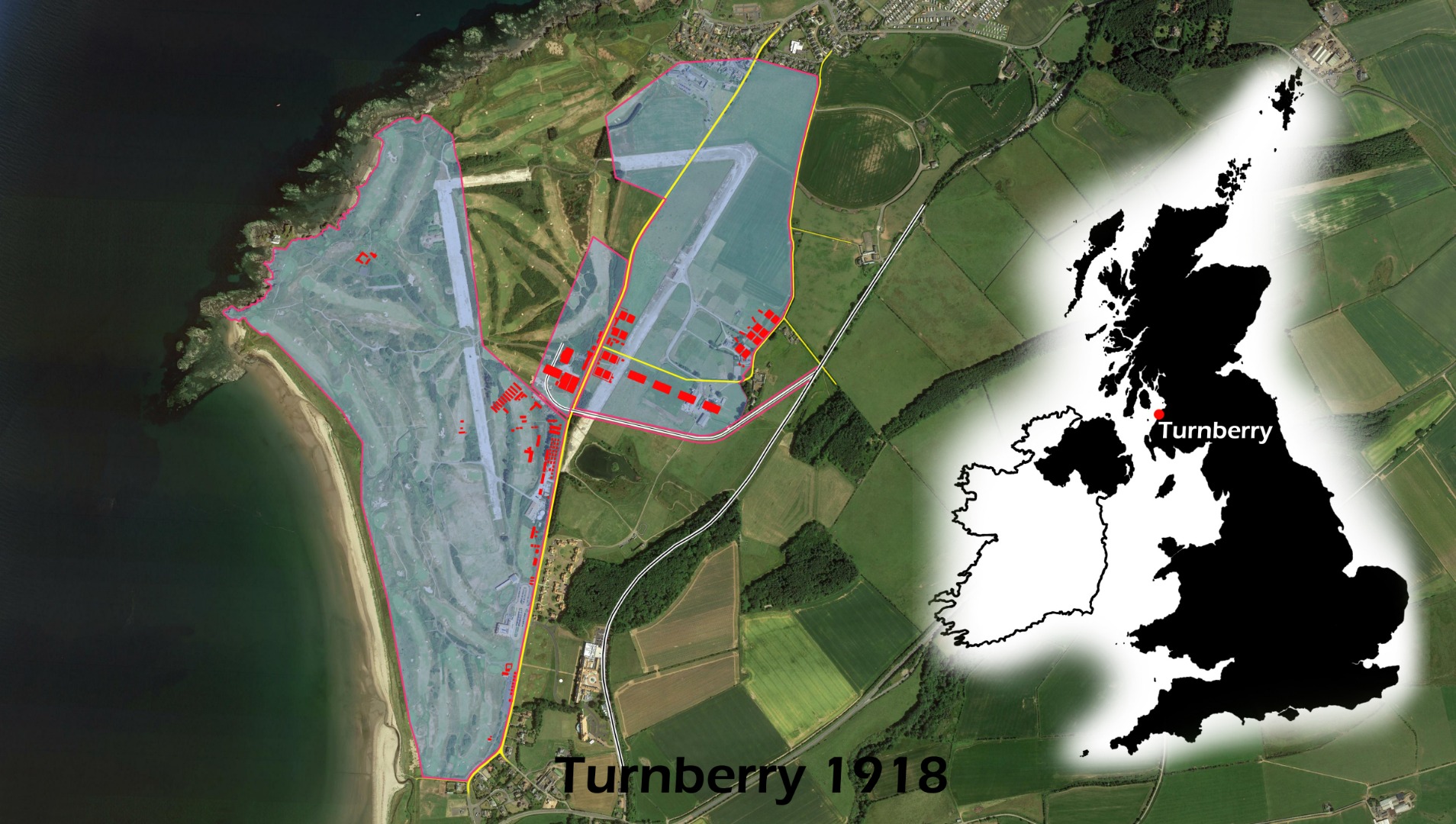 Plan of Turnberry, 1918. Courtesy of Ed Andrews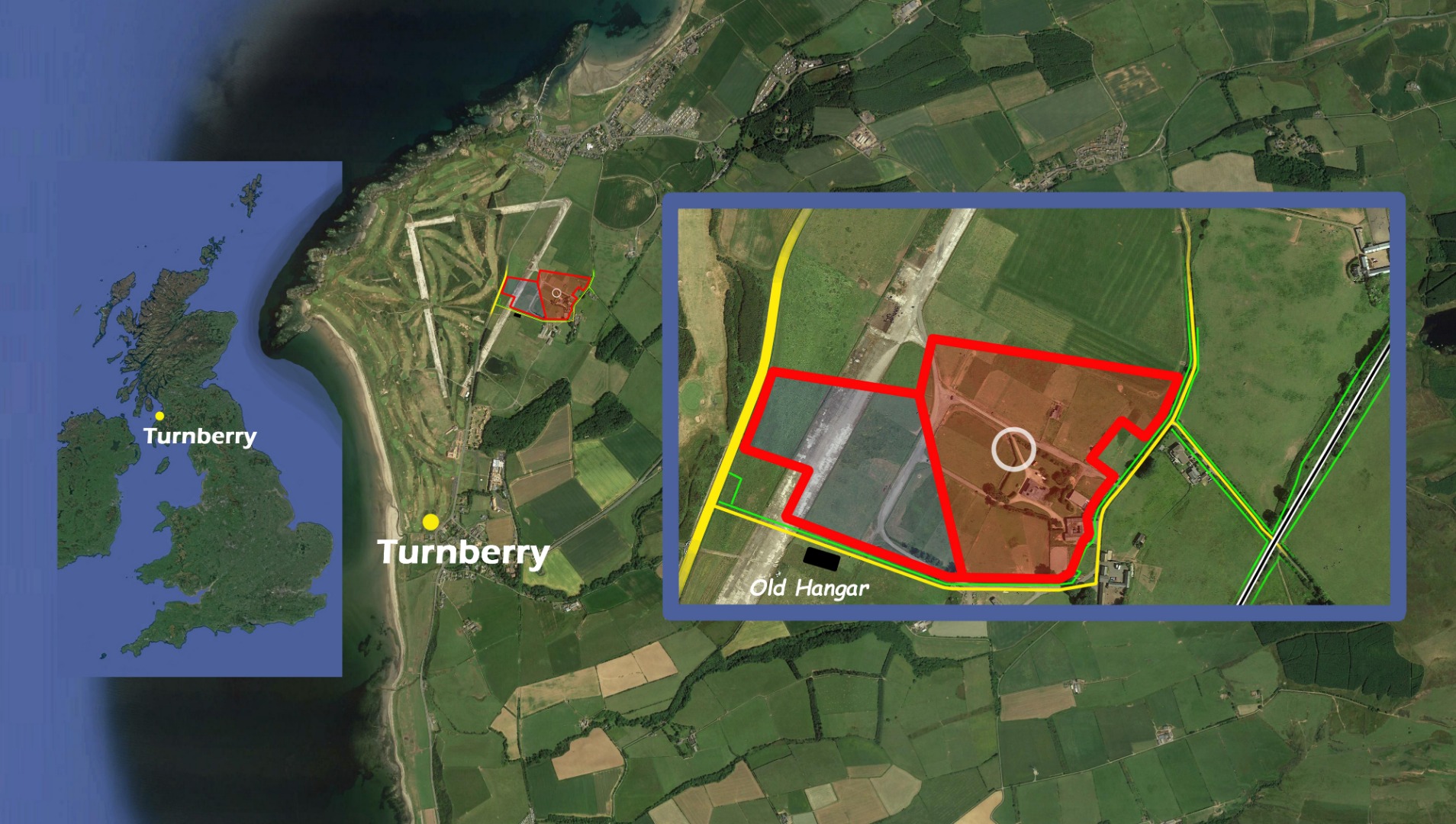 Plan of Turnberry, 1930s, when listed as an Automobile Association civil landing ground. Courtesy of Ed Andrews