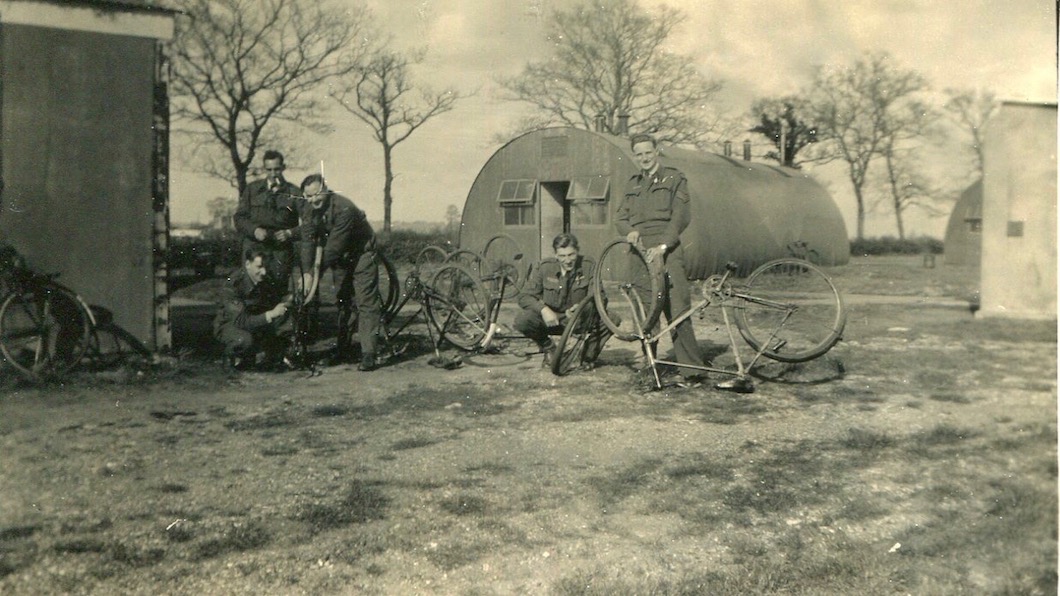 Fixing the bikes at most likely RAF Oakley. Noel is third from the left. Copyright Anne Crone/Philippa Werry
Noel Brinsley (1924-2010), Royal New Zealand Air Force (RNZAF)
Memories of Westcott, kindly provided by his daughter Philippa Werry:
My dad also wrote some notes about his life in the RNZAF. He joined up aged 18 in 1942, did his initial training in NZ, sailed to Canada in August 1943 for more training and from there sailed to Liverpool and got a train to RAF Padgate in Lancashire. ("Throughout this short trip, I was very impressed with the hundreds and hundreds of people waving to us from doors and windows as we went past. A wonderful welcome from a population who had already suffered so much.") There were no immediate vacancies in their next training airfields, so they were given a variety of jobs to fill in the time. Dad was transferred to London to work in the NZ Army Post Office, in the Strand, and he ended up boarding with a couple in Ilford, the man had been a patient of Dad's great-aunt Louisa Bird who was a nurse in the First World War. 
From there he went to RAF Mona near Holyhead for about 6 weeks ("This training station existed for the purpose of refining Navigators' and Wireless Operators' skills, by flying (irregular?) routes around the Irish Sea"), and then to Westcott. He had some great descriptions of how they chose their crews:
"The next move was to an Operational Training Unit. This was at RAF Westcott in Buckinghamshire. It was here that navigators, pilots, gunners, bombardiers and wireless operators sorted themselves into crews. This was done in a huge hangar, where all the personnel on each course gathered together and formed teams. There was no information available as to the capabilities or personalities of each individual, to assist in this selection process.
I can remember finishing up with a pilot, 2 gunners and a navigator. We commenced flying training in Wellington bombers, and were well into the course when after a long cross-country flight, the pilot developed some problem with his leg, and had to go into hospital. During the following weeks, the bombardier and gunners were transferred to fill vacancies in other crews. This left the navigator and myself kicking our heels waiting for the pilot to return from hospital. Eventually, after some time (about 3-5 weeks), the C.O. told us to join the crew selection process for the following course.
This we did, and were surprised to see our pilot had returned from hospital a few days later, been allocated a new crew and put on the same course. Unfortunately, he was killed a couple of weeks later when 2 aircraft collided and crashed on landing. There was only 1 survivor from the 14 men in both aircraft.
On being told to find a new crew, the navigator (Sam Elliot) and I joined the next course members in a hangar and started looking for a pilot, bombardier and 2 gunners. After looking around for a few minutes, we were approached by 2 tall young men and asked if we would be interested in joining up with them. These 2 were Eric Carpinter (pilot) and Pat Brewster (gunner). We soon found the other required crew members. These were Max Newton (gunner) and Stan Harrison (bombardier). This gave us the required 6 for a Wellington crew. At the next stage of our training, we were joined by a flight engineer – the only Englishman in our crew.
At Westcott (near Aylesbury), our course took some 4 weeks at the Westcott airfield, then a couple of weeks at the satellite field at Oakley (which was 2-3 miles from Oxford), followed by a final 2-3 weeks back at Westcott. The only thing remaining in our training programme was a 3-4 week period at what was called a Conversion Unit, where we were introduced to the Lancaster Bomber.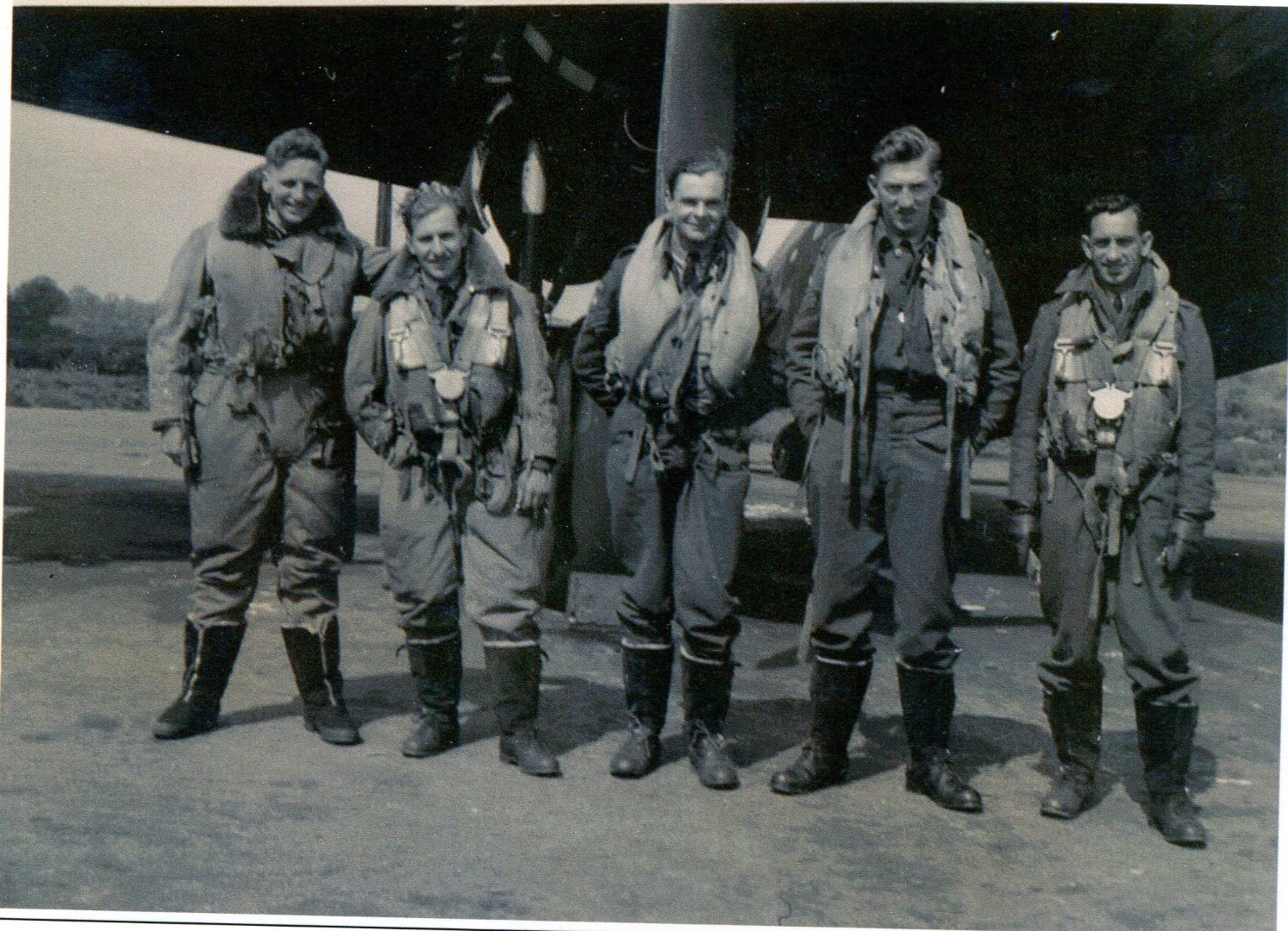 Aircrew standing in front of an Avro Lancaster in the 1940s. Noel is standing in the middle. Copyright Anne Crone/Philippa Werry
Shortly before finishing our training at Westcott, the war in Europe came to a finish. After almost 6 years of war, the English people had suffered tremendously, but I was full of admiration for the wonderful spirit exhibited during this period.
We left Westcott for the Conversion Unit in June 1945, with the hope of a posting to the Far East, where the war with Japan was continuing. This Unit was on a permanent RAF station named North Luffenham, which was quite close to Stamford. At the conclusion of this course, we were sent down to Brighton to await shipment home. It wasn't too long before we boarded the boat for the voyage home."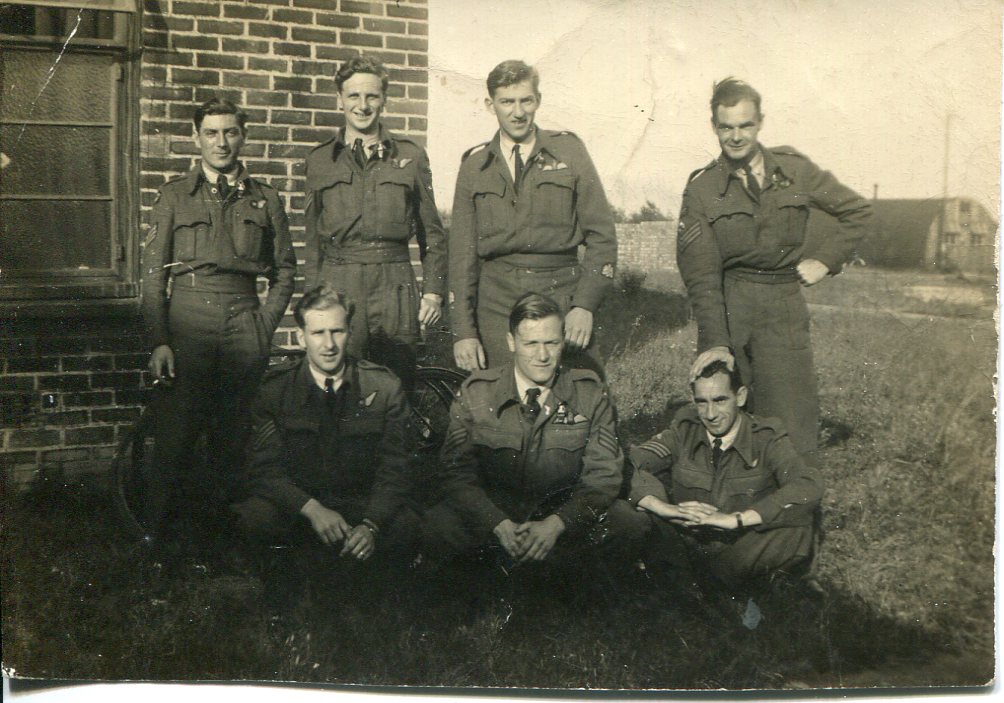 Top row Max (Newton), Pat (Brewster), Eric (Carpinter), Noel (Brinsley), Bottom row Stan (Harrison)" then possibly "English engineer" and maybe "Sam" (Elliott). 1945, possibly at North Luffenham. Copyright Anne Crone/Philippa Werry
Many thanks to Philippa Werry for supplying this article. If you have an airfield story please contact us today.
Share this page