| | |
| --- | --- |
| Also known as: | RAF Anglesey / RAF Mona / RNAS Anglesey |
| County: | Isle of Anglesey |
| Current Status: | Aviation / Industry |
| Date: | Opened September 1915 |
| Current Use: | Active |
| Used By: | RAF / RNAS / Civil |
| Landing Surface Types: | Unpaved, later paved |
Anglesey's oldest airfield has really seen three stages in its existence. The first began in World War One when an airship station, known as either Anglesey or Llangefni, became active in September 1915 in order to mount anti-submarine patrols over the Irish Sea. The landing area here was for long enough regarded as being rather rough for fixed-wing aircraft. Eventually some aircraft of this nature did appear when Airco DH6s briefly joined the airships to intensify the effort against U-boats in the summer of 1918 before moving to Bangor.
The airship base closed during 1920 and a long while passed before aviation resumed in this part of the island. No 3 Air Gunners School moved in from Castle Kennedy in December 1942, returning to that Scottish airfield in the autumn of 1943. It was quickly replaced by the newly-formed No 8 (Observers) Advanced Flying Unit which lasted at Mona up to disbandment on 14 June 1945. Avro Ansons had tended to dominate for most of World War Two as available aircraft equipment.
The first few years of peacetime did not favour Mona but the once abandoned site became Valley's Relief Landing Ground from 26 July 1951. Mona was used in this respect by No 202 Advanced Flying School, and the airfield's most acknowledged role is one maintained ever since for subsequently Nos 7 and then 4 Flying Training Schools. Although jet-engined trainers may have advanced in design and capability over the decades, while recently some more modern buildings have superseded their World War Two predecessors such as the original control tower, not that much has changed. Light aircraft flying club use has existed since the 1960s too. Mona was utilised as a disposal site during the foot and mouth crisis of 2001, yet it still remains relatively busy due to its connection with Valley.
The following organisations are either based at, use and/or have at least potentially significant connections with the airfield (as at 01/09/2011):
Bodffordd Community Council
Llangefni Library
ABCT would like to thank the Royal Commission on the Ancient and Historical Monuments of Wales for the use of their images. Find out more here: www.rcahmw.gov.uk and search their database here: www.coflein.gov.uk.

                  
Main unit(s) present:
No 3 AGS
No 4 FTS
No 5 (P) AFU
No 7 FTS
No 8 (O) AFU
No 63 GS
No 202 AFS
No 255 Sqn
No 521 (Special Duty) Flight
No 522 (Special Duty) Flight
No 577 Sqn
No 1606 (AAC) Flight
Mona Flying Club
Mona Flying Group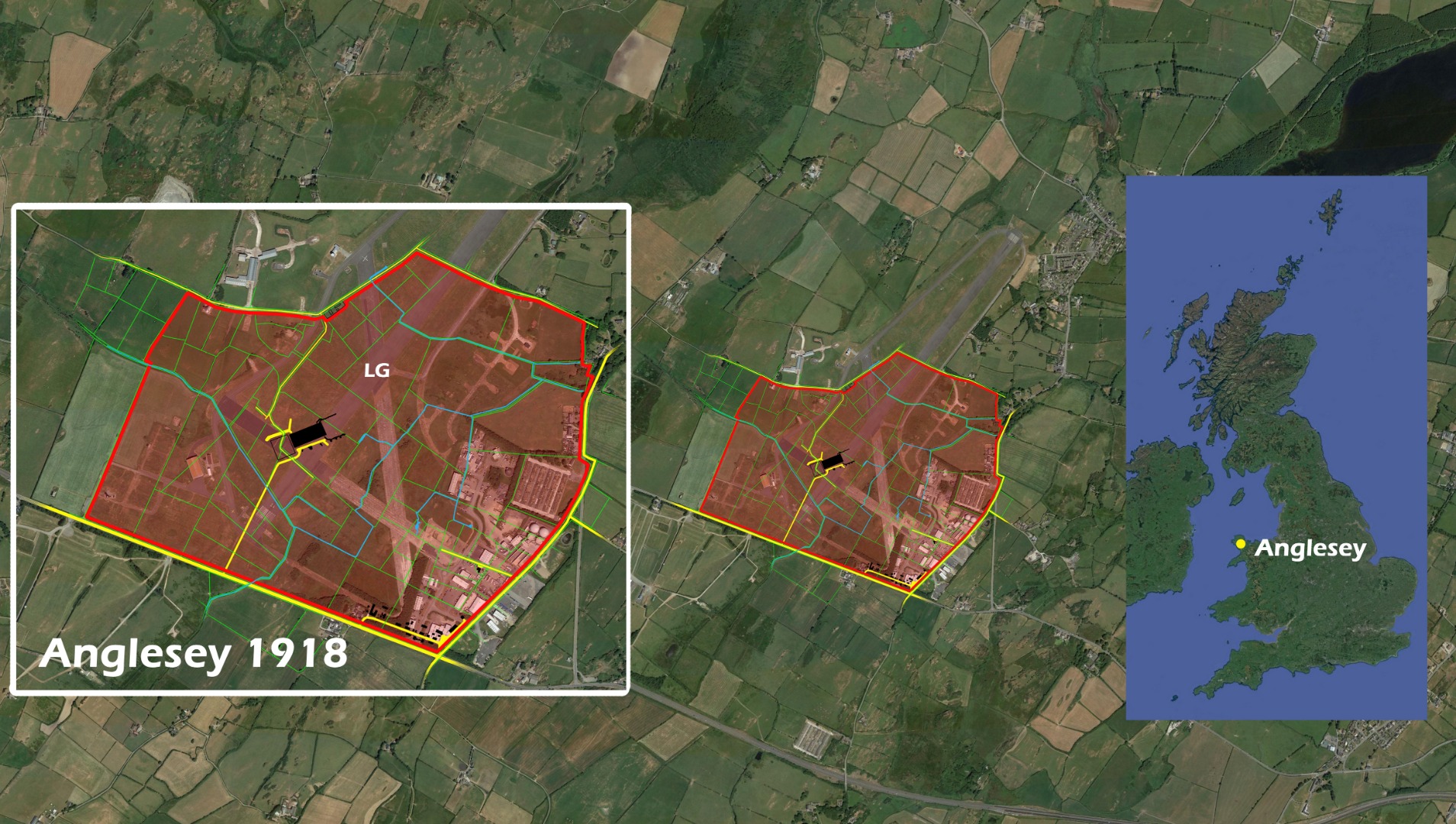 Plan of Anglesey, 1918. Courtesy of Ed Andrews