Did you know?
"
Oops, I'm sorry. I can explain everything." What Superman star Christopher Reeve said to military policeman at Westcott after accidentally landing his Booker-based sailplane at the airfield in March 1980. Staff recognised the actor, of course, but still had to check out he wasn't carrying any cameras on board because of the secretive testing going on at the time. Reeve stayed for a couple of hours whilst this was happening, having tea and signing autographs until his friend came to pick up the glider.
"
| | |
| --- | --- |
| Also known as: | RAF Westcott / Wescott (misspelling) / Westcott Solar Park / Westcott Venture Park |
| County: | Buckinghamshire |
| Current Status: | Industry / Solar park |
| Date: | September 1942 - 3 April 1946 |
| Current Use: | Disused |
| Used By: | RAF |
| Landing Surface Types: | Paved |
| Aircraft Roles: | Trainer |
Westcott, in Buckinghamshire, played a major part in training bomber aircrews during the Second World War, sending them on invaluable air navigation and leaflet dropping exercises, often over enemy territory as part of this training.
The former RAF site fully opened in September 1942 allowing No 11 Operational Training Unit (OTU) to gradually move in from the end of that month into October from its previous base at Bassingbourn. Various older and newer versions of Vickers Wellingtons could be seen both at Westcott and at its satellite, Oakley, alongside a range of other aircraft types, further enhancing realistic instruction.
During the last few days of fighting in Europe and immediately thereafter, the OTU helped to bring back former Allied prisoners of war as part of Operation Exodus. Indeed, more than 50,000 men received their first taste of real freedom and assistance in a long time after landing at the airfield.
Westcott closed and was transferred to the Ministry of Supply on 3 April 1946, exactly five years following its approval for requisition. Its interesting and significant history was to continue, however, and it became an important centre for rocket propulsion testing with work undertaken by various organisations greatly advancing levels of design and knowledge in this area. Notable achievements included the testing of captured German technology, future British guided missiles and the ill-fated Blue Streak ballistic missile.
Today the former base in very much in use by Westcott Venture Park which provides industrial and office premises, though some tangible reminders, for example various support buildings, survive acknowledging its original wartime beginnings.
The old landing area, meanwhile, has been harnessed as a source of renewable energy accommodating vast numbers of solar panels.
The following organisations are either based at, use and/or have at least potentially significant connections with the airfield (as at 01/09/2018):
Adept Automation
Airborne Engineering
AJF Motor Engineers
Altirium
Ampac ISP UK
Arcomet Group
B S Motorsport Ltd
Badger Tac
BAE Systems (P&ES)
Balance International
Blue Streak Airsoft/Badger Tac Events
Blue Vent Design
Boditronics
BS Motorsport ltd
Casagrande
Church of St. Mary, Westcott
Class Act
Cold Cure Windows
Construction Specialities
CoverPax
Crendon Replicas
Dalwood Robin
DubDays
Ecopac
European Astrotech
Flowline
Foodworks
The Garden Office
Garden Studio Ltd
Glass Tech
Hard Metal Knives (HMK)
Howarth Alistair
L S Sculpture Castings
Mark II
Morleys of Bicester
N W T
New Era Cap Co.
Olivers Design 2 Print
Oxford Pipelines
Pelling Stuart
Phillips Welding Services
Quality Print Finishers
R&W Transport
R3 Technology
Refuel
RG Surveys
Runway Studios
Saunders Tim
Simtech Simulation Techniques
Terranova
Topcats Racing
Total UK
Translunar Technologies
Village Networks
Volker Highways
Westcott Church of England School - 

visit the airfield each year to lay wreaths at the ABCT memorial after the school Remembrance service

Westcott Parish Council
White Daren
Ziebe
Main unit(s) present:
No 1 Engine Control and Demonstration Unit
No 2 Sqn
No 11 OTU
No 92 Gp Servicing Section
No 453 Sqn
No 4307 Anti-Aircraft Flight RAF Regiment
Rocket Propulsion Establishment GC
Footage of the memorial unveiling at Westcott on 28 September 2012.

On Friday 28 September 2012 we were delighted to have the Rt Hon John Bercow MP, Speaker of the House of Commons unveil the Westcott memorial, which is in his constituency, along with ABCT's Kenneth Bannerman.

We were privileged too to have Squadron Leader Susie Barnes (Left), Logistics Adviser, New Zealand Defence Staff, lay a wreath in memory of the New Zealand personnel who trained at the airfield during the Second World War, along with Flight Lieutenant Claire Nixon from RAF Halton.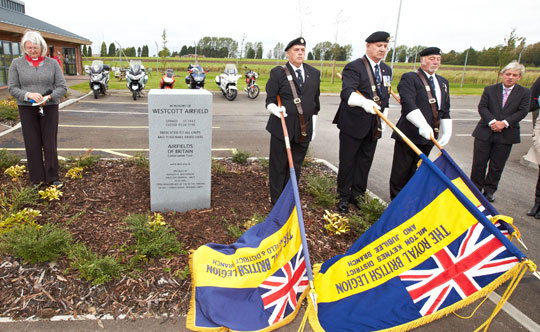 Special thanks must go to The Royal British Legion, Buckinghamshire County and particularly the Chairman, Mike Barry, who arranged for standard bearers to be present.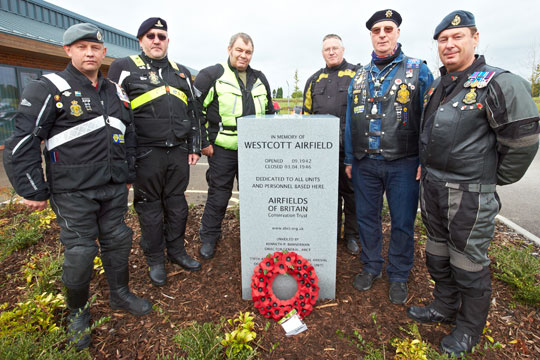 For the first time at one of our events the Riders Branch of the Legion for the area also came along to support the event and their presence was very much appreciated.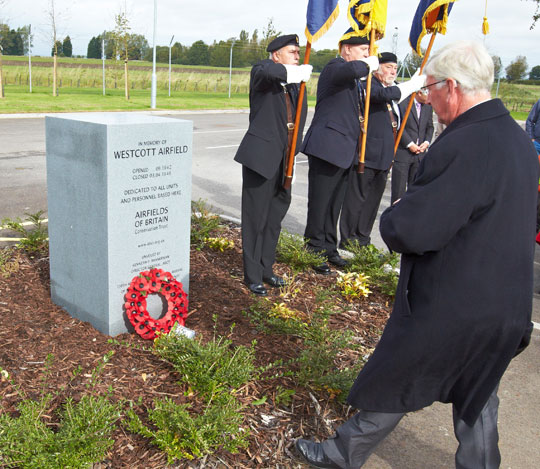 Air Vice Marshal (Rtd) David Crwys-Williams laid ABCT's wreath at the memorial and it was lovely to meet him and his family, including his new grandson. Local vicar, the Rev Mary Cruddas played a vital part in the proceedings, dedicating the memorial, and we are thankful too for her time.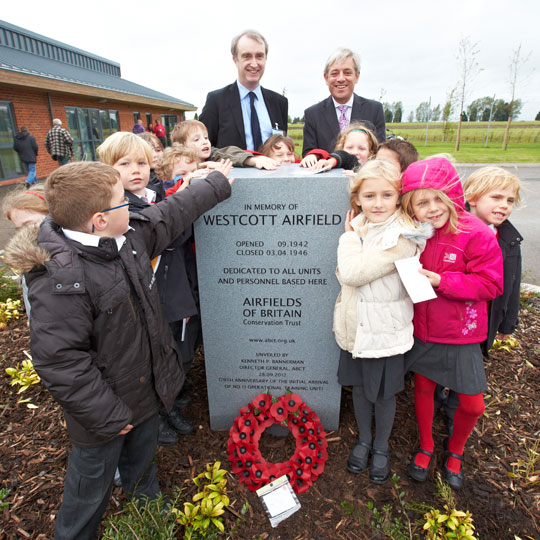 Some of the children from Westcott Church of England Primary School came with headmaster, Mr Barry Grace, and some other teachers; the attendance of the school group really helped to mark the occasion. We were very pleased to learn that the youngsters at the school are taught about the history of the airfield and an annual visit to the memorial will form part of their studies.
 
The unveiling could not have been possible without the assistance of Ed Andrews, Central Services Manager, Westcott Venture Park, who was hugely instrumental in organising the event and making it a memorable morning.
The test firing of an experimental rocket engine at Westcott, 1958. Courtesy of British Pathé.
Various shots of engineers working inside the Ministry of Aviation Rocket Propulsion Establishment at Westcott, 1964. Courtesy of British Pathé.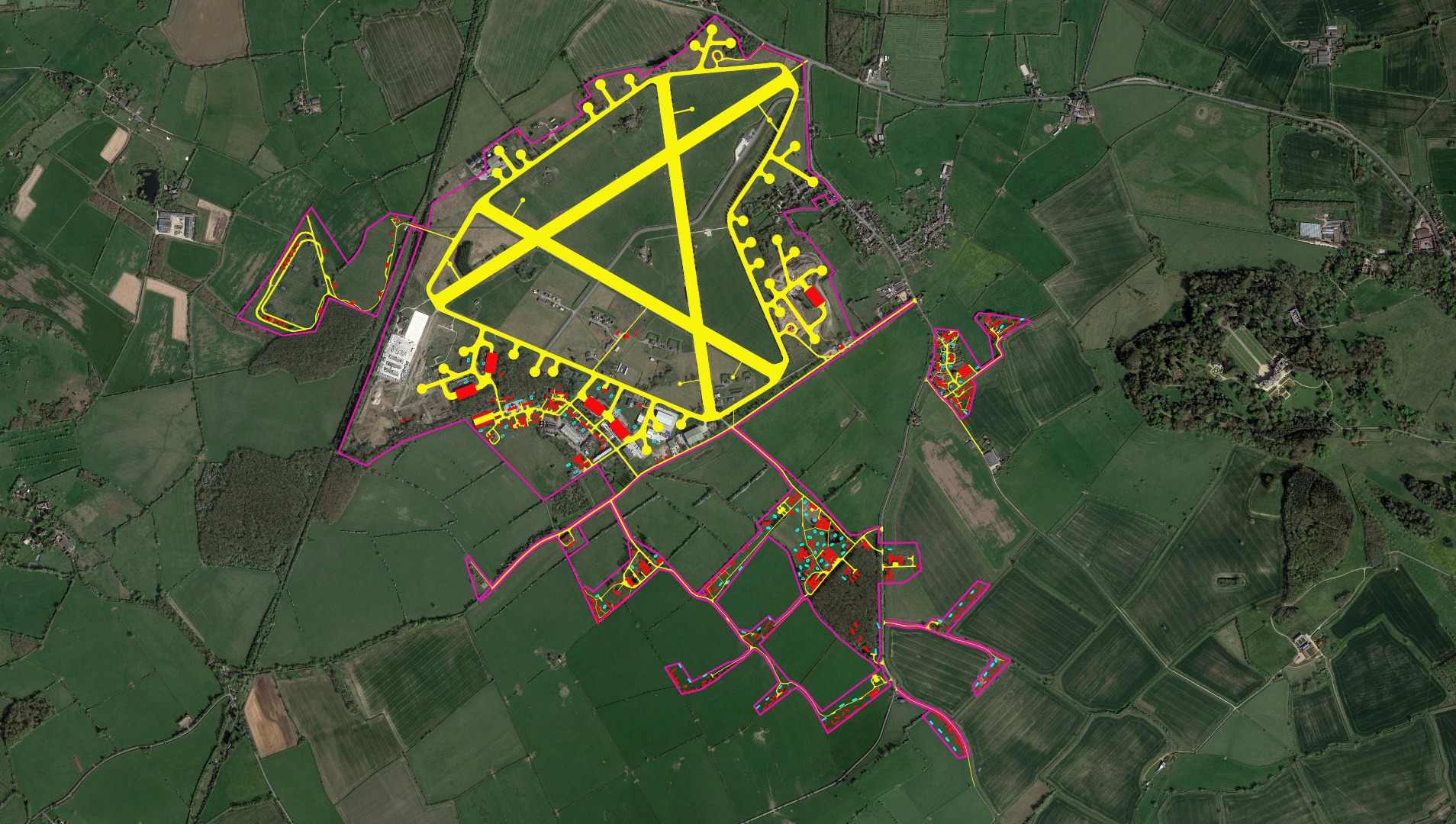 Key
Purple = Boundary
Yellow = Roads & Runways
Red = Buildings
Light Blue = Blast / Air raid shelters