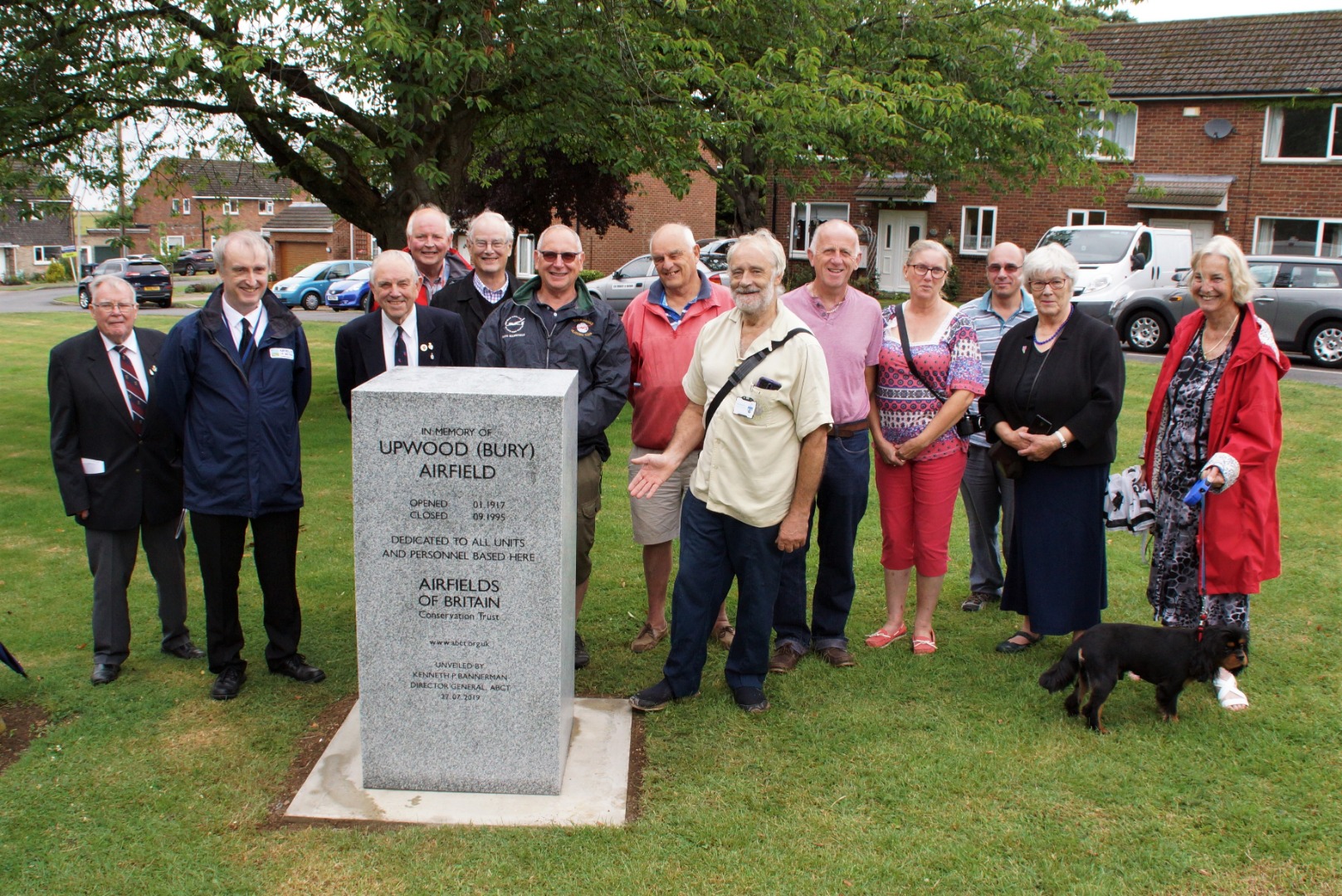 As a result of long planning and co-operation between the Airfields of Britain Conservation Trust and various more local elements, three memorials were unveiled during the weekend of 27 and 28 July 2019 to commemorate Upwood, Warboys and Mepal Airfields.
Upwood remains a most famous airfield which dates back to World War One, when it was originally known as Bury. Heavily used by many famous bomber aircraft types and their units between the late 1930s and early 1960s, Upwood then gave further excellent RAF service as primarily a ground station before being taken over by the United States Air Force in the 1980s. Now a mixture of industry and housing, flying still continues in the form of the Nene Valley Gliding Club.
Nearby Warboys also had a distinguished career as a bomber airfield during World War Two, both in operational and training capacities. Originally Upwood's main satellite airfield, it subsequently became an independent base and played a major part in RAF Bomber Command's Pathfinder Force operations, seeing Avro Lancaster and de Havilland Mosquito squadrons. One of Britain's most famous bomber pilots, 'Hamish' Mahaddie, served as Station Commander and his son attended the memorial unveiling.
Mepal near Ely possesses strong links with New Zealand and No 75 Squadron, which arrived from Newmarket in June 1943. This unit's Short Stirlings and then Avro Lancasters were heavily involved in the RAF bomber offensive and became the main resident here until the end of World War Two. As with Warboys, Mepal later saw missile use before eventually closing in 1963. As with Upwood and Warboys, Mepal continues to be an evocative and highly relevant place, also epitomising the sheer timelessness that is a striking feature of Britain's airfields.
See the locations of the memorials below and click on the airfield name to see more photographs from each event, under the 'Marker' tab:
Upwood Airfield
Turn left off Ramsey Road between Upwood and Ramsey at Fairmead Park housing estate, south of airfield; memorial on green alongside Canberra Road A46 (approximate postcode PE26 2PY).

Warboys Airfield
South of village, on east side of airfield alongside B1040 at industrial area, and close to existing squadron memorial (approximate postcode PE28 2RJ).

Mepal Airfield
North-west side of Sutton village, off The Brook and to the north of both Sutton C of E (VC) Primary School and The Royal British Legion, alongside sports field (approximate postcode CB6 2QQ).
Share this article