Did you know?
"
Energy Power Resources Limited runs the largest straw burning power station in the world at Mepal. A totally different but equally useful activity sees the East Anglian Working Newfoundlands club train these dogs at a lake on the airfield.
"
| | |
| --- | --- |
| Also known as: | Elean Business Park / RAF Mepal / Sutton |
| County: | Cambridgeshire |
| Current Status: | Farmland / Housing / Industry / Dog training |
| Date: | April 1943 - 1963 |
| Current Use: | Disused |
| Used By: | RAF |
| Landing Surface Types: | Paved |
| Aircraft Roles: | Bomber / Missile |
Mepal opened in April 1943 as a satellite for Waterbeach. The village of Sutton was nearer but its name could not be used due to potential nominal confusion elsewhere. No 1665 Heavy Conversion Unit formed at Mepal with Short Stirlings as a training element under Bomber Command. It made way after only a few days to Waterbeach for the operational No 75 Squadron with more Stirlings. The New Zealand unit would become a permanent fixture at the airfield for the rest of the war. Original Mark I versions of the aircraft were gradually replaced with Mark IIIs from the spring of 1943 and No 75 Squadron flew over 1,700 sorties from both Mepal and its previous base Newmarket Heath on minelaying and bomber missions, losing over 70 aircraft.
The Stirlings were replaced by Avro Lancasters in March 1944, with operational flight numbers increasing for the rest of the war. After No 75 Squadron finally moved from here to Spilsby in July 1945, more Lancasters of Nos 7, 44 and 49 Squadrons then quickly arrived that summer of 1945 with the winding down of activity around the country at the end of the war. Nos 7 and 49 stayed for a time but eventually left for Upwood on 29 July 1946 and Mepal was immediately put under Care and Maintenance.
Mepal was loosely maintained after World War Two by initially the RAF and then in the 1950s the Americans until No 113 Squadron reformed on 22 July 1959 when it became home to the unit's Thor nuclear missiles. These weapons remained until July 1963 having been at a particularly high state of readiness during the Cuban Missile Crisis. With the missiles gone Mepal closed and the majority of the land returned to agriculture. Some buildings have seen use for industry although most have now been demolished, including the control tower. The three runways, 36 dispersals and the majority of the perimeter track have also been removed leaving little trace of this once busy bomber airfield. A public road that crossed the airfield and had to be closed in wartime was reopened before the 1940s ended.
The following organisations are either based at, use and/or have at least potentially significant connections with the airfield (as at 01/06/2019):
BNB Developments Ltd
Cheffins (Cambridge Machinery Sales) - world's biggest monthly machinery and plant sale
East Anglian Working Newfoundlands
EPR Ely Limited - Elean Power Station
Isle Target Sports Club - established 1979, uses original airfield shooting range on west side where heavy bomber machine-guns were tested for accuracy and upon repair
Jardin Corrugated Cases Ltd
M C V Bus & Coach Ltd
Mepal Parish Council
Sutton Parish Council
The Chequers, Sutton - pub contains photographs of airfield
Notable Past Associated Organisations:
Main unit(s) present:
No 7 Sqn
No 44 Sqn
No 49 Sqn
No 75 Sqn
No 113 Sqn
No 1665 HCU
Photographs and video from the memorial unveiling at Mepal, 28 July 2019: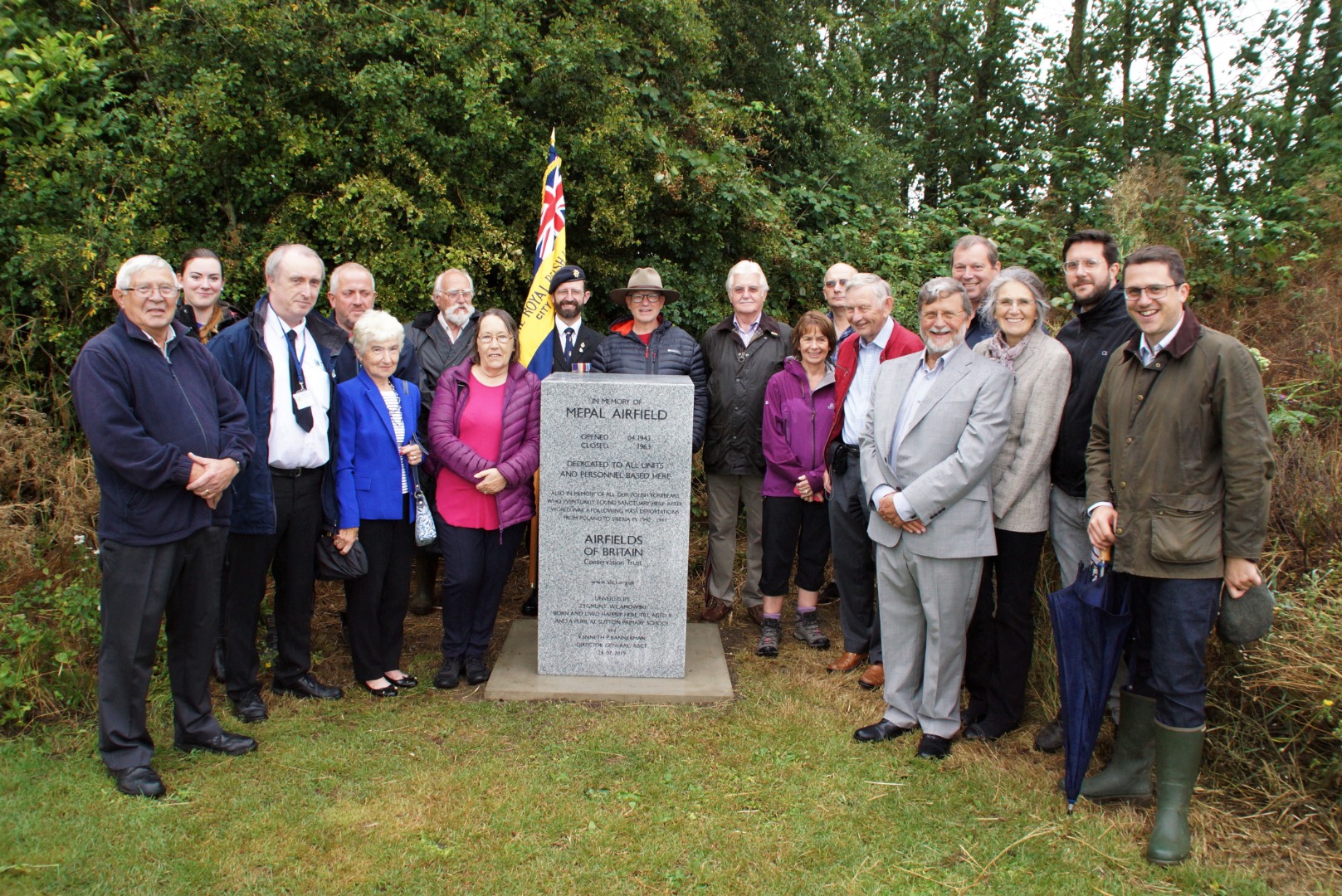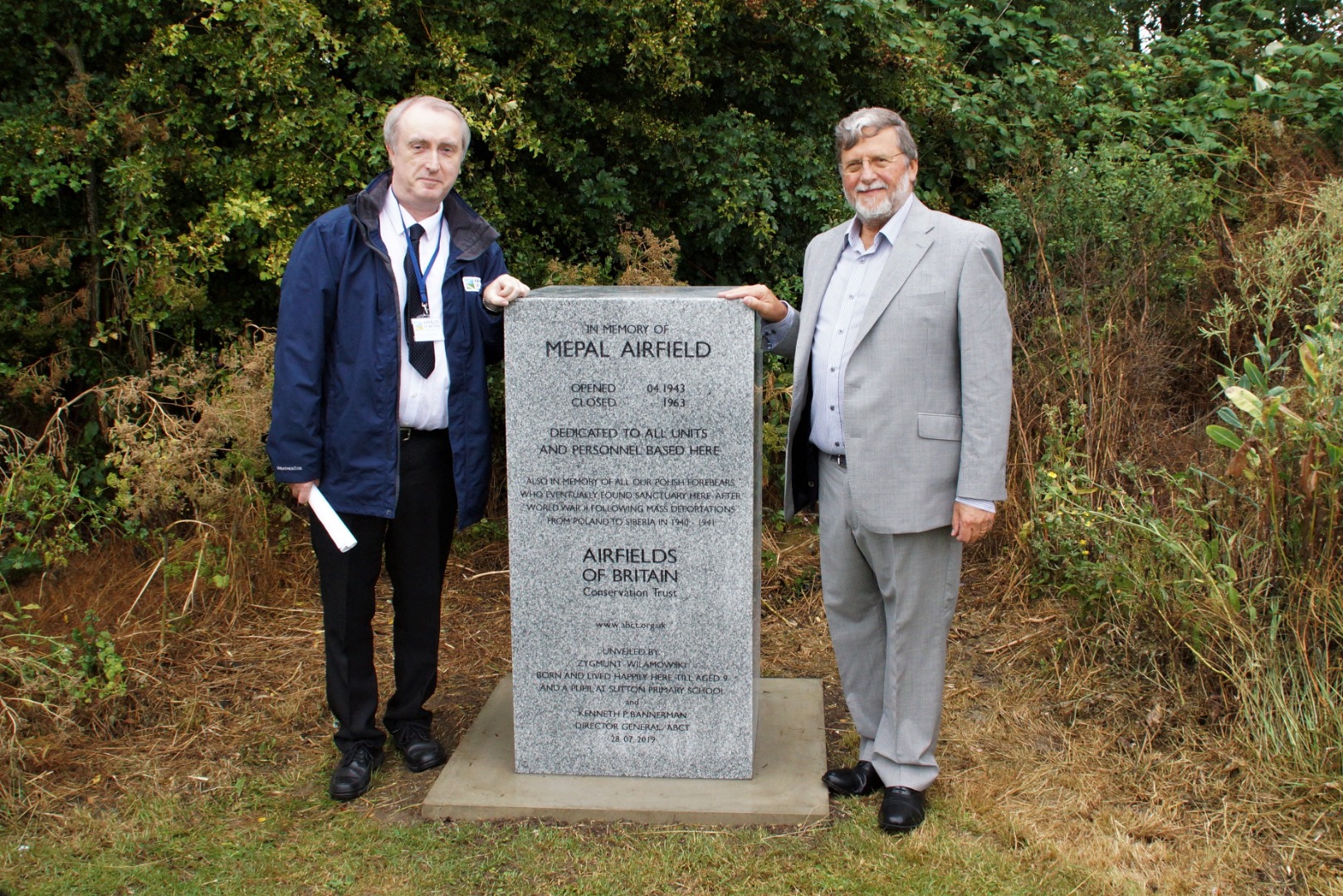 Kenneth Bannerman with Zig Wilamowski, who helped unveil the stone.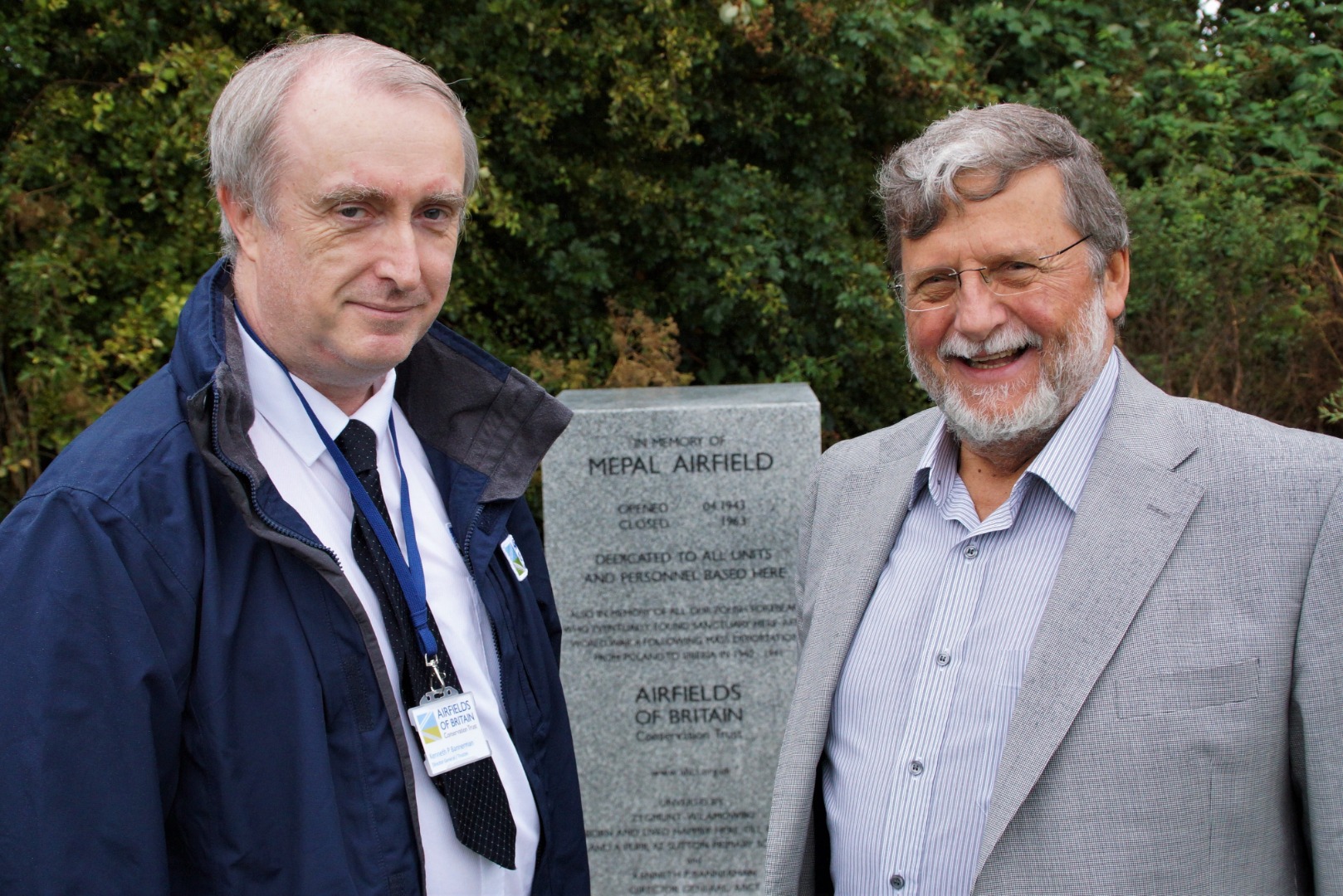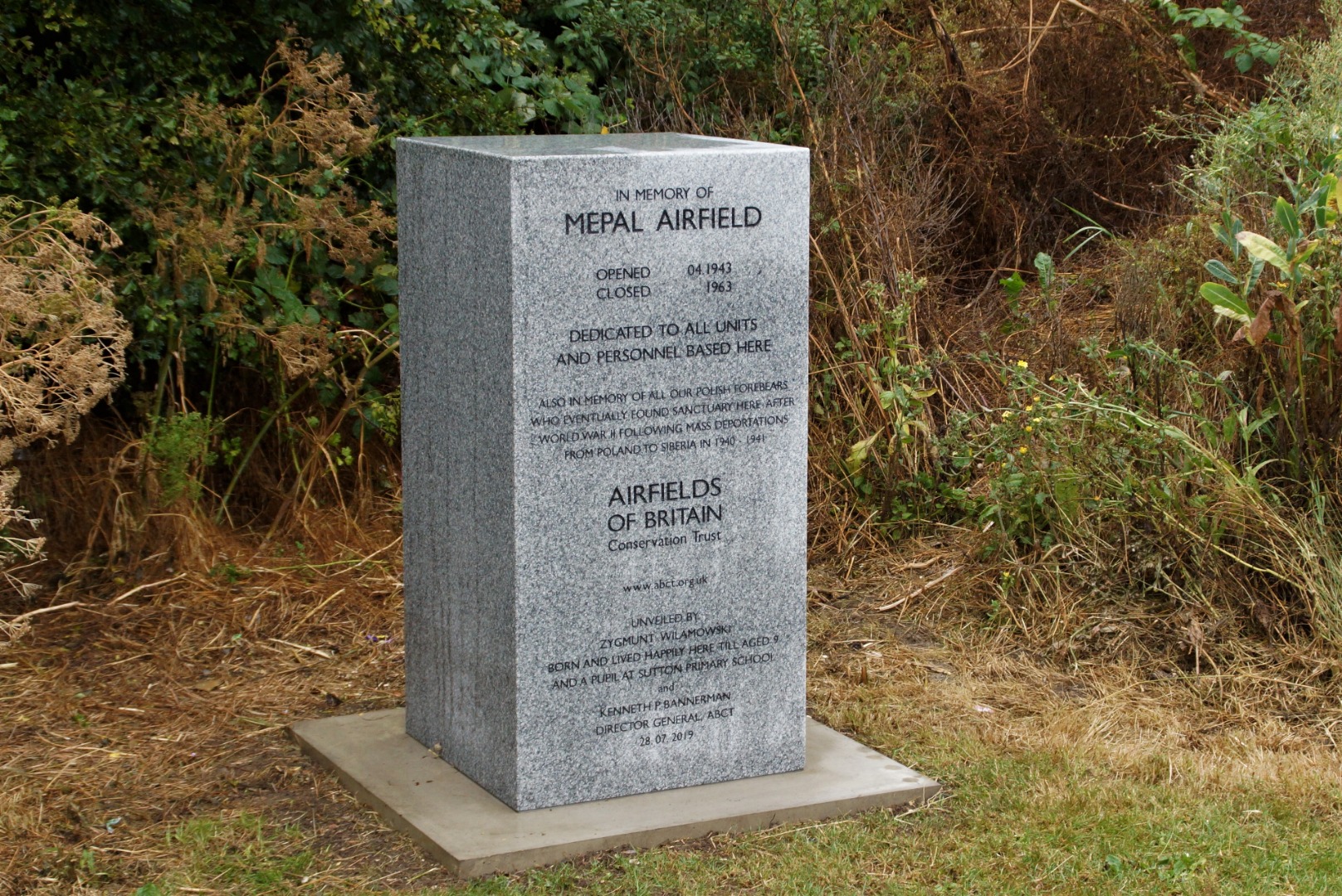 'Maximum Effort' wartime documentary, 1944, featuring Mepal. Courtesy of Zoran Petek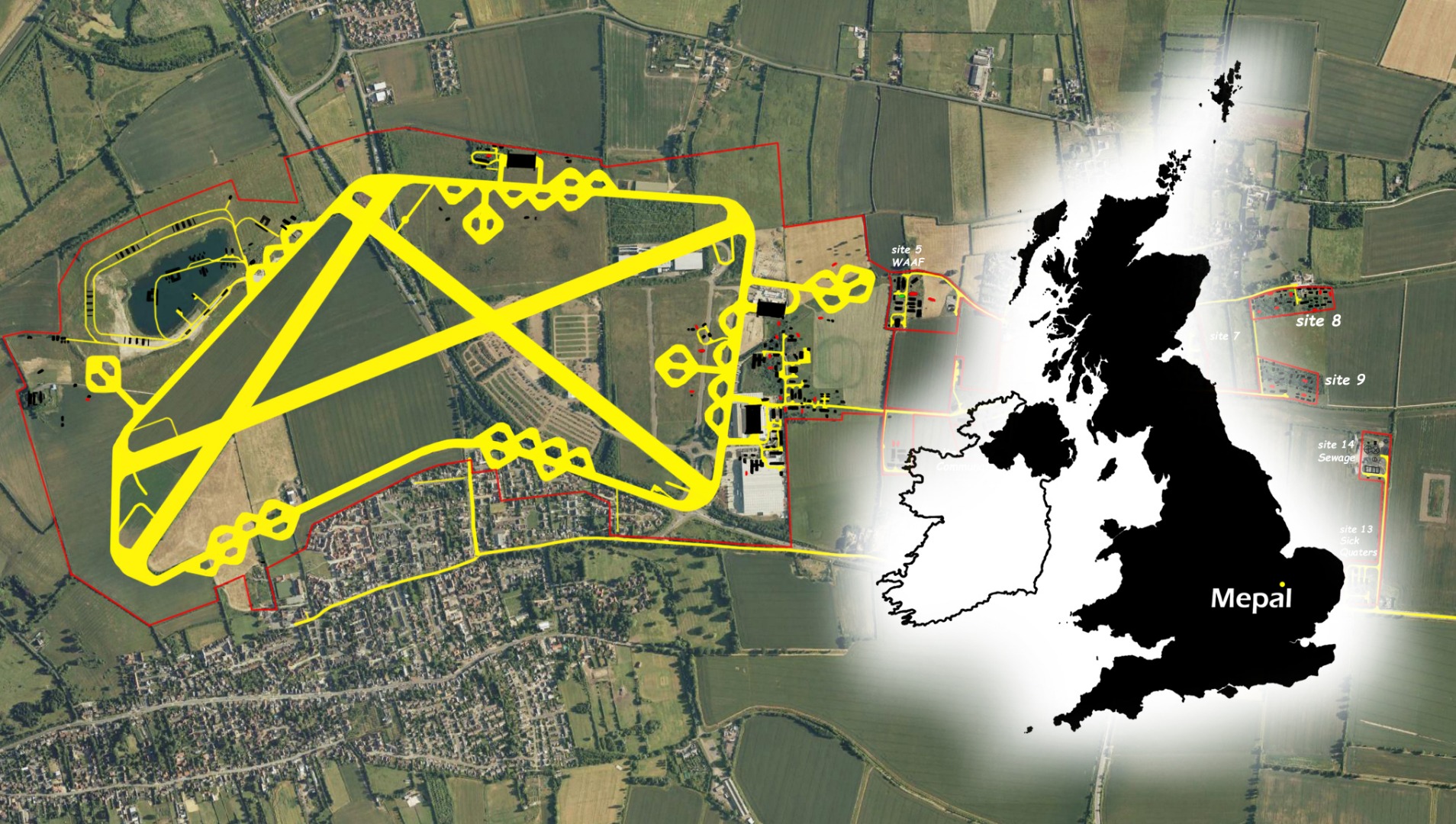 Plan of Mepal. Courtesy of Ed Andrews
| | |
| --- | --- |
| Parent(s)/HQ Airfield(s): | |
| Bomber Command Base Station(s): | |