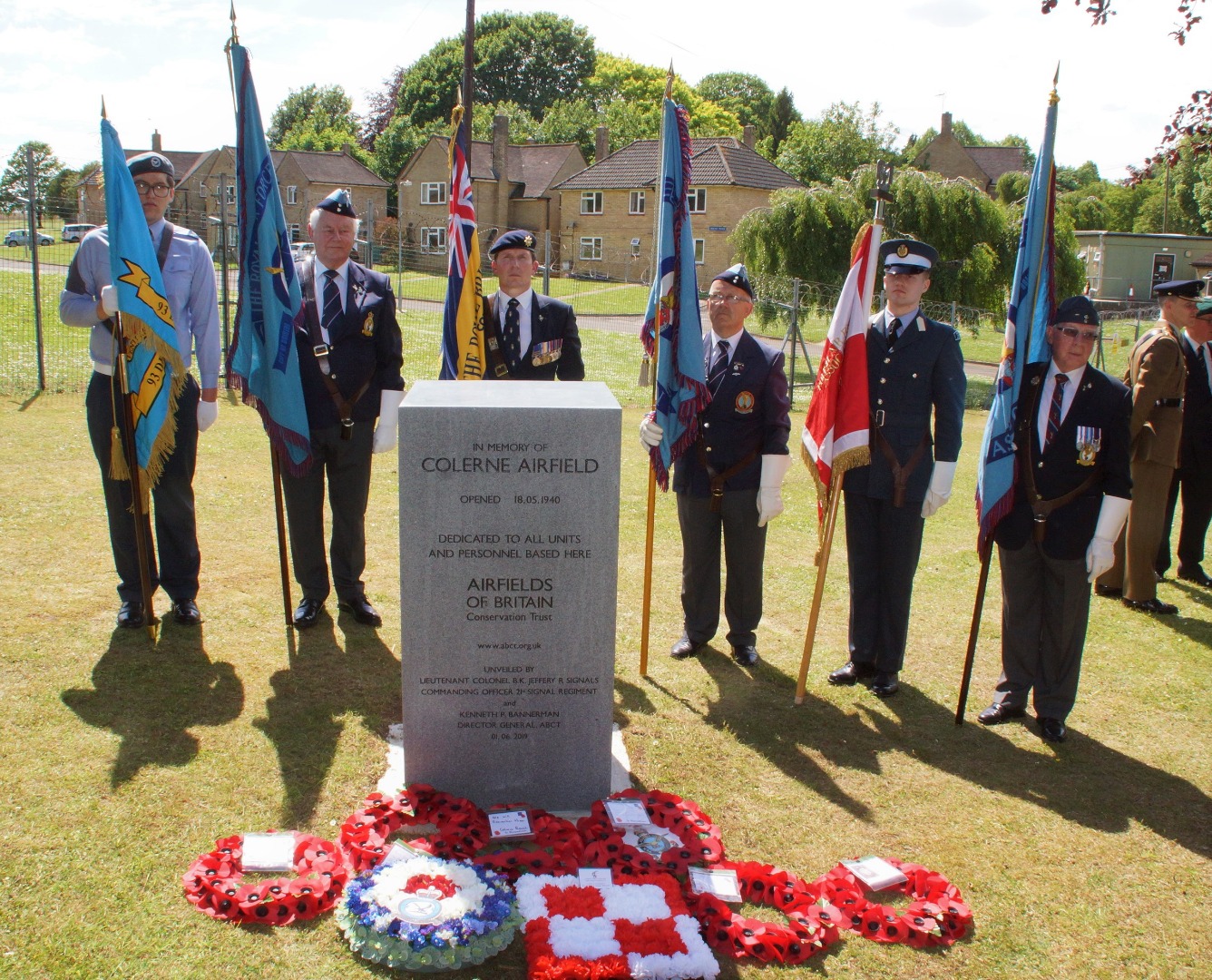 As a result of long planning and co-operation between the Airfields of Britain Conservation Trust (http://www.abct.org.uk) and various more local elements, three memorials were unveiled during the weekend of 1 and 2 June 2019 to commemorate Charmy Down, Colerne and Leighterton Airfields.

Charmy Down to the north of Bath, satellite to famous RAF station Colerne, was a most important World War Two airfield that played a major part in the defence of Bristol and the West Country. Various fighter  squadrons resided here until 1943, after which the airfield provided further excellent service for RAF training units and elements of the United States Army Air Force. A fair amount of the airfield still survives, and Charmy Down's control tower continues to be one of the most individually photographed buildings of its kind anywhere in Britain.
Nearby Colerne still remains a most famous airfield since it first opened in 1940. A combined fighter and aircraft maintenance base, it gave distinguished service during World War Two, de Havilland Mosquito squadrons being heavily involved in night fighter and intruder duties. By the end of fighting Colerne witnessed some of the RAF's first jet fighters, subsequently becoming a prominent home for flying training and transport units. The airfield closed in an RAF capacity in 1976 and passed to Army control but RAF activity continues due to the presence of the Bristol University Air Squadron.
Leighterton to the west of Tetbury was one of the first airfields earmarked for the emerging Australian Flying Corps towards the end of World War One. Training for pilots is still very much remembered through commemorations in the nearby village's cemetery. This airfield survived to see civil aviation between both World Wars, being officially recognised in this role by the Automobile Association, and also witnessed some early civil gliding activity. As with Charmy Down and Colerne, Leighterton continues to be an evocative and highly relevant place, still remembered through the locally well-known Aerodrome Garage.
Many thanks to all who helped organise the events and those who attended. More photographs can be seen on the individual airfield pages under the 'Marker' tab: Charmy Down, Colerne, Leighterton.
Share this article