| | |
| --- | --- |
| Also known as: | RAF Woodhall Spa / Tattershall Quarry / Woodhall / Woodhall Spa Aerodrome / Woodhall Spa Airfield Nature Reserve |
| County: | Lincolnshire |
| Current Status: | Leisure activity / Museum / Sand pit |
| Date: | 2 August 1941 - October 1967 |
| Current Use: | Disused |
| Used By: | RAF |
| Landing Surface Types: | Paved |
| Prominent People: | Leonard Cheshire / Guy Gibson |
| Aircraft Roles: | Bomber / Missile |
Famous and pioneering World War Two heavy bomber airfield Woodhall Spa played a particularly big part in the winning of World War Two. Contrary to what is commonly thought elsewhere, it first began to open in August 1941 when an advance party moved across from parent station Coningsby, previously being attacked by the Luftwaffe while still under construction. Avro Manchesters of No 97 Squadron dispersed here from November, prior to this unit arriving from Coningsby in early March 1942 after having not long reequipped with the Manchester's infinitely more successful and four-engined successor the Lancaster. 
With the RAF bomber offensive against Germany now fully underway, No 97 Squadron departed for Bourn in April 1943 but supplied a nucleus of crews to allow No 619 Squadron to form as another Lancaster unit. During the first half of January 1944 this new element then switched places with No 617 Squadron at Coningsby. After which, Woodhall Spa became involved in many more specialised operations as its new resident had already become renowned for following the Dams Raid of May 1943 while based at Scampton. On the night preceding D-Day No 617 Squadron massively deceived enemy forces through carefully organised flying and dropping radar-jamming Window foil strips by simulating a large convoy supposedly heading towards the Pas de Calais area. Woodhall Spa subsequently deployed in ever increasing strength the use of ultra-heavy 12,000 pound Tallboy and 22,000 pound Grand Slam bombs against more difficult targets such as U-boat pens and viaducts, while repeated attempts to sink feared German battleship Tirpitz eventually succeeded in November 1944 after No 617 Squadron had needed to temporarily operate from a Russian airfield and then Lossiemouth II and Milltown in northern Scotland.
Life at Woodhall Spa especially in the last year and a half of World War Two further proved most eventful as de Havilland Mosquitoes of No 627 Squadron also stayed from April 1944. During this year both Leonard Cheshire and Guy Gibson became familiar faces here, though they experienced greatly different fates, Cheshire being awarded the Victoria Cross but an otherwise desk-bound Gibson being killed in action while flying a Mosquito on the night of 19/20 September.
The end of World War Two in Europe saw a fast rundown at Woodhall Spa. No 617 Squadron moved to Waddington in June 1945; the proposed Tiger Force heavy bomber plan to attack Japan never materialised once that country surrendered two months later, and the ex-No 627 and now renumbered No 109 Squadron quickly left for Wickenby during October after reforming less than three weeks earlier. Woodhall Spa effectively closed the following December but was revived for bomb storage use by Nos 92 and 93 Maintenance Units between November 1951 and March 1958.
Transfer of this airfield to the Ministry of Agriculture and Fisheries on 2 April 1958 seemed to finally be the end for Woodhall Spa. However, this remarkable place still would not let go of RAF connections as Bristol Bloodhound defensive surface-to-air missiles of Nos 222 and then 112 Squadrons stayed at different times, once reforming there in May 1960 and November 1964, thus belying their home's official inactive status. Once the latter unit was posted to Cyprus in October 1967, this really marked the end for the airfield with a rundown party becoming evident and the Nugent Report of 1973 recommending disposal of the site. Yet the RAF retained a minor presence until as recently as the early 2000s, utilising a small enclave to assist Coningsby-based aircraft with engine testing.
Much of the airfield has in more recent times disappeared through quarrying activities but noticeable sections still remain. The Lincolnshire Wildlife Trust ensures that Woodhall Spa remains remembered though its use today as a nature reserve, as do the Thorpe Camp Visitor Centre and also the renowned Petwood Hotel in the village itself, which was requisitioned for the RAF during World War Two.
The following organisations are either based at, use and/or have at least potentially significant connections with the airfield (as at 01/09/2011):
Kirkby on Bain Parish Council
Lincolnshire Wildlife Trust
Petwood Hotel
RAF Coningsby Golf Club/Course
Thorpe Camp Preservation Group
Woodhall Spa Cottage Museum
Woodhall Spa Parish Council
Main unit(s) present:
No 92 MU
No 93 MU
No 97 Sqn
No 109 Sqn
No 112 Sqn
No 222 Sqn
No 242 (Maintenance) Wing
No 617 Sqn
No 619 Sqn
No 627 Sqn
No 1317 (Training) Flight
No 1514 BAT Flight
Photographs and video from the memorial unveiling at Woodhall Spa on 13 May 2018: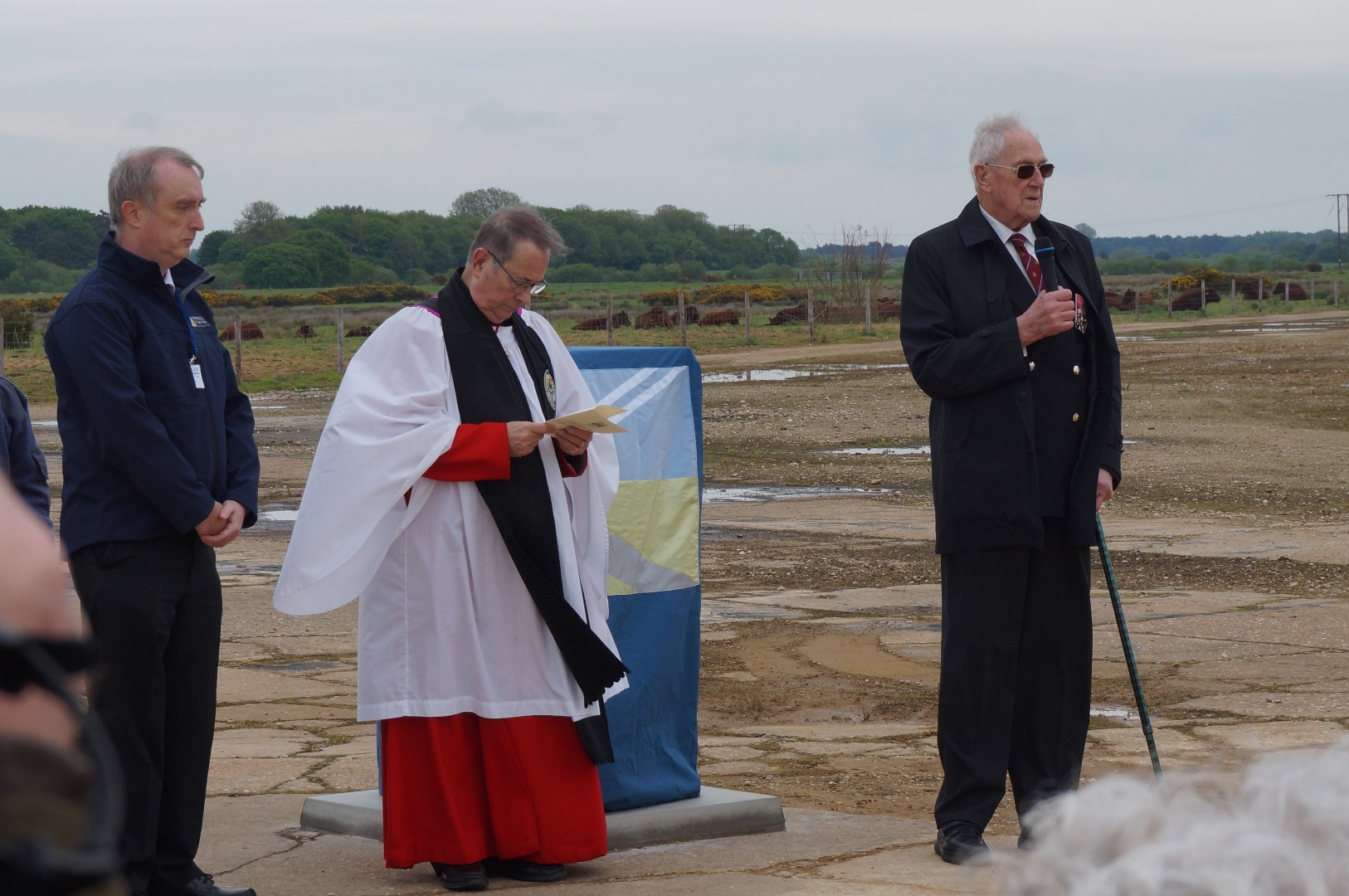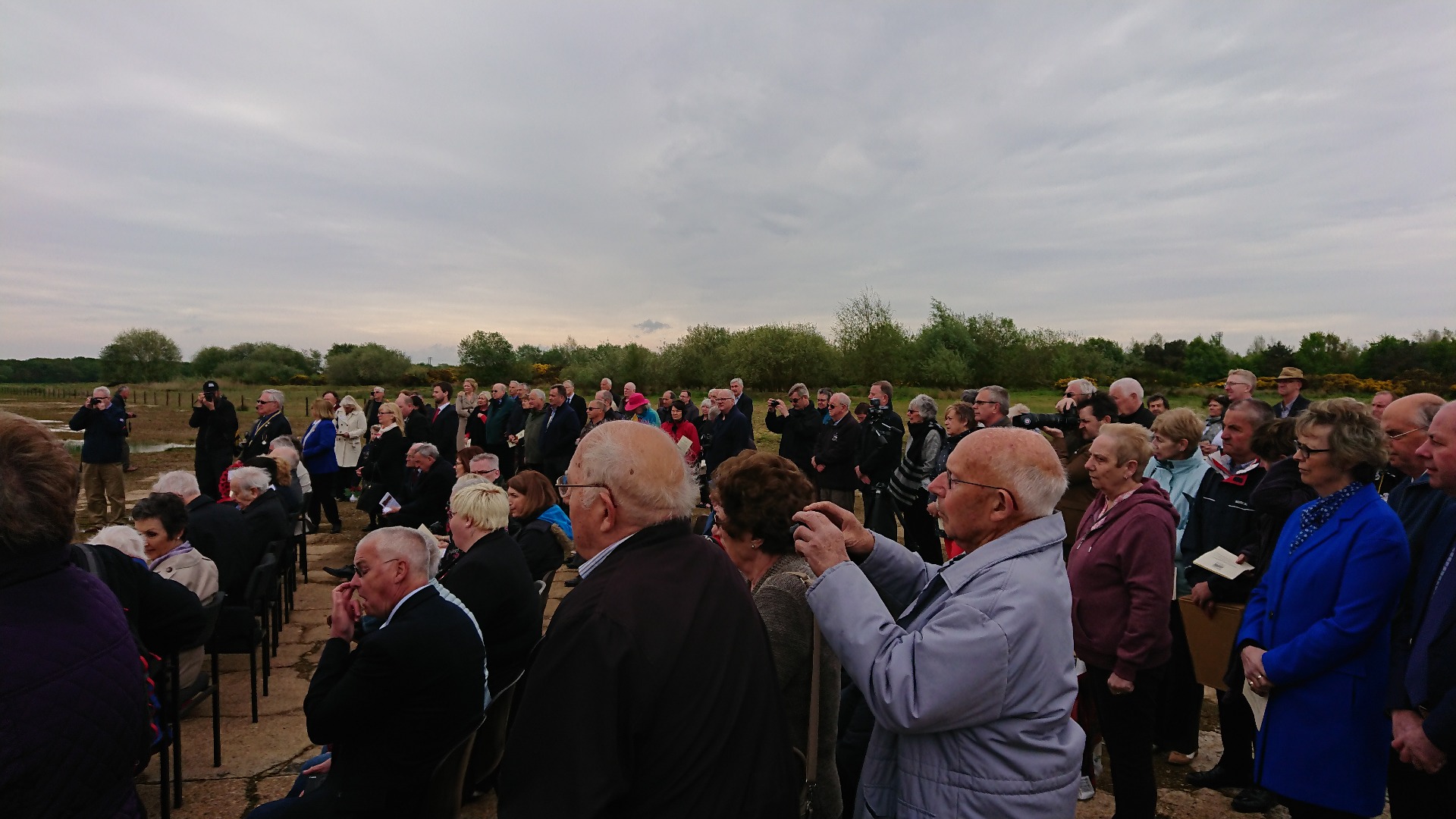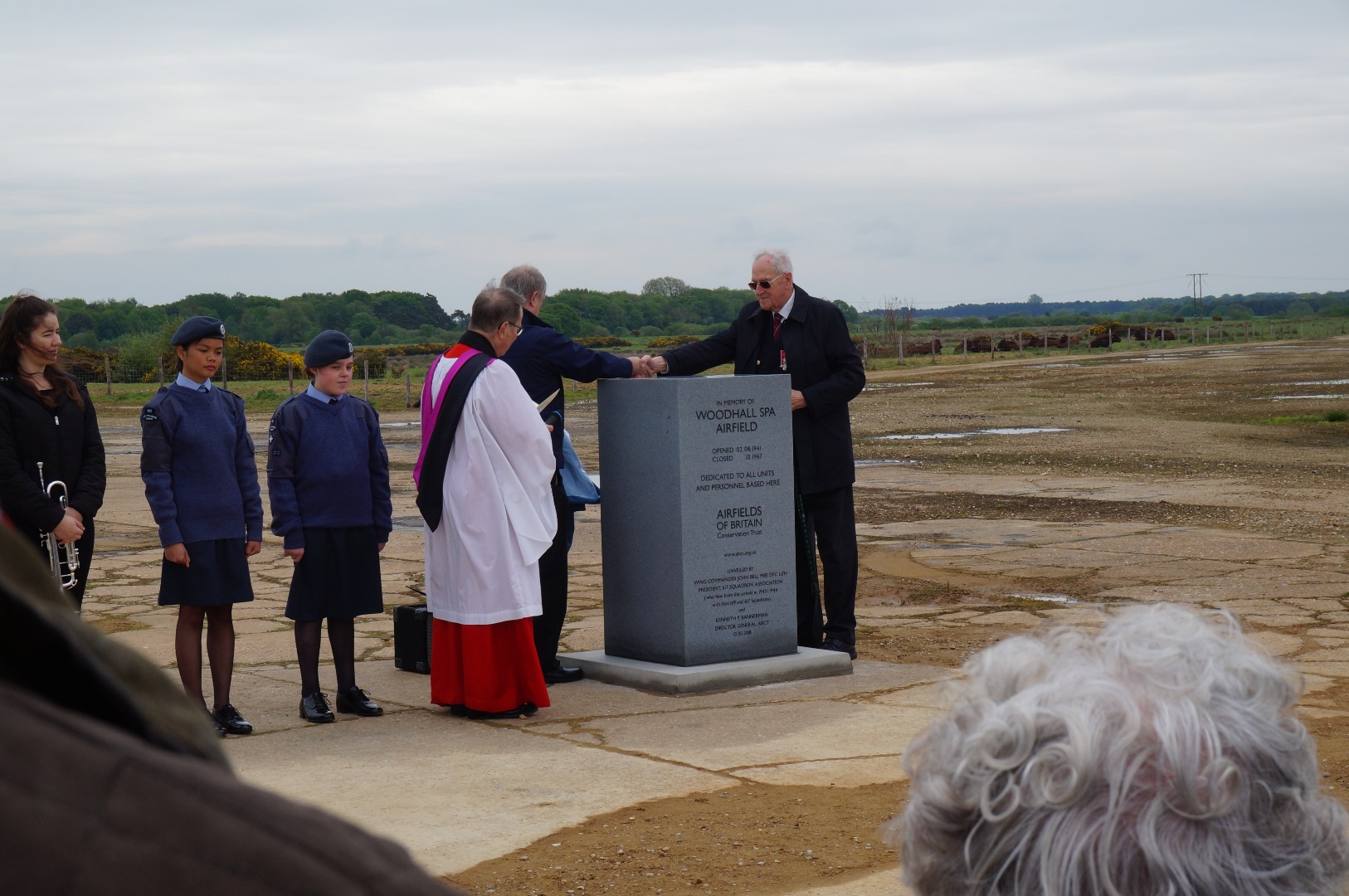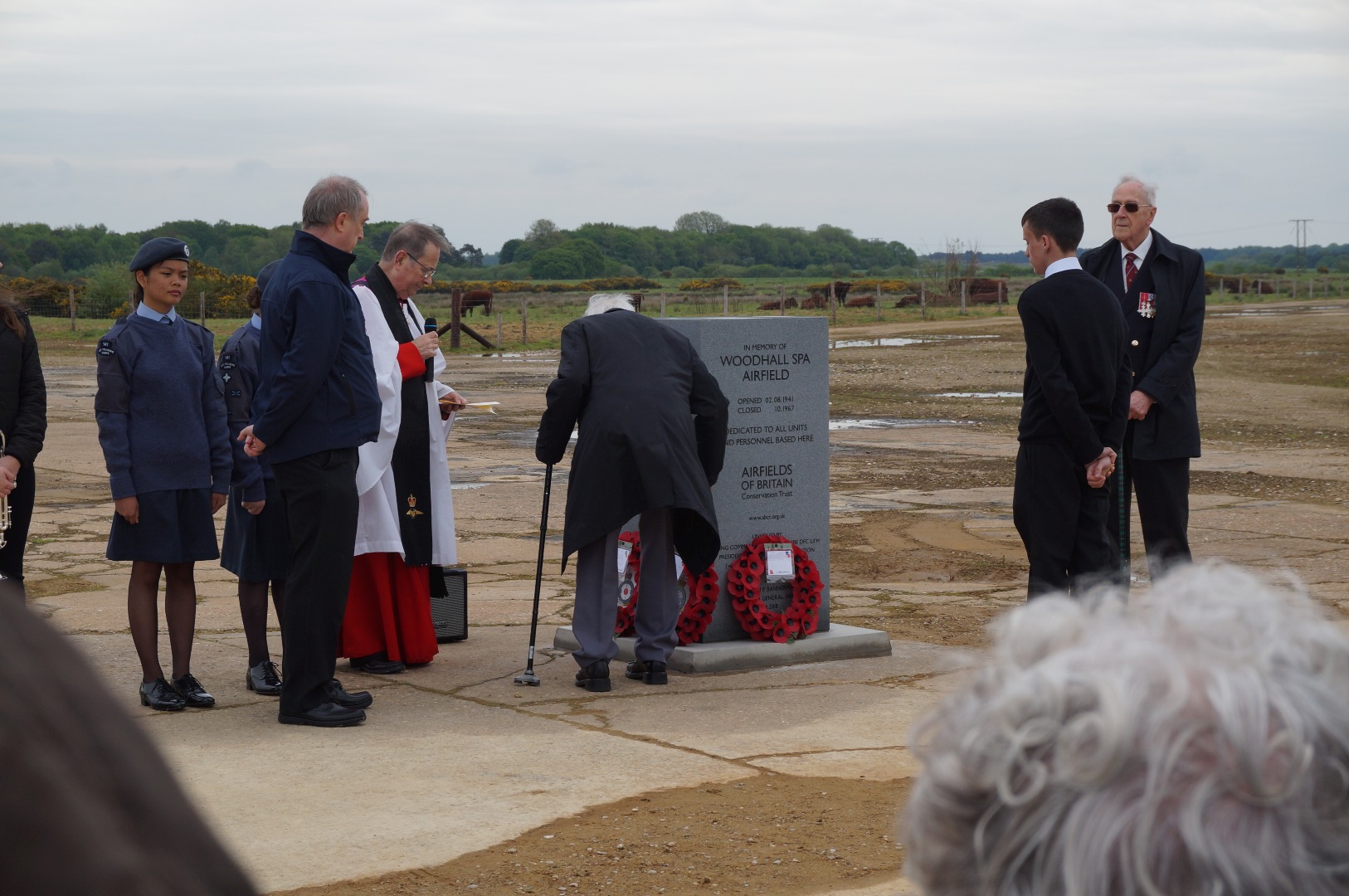 Film about the Tallboy and Grand Slam bombs, including footage of Woodhall Spa. Courtesy of David Potter
The Grand Slam bomb, including footage of Woodhall Spa. Courtesy of British Movietone
News report on Lincolnshire Wildlife Trust's proposal to purchase Woodhall Spa as nature reserve. Courtesy of lincolnshirewildlife