Did you know?
"
Lossiemouth's faithful satellite had to be called as such as the only other realistic alternative name was Leuchars.
"
| | |
| --- | --- |
| Also known as: | HMS Fulmar II / RAF Milltown / RNAS Milltown |
| County: | Moray |
| Current Status: | Farmland / Industry / Solar farm (proposed) |
| Date: | 14 June 1943 - March 1977; (decoy) 1940 - 27 October 1941 |
| Current Use: | Disused |
| Used By: | RAF / FAA / Civil |
| Landing Surface Types: | Paved |
| Aircraft Roles: | General aviation / Maritime patrol / Naval aviation / Trainer |
| Decoy Type(s): | Q |
| Decoy Number(s): | 2(a) |
Milltown began life as a Q site decoy airfield for nearby Lossiemouth. Under construction by the early summer of 1940, it was certainly active in this role for a large part of 1941. It was then decided that the site was worth developing as a real airfield, with the land being approved for requisition at the end of 1942, subsequently opening as such in June 1943. The site became a satellite for Lossiemouth with aircraft such as Vickers Wellingtons of No 20 Operational Training Unit used the airfield for this purpose until June 1945.
Coastal Command took over Milltown in September 1944 and the airfield was used by its frontline and training aircraft, as well as by Bomber Command as an advanced base. Avro Lancasters operated from here, as well as at Kinloss and Lossiemouth, helped finally sink the German battleship Tirpitz in November of that year. No 224 Squadron's Consolidated Liberators carried out anti-U-boat operations from the airfield until July 1945 before returning to their former base of St Eval in Cornwall. Training was also carried out by Coastal Command Liberators and Handley Page Halifaxes of No 1674 Heavy Conversion Unit for a few months in late 1945. After transferring to the Fleet Air Arm in July 1946 the airfield remained a satellite for Lossiemouth until the RAF regained ownership in 1972. The final flying unit to be based at Milltown was No 663 Gliding School, between 1973 and late February 1977, the airfield then quickly closed to flying.
Milltown was built with a standard layout of three runways, although the site after World War Two came equipped with a Mirror Aerodrome Dummy Deck Landing (MADDL) installation for deck-landing training. The majority of the associated airfield buildings have now been demolished, aside from one T2 hangar and the Battle Headquarters hidden in woodland. All the runways, perimeter track and majority of the taxiways do however remain. The site was used as a communications station by the Ministry of Defence from 1977. In more recent times, the land has now been derequisitioned and passed to Innes Estates.
The following organisations are either based at, use and/or have at least potentially significant connections with the airfield (as at 31/03/2022):
Elgin & Moray Flyers
Innes Community Council
Lossiemouth Burial Ground/Lossiemouth Town Cemetery - military graves
Moray Academy of Transport Training - HGV instruction
Outfit Moray
Skid Car Scotland Limited
Main unit(s) present:
No 20 OTU

No 111 (Coastal) OTU

No 224 Sqn

No 663 GS

No 759 Sqn

No 764 Sqn

No 766 Sqn

No 767 Sqn

No 890 Sqn

No 1674 HCU

No 2746 Sqn RAF Regiment

Fulmar GC

Highland GC
Video and photographs of ABCT's Milltown Airfield memorial unveiling, Sunday 19 June 2022. Courtesy of Ed Andrews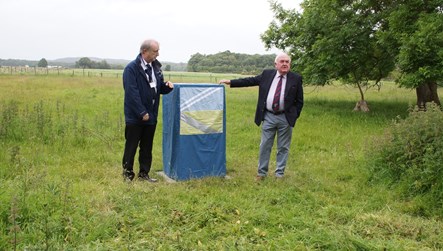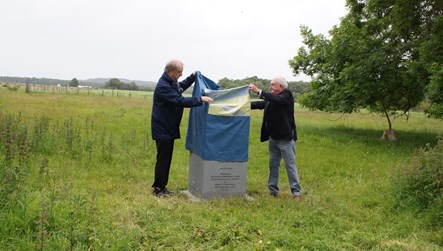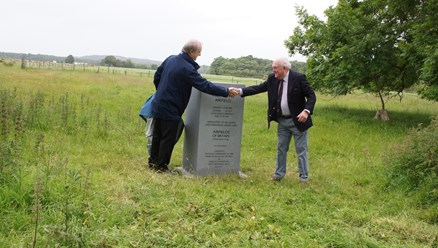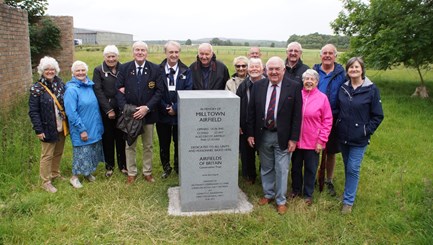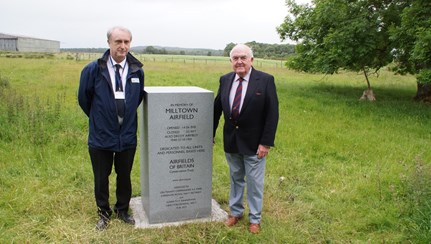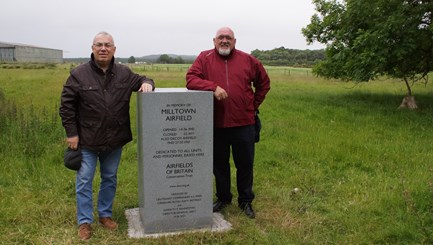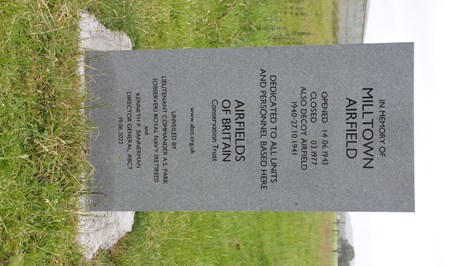 | | |
| --- | --- |
| Parent(s)/HQ Airfield(s): | |
| Associated Airfield(s): | |