Did you know?
"
In November 1957 remaining RAF personnel at the airfield baked an enormous farewell present Christmas cake, following its previous adoption in 1955 by the Borough of Enniskillen. Measuring over three feet square and weighing more than one hundredweight, a bandsaw had to be used to cut up the cake - not due to it being tough but to carefully preserve the elaborate icing, which displayed the RAF and Borough Council coats of arms plus several aircraft. On display for two weeks in Enniskillen prior to that Christmas and generating considerable public interest, this gift was shared between local children's and old people's homes and hospitals.
"
| | |
| --- | --- |
| Also known as: | Castle Archdale Caravan Park & Camping Site / RAF Castle Archdale / RAF Lough Erne |
| County: | Fermanagh |
| Current Status: | Country park (main position) / Museum |
| Date: | February 1941 - 31 January 1958 |
| Current Use: | Disused |
| Used By: | RAF (main user) / RCAF |
| Landing Surface Types: | Water |
| Aircraft Roles: | Maritime patrol (main role) / Trainer |
Lough Erne in County Fermanagh was deemed an ideal stretch of water for carrying out flying boat operations over the Atlantic during the Second World War. Castle Archdale, as the site was first (and later) known, opened for seaplane use in February 1941. It was renamed Lough Erne later that month for No 209 Squadron to move in next month with Saunders Roe Lerwicks before more capable Consolidated Catalinas began to take over. No 240 Squadron replaced No 209 when the latter unit moved to Iceland in the summer. No 240's Catalinas arrived from Killadeas to operate from Castle Archdale until May 1942. These aircraft, soon joined by No 201 Squadron's Short Sunderlands for the first of two stays up to August 1945, carried out a large number of convoy escort and patrol missions. The first confirmed U-boat sinking by any Castle Archdale unit however was not until 31 May 1943.
It was a No 209 Squadron Catalina flying from Castle Archdale that managed to sight the Bismarck on 26 May 1941 after the Royal Navy had lost contact. This directly led to the sinking of the major German battleship the following day, an important event in the war as a whole.
Nearby mountains and islands in the Lough meant that it was not the best site for landing in the dark or bad weather but this was made up for by the short distance to the Atlantic, especially after an agreement was reached with the Republic of Ireland to allow aircraft to fly over Donegal. This greatly increased the range that the flying boats could achieve, protecting shipping for longer and flying longer patrols. A rudimentary light system on anchored floats did give some limited guidance to aircraft on take-off and landing.
Other major users of the airfield included the Canadians, with Nos 422 and 423 squadrons arriving during 1942 and 1943. These units again used Sunderlands to fly patrols over the Atlantic in search of U-boats. No 422 moved to Pembroke Dock in November 1944 and No 423's last operational sortie from the site took place in May 1945. Castle Archdale had suffered from the severe winter in the previous January, with many aircraft damaged by ice after large parts of the Lough had frozen.
Castle Archdale remained as busy as ever by VE-Day. Apart from Nos 201 and 423 Squadrons, No 202 Squadron had arrived in September 1944 before disbanding on 4 June 1945. After the war had ended, flying activity quickly tailed off but not fully as RAF Sunderlands detached to here into the 1950s for exercises. No 230 Squadron operated more Sunderlands in the summer of 1946. Flying at the site was controlled from the operations room up until 1943, when it was transferred to a control room overlooking the Lough. Castle Archdale was equipped with a unique flying boat dock, where aircraft could be serviced without leaving the water. This survives today, along with some further evidence of the site; it is now used as a country and caravan park.
The RAF conducted a flag lowering ceremony in late 1957, although various sources such as the station Operations Record Book and the Liverpool Echo state that the airfield finally closed on 31 January 1958.
Main unit(s) present:
No 119 Sqn

No 201 Sqn

No 202 Sqn

No 209 Sqn

No 228 Sqn

No 230 Sqn

No 240 Sqn

No 302 FTU

No 422 Sqn

No 423 Sqn

No 2707 Sqn RAF Regiment
Photographs and video from the memorial unveiling at Castle Archdale, 26th October 2019: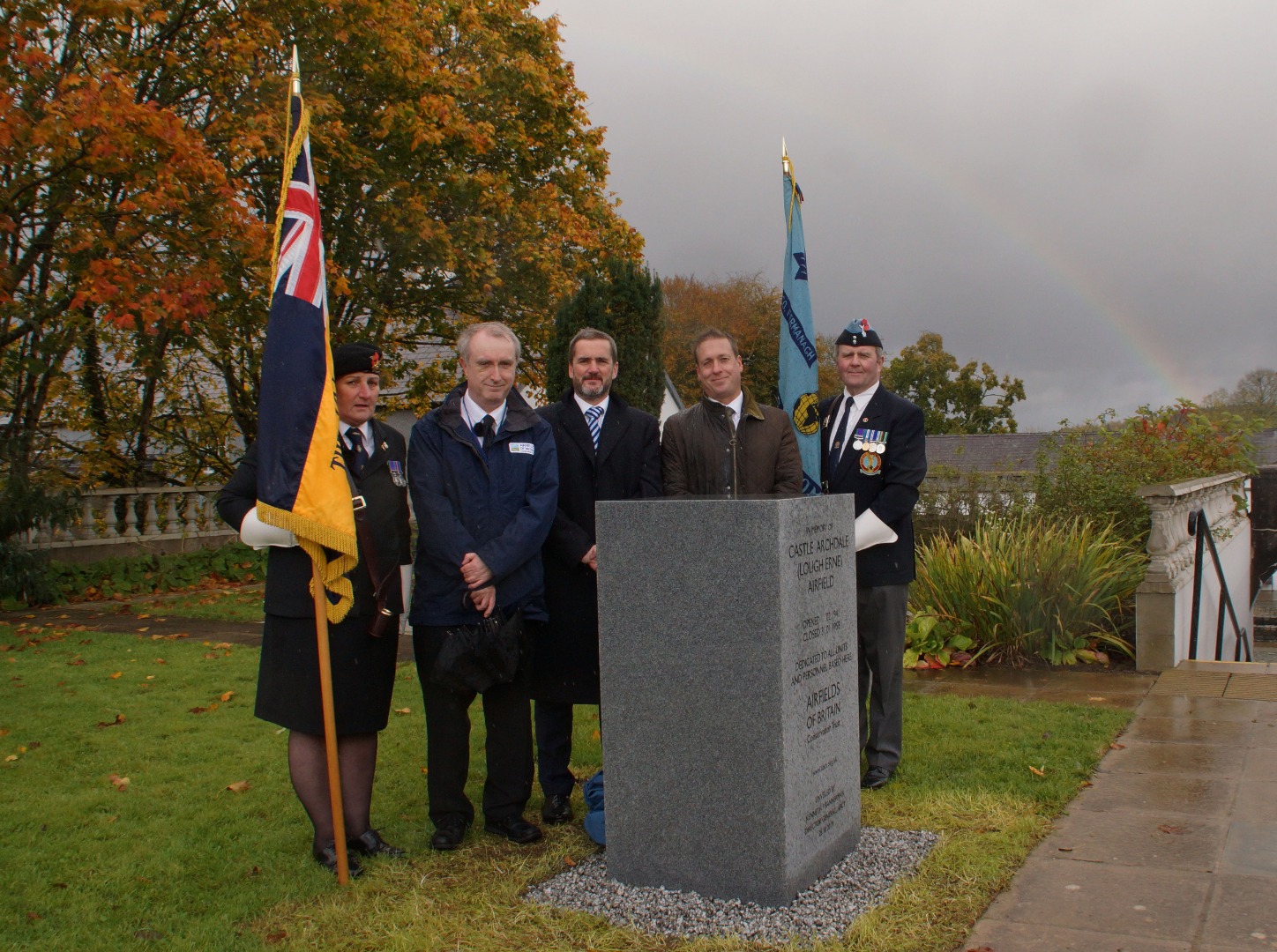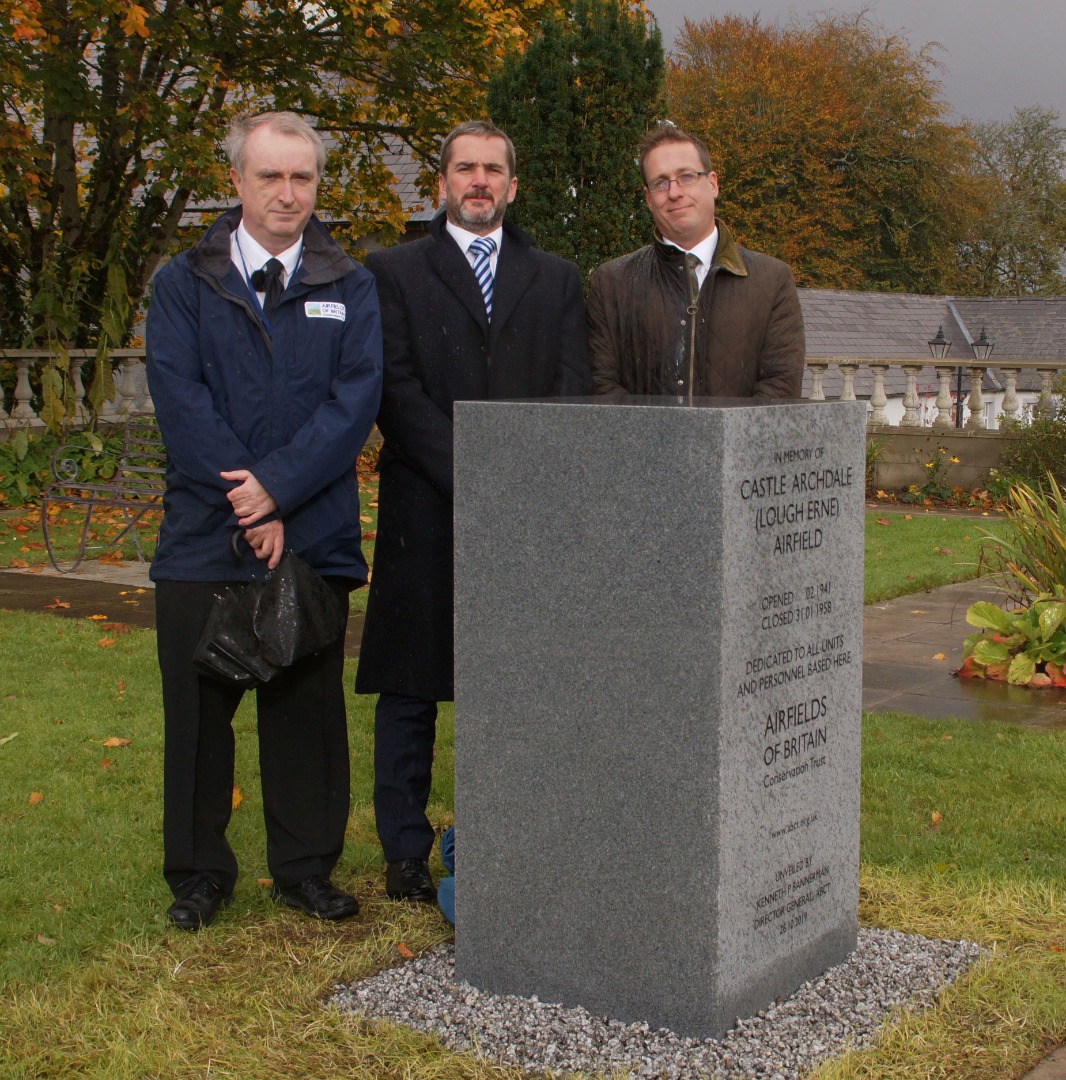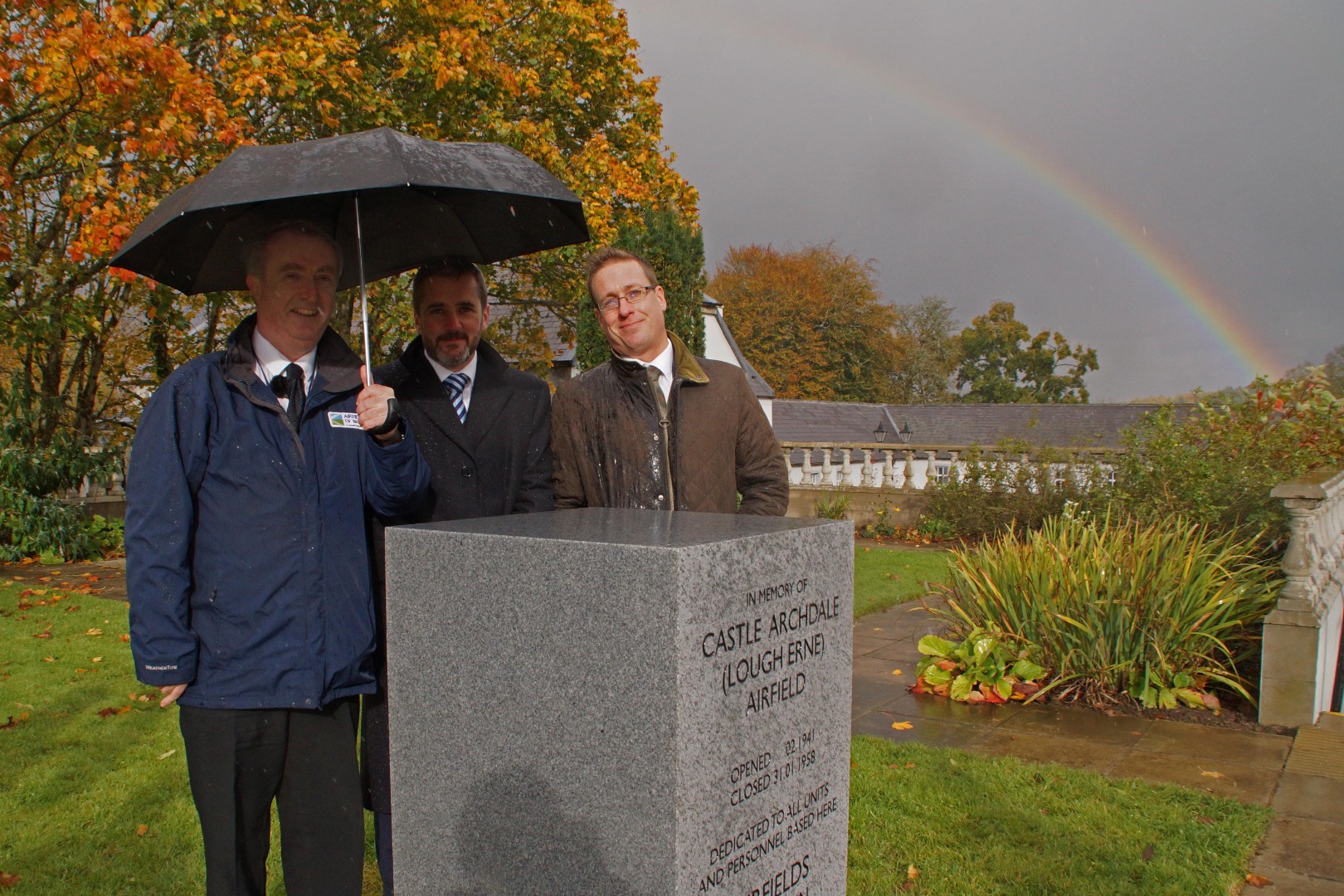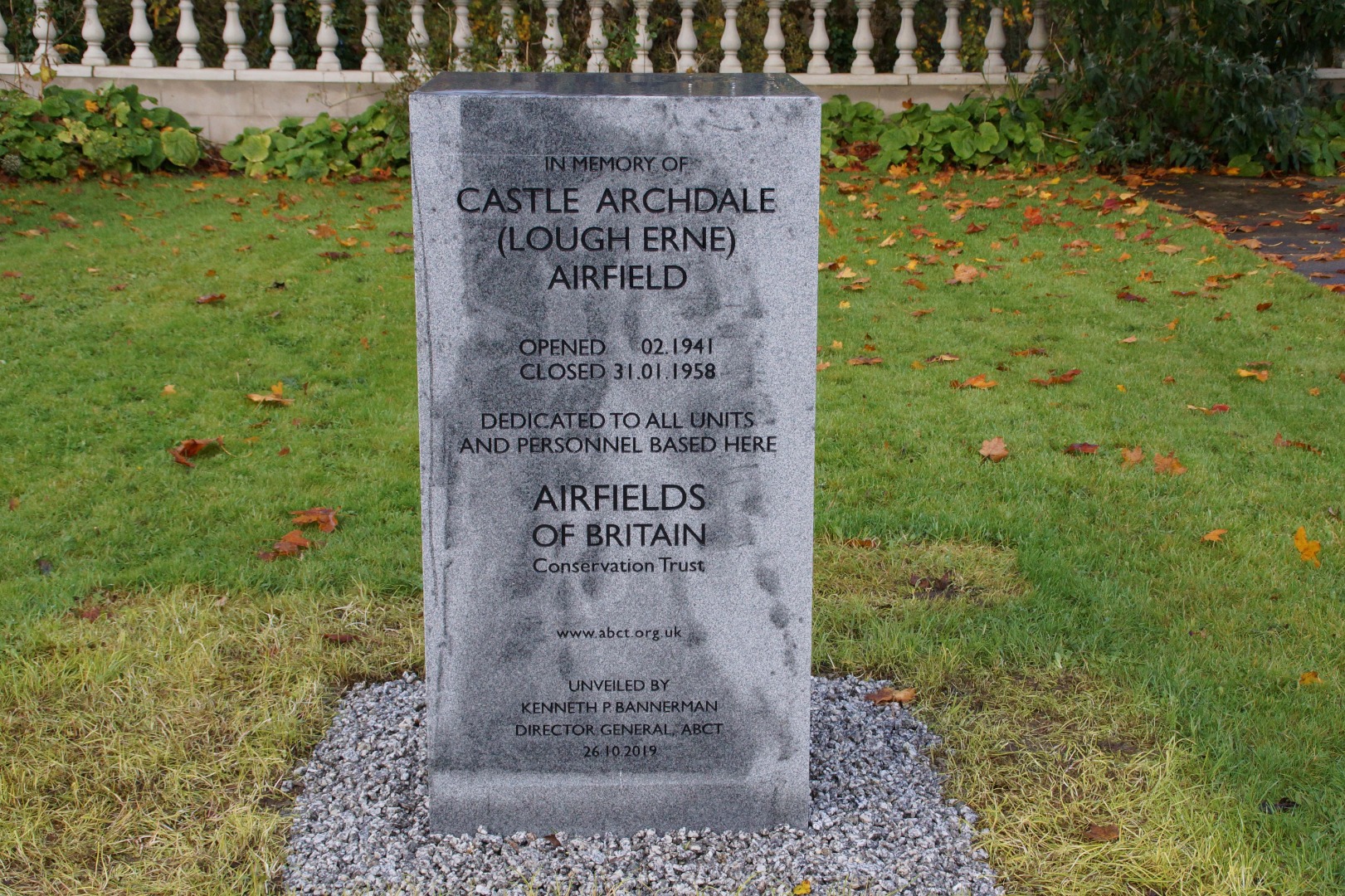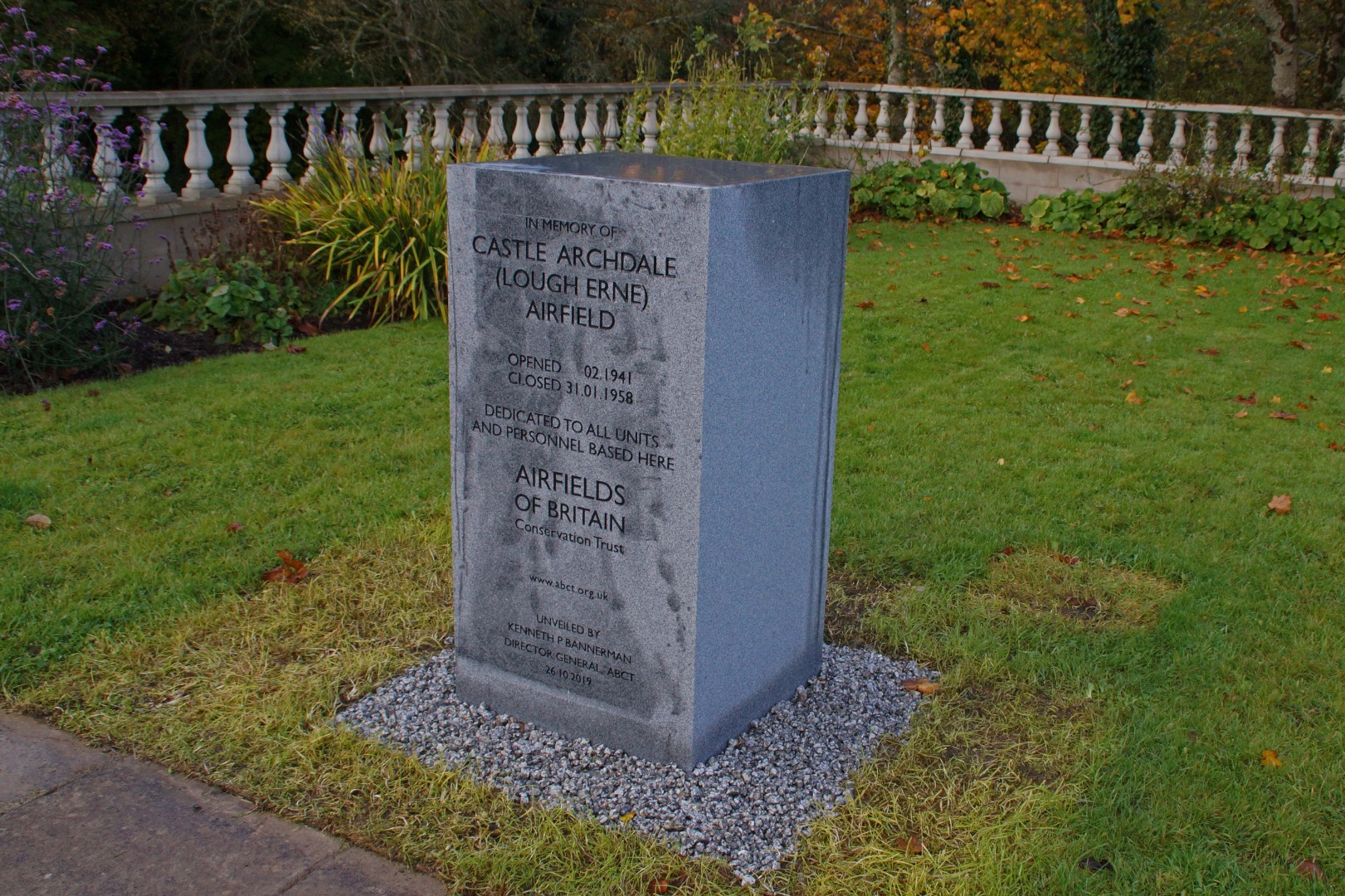 Short Sunderlands at Castle Archdale, 1940s. Courtesy of British Pathé
A Short Sunderland at Castle Archdale, 1949. Courtesy of British Pathé