| | |
| --- | --- |
| Also known as: | Carew / Carew Airfield Business Park / Carew Cheriton Aerodrome / Carew Market / RAF Carew Cheriton / Milton Aerodrome / RAF Milton / RNAS Milton / RAF Pembroke / RNAS Pembroke |
| County: | Pembrokeshire |
| Current Status: | Farmland / Industry / Leisure activity / Museum |
| Date: | January 1916 - 1 May 1946; minor use 1952 - 1953 |
| Current Use: | Disused |
| Used By: | RAF (main user) / RAF (Dutch) / RNAS (main user) / FAA |
| Landing Surface Types: | Unpaved, later paved |
| Aircraft Roles: | Anti-aircraft co-operation / Bomber / Communications / Fighter / Maritime patrol (main role) / Military development/support / Naval aviation / Trainer (main role) |
Carew Cheriton began life as RNAS Pembroke, sometimes semi-officially known as Milton, during the First World War as an airship station and opened in January 1916. Two large sheds as well as associated necessary infrastructure were built, although one of the sheds was destroyed in a fire during 1918. Airships from Pembroke carried out patrols over the Irish Sea, as a deterrent against any enemy submarine activity. From 1917 a Flight of Sopwith 1 ½ Strutters and later Airco D.H.6 biplanes of No 255 Squadron joined the airships for more anti-submarine patrols. A few Bessonneau hangars were built to accommodate the fixed wing aircraft. However, the first phase of the airfield's life came to an end in 1920, when it was decommissioned and closed.
The airfield reopened in April 1939, shortly before the Second World War and three hard runways were built by the early 1940s. It was renamed Carew Cheriton to distinguish it from flying boat base Pembroke Dock and soon became a Coastal Command station. A mixture of Avro Anson squadron detachments and even a de Havilland Tiger Moth Flight brought patrols back to the airfield, and Carew Cheriton notably allowed Dutch personnel to become part of the RAF after their country was captured. Nos 320 and 321 Squadrons arose for this purpose and stayed to the early months of 1941. The former unit converted to Ansons from their Fokker seaplanes which had been based at Pembroke Dock and eventually absorbed No 321 Squadron in January 1941. Around this period Carew Cheriton suffered several bombing attacks during World War Two, one of which killed twelve personnel on 15 April 1941.
Another significant development was the Coastal Command Tactical Development Unit forming at the airfield in October 1940 to carry out various trials using an example each of Bristol Beaufort, Lockheed Hudson and Armstrong Whitworth Whitley aircraft. These trials led to developments in Air-Surface-Vessel (ASV) radar as well as parachute lights and Leigh Lights used to aid bomb and depth charge attacks on enemy vessels.
What was now known as the Coastal Command Development Unit, the 'Tactical' part of the name having been dropped soon after forming, left at the end of 1941 and Carew Cheriton was transferred to Flying Training Command in the summer of 1942. The airfield very swiftly moved on to Technical Training Command in October of the same year. Carew Cheriton then became home to No 10 Radio School, operating aircraft such as the Avro Anson, Airspeed Oxford and Percival Proctor. This unit disbanded on 24 November 1945 and the airfield closed not too long afterwards on 1 May 1946. Brief limited flying returned during 1952-53 when Pembroke Dock's Station Flight was based here.
As of 2016, the unusual Second World War control tower is one of the only buildings that survive and this is now the Carew Cheriton Control Tower Museum. Large areas of the three runways, perimeter track and hardstanding do however remain. The airfield is now used for purposes such as agriculture, a Sunday Market, go-karting, and a caravan park. Sadly most of the other buildings were demolished in the first half of the 1960s.
The following organisations are either based at, use and/or have at least potentially significant connections with the airfield (as at 01/09/2011):
Carew Airfield Caravan Club
Carew Airfield Holiday & Leisure
Carew Car Dismantlers
Carew Cheriton Control Tower
Carew Community Council
Carew Driveways & Patios
Carew Karting
Carew Parish Historical Society
GCS uPVC Specialists
Hazelbrook Caravan Park
IRONMAN 
N.G Auto Repairs
Pembroke Library
Pembrokeshire Self Drive Hire
Pembroke Town Council - name only
PRL Plant Hire Ltd
R.W.G. Auctions
Right Price Caravans
The Martletwy Show 
Trubloc Ltd
Two Wheel Training Wales
West Wales Motor Cycles Ltd
ABCT would like to thank the Royal Commission on the Ancient and Historical Monuments of Wales for the use of their images. Find out more here: www.rcahmw.gov.uk and search their database here: www.coflein.gov.uk.
Main unit(s) present:
No 1 AACU 'B' Flight

No 1 AACU 'L' Flight

No 1 AGS

No 4 APC

No 4 Radio Direction Finding School

No 5 CPF

No 8 AACU

No 10 RS

No 14 (Operations) Group

No 19 Gp Comms Flight

No 32 Sqn

No 48 Sqn

No 74 GS

No 75 Sqn

No 206 Sqn

No 217 Sqn

No 236 Sqn

No 238 Sqn

No 248 Sqn

No 254 Sqn

No 255 Sqn

No 286 Sqn

No 320 Sqn

No 321 Sqn

No 500 Sqn

No 519 (Special Duty) Flight

No 520 (Special Duty) Flight

No 587 Sqn

No 595 Sqn

No 818 Sqn

No 825 Sqn

No 1607 (AAC) Flight

No 2854 Sqn RAF Regiment

CCDU

Coastal Command Tactical Development Unit

RAF Pembroke Dock Station Flight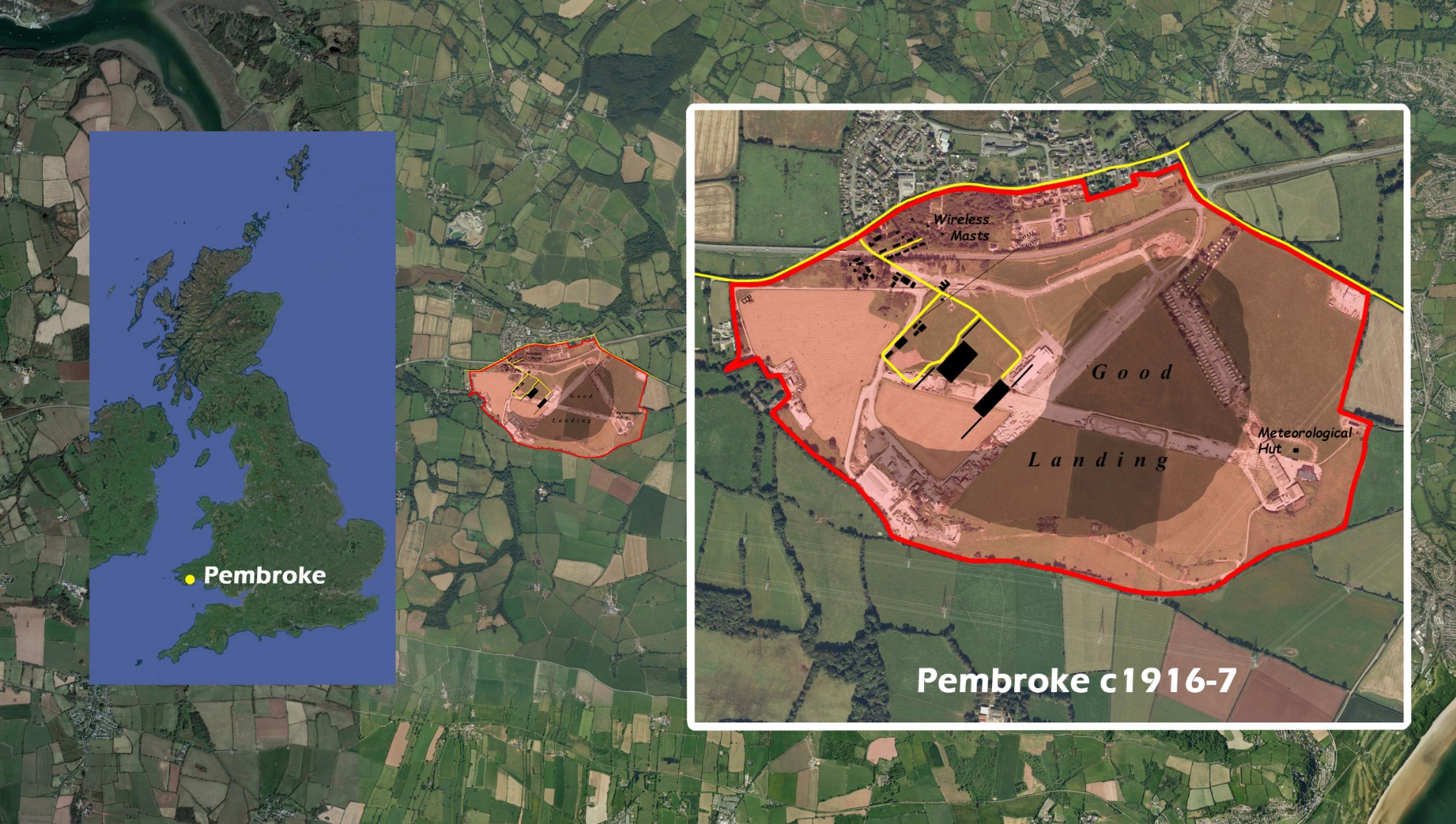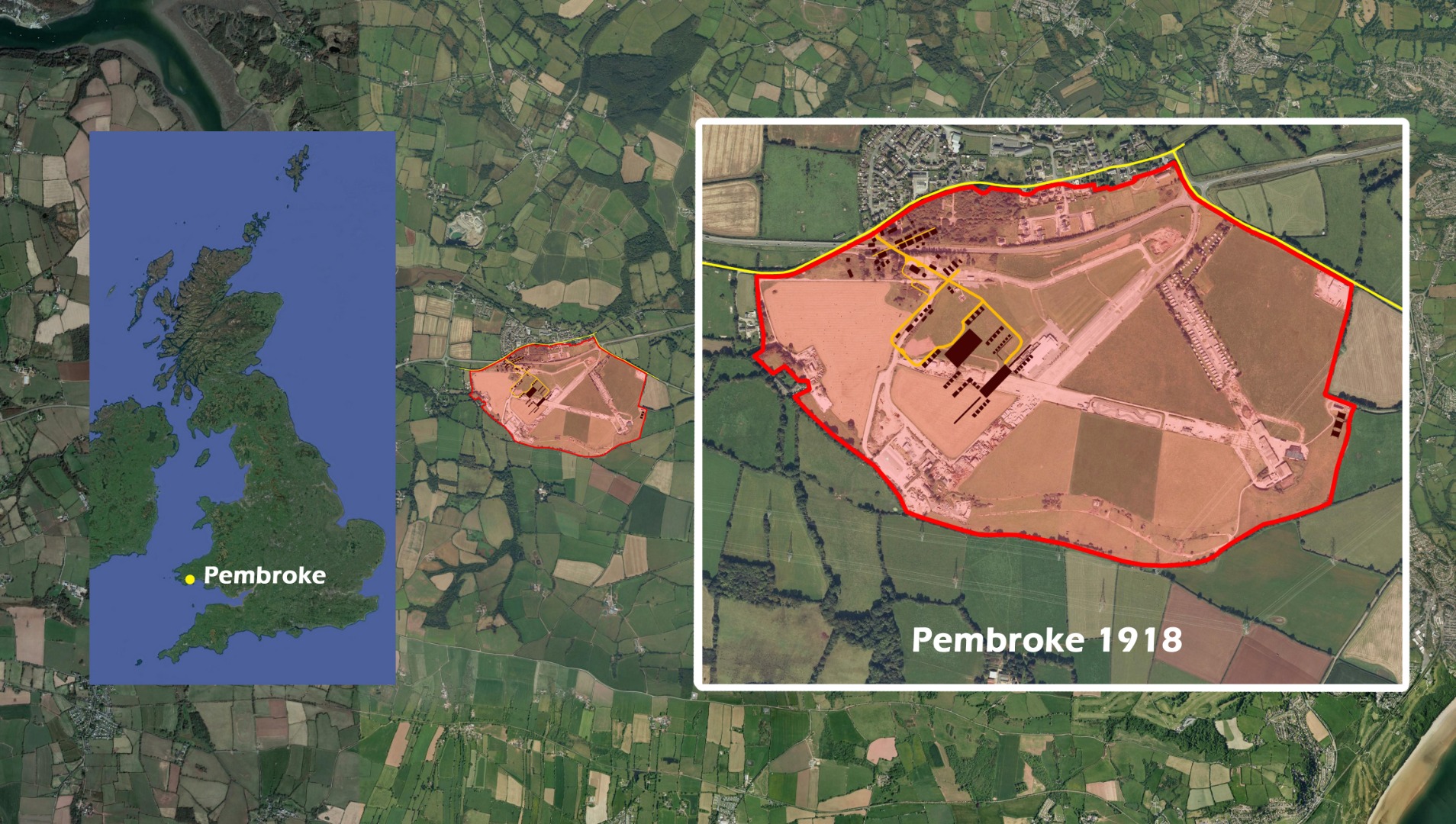 Plans of Carew Cheriton (Milton) (Pembroke). Courtesy of Ed Andrews
| | |
| --- | --- |
| Parent(s)/HQ Airfield(s): | |
| Decoy Airfield(s): | |
| Airship Sub-Station(s): | |