Did you know?
"
Avro Shackleton maritime patrol aircraft made such an impact upon the general area from the early 1950s that Ballykelly – also popularly known in RAF circles as BK – was officially referred to by the Army as Shackleton Barracks from 1971.
"
| | |
| --- | --- |
| Also known as: | Ballykelly Aerodrome / BK (nickname) / RAF Ballykelly / Loughview / Shackleton Barracks |
| County: | Limavady |
| Current Status: | Unknown (proposed industry) |
| Date: | 1 June 1941 - 2 June 1971; subsequent limited flying until 2008 |
| Current Use: | Disused |
| Used By: | RAF / FAA / AAC (limited flying) |
| Landing Surface Types: | Paved |
| Aircraft Roles: | Air-sea rescue / Army aviation (limited flying) / Maritime patrol (main role) / Military development/support / Naval aviation / Trainer |
Ballykelly was built as a satellite for nearby Limavady, opening on 1 June 1941. As construction of the three runways and support buildings had not been completed, the airfield was initially quiet until a detachment of night fighters from Ballyhalbert arrived in the autumn. The Coastal Command Development Unit (CCDU) followed in December 1941 and flew a variety of types until moving to Tain in June 1942. Boeing Fortresses of No 220 Squadron and Consolidated Liberators of No 120 Squadron carried out maritime patrol sorties from the summer of 1942 until early 1943 when they transferred to Aldergrove.
Various Fleet Air Arm squadrons spent short periods at Ballykelly while disembarked, mostly involving Fairey Swordfish units. Nos 59 and 86 Squadrons arrived from Aldergrove in September 1943 for two years and six months respectively, and No 120 Squadron came back in the spring of 1944 until it disbanded in June 1945. These units became busy flying more U-boat patrols in an intense period where German submarines were keeping above water instead of diving on the approach of aircraft. This led to increased losses on both sides and No 15 Group had to create a General Reconnaissance Pool (GRP) at Ballykelly by the second half of 1943 to essentially provide immediate replacements of operational aircraft and crews. Equipped with Liberators, the GRP remained until the summer of 1945.
Final Liberator squadron No 59 left in September 1945 after Ballykelly had scored a large number of U-boat kills. After air-sea rescue unit No 281 Squadron stayed for two months before disbandment a month later, the airfield came under Care and Maintenance very briefly as Ballykelly was very shortly to again become an important maritime patrol airfield, this time during the Cold War. The Joint Anti-Submarine School (JASS) formed in November 1945, and remained until the start of the 1970s for anti-submarine tactics. Headquarters for this unit was at Londonderry, with the flying end of the operation at Ballykelly by various aircraft including Avro Lancasters, Vickers Warwicks and Avro Shackletons plus occasionally aircraft of foreign air forces. The Air-Sea Warfare Development Unit (ASWDU) also operated different types between 1948 and 1951, then returning in 1958 until disbanding in 1970.
Shackletons were based at Ballykelly during this period from 1952, with No 204 Squadron in residence between 1954 when it reformed and 1971. Nos 203, 210, 240 and 269 became other Shackleton units that spent significant periods at this busy airfield, which was revamped to quite a degree during the early 1950s. Various Fleet Air Arm squadrons would also join from time to time but Ballykelly began to wind down in a flying sense from late on in the next decade. The final unit to depart was No 204 Squadron in the spring of 1971 and the airfield was closed in early June.
Becoming Shackleton Barracks in the hands of the Army that month, the site was used as such until 2008. A significant amount of the airfield site remains, including the three runways, one of which most unusually crossed a railway line. Some buildings also survive, including a post-war cantilever hangar specially created in the 1960s for the Shackletons that became one of the biggest in the United Kingdom, and the control tower. Proposals have been made to use the site for industry, while it has occasionally been used by military aircraft for training. Irregular Army Air Corps helicopter use also occurred in the past, mostly in the form of detachments, though No 655 Squadron AAC fully stayed from 1982 until transferring to Aldergrove in 1991.
The following organisations are either based at, use and/or have at least potentially significant connections with the airfield (as at 01/09/2019):
MJM Group - bought airfield 2016
Shackleton and Aviation Museum
Tamlaghtfinlagan Church of Ireland Ballykelly - commemorative plaque and RAF graves
Main unit(s) present:
No 37 Sqn RAF Regiment

No 53 Sqn

No 59 Sqn

No 86 Sqn

No 120 Sqn

No 153 Sqn

No 203 Sqn

No 204 Sqn

No 210 Sqn

No 220 Sqn

No 240 Sqn

No 248 Sqn

No 269 Sqn

No 281 Sqn

No 651 Sqn AAC
No 652 Sqn AAC
No 655 Sqn AAC
No 657 Sqn AAC
No 658 Sqn AAC
No 659 Sqn AAC
No 660 Sqn AAC
No 661 Sqn AAC
No 665 Sqn AAC
No 666 Aviation Sqn

No 744 Sqn

No 745 Sqn

No 772 Sqn

No 811 Sqn

No 814 Sqn

No 815 Sqn

No 819 Sqn

No 831 Sqn

No 833 Sqn

No 834 Sqn

No 835 Sqn

No 836 Sqn

No 837 Sqn

No 849 Sqn

No 849B Flight

No 892 Sqn

No 2707 Sqn RAF Regiment

Air-Sea Warfare Development Unit

Coastal Command Development Unit

Combined Anti-Submarine Tactical School

General Reconnaissance Pool

Joint Anti-Submarine School

Red Hand GC
Photographs and video of the memorial unveiling at Ballykelly, 25th October 2019: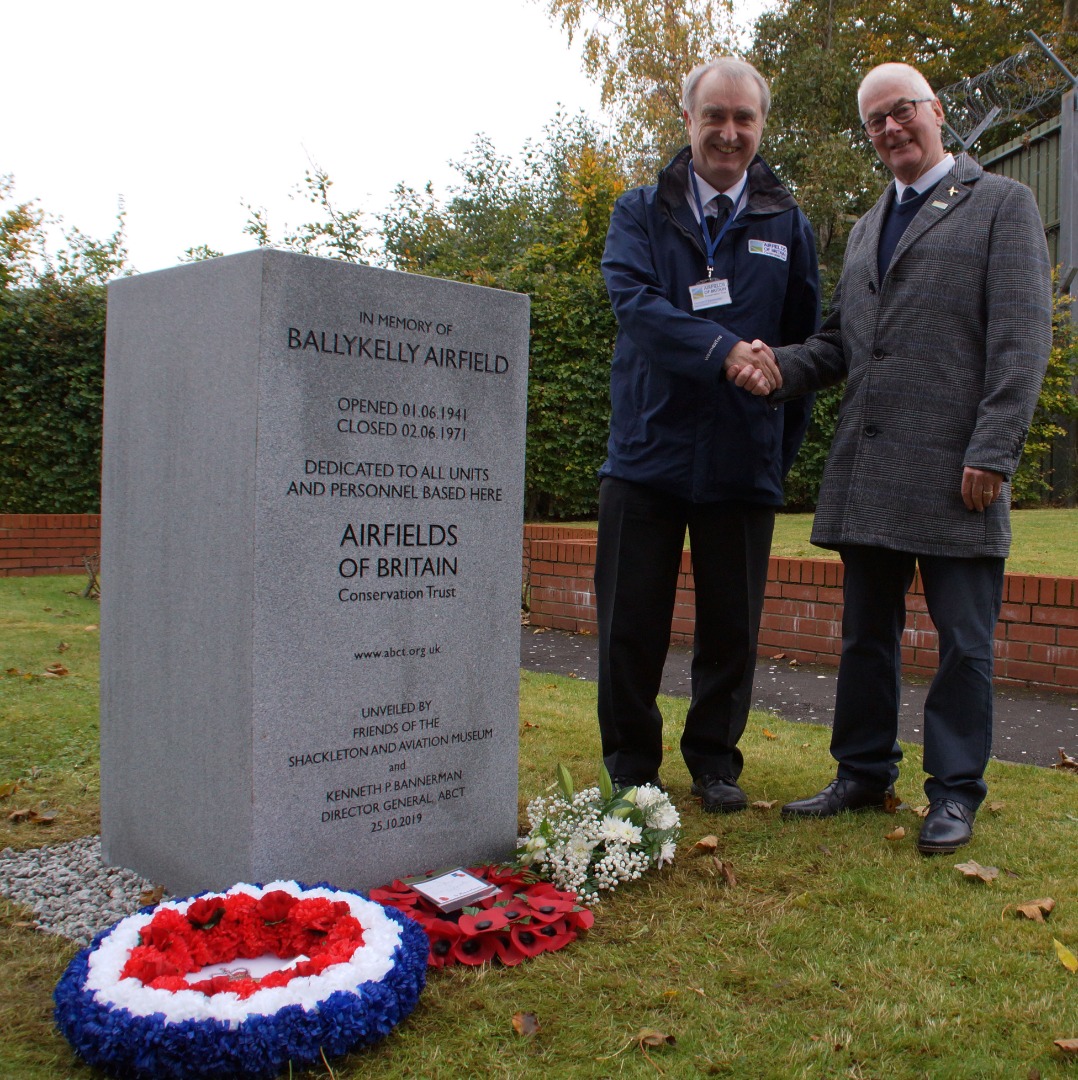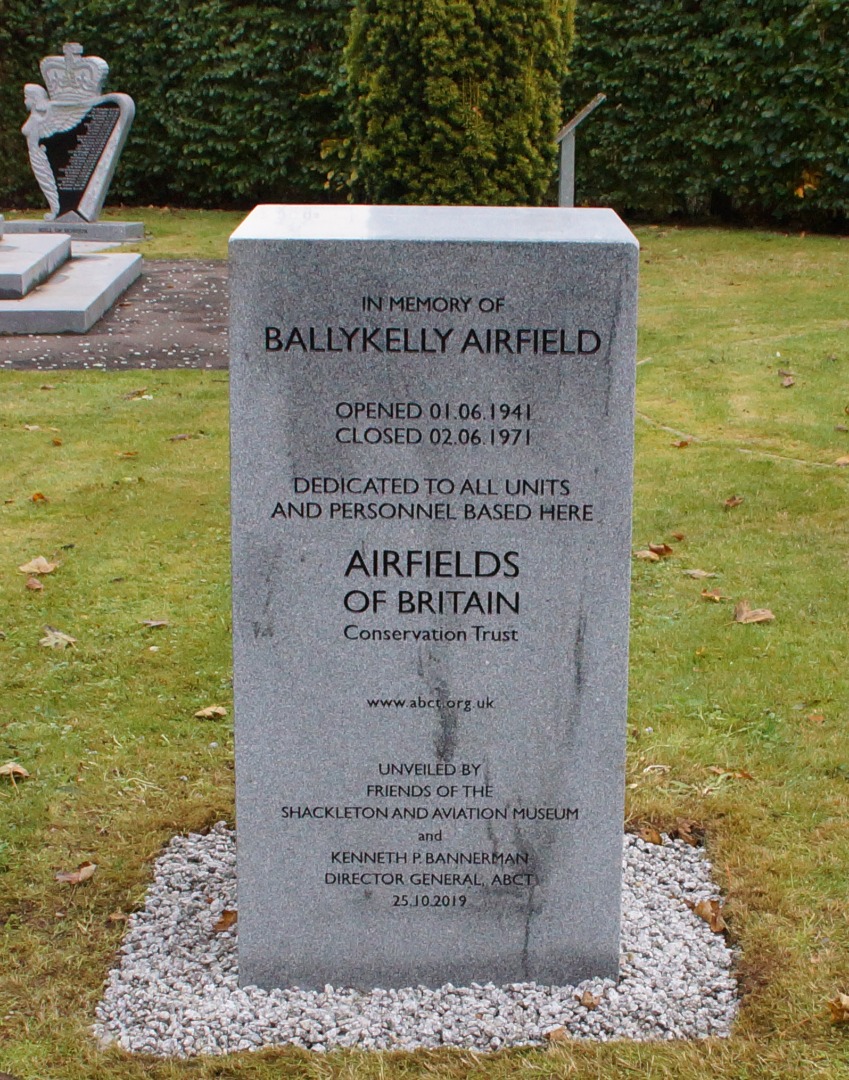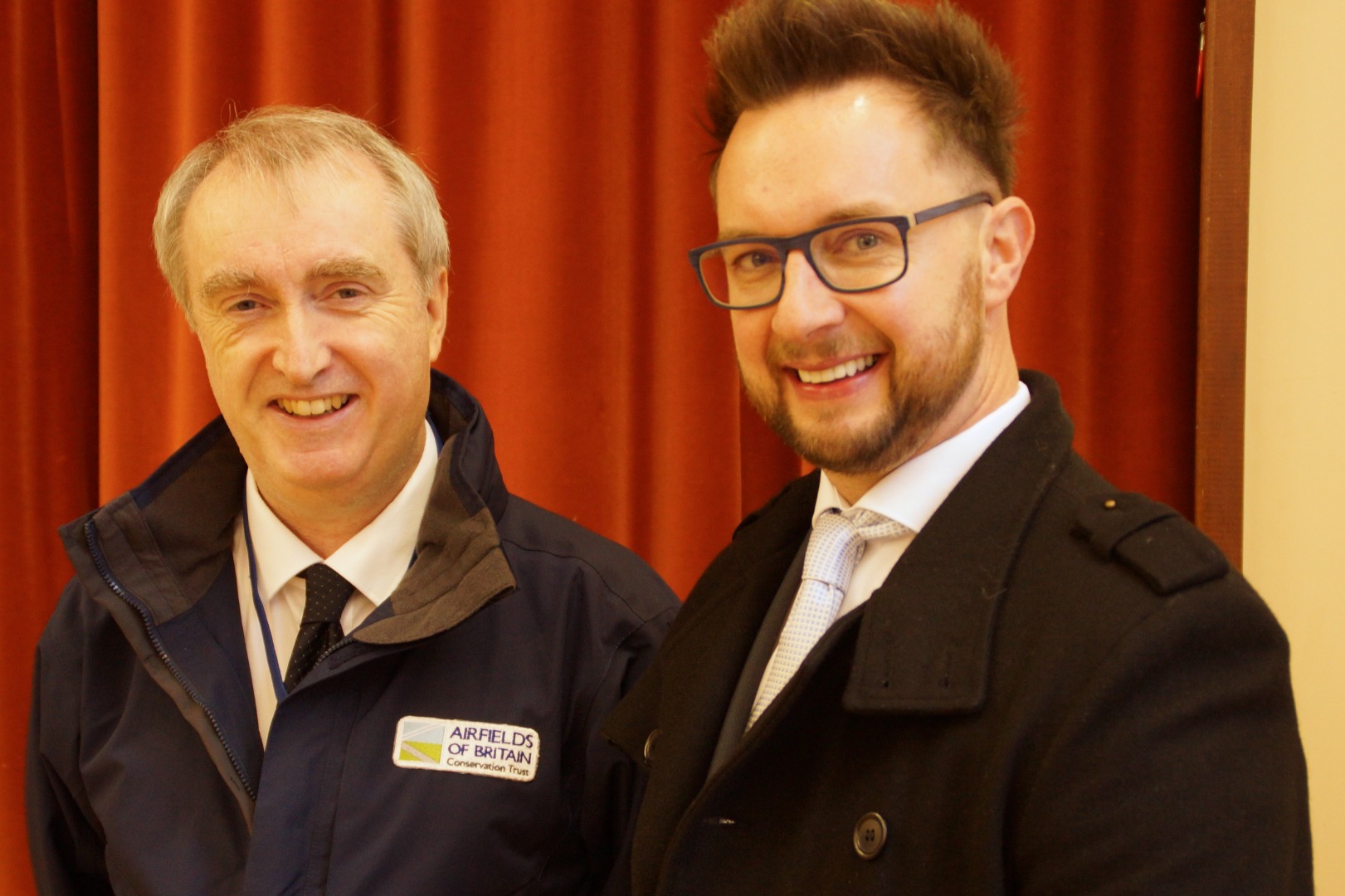 Kenneth Bannerman with Mark Hanna, Managing Director of Limavady Memorials.
Featuring footage of Ballykelly, 1958. Courtesy of British Pathé
| | |
| --- | --- |
| Parent(s)/HQ Airfield(s): | |
| Decoy Airfield(s): | |