| | |
| --- | --- |
| Also known as: | Bally Halbert (misspelling) / Ballyhalbert Aerodrome / Ballyhalbert Caravan Park / Ballyhalbert Holiday Park / HMS Corncrake / RAF Ballyhalbert / RNAS Ballyhalbert |
| County: | Ards |
| Current Status: | Housing / Leisure activity |
| Date: | 28 June 1941 - 14 February 1946 |
| Current Use: | Disused |
| Used By: | RAF / RAF (Polish) / FAA |
| Landing Surface Types: | Paved |
| Aircraft Roles: | Anti-aircraft co-operation / Communications / Fighter (main role) / Fighter-reconnaissance / Meteorological reconnaissance / Naval aviation (main role) |
The most important airfield on Northern Ireland's Ards Peninsula, Ballyhalbert served as a major fighter airfield during World War Two. First of a number of RAF squadrons to be present from the summer of 1941 was No 245 with Hawker Hurricanes in order to mount defensive patrols. Subsequent units notably included No 504 Squadron, which stayed both here and at the satellite airfield of Kirkistown with more Hurricanes and later Supermarine Spitfires between August 1941 and October 1942, plus the Spitfires of No 501 Squadron which then remained until going to Westhampnett in April 1943.
Ballyhalbert proved to be one of these more quietly effective but still steadily busy airfields during its RAF career. Apart from day fighter elements carrying out necessary shipping escort patrols, there was a significant night fighter presence here too in order to help protect Northern Ireland. No 153 Squadron reformed at the airfield on 24 October 1941 to fly Boulton Paul Defiants, before switching to Bristol Beaufighters that became operational in May 1942. Their unit left for North Africa the following December but retained a detachment at Ballyhalbert into January 1943.
The Fighter Command commitment at this airfield had to all intents finished by the spring of 1944 with the Spitfires of No 303 Squadron moving to Horne, but this did not leave Ballyhalbert idle. Fleet Air Arm fighter squadrons using especially Supermarine Seafires had already begun to visit, while two RAF Flights held on in place towards the end of World War Two for meteorological reconnaissance and target towing duties. Eventually the airfield officially became a Royal Navy base in July 1945 but no sooner had what was now alternatively known as HMS Corncrake appeared than it was quickly paid off on 13 November of that year. A return to the RAF on 15 January 1946 brought no more flying activity and Ballyhalbert quickly closed, being transferred to the Northern Ireland Government for storage duties. Ejector seat maker Martin-Baker later on in the 1950s briefly considered acquiring the site until deciding to purchase Langford Lodge instead.
Today much of the airfield has disappeared under an ever expanding park homes and caravan site. Sections of the three runways still do survive for the time being, as does the control tower in a rather precarious state.
The following organisations are either based at, use and/or have at least potentially significant connections with the airfield (as at 01/10/2019):
Ballyhalbert Community Association
Lifestyle Homes N.Ireland - owner of holiday park
Notable Past Associated Organisations:
North Down Model Aero Club
Main unit(s) present:
3rd Naval Fighter Wing

No 13 Gp AAC Flight

No 25 Sqn

No 26 Sqn

No 63 Sqn

No 81 Gp Comms Flight

No 82 Gp TT Flight

No 125 Sqn

No 130 Sqn

No 153 Sqn

No 231 Sqn

No 245 Sqn

No 256 Sqn

No 303 Sqn

No 315 Sqn

No 501 Sqn

No 504 Sqn

No 718 Sqn

No 725 Sqn

No 768 Sqn

No 784 Sqn

No 787 Sqn

No 800 Sqn

No 808 Sqn

No 812 Sqn

No 827 Sqn

No 880 Sqn

No 882 Sqn

No 885 Sqn

No 887 Sqn

No 894 Sqn

No 899 Sqn

No 1402 Met Flight

No 1480 (AAC) Flight

No 1493 (Fighter) Gunnery Flight

No 1493 (TT) Flight

No 1494 (TT) Flight

No 1840 Sqn

No 1846 Sqn

No 2707 Sqn RAF Regiment
No 2712 Sqn RAF Regiment
Photographs and video from the memorial unveiling at Ballyhalbert, 27th October 2019: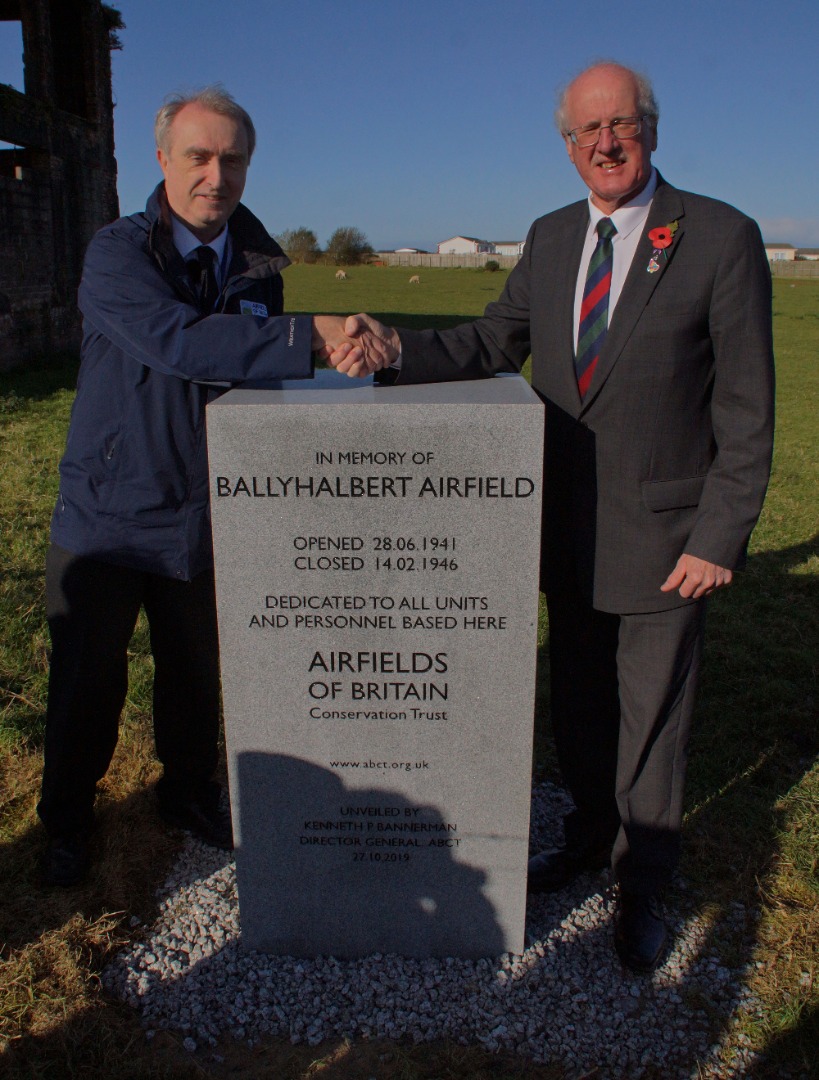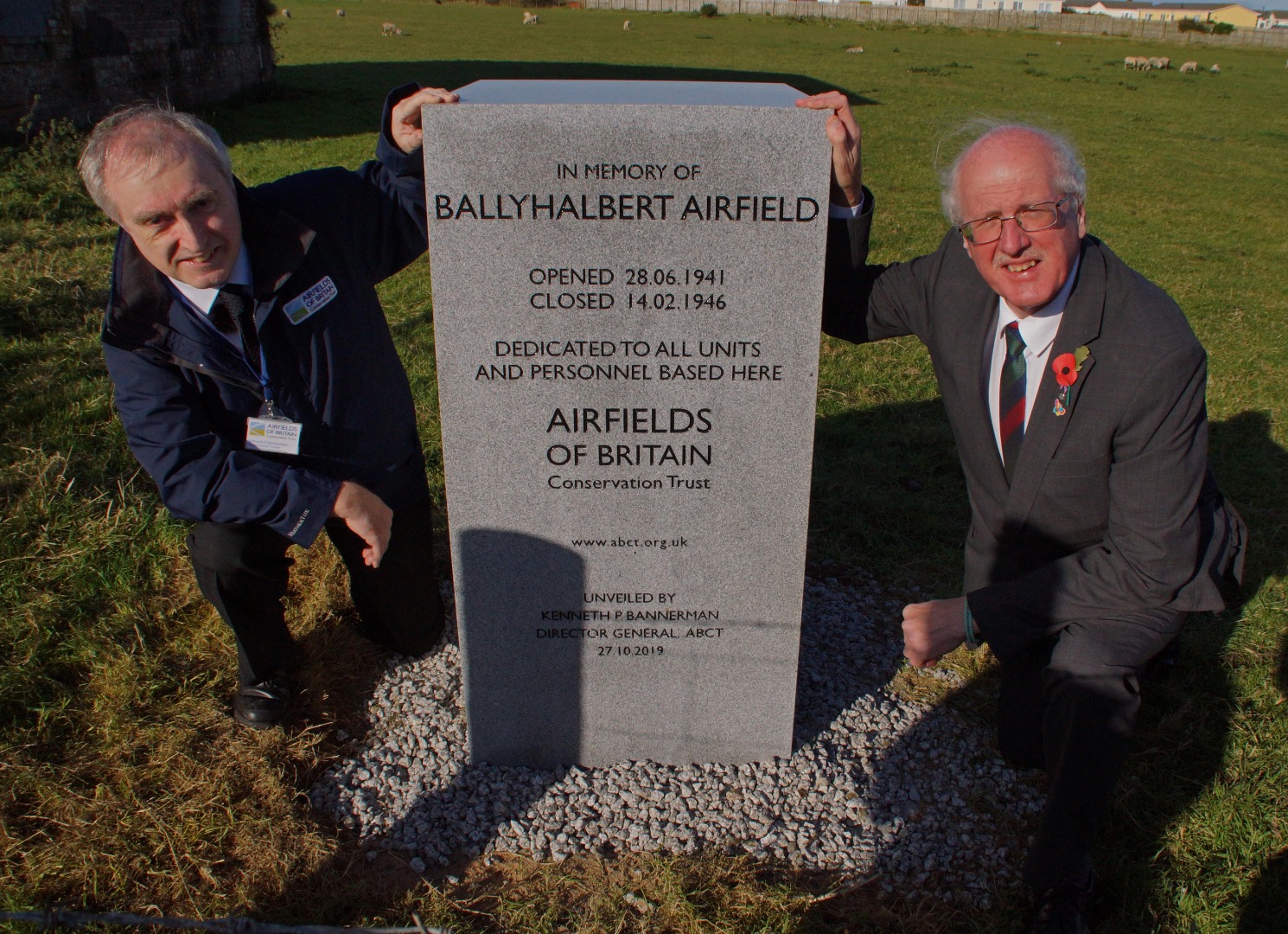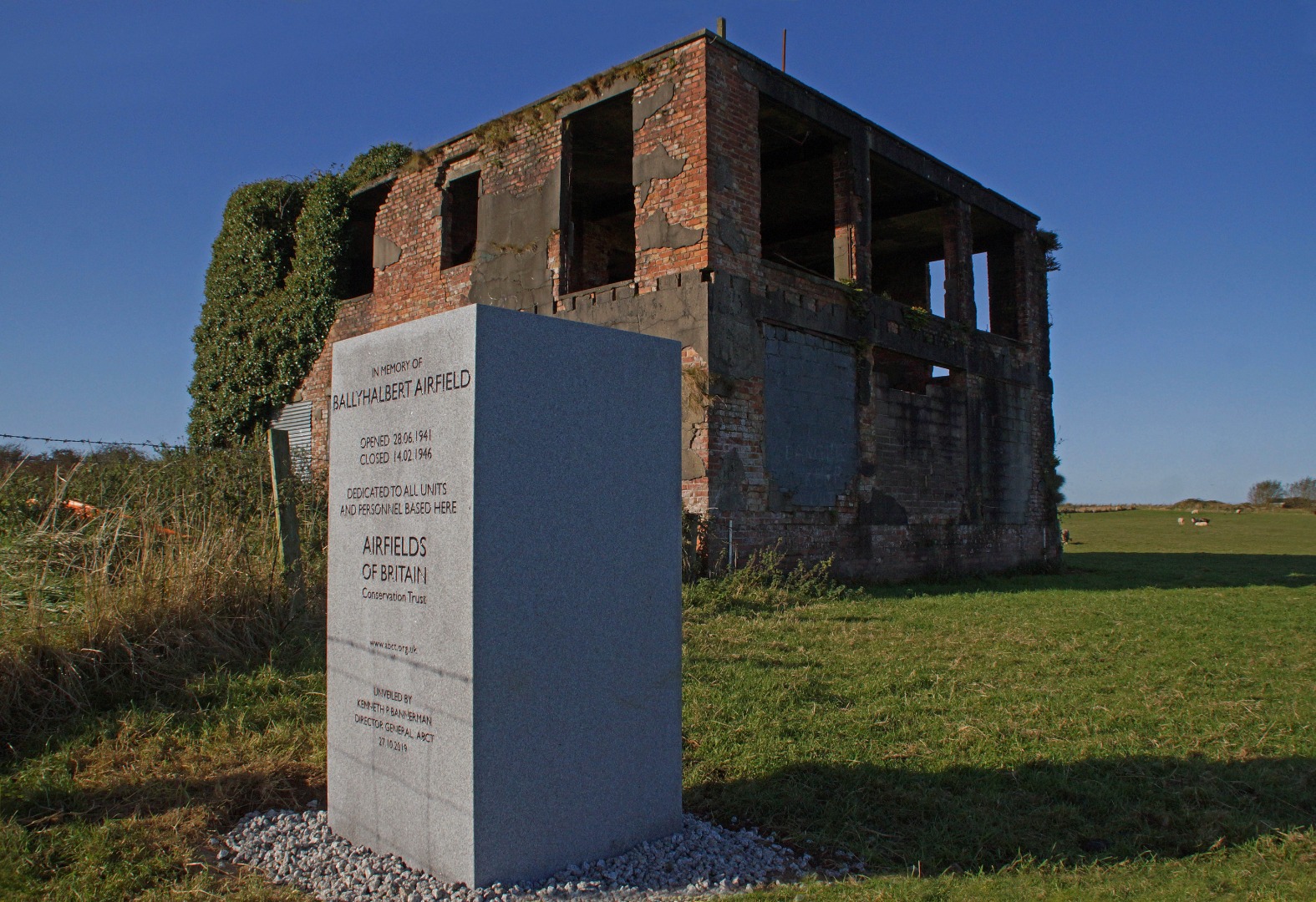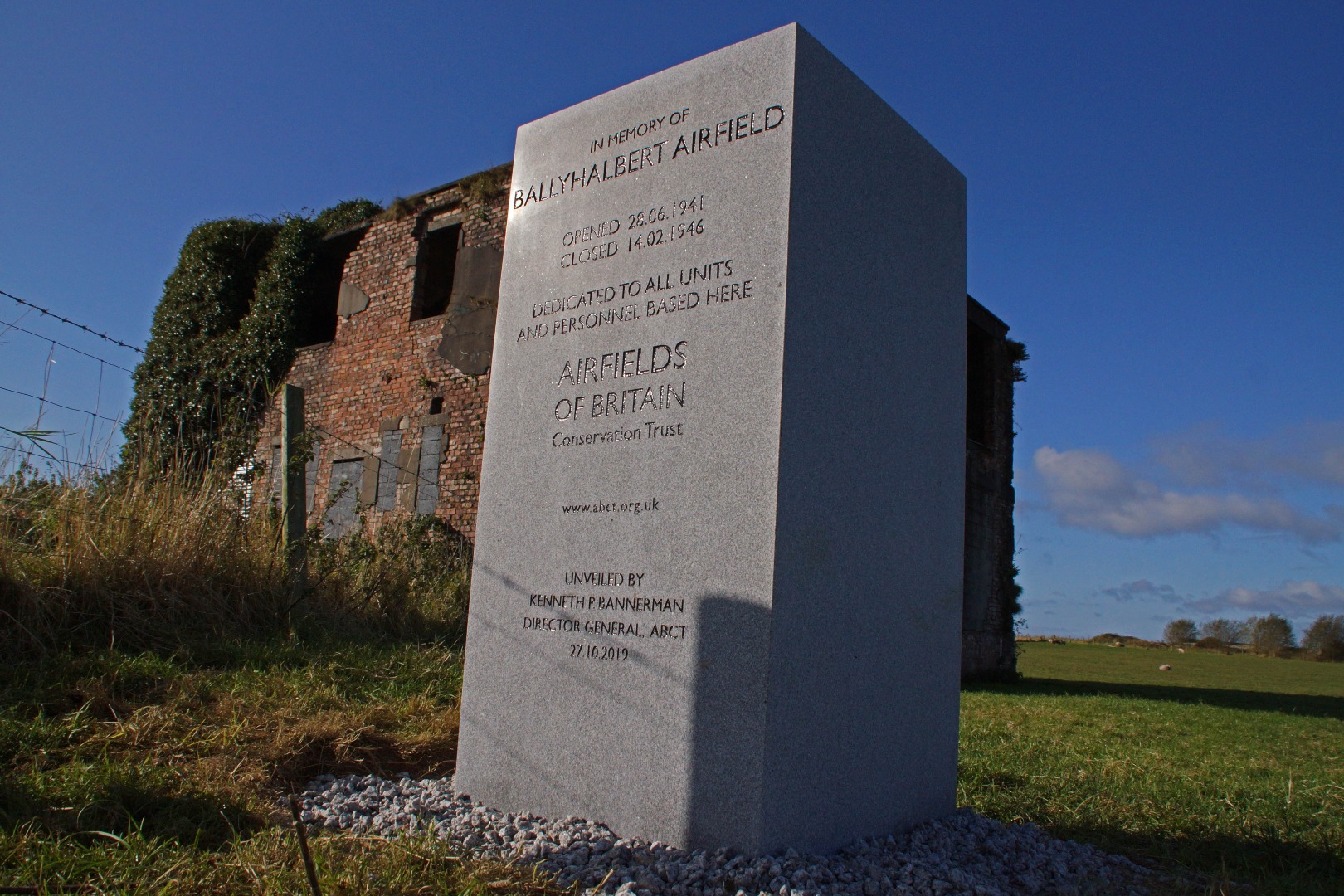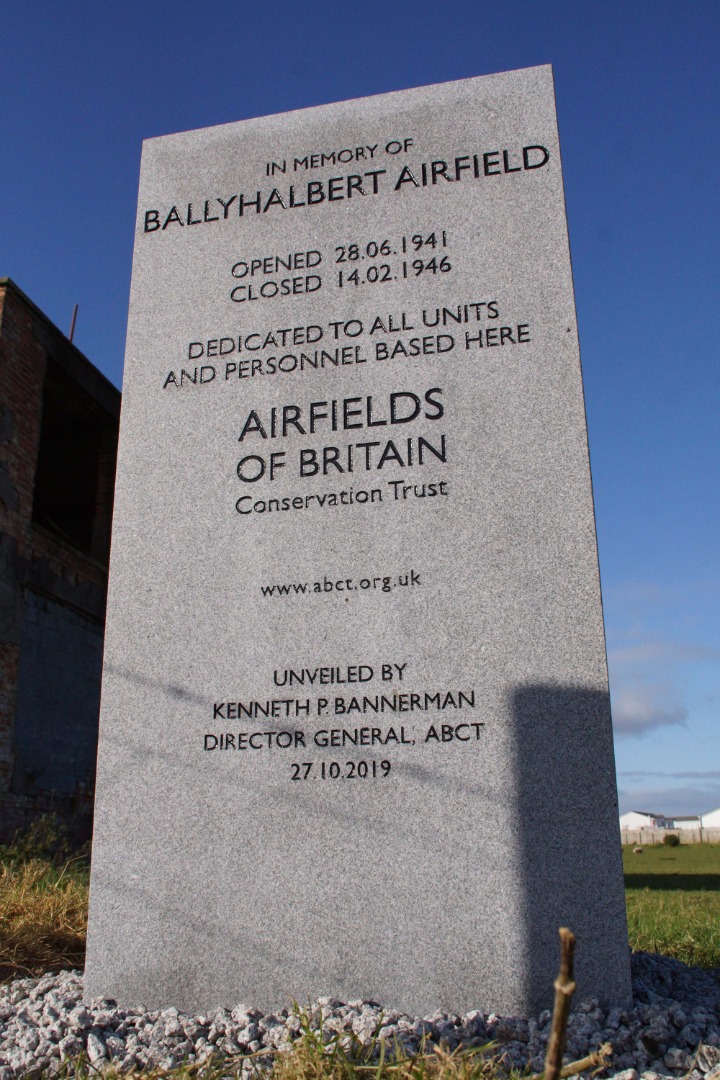 The control tower at Ballyhalbert. Courtesy of JohnnyBareToes
Aerial view of Ballyhalbert and Kirkistown. Courtesy of Gary McKie
| | |
| --- | --- |
| Satellite(s): | |
| Decoy Airfield(s): | |