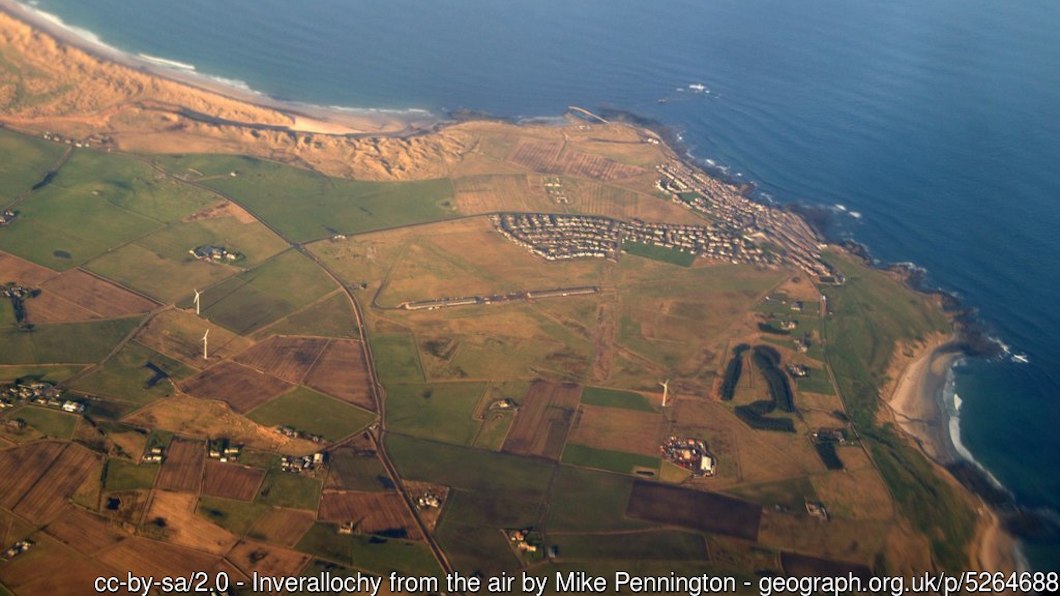 Aerial photograph of Fraserburgh, 23 January 2017.
Sergeant John Eric Milnes
R.A.F. (V.R.) 1073189
14th January 1915 - 13th July 1944
John Eric Milnes was born in Nottingham on 14th January 1915. His parents were Frederick James Milnes and Harriet Milnes (nee Ling). He attended High Pavement School in Nottingham from 1926 – 1934 where he had a glittering sports career & was a member of Trent House. In 1929 he rowed for the house in the final of the Lancashire Cup, but was beaten by a narrow margin. He was singled out for congratulations as he had taken his position in the crew late in the season, and consequently had had few practices. By 1932, however, he was a member of the crew which was again in the Lancashire Cup final. He rowed as stroke, and the team won easily. By 1930 he was a regular player in the first XV and won his colours. According to the school magazine in 1933, he was by then captain of the first XV, and was 13 stone, 10 lbs. and five feet 11 inches tall. He was described as a heavy and effective forward. It goes on to say, "He combines a heavy build and powerful kicking with a good turn of speed. His tackling is good. In the season he scored 6 tries and 10 conversions." In the athletics inter-house competition in the under 15s he won the half mile, was second in the 220 yards and first in the 100 yards. He was also third in the long jump. In 1932 he won the featherweight competition in the inter-house boxing final. So, following all of that it should be no surprise that his role in the R.A.F. (V.R) was as a P.T instructor! He married Marjorie Ethel Kemp in Leicester in 1939. Their only daughter was born in January 1943. He was known in his family by his second name – Eric but Marjorie called him John. He was based at RAF Fraserburgh. In his time off he went cycling and kept a diary about some of the places he visited. These include Aberdeen to Ballater via Bridge of Feugh, Banchory, Kincardine O'Neil and Aboyne as well as trips from Fraserburgh to Pennan and Rathen to Maud. 
Taking men swimming, at the baths was part of his role, as swimming in the sea locally was deemed too dangerous. On that fateful day in July 1944 a senior officer ordered him, despite John saying we take men to Aberdeen because it is too dangerous in the sea, to take a group of cadets swimming in the sea. So, orders being orders that is what he did. Several cadets got into difficulty in the water. John managed to save them but sadly he paid the ultimate price and was drowned. Fred Baker, who was also at the base, was responsible for getting a plane put up to look for John but he was not found. His body was eventually found in September 1944. Fred Baker, from London, had kept having his leave cancelled but after this he was allowed his leave and when he came back after 2 weeks his belongings and everyone had gone, The unit was then based in Banff. The locals at the time were told that a silly airman had gone swimming where he shouldn't! Bob Steven was a teenager at the time & when decades later he met John's daughter she had to show him the proof that her father had been commended by the Royal Humane Society before he would accept that what she was saying, as opposed to what they had been told, was true.
John Eric is buried in the Cairnbulg & Inverallochy Burial Ground, Rathen & has a Comonwealth War Graves headstone. This is the nearest to official recognition there has ever been. John's widow, Marjorie, received acknowledgment that he had served his country but she was also told that she was not entitled to a War Widows' Pension as he was not on active service! He was never awarded any medal, and although years later some of the cadets tried to get that changed the response they got was, that the King had died so it wasn't possible!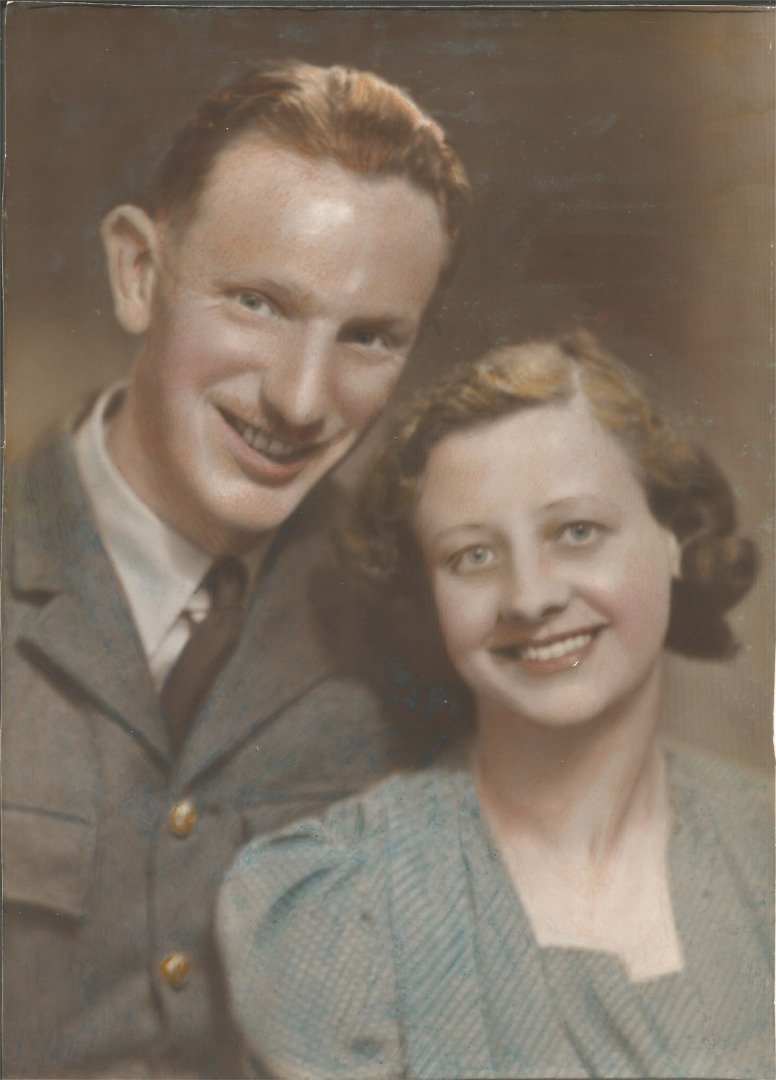 John and Marjorie Milnes. Courtesy of Catherine Shingler
Thank you very much to Catherine Shingler, John's granddaughter, for supplying this article. If you have an airfield story please contact us today.
Share this page