| | |
| --- | --- |
| Also known as: | Falleninch / Falleninch Farm / RAF Stirling / RFC Stirling / Stirling Aerodrome |
| County: | Stirling |
| Current Status: | Farmland |
| Date: | April 1916 - September 1939 |
| Current Use: | Disused |
| Used By: | RAF / RFC / Civil |
| Landing Surface Types: | Unpaved |
| Aircraft Roles: | Airliner / Fighter / Trainer |
Stirling, also known as Raploch Aerodrome, was situated directly to the west of the famous castle, on the land of Falleninch Farm. This grass site was used from the spring of 1916 with training being its primary role, as well as being a Home Defence Landing Ground. No 43 Squadron emerged here from 15 April 1916 to carry out the former task on a variety of aircraft types, including Avro 504s and Royal Aircraft Factory B.E.2s. This unit however moved to Netheravon on 30 August of the same year. Other first line and training squadrons also used the airfield for flying instruction, with No 63 Squadron forming at Stirling over the summer, moving to Cramlington on 31 October 1916. No 77 Squadron additionally used the airfield as a landing ground into certainly 1917. This unit provided aerial defence for a large part of central and south-eastern Scotland.
Activity subsequently wound down at the airfield and it was notified for relinquishment prior to the end of hostilities in September 1918. Between the wars Northern and Scottish Airways occasionally used Stirling for civil flights, while two separate adjoining fields became recognised as an Automobile Association registered landing ground, but all activity ceased with the start of the Second World War. When active in its original military capacity the airfield was equipped with some wooden and canvas buildings for hangarage, accommodation and technical buildings, though the farm proved the primary facility for resident airmen in the earlier days of the site. No evidence of the airfield remains today, with the land having been returned to agricultural use.
The following organisations are either based at, use and/or have at least potentially significant connections with the airfield (as at 01/09/2011):
Central Library
Falleninch Farm Butchers
Raploch Community Council
Stirling Local History Society
Main unit(s) present:
No 43 Sqn

No 52 RS

No 52 TS

No 63 Sqn

No 77 Sqn

Northern and Scottish Airways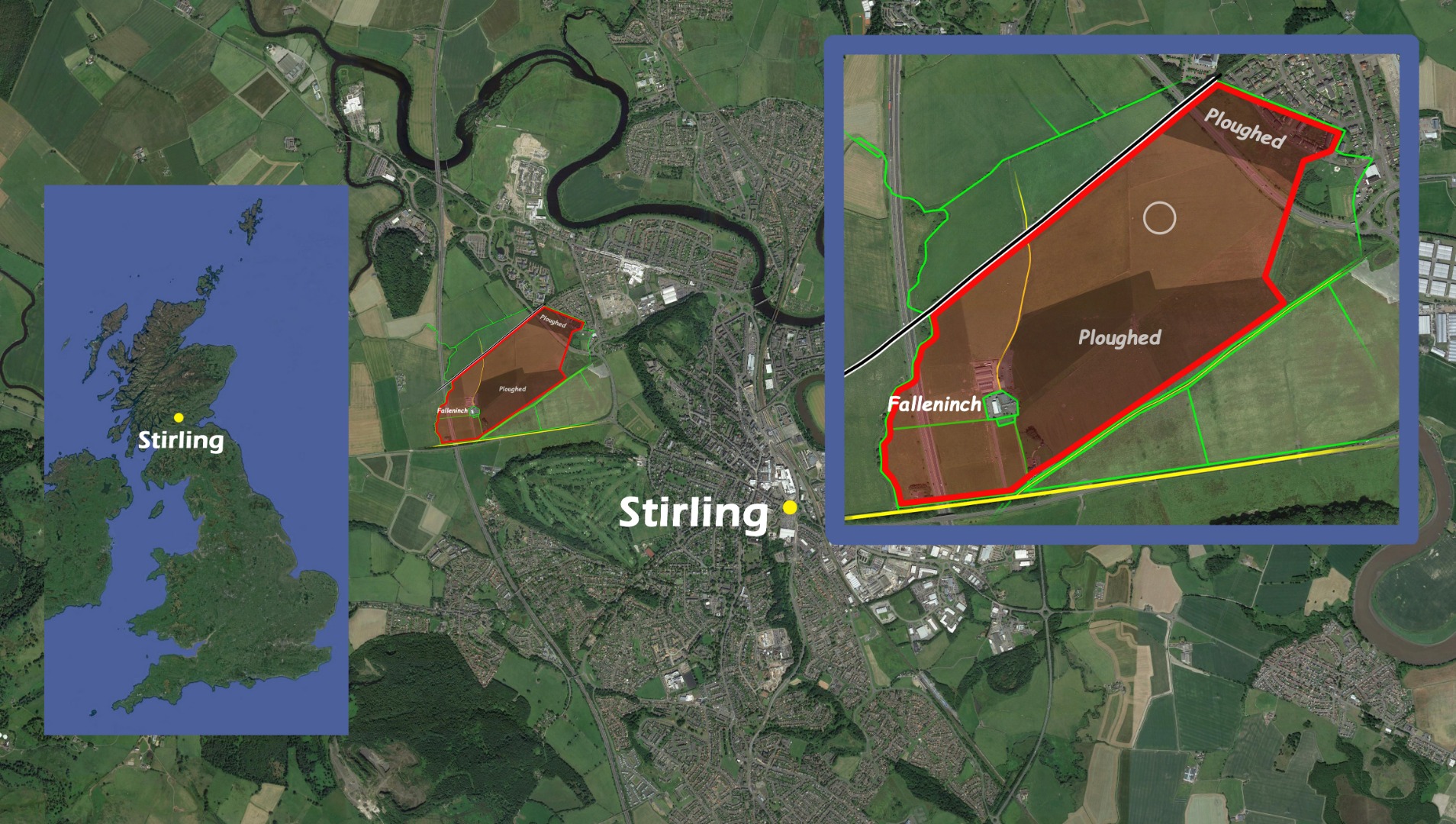 Plan of Stirling. Courtesy of Ed Andrews