| | |
| --- | --- |
| Also known as: | Bassington Industrial Estate / Cramlington Aerodrome / RAF Cramlington / RFC Cramlington |
| County: | Northumberland |
| Current Status: | Industry / Open cast coal mining / Open land |
| Date: | 1 December 1915 - May 1936; subsequent winch launched gliding use to 1946 |
| Current Use: | Disused |
| Used By: | RAF / RFC / Civil |
| Landing Surface Types: | Unpaved |
| Aircraft Roles: | Airliner / Bomber / Fighter (main role) / General aviation (main role) / Maritime patrol / Trainer (main role) |
A remarkably pioneering airfield, though almost impossible to now imagine due to it having almost entirely disappeared, Cramlington first opened in December 1915. One can fairly say that this was where properly organised fighter operations began in Britain, once No 36 Squadron formed on 1 February 1916 out of a previous Flight, as the first Royal Flying Corps unit of its kind created solely for Home Defence duties. The squadron HQ moved to Newcastle in October but fighters subsequently had Cramlington available to them as a night landing ground for the rest of World War One. A Zeppelin made an attempted raid during the night of 2/3 April 1916 when the airship was attracted by the glare of landing flares.
Reserve and Training Squadrons also populated this airfield from early on. Operational ones used it too, No 58 Squadron forming on 8 June 1916 with Royal Aircraft Factory BE2 variants, although this particular element was retained for training duties until leaving in December 1917. No 63 Squadron became another resident between October 1916 and June 1917.
Along with its innovative Home Defence connections, Cramlington additionally played a major early part in developing anti-submarine patrol operations with Airco DH6 biplanes formerly used as trainers. Subsequent activities of this nature more fully evolved elsewhere in Britain but No 509 (Special Duty) Flight of No 252 Squadron did stay here from June 1918 until disbanding on 25 October.
The airfield's other most prominent wartime visitor along with No 36 Squadron had become No 52 Training Depot Station (TDS), which instructed trainee pilots on aircraft types such as more DH6s and its company stablemate the Airco DH9 from July 1918. After World War One ended the TDS disbanded in September 1919, as many similar schools downgraded in size to be renamed as Training Schools (TS), but No 52 TS only lasted a month and Cramlington seemed finished once it passed to the Disposal Board on 12 April 1920.
Happily, this transpired to not be the case as, through the efforts of the Newcastle-on-Tyne Aero Club and Cramlington Aircraft Ltd, civil aircraft began to fly from here during the 1920s, especially once the club secured it in September 1925. Their already veteran airfield carried on nicely in its new-found role but, once Woolsington opened in 1935, its superior qualities saw the by now Newcastle Aero Club prepare to move there. Regular airfield activity at Cramlington ceased in May 1936, although the Newcastle Gliding Club remained to operate its winch-launched gliders up to the outbreak of World War Two. A further attempt to restart flying of this type began in 1946 but quickly proved abortive and finally ended all forms of aviation activity at the airfield.
Today Cramlington is split between encroaching open cast coal mining activities and an industrial estate where its landing area and buildings respectively existed. Yet even now the airfield still remains tangible due to a support building now used as a private dwelling, as featured in a more recent television programme.
The following organisations are either based at, use and/or have at least potentially significant connections with the airfield (as at 01/09/2011):
Cramlington Library
Cramlington Local History Society
Cramlington Town Council
Miller UK Ltd
Northumberlandia
Main unit(s) present:
No 36 Sqn

No 47 RS

No 52 RS

No 52 TDS

No 52 TS

No 58 Sqn

No 61 RS

No 63 Sqn

No 69 TS

No 75 TS

No 76 Sqn
No 120 Sqn
No 252 Sqn

No 507 (Special Duty) Flight

No 508 (Special Duty) Flight

No 509 (Special Duty) Flight

Home Defence Flight

National Aviation Day Ltd

Newcastle Aero Club

Newcastle GC
Newcastle-on-Tyne Aero Club

Northern and Scottish Airways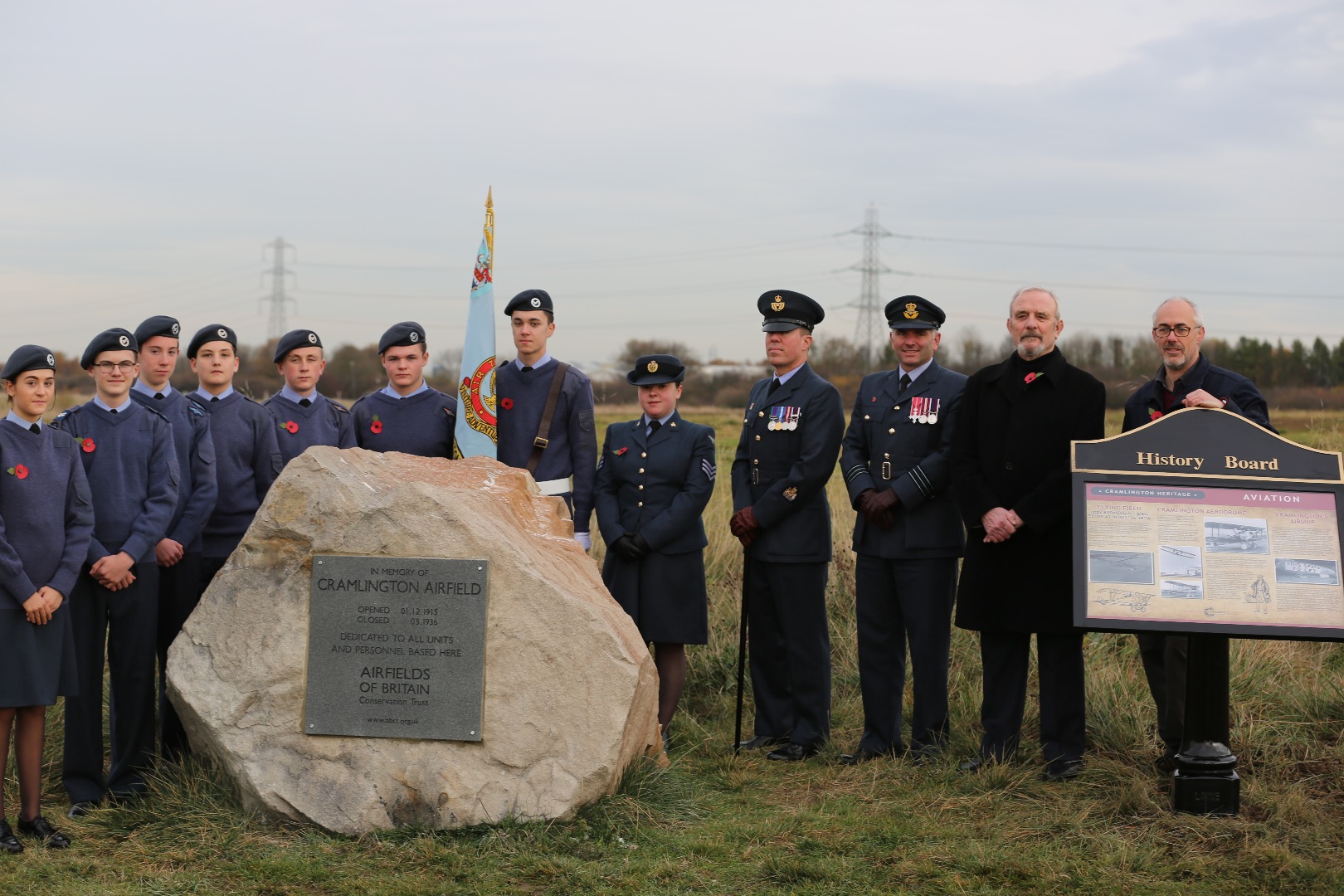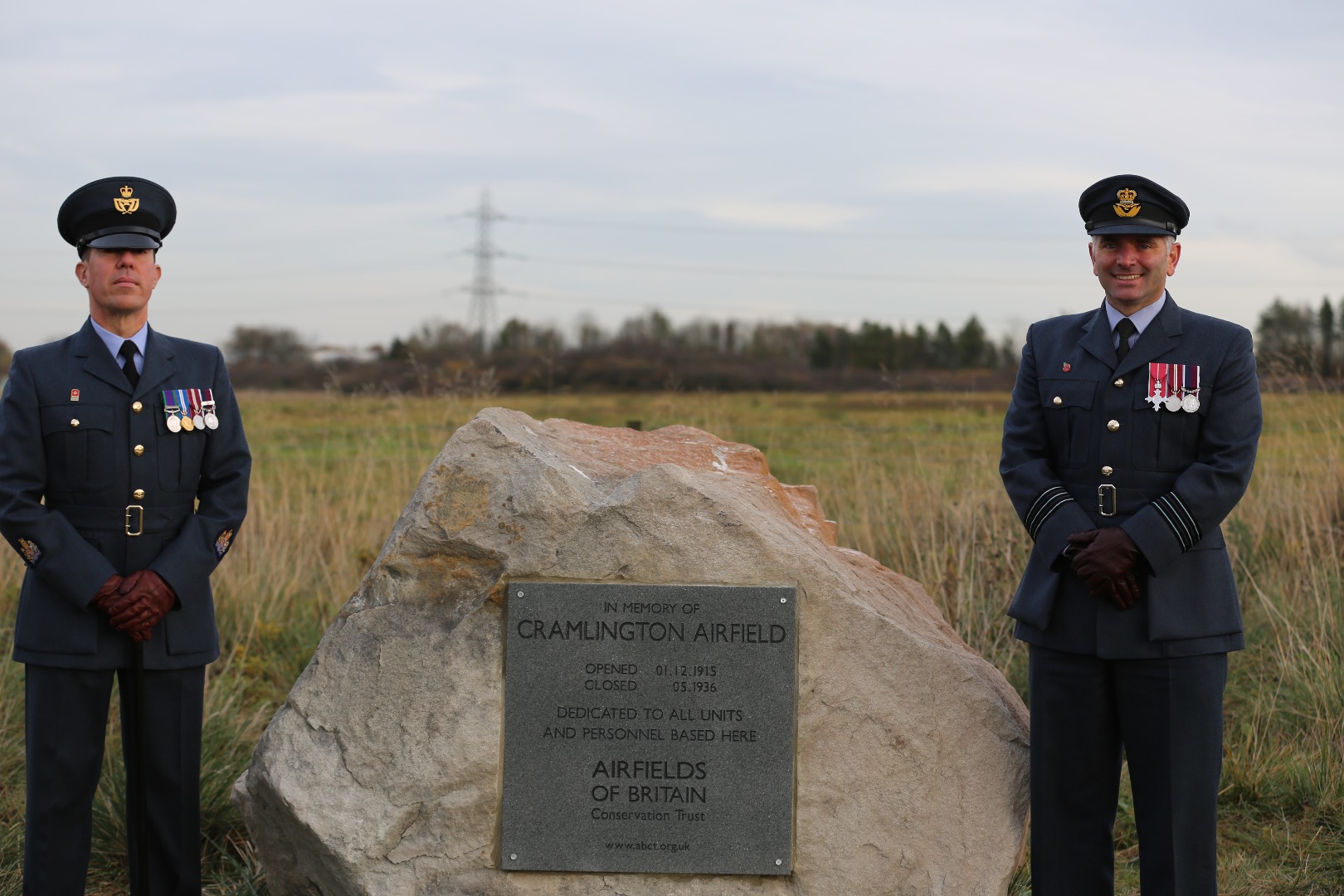 Photos courtesy of Simon Moore, Team Media & Comms, RAF Boulmer
Footage of Newcastle Aero Club at Cramlington, 1925. Courtesy of British Pathé
Newcastle Aero Club's pageant, 1929. Courtesy of British Pathé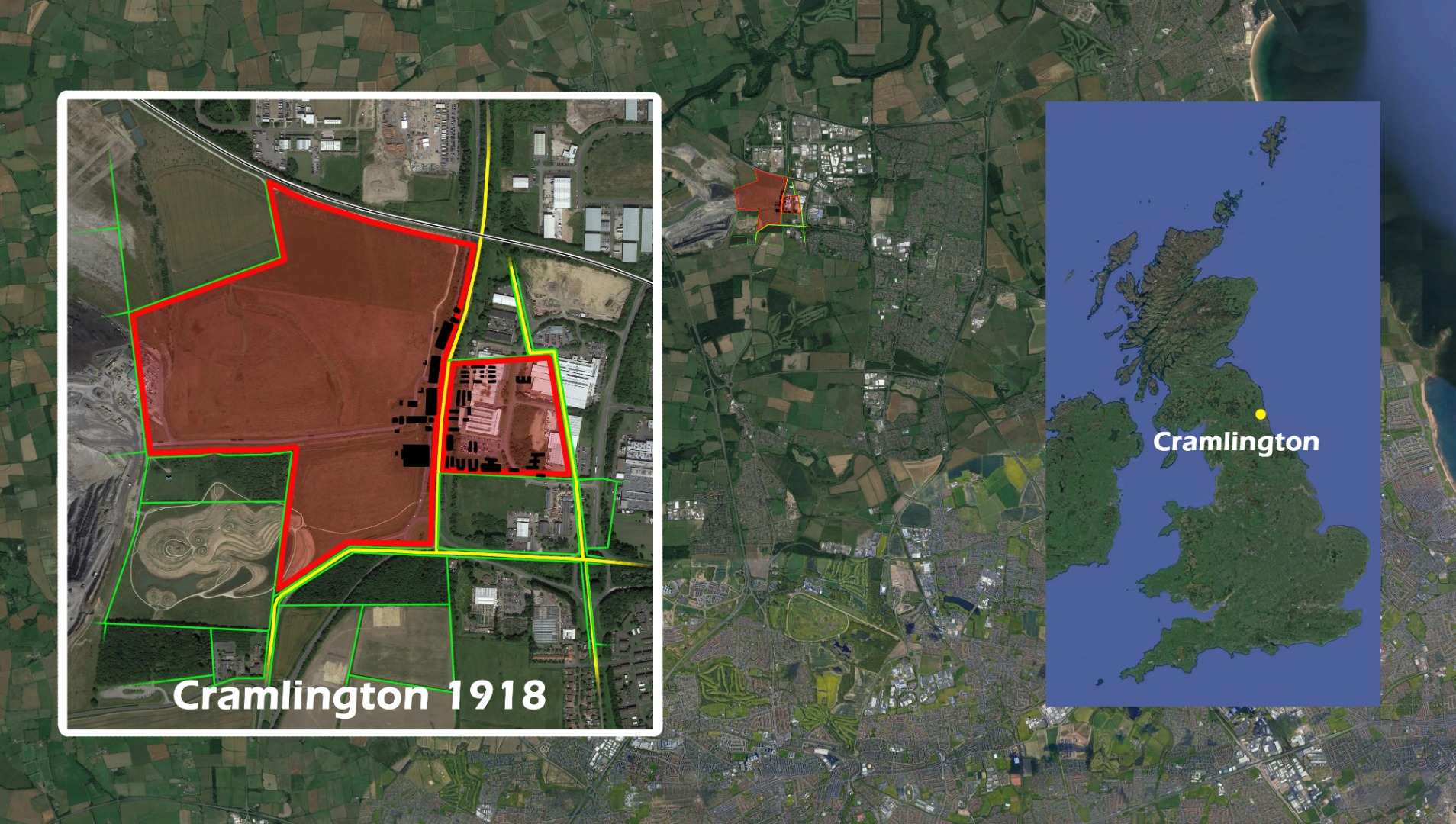 Plan of Cramlington, 1918. Courtesy of Ed Andrews
| | |
| --- | --- |
| Successor Airfield(s): | |
| Associated Airfield(s): | |