| | |
| --- | --- |
| Also known as: | Newchurch Advanced Landing Ground / RAF Newchurch |
| County: | Kent |
| Current Status: | Farmland |
| Date: | 2 July 1943 - 13 December 1944 (derequisitioned) |
| Current Use: | Disused |
| Used By: | RAF |
| Landing Surface Types: | Unpaved |
| Aircraft Roles: | Fighter |
Newchurch was one of a number of Advanced Landing Grounds on Romney Marsh in Kent. Construction was completed by the spring of 1943 with the two Supermarine Spitfire squadrons of No 125 Airfield arriving on 2 July 1943. These units carried out offensive operations until they moved to Detling in October. After upgrades to the facilities over the winter, Hawker Tempests, Spitfires and Hawker Typhoons from No 150 Airfield (later Wing) arrived in April 1944.
Tempests from Newchurch played a major role in the effort against V-1 flying bombs, with these aircraft achieving success both during the day and at night. All three squadrons from the Wing left in the second half of September 1944 for Matlaske and the airfield was derequisitioned later that year on 13 December.
Newchurch was equipped with two Sommerfield Track runways, with accommodation for personnel in tents. Blister hangars were later added but no hardstandings existed. The hangars and metal runways were removed after this extremely successful airfield's closure with very little trace of the site remaining once it then returned to agricultural use.
The following organisations are either based at, use and/or have at least potentially significant connections with the airfield (as at 01/07/2013):
ABCT were pleased to be able to sponsor the memorial unveiled at Newchurch on Saturday 27th September 2017. Click here for full details.
Main unit(s) present:
No 3 Sqn
No 19 Sqn
No 56 Sqn
No 125 Airfield
No 132 Squadron
No 150 Airfield
No 150 (Fighter) Wing 
No 184 Sqn
No 486 Sqn
No 602 Sqn
No 2749 Sqn RAF Regiment
No 2800 Sqn RAF Regiment
No 3206 Servicing Commando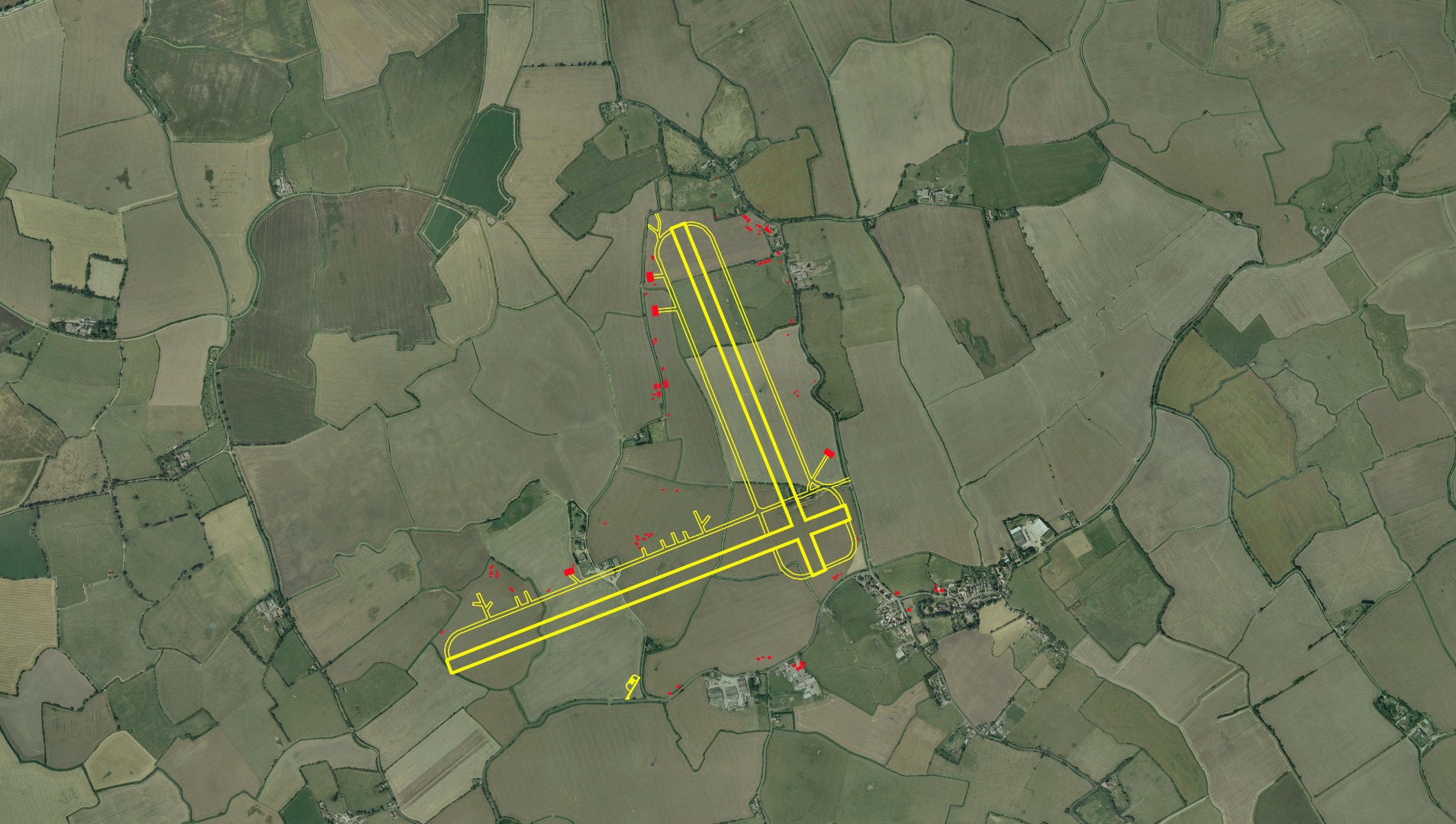 Key
Yellow = Landing and taxiing strips
Red = Buildings