| | |
| --- | --- |
| Also known as: | HMS Corncrake II / Kirkistown Aerodrome / Kirkistown Circuit / RAF Kirkistown / RNAS Kirkistown |
| County: | Ards |
| Current Status: | Farmland / Leisure activity |
| Date: | July 1941 - 1946 |
| Current Use: | Disused |
| Used By: | RAF / FAA |
| Landing Surface Types: | Paved |
| Aircraft Roles: | Fighter (main role) / Naval aviation (main role) / Trainer |
Kirkistown opened in July 1941 as a satellite for nearby Ballyhalbert. Supermarine Spitfires from No 504 Squadron moved in from January 1942, staying here for almost six months, after which leaving a detachment until October while the unit returned to its parent site. Other units to have short stays at Kirkistown included more Spitfires from No 485 Squadron and a detachment from No 1493 (Target Towing) Flight.
From 1943, ground training in the form of the RAF Regiment's Northern Ireland Training School took place at the airfield. After Kirkistown finished in its satellite role in the early months of 1944, the airfield was unusually used as a bombing range. This duty was however short-lived with some bombs damaging the runways. The Northern Ireland Training School meanwhile stayed on before moving to Newtownards on 11 May 1945.
Throughout the war Fleet Air Arm aircraft were users of the site with various units staying for brief periods. Aircraft types operated included Fairey Fulmars and Swordfish, as well as Supermarine Seafires. Two squadrons of the latter type carried out Aerodrome Dummy Deck Landing (ADDL) training in August 1944, with one of the three runways being highlighted to resemble an aircraft carrier deck. Eventually Kirkistown was officially handed over to the Royal Navy in July 1945, becoming HMS Corncrake II to retain its strong connection with Ballyhalbert. The airfield returned to the RAF once it was paid off by the Navy in January 1946, before closing shortly afterwards in the same year.
The northern part of the airfield was leased by the 500 Motor Racing Club of Ireland (MRCI) and was turned into a permanent racing circuit in 1953. In the 1970s the MRCI purchased the circuit outright and today is the only club-owned and operated circuit in the British Isles. The east-west runway additionally acts as a public road, with farmland taking up all remaining land to the south. Available hangarage only ever consisted of four Blisters, none of which survive.
The following organisations are either based at, use and/or have at least potentially significant connections with the airfield (as at 01/07/2013):
500 Motor Racing Club of Ireland Ltd
Kirkistown Track Days
North Down Model Aircraft Club
Race School Ireland
Notable Past Associated Organisations:
MotorCycle Road Racing Club of Ireland
Main unit(s) present:
No 485 Sqn
No 504 Sqn
No 808 Sqn
No 818 Sqn
No 835 Sqn
No 881 Sqn
No 885 Sqn
No 887 Sqn
No 1493 (Fighter) Gunnery Flight
No 1493 (TT) Flight 
No 2898 Sqn RAF Regiment
No 4117 Anti-Aircraft Flight RAF Regiment
Photographs and video of the memorial unveiling at Kirkistown, Sunday 21st October 2018: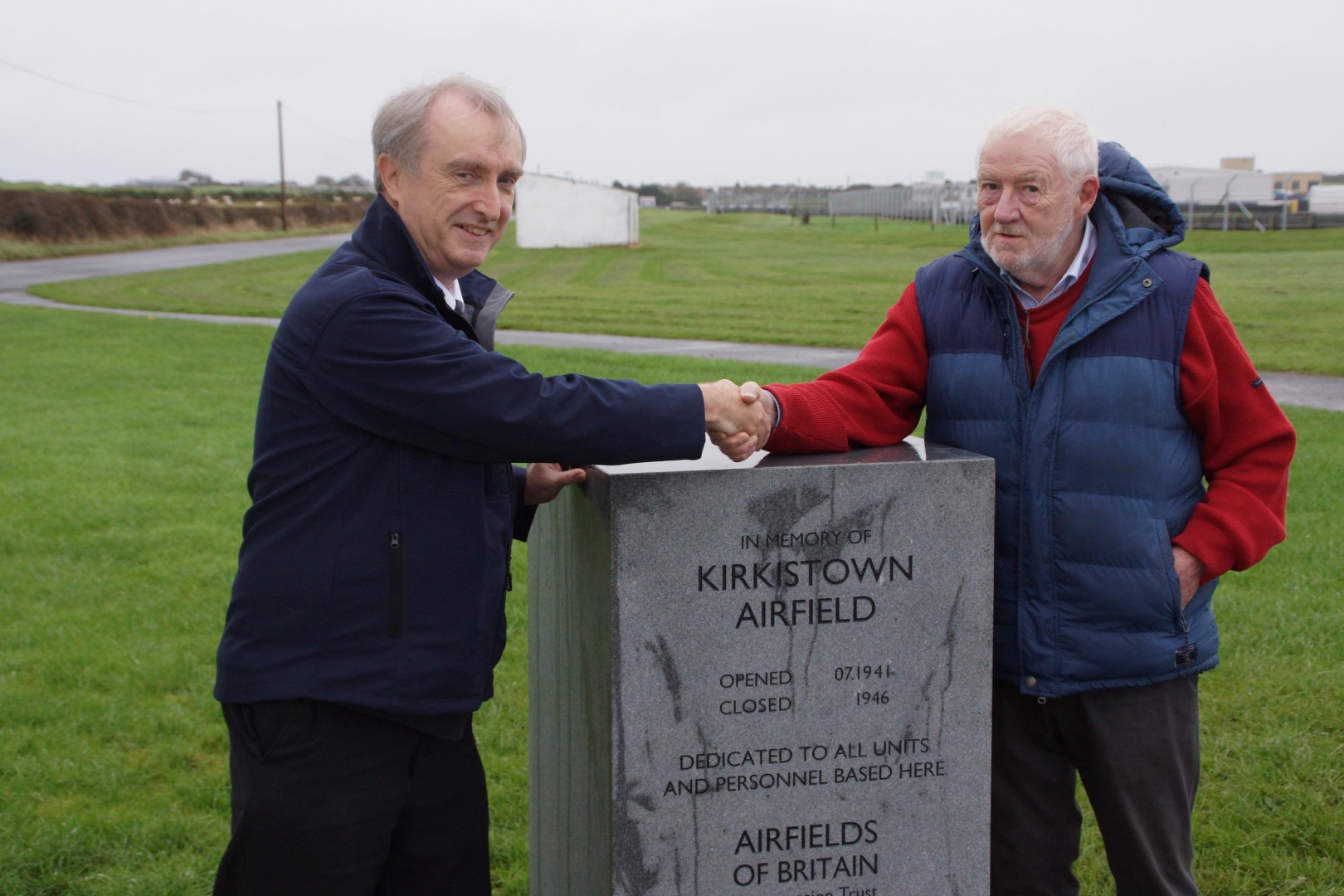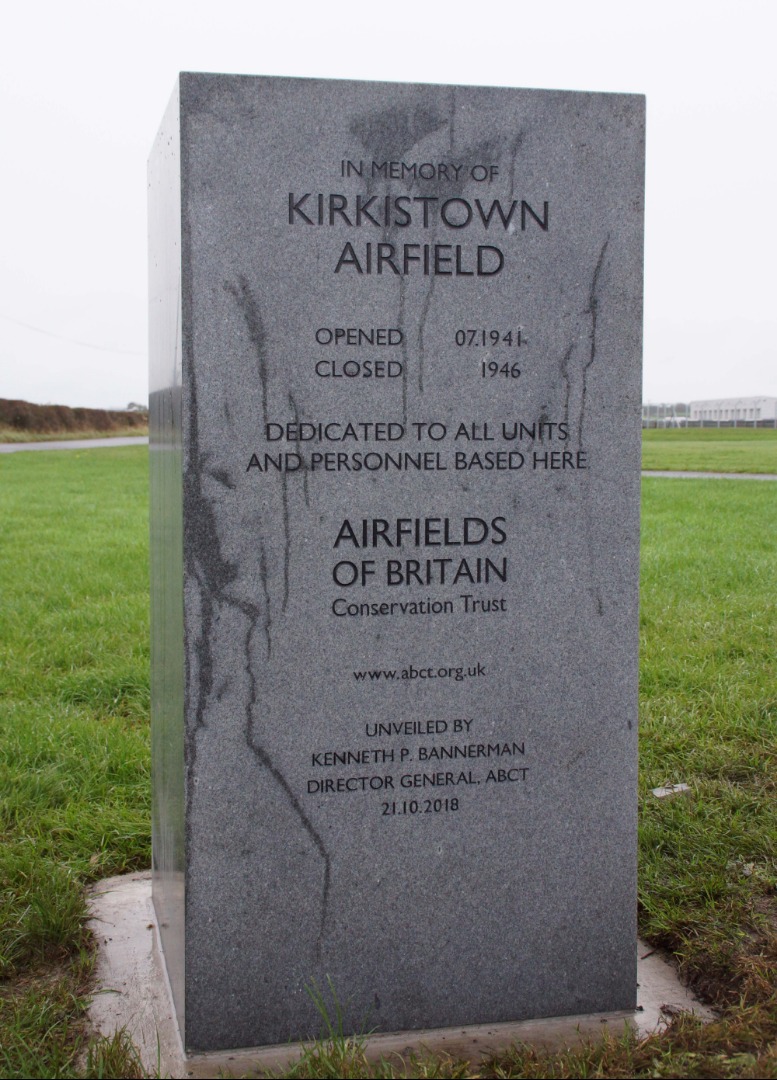 Aerial view of Ballyhalbert and Kirkistown. Courtesy of Gary McKie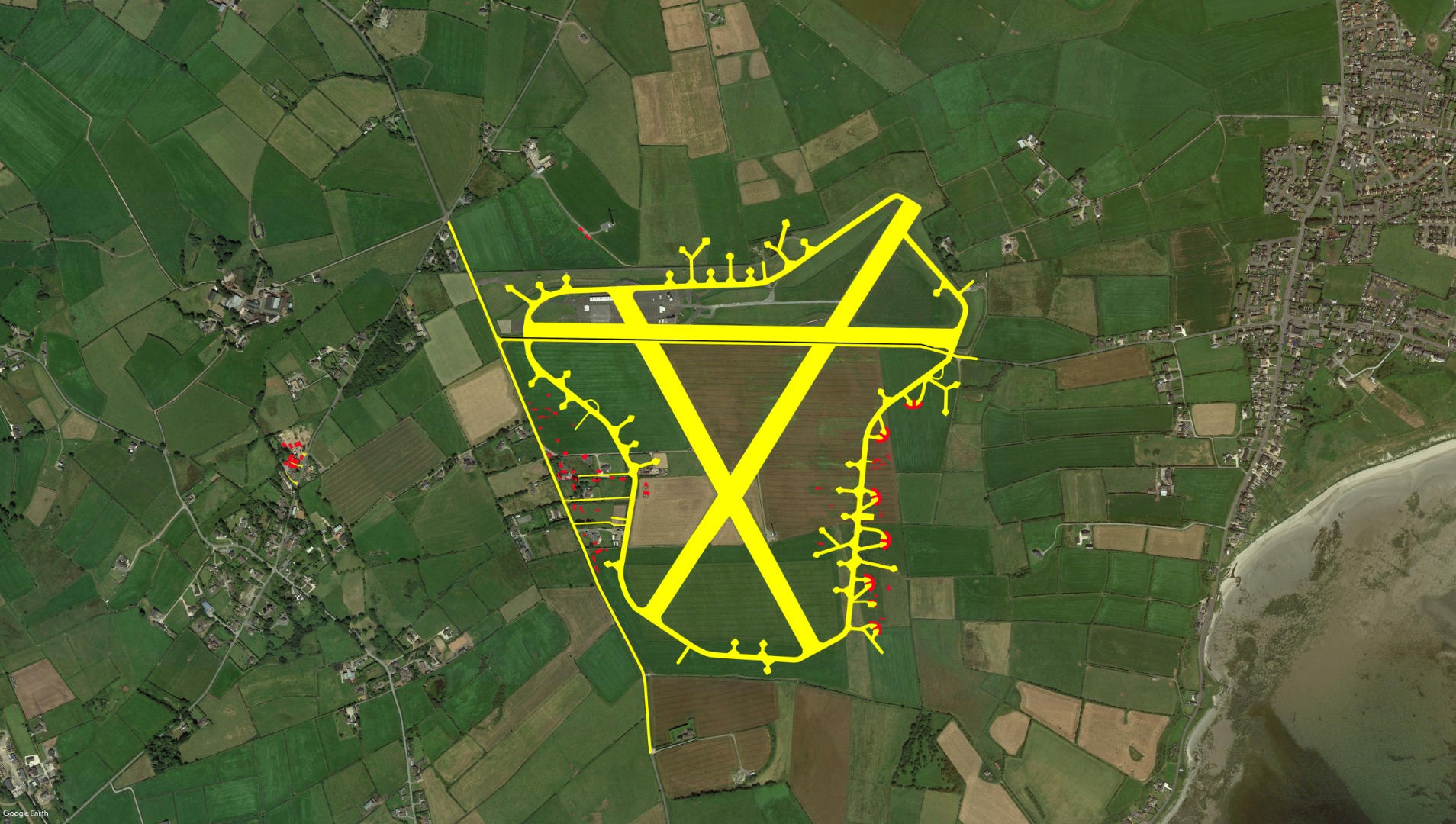 Plan of Kirkistown. Courtesy of Ed Andrews
| | |
| --- | --- |
| Parent(s)/HQ Airfield(s): | |