| | |
| --- | --- |
| Also known as: | Hedon Aerodrome / Hedon Landing Ground / Hull Municipal Airport / RAF Hedon / RFC Hedon |
| County: | East Riding of Yorkshire |
| Current Status: | Farmland / Industry / Leisure activity / Woodland |
| Date: | April 1916 - September 1939 (closed to flying); winch launched gliding use World War Two, minor use 1958 - 1964 |
| Current Use: | Disused |
| Used By: | RAF (main user) / RFC (main user) / Civil (main user) / Civil (foreign) |
| Landing Surface Types: | Unpaved |
| Prominent People: | Amy Johnson / Neville Medforth |
| Aircraft Roles: | Aircraft manufacture / Airliner / Fighter (main role) / General aviation (main role) / Trainer (winch launched gliding use) |
Hedon evolved from a racecourse which saw some use at the turn of the 19th and 20th Centuries, regular flying beginning in World War One when it became a fighter airfield. Briefly envisaged as a Flight Station, Royal Aircraft Factory BE2c and d fighters of No 33 Squadron initially had Hedon available to them as a Home Defence landing ground during 1916. After this unit transferred to Lincolnshire in the autumn of that year, No 76 Squadron later employed the airfield for its Royal Aircraft Factory BE2 plus BE12 variants types, these aircraft being replaced by Bristol F2bs in 1918 which remained in service after the end of fighting. Eventually the airfield first closed after a protracted period during 1919, although Berkshire Aviation Company did perform joy-riding there for a fortnight in August 1921.
This airfield had not become forgotten as it reopened as Britain's first municipal aerodrome on 10 October 1929. Hopes were initially high, what with a passenger service by famous Dutch airline KLM and even some limited aircraft construction, but by the mid-1930s the fates were clearly working against Hedon. Various obstructions in the vicinity did not help matters and local officialdom began to look at other potential replacement locations. Aviation did continue through mainly the Hull Flying Club but their home closed with the outbreak of World War Two.
Thereafter Hedon's story continued to be one of stops and starts. Used in the conflict by ATC gliders and RAF barrage balloons, speedway racing on part of the landing area only lasted during 1948/49. Determined attempts to revive flying here were notably made by Neville Medforth from the late 1950s into the first half of the 1960s but various adverse factors combined to stop Hedon becoming an airfield ever again. Its buildings, which stood in the north-west corner, have all disappeared, and ambitious plans now foresee much of the airfield becoming an energy park. Therefore to this day Hull still does not possess its own airport, despite suggestions over the years to use not only Hedon but other airfields such as Brough, Catfoss, Leconfield and even Pocklington.
The following organisations are either based at, use and/or have at least potentially significant connections with the airfield (as at 01/09/2011):
Central Library
Eastside Community Sports Trust
Footloose Dance Boutique
Hedon & District Local History Society
Hedon Library
Hedon Museum
Hedon Town Council - name only
HEYwoods
Hull & District Local History Society
Hull History Centre
Kingstown Hotel - Fayre & Square
Kingstown Hotel - Wacky Warehouse
Pink Dancewear
Preston Parish Council
Skirlaugh RLFC

                     
Main unit(s) present:
No 25 EGS / NE25 EGS

No 33 Sqn
No 76 Sqn
Berkshire Aviation Company
Civilian Aircraft Company
East Yorkshire Aero Club
Hull Flying Club
Hull GC
KLM
Photographs of the plaque at Hedon, 2017: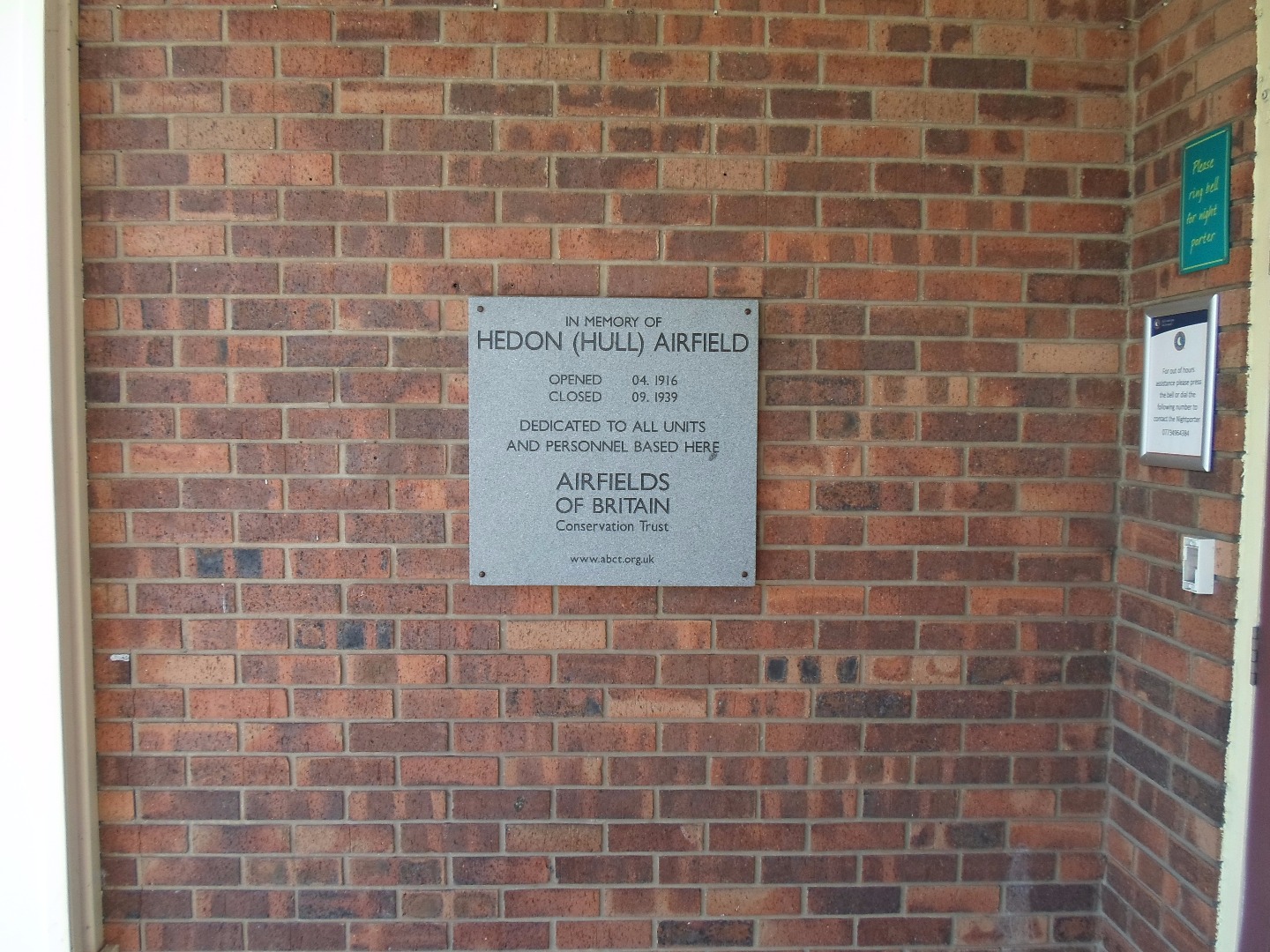 Courtesy of Alex Slingsby.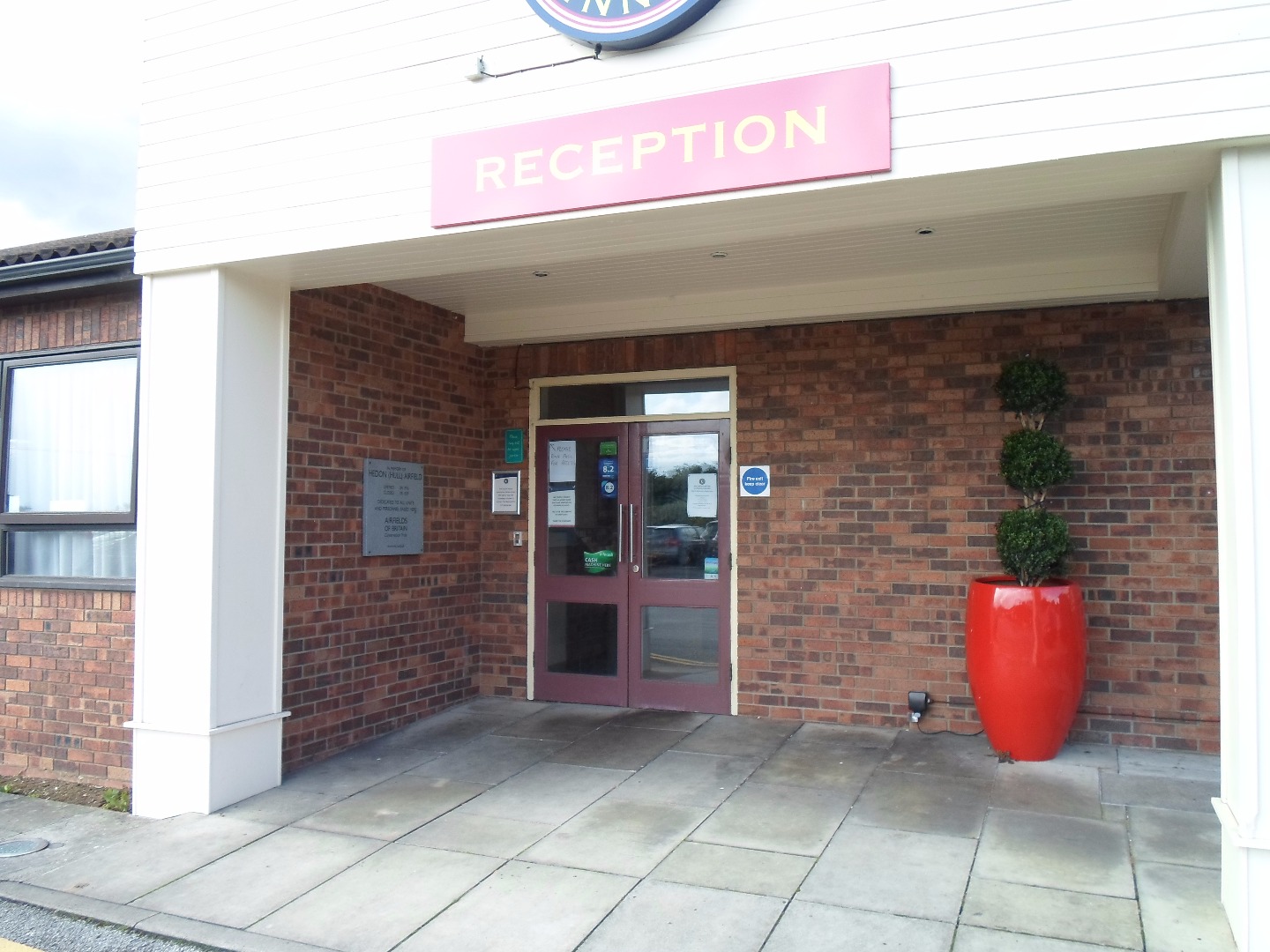 Courtesy of Alex Slingsby.
Prince George at Hedon, 1929. Courtesy of British Pathé