Did you know?
"
The foot and mouth outbreak of 2001 saw 466,312 animals – 448,308 of them sheep - being buried in 26 trenches in and around the runways at Great Orton. Several other airfields were also used for this task.
"
| | |
| --- | --- |
| Also known as: | RAF Great Orton / Watchtree Nature Reserve / Wiggonby (unofficial local name) |
| County: | Cumbria |
| Current Status: | Nature reserve / Public road / Wind farm |
| Date: | 1 June 1943 - 15 August 1952; subsequent minor use |
| Current Use: | Disused |
| Used By: | RAF (main user) / Civil (minor use) |
| Landing Surface Types: | Paved |
| Aircraft Roles: | Air-sea rescue / General aviation (minor use) / Military development/support / Trainer (main role) |
Opened in June 1943, the former RAF Great Orton, known locally as Wiggonby, was mainly used as a satellite airfield for nearby Silloth by Vickers Wellingtons of No 6 Operational Training Unit. A few other flying unit detachments were stationed here in WW2 for shorter periods, notably No 55 Operational Training Unit (Hawker Hurricanes) and two air-sea rescue squadrons which operated Vickers Warwicks. As the Second World War ended in Europe, the airfield became home to No 249 Maintenance Unit for bomb storage until both this unit and the airfield closed in August 1952.
Sections of all three runways remain, also the perimeter track (now partly a minor road) and the control tower, and in recent years there was some light aircraft activity; the site also became home to a wind farm in the 1990s. The foot and mouth crisis of 2001 saw Great Orton airfield become the main site in Britain for the disposal of slaughtered animals – nearly half a million of them (mostly sheep) were killed and then buried in 26 pits surrounding the runways. The Watchtree Nature Reserve was later established to restore the site.
The following organisations are either based at, use and/or have at least potentially significant connections with the airfield (as at 01/09/2011):
Aikton Parish Council - most of airfield
Kirkbampton Parish Council - north side of airfield
Orton (Carlisle) Parish Council - part of east side of airfield
Watchtree Nature Reserve
Watchtree Wheelers
Wigton Library
The following alternative information/mass media sources have at least potentially significant connections with the airfield (as at 30/11/2018):
Kirkbampton Village in Cumbria
Main unit(s) present:
No 1 (Coastal) Engine Control Demonstration Unit
No 3 TEU
No 4 TEU
No 6 (Coastal) OTU
No 55 OTU
No 60 MU
No 219 MU
No 249 MU
No 281 Sqn
No 282 Sqn
Morris Air Sports
North West Gyroplane Club
Photographs from the unveiling of the ABCT memorial marker at Great Orton on 17 October 2010: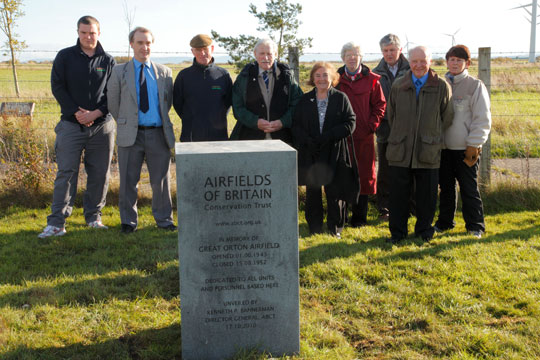 Aerial footage of Great Orton, June 2014. Courtesy of FPV Carlisle Cumbria