Did you know?
"
The most individually successful Avro Lancaster of them all, ED888 'Mike Squared', flew from Elsham Wolds and eventually made 140 operational sorties prior to retirement. For whatever reason, this aircraft was scrapped after World War Two.
"
| | |
| --- | --- |
| Also known as: | Elsham / Elsham Wolds Aerodrome / Elsham Wolds Industrial Estate / RAF Elsham Wolds / Warsaw Hamlet (nickname) |
| County: | North Lincolnshire |
| Current Status: | Farmland (main position) / Industry (main position) / Public road |
| Date: | June 1941 - 31 July 1947 |
| Current Use: | Disused |
| Used By: | RAF |
| Landing Surface Types: | Paved |
| Prominent People: | Ken Wallis |
| Aircraft Roles: | Bomber (main role) / Trainer |
An area just west of the First World War airfield of Elsham may have been identified as a potential site for flying in the 1930s and was certainly approved for requisitioning on 19 June 1940. However, it was not until June 1941 that Elsham Wolds opened as a heavy bomber station. No 103 Squadron operated from this airfield for the remainder of the war, using as time progressed Vickers Wellingtons, Handley Page Halifaxes and Avro Lancasters. The unit is credited with the highest number of operational sorties of any No 1 Group squadron, although therefore suffered the highest number of losses.

From the beginning of 1943 to spring of 1945, Elsham Wolds was used as a relief landing ground by No 1662 Heavy Conversion Unit, based at nearby Blyton. Other users of Elsham Wolds included No 576 Squadron, which joined No 103 Squadron at the airfield with Lancasters in November 1943 for almost a year, before moving to Fiskerton. No 100 Squadron also flew from here during the last few weeks of the war. Following the end of the conflict, after a few months the Lancasters moved to Scampton in December 1945, No 103 Squadron having just been renumbered as No 57 Squadron. Airspeed Horsa gliders with their Handley Page Halifax and Armstrong Whitworth Albemarle tugs of No 21 Heavy Glider Conversion Unit moved in from Brize Norton, once their new home had switched from Bomber to Transport Command. When the HGCU transferred to North Luffenham after a year during November/December 1946, this saw the end of flying at Elsham Wolds with it being downgraded to Care and Maintenance. Derequisitioning of the airfield occurred in 1948 after its closure the previous summer.

The main technical area existed at the east of this site where most of the hangars were situated. At least the single J hangar survives as part of an industrial estate but much of the rest of the airfield has been removed, with what remains of the three runways being in a particularly bad state. The A15 road running towards the Humber Bridge now bisects Elsham Wolds, while its control tower notably served as a house for many years prior to demolition in the 1980s.
The following organisations are either based at, use and/or have at least potentially significant connections with the airfield (as at 01/09/2011):
AKP Group
Anglian Water - Water Treatment Works
ANVSJ Group - Brigg Self Storage and Pallets
Bemis Elsham Ltd
Blended Products Ltd
Cape plc
Ceva Logistics Ltd
Dowse Haulage Ltd
Elsham Parish Council
G F P Agricultural Ltd
Healthfresh Foods Ltd
IG Industries
J.H.P. Storage Ltd 
Lincoln & York
Peros Ltd
Pipers Crisps Ltd
RAF Elsham Wolds Association
Synectics Industrial Systems
VegPro Limited
Main unit(s) present:
No 13 Base

No 20 OTU

No 21 HGCU

No 57 Sqn

No 93 MU

No 100 Sqn

No 103 Con Flight

No 103 Sqn

No 576 Sqn

No 1503 BAT Flight

No 1662 HCU

No 2835 Sqn RAF Regiment
Photographs and video from the memorial unveiling on 12 May 2018: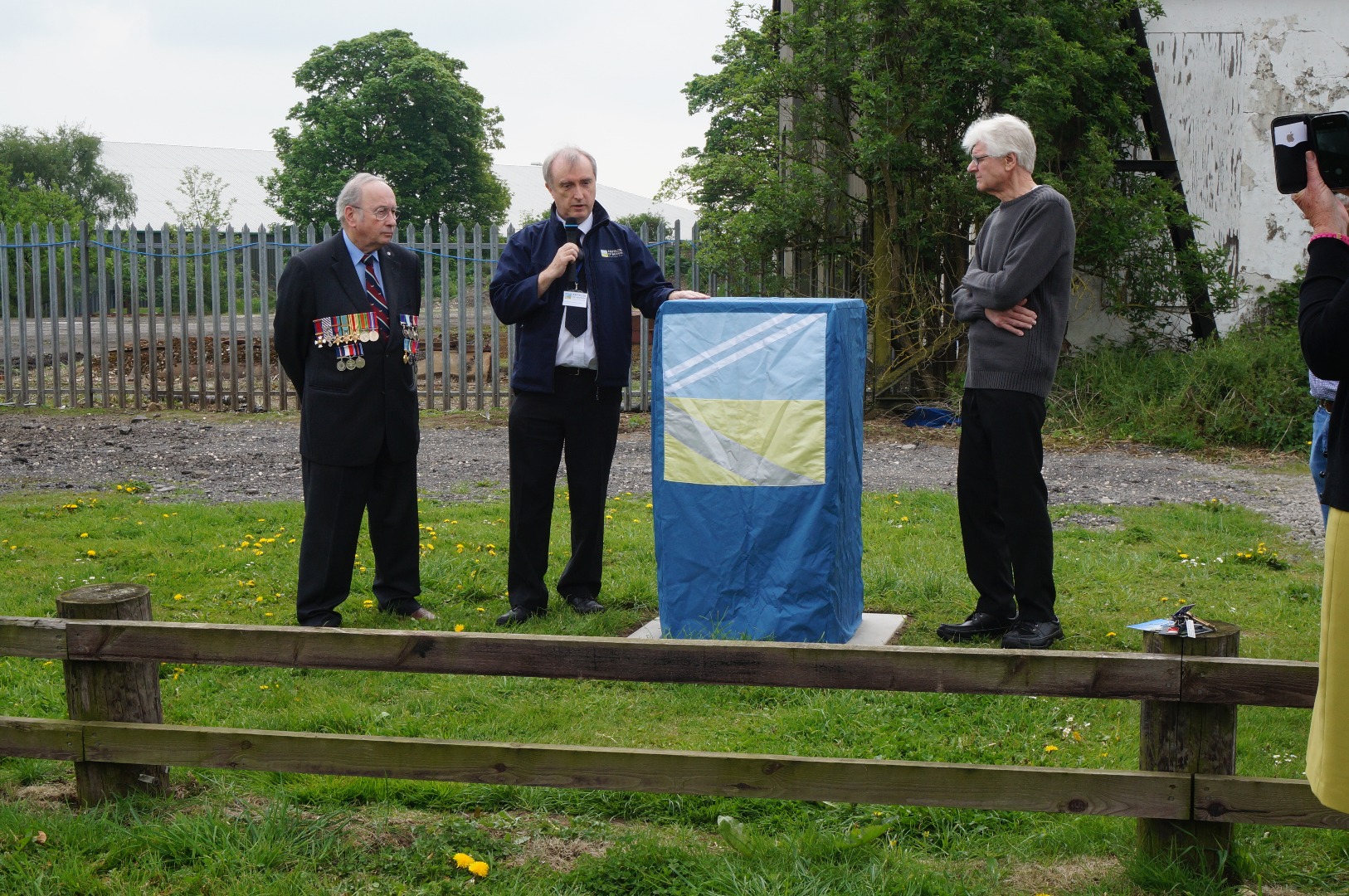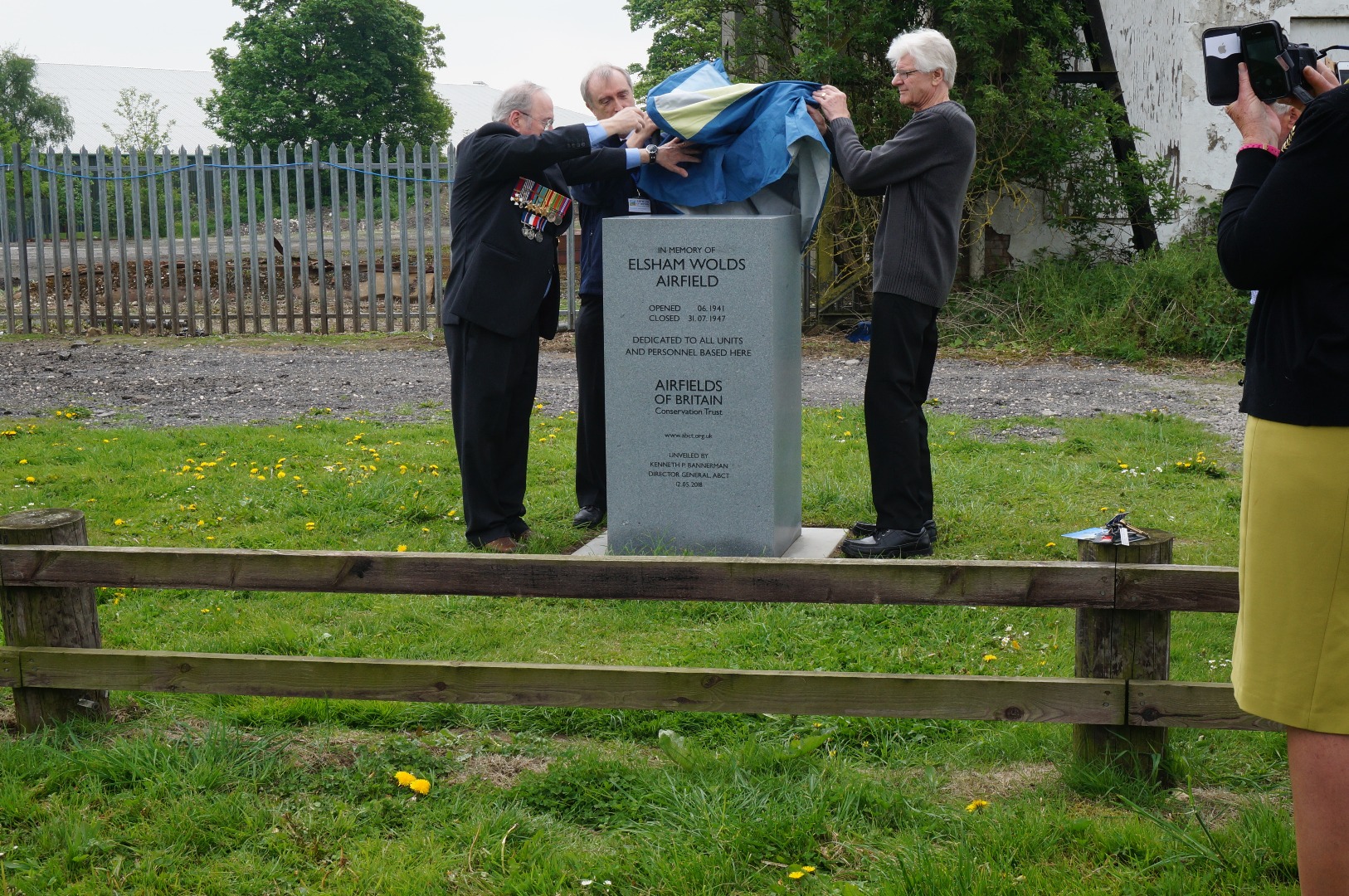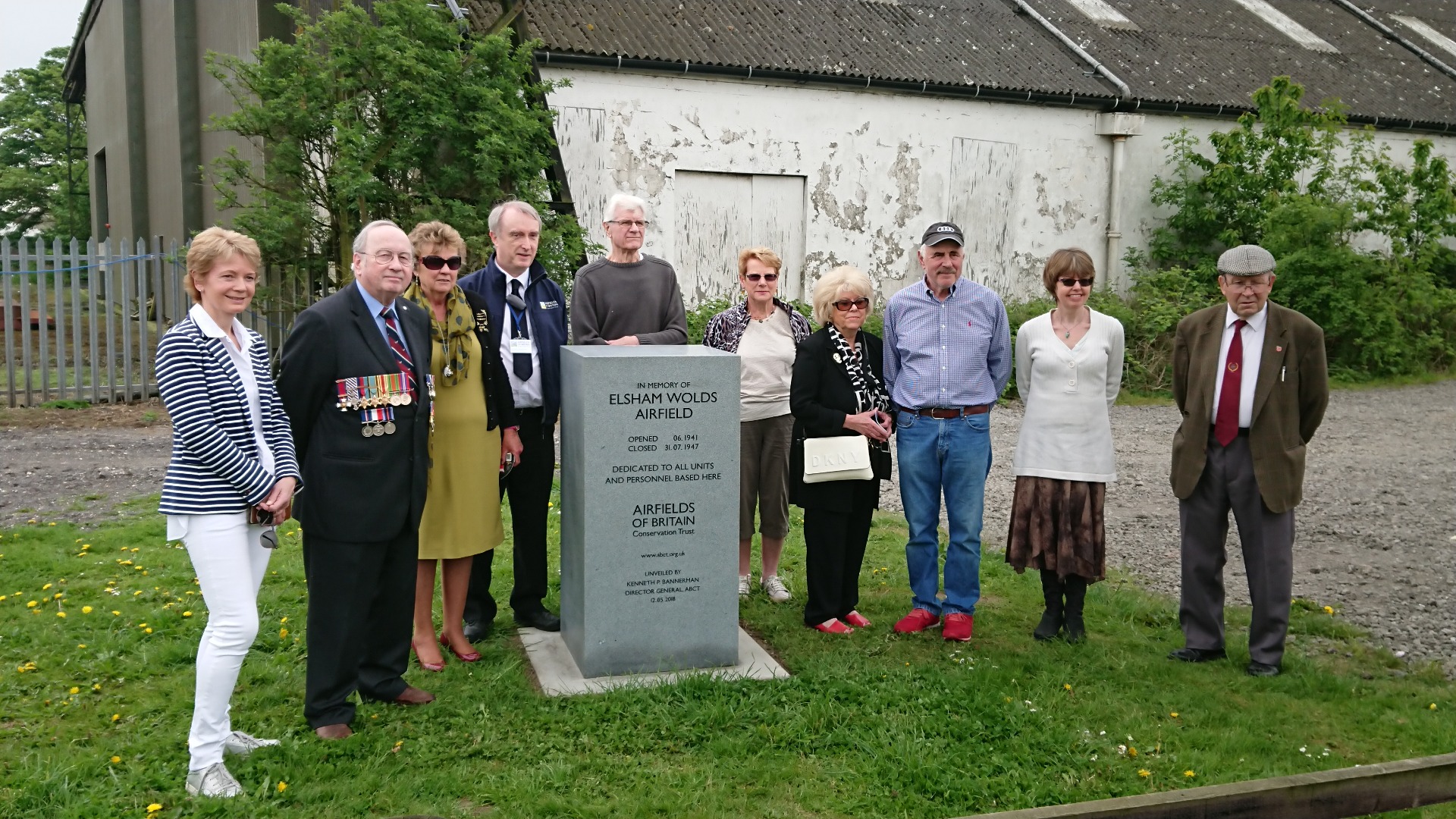 The perimeter track at Elsham Wolds, c. 2015. Courtesy of The Lady in Waiting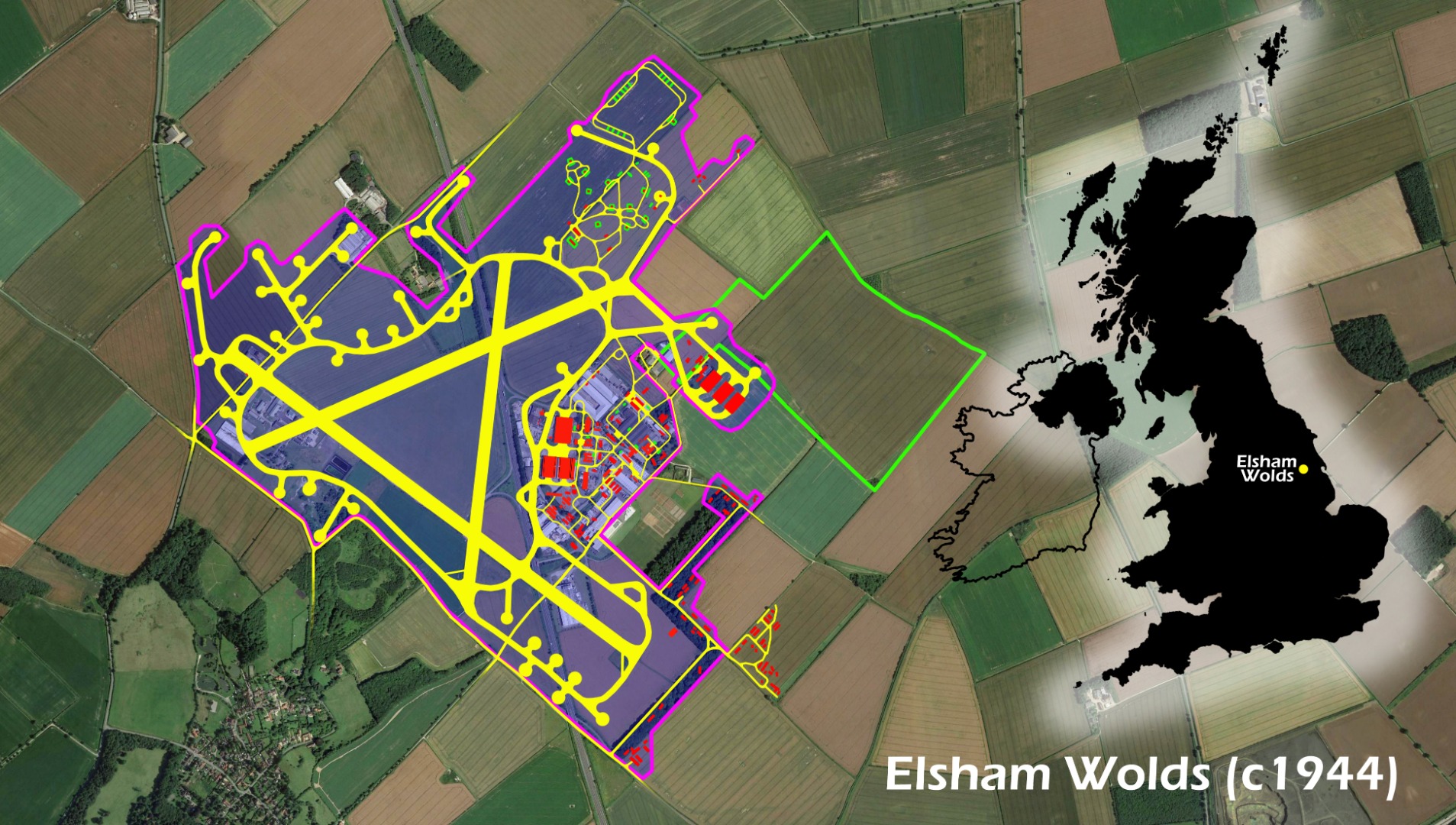 Plan of Elsham Wolds, including the First World War airfield Elsham (outlined in green), c. 1944. Courtesy of Ed Andrews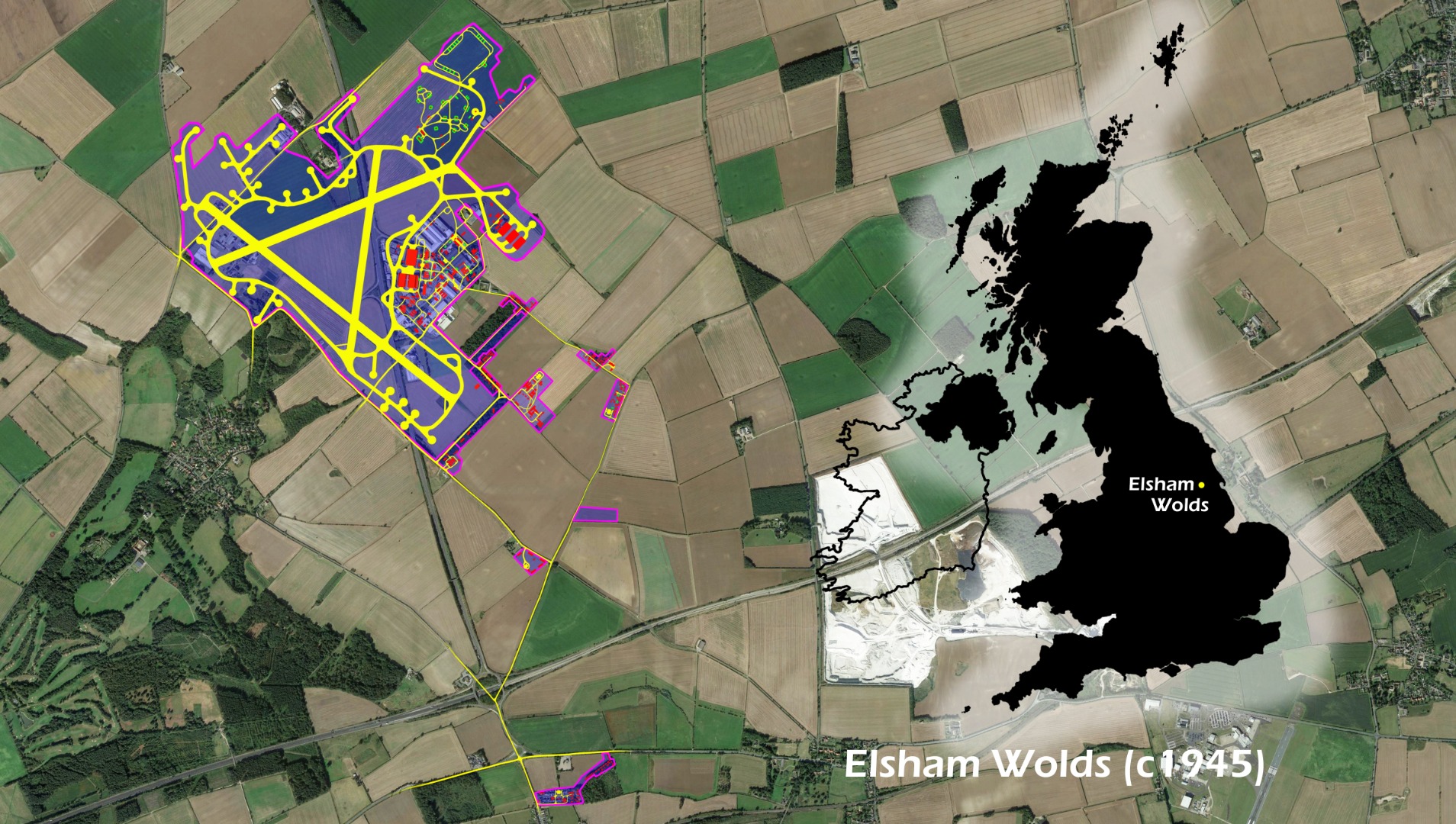 Plan of Elsham Wolds, c. 1945. Courtesy of Ed Andrews
| | |
| --- | --- |
| Bomber Command Base Sub-Station(s): | |
| Decoy Airfield(s): | |