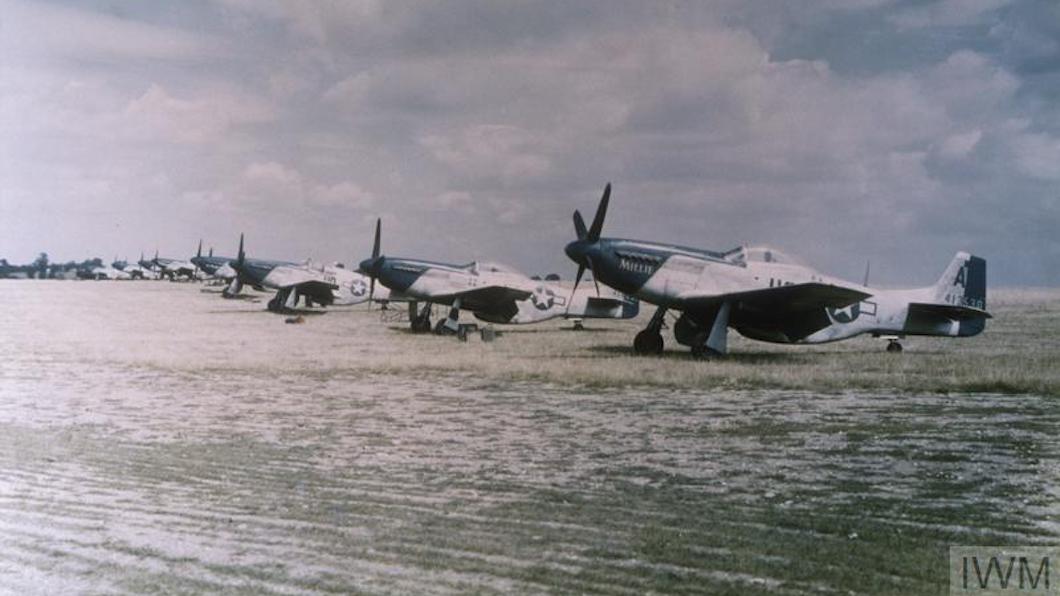 North American P-51 Mustangs of the 352nd Fighter Group lined up at Bodney. © IWM FRE 6037
This article was provided by Barbara Wellsted:
The following are some of the memories my father, Jack Stapleton, has told me of his life during World War Two and his time in the ATC.
He was born in 1929 at Castle Acre so still a school boy when the war started and being a typical boy was fascinated by the planes and all things military. He remembers occasions when he would hear that a plane had come down nearby or bombs had been dropped so would cycle off either on his own or with friends to investigate, (sometimes being greeted with horrendous sights of death and suffering). On one occasion he heard that Newton chalk pit had been bombed leaving an enormous crater, so he and a friend headed off to check it out. There were several unexploded incendiary bombs and I am told they were rather attractive. His friend took 2 home to his mother who polished them up and placed them in the house as ornaments. A couple of weeks later the friends father retuned on leave and was horrified to see the two shiny unexploded bombs sitting in pride of place on the mantlepiece!!! Needless to say they didn't stay there.
Another time my father found another unexploded bomb - yellow with grey fins - and this time very carefully removed the plate that covered the wires, unscrewed the wires and removed the little bags of gunpowder that were packed very tightly in individual black bags measuring about 2 x 2 inches and about a quarter of an inch thick with a view to making fireworks. His father was not impressed when he returned home with his exciting goodies and the bomb and gunpowder "disappeared" but the flights remained in the garden for many years.
He also remembers hearing that some mines had come down on little parachutes during the night onto a freshly ploughed field on a farm between Castle Acre and Sporle. Off he cycled but was spotted entering the field and followed by a man who worked on the farm. The man yelled at him to get away as my father was seen trying to unscrew the detonator and then ran away himself. The man was crippled and did not walk too good but in his terror he managed to run and gracefully clear a hedge like an antelope, so seeing this, my father did as he was told, stopped what he was doing and also left.
He also heard of a time when a Heinkel had come down near Narborough school. He remembers the plane was black but not broken and a big bomb was near it with a soldier standing on it who shouted at my father to "go away" in so many words as the bomb was going to go off at any minute!! My father did go away but first asked why the soldier was standing on it then? As far as he knows the bomb did not explode but was taken away.
My father left school at 14 and went as an apprentice to Plowrights in Swaffham to become an agricultural engineer. He also joined the 1894 Swaffham ATC squadron of about 20 to 30 boys led by a Mr Roberts who he thinks was a bank manager. In the summer of 1944 he asked to be placed at Bodney.
His very first memory of Bodney was as he cycled in on his first day he was met by two men being chased by a jeep with the ground near their feet being shot at with a machine gun. They were being forced to run round the perimeter of the airfield as a punishment for fighting each other.
He reported to Art Snyder who took him to a plane and instructed him on how to load the guns. My father remembers a man nearby who watched him do this, noting how careful and precise he was with each part, making sure it was oiled and worked perfectly before moving on. The man was Major George Preddy and from then on had my father as his personal armourer for his plane, Cripes A'Mighty 3rd, and would often tell my father how he never had a gun fail when he was doing them. There is actually a picture of my father in the book "George Preddy: Top Mustang Ace" on page 117 with him on the wing loading the bullets with Art Snyder. My father is the one on the right. Although no one was ever hostile towards him, my father got the impression that some of the officers thought themselves above the English ATC boy, not so with George. My father says George was a very kind person who would be friends with anyone and not judge on rank or importance, he treated my father like a friend and equal and would have him sit with him in the officers mess where my father rather enjoyed the ice cream. George wanted my father to join the American Air Force which he might well of done if it hadn't been for future events. Often, if my father was not already at the airfield, George would send a jeep especially to pick him up so he could come to do his guns. He remembers often seeing film footage of missions when the pilots returned to the airfield and one time when George returned from a mission and showed the film footage of a German plane being shot down. The pilot had bailed out but had still died in the crossfire. George retrieved a sleeve from the front of his plane when he landed back at Bodney, still with bits of arm inside and handed it to my father to see if he wanted it as a souvenir. My father said a polite no thank-you and put it aside. There were times after the war when he felt guilty that he had loaded bullets that had killed other people and some of them may of been children, but that is the price of war and something that should never be forgotten. He particularly remembers seeing the footage of a train George shot that was probably carrying ordinary people. My father also remembers Major John Meyer who although spoke to him, was never a friend like George.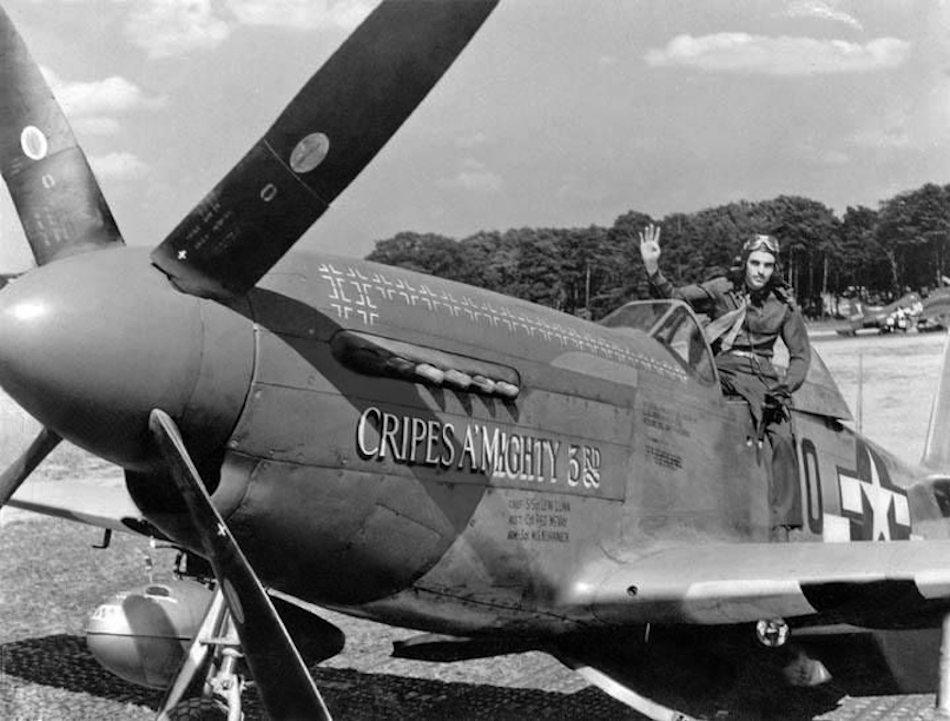 Major George Preddy with his P-51 Mustang, Cripes A'Mighty 3rd, at Bodney.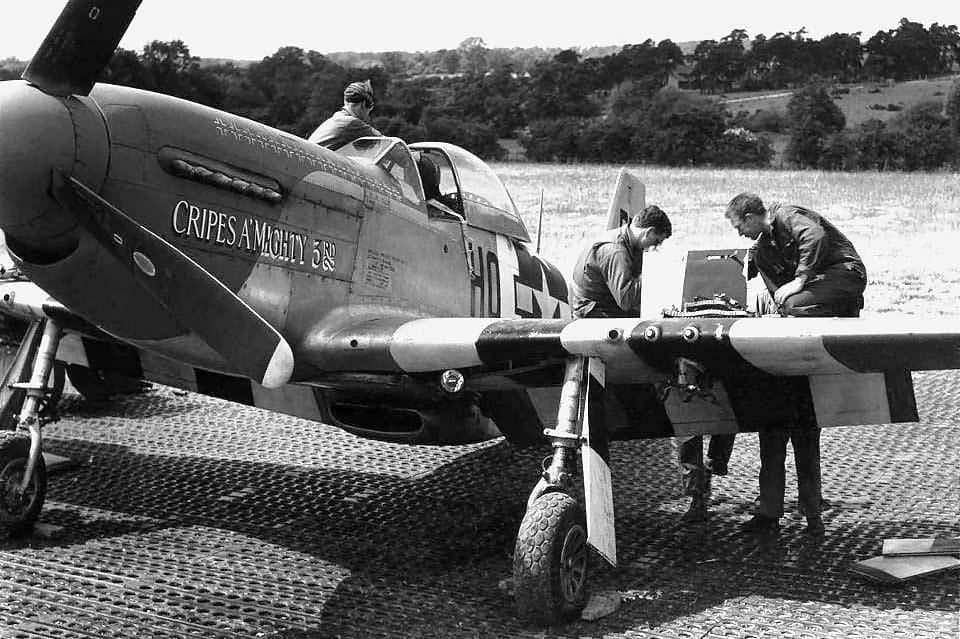 Jack Stapleton is the man on the right loading the guns on the wing of Cripes A'Mighty 3rd with Art Snyder. Courtesy of Barbara Wellsted
The ATC boys did their training in Avro Ansons and had to learn to navigate in them. They would fly from Raynham and the pilot would take the boys up so they could plot where they were going on maps. One time the boys had to go to Feltwell to be taken up in a Lancaster and were equipped with parachutes. As they crossed the field towards the plane, one of the boys known as Bunky thought he would see what would happen if he pulled the ripcord. What happened was the parachute unfurled and Bunky went bouncing off over the field blown by the wind in the parachute. The pilot was not best pleased and told the boys in no uncertain terms that he was not going to take this bunch of bloody idiots up in his plane. So a very long wasted cycle journey of around a 50 mile round trip plus getting lost on the way back due to no signposts.
All kinds of planes would come and go from Bodney and my father says Dakotas came in delivering supplies. One time my father, being young and foolish and not thinking about what he was doing but eager to have a fly in a Dakota climbed on board when one was about to leave - he often went for flights in planes that were just going for short test flights so thought nothing of it - but as it was picking up speed along the runway he was spotted, yelled at to get off as they wouldn't be back for two weeks and pushed off! He remembers rolling back along the airfield seeing sky then ground, sky then ground....bruised but nothing broken.
He says one time when he was sitting in an oak tree at Bodney with another American member of the ground crew waving at around 15 Mustangs as they headed out on a mission, one of the planes accidentally released the two fuel tanks. They hurtled towards the tree but my father stayed where he was as he could see the path they were taking meant they flew by either side of him. The other man jumped out of the tree and broke a leg. He also remembers that the control tower got partly destroyed by one of the planes flying into it but was not actually there when it happened.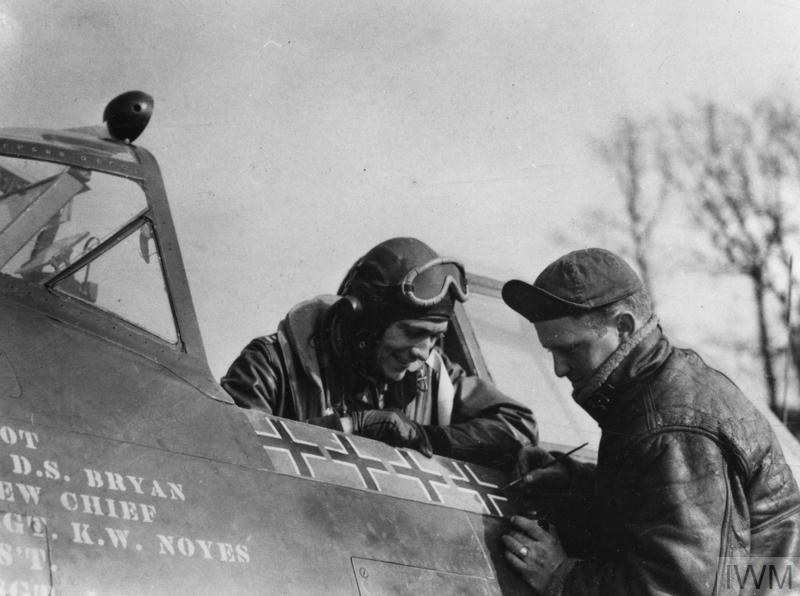 Captain Donald S. Bryan of the 328th Fighter Squadron, 352nd Fighter Group at Bodney, watches his latest 'kill' being marked on his aircraft by one of the aircraft's ground crew. © IWM FRE 341
On one occasion an Australian pilot (my father does not remember his name but he was very small, about 5'2") landed at Bodney in his Lancaster that had been damaged. Two days later when it was repaired enough to continue its journey back to Downham Market, my father was asked to fly back with him as rear gunner as apparently it was the rules that they could not intentionally fly without one. All was fine until the landing. The plane came down with a bump and my father was knocked out banging his head on the turret, he came to hanging out under the plane with his head dangerously close to the ground whizzing along beneath him. Another lucky escape.
A most unfortunate event was when two ATC boys from Kings Lynn went to Bodney and tried to get away with stealing a radio or suchlike. They were ordered to stop as they cycled away but didn't so got shot. My father did not see this happen but was told about it by others at the airfield, he never remembers seeing it reported.
My father was very good at shooting after years of hunting and poaching (naughty!). George got him to teach some of the other men to shoot clays. He was once approached by a man from another airfield who wanted to talk about guns and shooting and then told my father how he had been poaching recently and had shot a man who had come after him. My father didn't take any notice as he felt he was making it up but a few weeks later the man and his mate were arrested and later the one that had done the murder was hung. A twist of fate meant that my father ended up working as a farm mechanic on the Easton farm estate for Mr Rampton 20 years later and the murdered man, Sir Eric Teichman had lived at Honingham Hall, also a part of the Easton Estates.
Another rather impressive adventure was when my father was at Watton and met Elliot Roosevelt. He flew with him in his Flying Fortress on a reconnaissance flight to Holland. As the Flying Fortresses had two sets of controls my father sat in the left co pilot's seat and was allowed to take control for some of the way heading back to England. He remembers that particular fortress was camouflage but mostly, about 80%, were silver. He also remembers the shiny embossed Flying Fortress picture in the middle of the control wheel. On returning to Watton airfield, the right landing wheel didn't come out and lock properly. My father, unaware how dangerous this could be remembers calmly watching the engineer pumping the wheel frantically trying to get it to lock. The plane came down and because the wheel had still not locked in place it very slowly folded up again but by that time it was going so slowly that it just tipped gracefully to the side and stopped with the wing tip on the ground. My father does not recall any damage due to Elliott's expert landing skills but said it was a common problem with wheels not fully coming out. He also says that it was a problem with mosquito planes that if they were landed too heavy, the rear end would snap off!
He spent most of his time at Bodney but also remembers going to a house somewhere in Norwich involved with planning but has never remembered where it was. A bit of a mystery is when he was sent to Marham to help dig a hole outside the hangars for a Flying Fortress to be fitted with a very big bomb. He was told to ask no questions.
Tragically, George Preddy was killed on Christmas day 1944 and my father being part of his ground crew was not needed any more so retuned to Plowrights to complete his apprenticeship, first working at the Wicken farm at Castle Acre before going to Easton.
He is very proud and honoured to have known George Preddy. A true hero and a great man taken so young.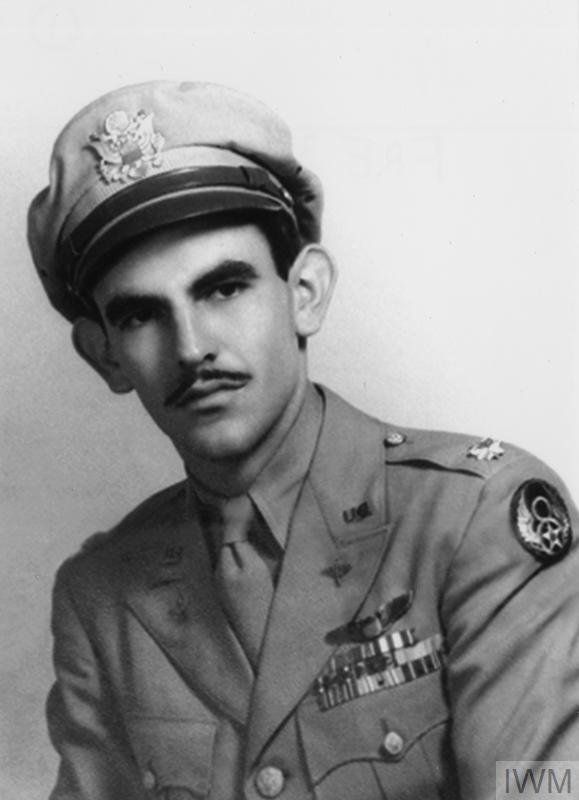 Major George E. Preddy Jr. of the 487th Fighter Squadron, 352nd Fighter Group. © IWM FRE 336
Many thanks to Jack Stapleton and Barbara Wellsted for sending us these memories. If you have an airfield story please contact us today.
Share this page