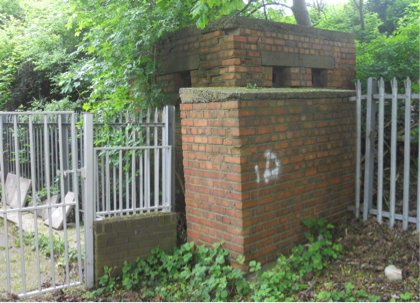 The pillbox at Gipsy Patch Lane urgently needs to be dismantled and relocated 

South Gloucestershire Council is working with Network Rail in planning for the replacement of the existing railway bridge across Gipsy Patch Lane at Stoke Gifford. The current bridge creates a bottleneck on the local road network, so a wider bridge is planned to be constructed in 2020 in order to improve the highway for public transport, cyclists, pedestrians and private vehicles.

A World War Two pillbox is currently located at the north-west corner of the existing bridge and will need to be removed as part of the bridge's replacement. Planning permission for the new bridge was granted earlier in 2018 with a condition that the pillbox must be dismantled as carefully as possible and stored for six months. The purpose of this condition is to provide the opportunity for the pillbox's potential relocation to another site.

The precise arrangements for dismantling and relocation would need to be discussed and agreed, however it is important to stress that a suitable location would need to be available to relocate it to and that the cost of reconstruction would be borne by any acquirer.

Pillbox description and history

The pillbox is of a non-standard type: probably dating from 1940, it is constructed of brick, with concrete embrasures with iron shields, and concrete roofs. It is square on plan with a rectangular lobby or store, of lower height, offset to the south-west corner. The pillbox has two rectangular embrasures to each side with concrete lintels and cills.

This is one of twelve designs that were approved by the War Office, although these were often varied to accommodate local considerations. The pillbox stands by the east embankment of the railway line; another pillbox stood by the west railway embankment but this has collapsed. The pair would have defended the eastern approach to one of Britain's greatest ever airfields, Filton, which closed in 2012.
Other historically most important individual airfield buildings across Britain, racing from hangars and support buildings to even control towers, have been very successfully relocated and continue to see excellent use in various capacities. There is also remarkably high interest in pillboxes themselves, with some now being officially conserved, and so it would be a tremendous shame if this example was not saved.
Anyone who therefore has serious proposals 
in taking ownership of and relocating the pillbox, or if you would like to discuss the opportunity of doing so, then contact ABCT who can in turn pass details on to planning officials at South Gloucestershire Council. Details must be received by no later than 
Friday 11 January 2019
 in order for the Council and Network Rail to be able to consider them.
Share this article