| | |
| --- | --- |
| Also known as: | Robertson Barracks / RAF Swanton Morley / Swanton / Swanton Morley Aerodrome |
| County: | Norfolk |
| Current Status: | Army barracks |
| Date: | 17 September 1940 - 15 September 1995; subsequent minor use to 2003 |
| Current Use: | Disused |
| Used By: | RAF / RAF (Dutch) / RAF (Polish) / Civil / RAAF / RNZAF / USAAF |
| Landing Surface Types: | Unpaved |
| Prominent People: | Hughie Edwards VC |
| Aircraft Roles: | Bomber / Communications / General aviation / Trainer |
Swanton Morley was built as a bomber airfield prior to the Second World War, opening in September 1940 with the arrival a little later of No 105 Squadron's Bristol Blenheims. The airfield had a large grass operating area originally equipped with one J-type hangar, later joined by four T2s and support buildings. The Blenheims carried out a number of attacks on shipping and related targets despite accumulating high losses. Wing Commander Hughie Edwards received a Victoria Cross for his leadership of one of these raids.
Supermarine Spitfires of No 152 Squadron arrived in the summer of 1941 to give support to the Blenheims, providing fighter support up to December of that year as No 105 Squadron also departed. Douglas Bostons also operated from Swanton Morley into 1942, continuing the light bomber association with the airfield that most significantly included the first American bombing raids upon Europe that summer. North American Mitchells arrived in 1943, replacing to a degree No 226 Squadron's Bostons, though this unit present since December 1941 lasted until February 1944. Mitchells were also used for a short time by the Polish No 305 Squadron and part of No 1482 (Bombing) Gunnery Flight. This unit evolved into No 2 Group Support Unit, keeping aircrew current to fill positions in frontline squadrons.
Airspeed Oxfords of No 1515 Beam Approach Training Flight carried out non-operational but still valuable flying at the airfield between autumn 1941 and the end of 1943. A number of units had short stays at Swanton Morley in 1944, including de Havilland Mosquitoes and No 3 Squadron's Hawker Typhoons. With No 2 Group's activities heading more to the south of England, No 100 Group's Bomber Support Development Unit arrived from Foulsham in December 1944. This unit carried out important work assessing various forms of equipment and tactics, the Group Communications Flight and Mosquito Servicing Squadron also using the site and captured German aircraft were tested there. The end of the war saw Swanton Morley switch to Technical Training Command and use by No 10 Air Navigation School, followed by No 4 Radio School and No 1 Air Signallers' School. Avro Ansons and Percival Prentices and were among the aircraft used by the school before, after another name change to No 1 Air Electronics School, the unit left for Hullavington at the end of 1957. January the following year saw the arrival of the Central Servicing Development Establishment.
Aside from Air Experience Flight de Havilland Chipmunks and especially Air Training Corps gliders of No 611 VGS, which stayed from 1955 to shortly before the airfield closed, this saw the end of most flying at the airfield. Aircraft were however used for ground training by the Central Servicing Development Establishment for the almost forty years the unit was active at Swanton Morley, leaving in 1995. The site was transferred to the Army and became Robertson Barracks. Many of the wartime buildings have been demolished, but one T2 hangar survives as well as the Grade II listed watch office, one of the best preserved examples in the UK. Swanton Morley was never equipped with concrete runways, although hardstandings and a perimeter track were constructed. This makes it one of the longest surviving grass airfields from the Second World War. Light aircraft did later briefly fly from a location on the extreme north side of the airfield until 2003.
The following organisations are either based at, use and/or have at least potentially significant connections with the airfield (as at 01/07/2023):
1st Queen's Dragoon Guards
All Saints Church, Swanton Morley - RAF graves
Costcutter
Hoe and Worthing Parish Meeting - west side of airfield
Noah's Ark Pre School
Swanton Morley HIVE
Swanton Morley Parish Council - east side of airfield
Main unit(s) present:
No 1 Air Electronics School

No 1 Air Signallers' School

No 1 Gliding Centre

No 2 Gp Comms Flight

No 2 Gp Support Unit

No 3 Sqn

No 4 Radio School

No 5 AEF

No 10 ANS

No 15 BAT Flight

15th BS

No 17 Heavy Glider Maintenance Section

No 88 Sqn

No 98 Sqn

No 100 Gp Comms Flight

No 102 GS

No 105 Sqn

No 107 Sqn

No 110 Sqn

No 152 Sqn

No 180 Sqn

No 206 MU

No 226 Sqn

No 228 Air Stores Park

No 228 MU

No 305 Sqn

No 320 Sqn

No 464 Sqn

No 487 Sqn

No 611 GS

No 611 VGS

No 613 Sqn

No 1482 (Bombing) Gunnery Flight

No 1508 BAT Flight

No 1508 (Gee Training) Flight

No 1515 BAT Flight

No 2715 Sqn RAF Regiment
No 2749 Sqn RAF Regiment
No 2770 Sqn RAF Regiment
No 2809 Sqn RAF Regiment
No 2836 Sqn RAF Regiment
No 4199 Anti-Aircraft Flight RAF Regiment
No 4214 Anti-Aircraft Flight RAF Regiment
Bomber Support Development Unit
Central Gliding School
Central Servicing Development Unit/Establishment

Fenland GC

Norfolk & Norwich Aero Club

Pilot-Navigation Instructors Course

Radio Warfare Establishment
Video and photographs of ABCT's Swanton Morley Airfield memorial unveiling, Saturday 30 September 2023. Courtesy of Ed Andrews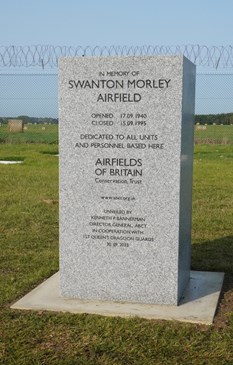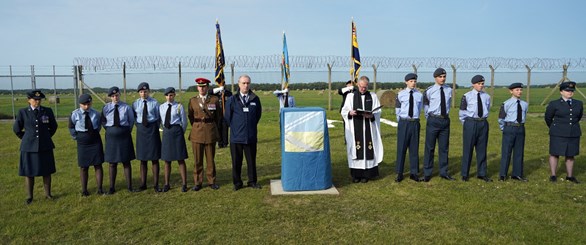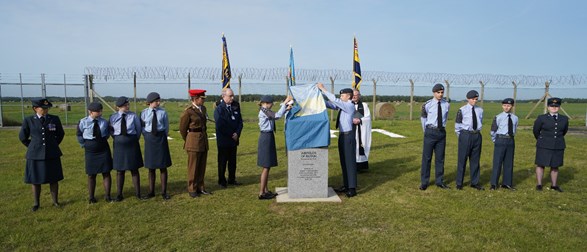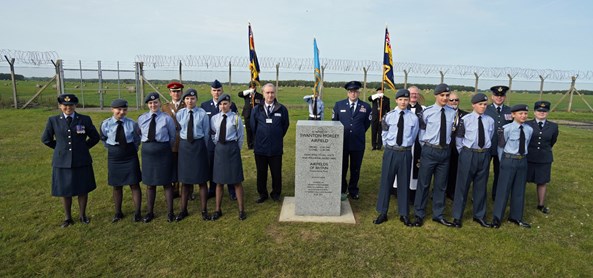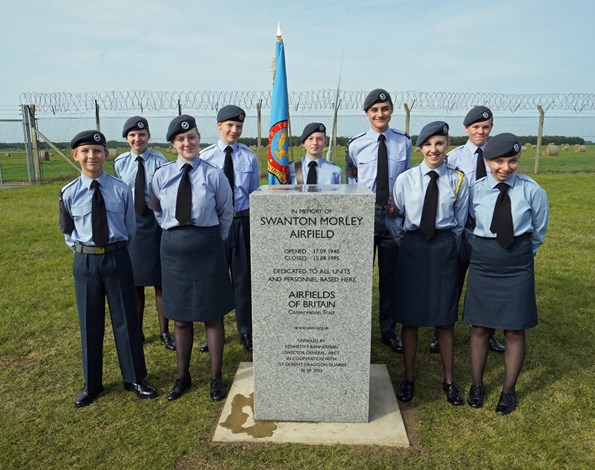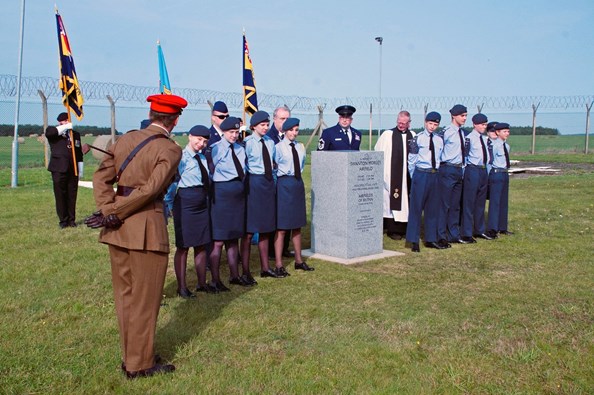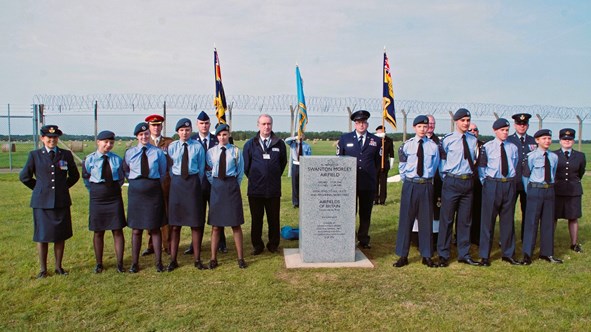 Rebecca the RAF donkey mascot at Swanton Morley, 1952. Courtesy of British Pathé
The closing ceremony of RAF Swanton Morley, 1995. Courtesy of Simon Waldron
| | |
| --- | --- |
| Satellite(s): | |
| Decoy Airfield(s): | |