| | |
| --- | --- |
| Also known as: | Houten (misspelling) / Houton / Houton Ferry Terminal / RAF Houton Bay / RNAS Houton Bay |
| County: | Orkney |
| Current Status: | Ferry terminal / Harbour / Hotel |
| Date: | 1917 - September 1921 (relinquished) |
| Current Use: | Disused |
| Used By: | RAF / RNAS |
| Landing Surface Types: | Water |
| Aircraft Roles: | Maritime patrol (main role) / Trainer |
Houton Bay began as a kite balloon station in 1916 to counter German airships during the First World War and was also home to a wireless telegraphy station. The threat from German U-boats in the North Sea and coming through the Fair Isle Channel to sink supply ships from the USA increased as the war continued. This was primarily due to an anti submarine boom being put in place across the English Channel. The need for seaplane aircraft to carry out long-range anti-submarine patrols in the area therefore arose.
A slipway and huts at Houton had been built in 1916 as it was planned to be a repair and maintenance base. However, in 1917 seaplanes began to move in as nearby Scapa Flow was deemed not suitable. Houton was home to No 306 (Flying Boat), No 430 (Seaplane) and 'F' Boat Seaplane Training Flights.
Buildings continued to be constructed while the base was operational and there were eventually three seaplane sheds, two slipways as well as workshops and other support buildings. The technical buildings were constructed around the north-east side of the bay with the kite balloon station to the west of the site.
The base stayed open briefly following the end of the First World War, closing in the early 1920s. Hardly any buildings remain today but concrete foundations plus the two slipways still survive, although not in the last case intact.
The following organisations are either based at, use and/or have at least potentially significant connections with the airfield (as at 01/07/2013):
Orkney Ferries
Orkneylodge - hotel, formerly Houton Bay Lodge
Orphir Community Council
Main unit(s) present:
No 306 (Flying Boat) Flight
No 430 (Seaplane) Flight
'F' Boat Seaplane Training Flight
Orkney Wing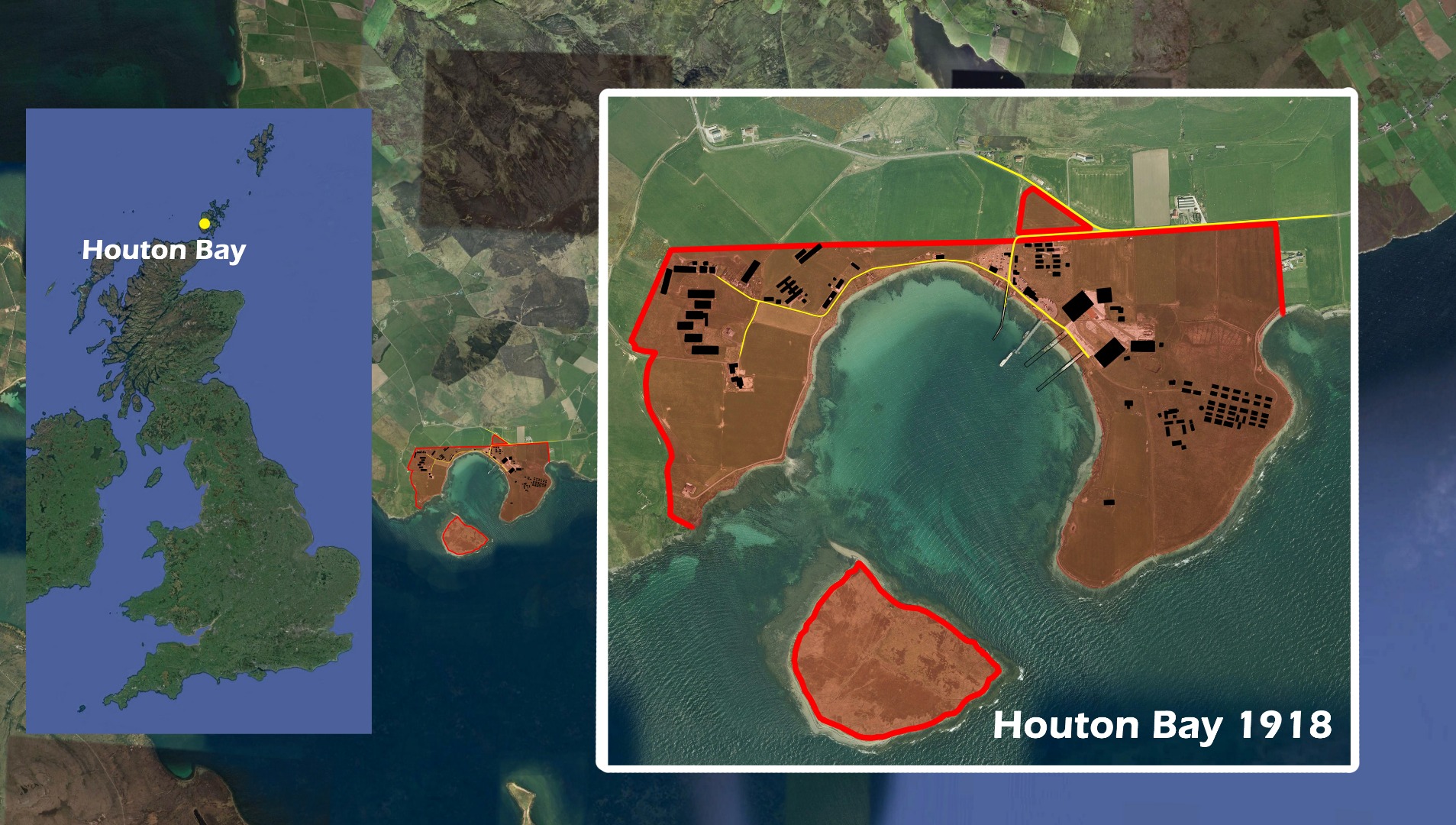 Plan of Houton Bay, 1918. Courtesy of Ed Andrews