Did you know?
"
Hawkinge was used as one of the locations for the 1969 film, Battle of Britain. Replica hangars and other buildings were built during 1968 and it was the site of one of the largest groups of Spitfires gathered since the retirement of the aircraft.
"
| | |
| --- | --- |
| Also known as: | Hawkinge Aerodrome / RAF Hawkinge / RFC Folkestone / RFC Hawkinge |
| County: | Kent |
| Current Status: | Housing / Museum |
| Date: | February 1915 - 8 December 1961; limited flying 1968 |
| Current Use: | Disused |
| Used By: | RAF (main user) / RAF (Belgian) / RAF (Czech) / RAF (Dutch) / RFC (main user) / FAA / Civil / RAAF / RCAF |
| Landing Surface Types: | Unpaved |
| Prominent People: | Michael Bentine |
| Aircraft Roles: | Air observation post / Aircraft preparation/storage / Airliner / Air-sea rescue / Anti-aircraft co-operation / Army aviation (main role) / Fighter (main role) / Fighter-reconnaissance / General aviation / Naval aviation / Reconnaissance / Trainer / Transport |
Hawkinge is famous for its contribution during the Battle of Britain but began life in February 1915 as RFC Folkestone. From 29 December 1916 being referred to by its far better known name. Little else than three Bessonneau hangars initially existed at the First World War airfield but towards the end of the conflict there emerged nine Belfast Truss hangars and a variety of other facilities. What soon became titled as No 12 Aircraft Acceptance Park was established at the airfield in the summer of 1917 to further co-ordinate the despatch of many aircraft to the Western Front and remained at Hawkinge until May 1919.
Fortunate to survive the First World War, through a mixture of its extensive facilities and geographical position, the interwar years primarily saw a number of fighter squadrons operate from Hawkinge. This included the reformed No 25 Squadron as the RAF's only home-based fighter unit from April 1920. This unit flew a large number of biplane fighter types here for many subsequent years including Sopwith Snipes, Gloster Grebes, Hawker Furies and Gloster Gladiators until eventually progressing to Bristol Blenheim monoplanes as 1938 ended. Aircraft storage, army co-operation and summer camps held for briefly visiting squadrons also took place during this period. 
No 25 Squadron left for Northolt in August 1939. Hawkinge's location as the closest major fighter base to occupied Europe ensured that the airfield played a key role in the Second World War. During the Dunkirk evacuation in May/June 1940 aircraft from Hawkinge provided essential air cover for the Allied forces. Hawker Hector army co-operation biplanes of No 613 Squadron mounted a few operations against German positions and performed remarkably well given general circumstances.
While the airfield's location was strategically very useful, it also meant that Hawkinge remained vulnerable to attack. German commanders planning Operation Sealion, the invasion of the UK, saw seizing Hawkinge as a priority in order to establish a Luftwaffe controlled airfield in Britain. On 19 July 1940 Messerschmitt Bf 109s shot down at least six Boulton Paul Defiants of No 141 Squadron in what became known as the 'Slaughter of the Innocents'. A direct result of this and other similar encounters was the conversion of Defiants to night fighters.
Following the evacuation from Dunkirk, the first of several major Luftwaffe raids occurred on 12 August 1940 and caused a large amount of damage to airfield buildings and the grass landing area, as well as five fatalities. Among later attacks in fairly quick succession one on 7 September directly hit the base headquarters as well as killing six people in the nearby village.
However, this did not deter the use of the airfield and aircraft from Hawkinge continued to make significant contributions to the war. No 421 Flight had arisen late on in 1940 to spot incoming Luftwaffe bomber fleets, and proved successful enough to become known as No 91 Squadron in January 1941, mainly staying until the summer of 1943. Further fighter squadrons provided aerial support in the run up to the D-Day landings in June 1944 and afterwards. The main runway was also extended so that Hawkinge could act as an emergency landing ground for returning damaged RAF and USAAF bombers. Another prominent wartime duty was air-sea rescue with various types such as Westland Lysanders, Supermarine Walruses and Sea Otters of No 277 Squadron using the airfield for a considerable period.
Hawkinge fell to Care and Maintenance status in November 1945 but returned to alternative forms of major use later on in the 1940s. Flying training was performed during the next decade through the Home Command Gliding Centre, though it primarily served as an instructional centre for what became the Women's Royal Air Force, before finally closing in December 1961. The airfield is now home to the Kent Battle of Britain Museum, founded in 1971 and reopened at Hawkinge in 1982. The museum was founded by the late Mike Llewellyn and contains many fascinating exhibits. Building work since the early 1990s has seen many houses now cover the majority of the rest of the site, despite mass protests by around 90,000 people. Hawkinge retains its status as one of Britain's greatest airfields.
The following organisations are either based at, use and/or have at least potentially significant connections with the airfield (as at 01/07/2013):
Cat & Custard Pot
Hawkinge Parish Council
Kent Battle of Britain Museum
Main unit(s) present:
No 1 Aircraft Delivery Flight

No 1 Coast Artillery Co-operation Flight

No 1 Gliding Centre

No 1 Home Command Gliding Centre

No 1 Sqn

No 2 Sqn

No 3 Armament Practice Station

No 3 Sqn

No 4 Sqn

No 6 Fighter Command Servicing Unit

No 12 AAP

No 16 Sqn

No 17 Sqn

No 25 Sqn

No 26 Sqn

No 38 Sqn

No 41 Sqn

No 56 Sqn

No 65 Sqn

No 66 Sqn

No 79 Sqn

No 83 Sqn

No 91 Sqn

No 120 Sqn

No 122 Sqn

No 124 Sqn

No 132 Sqn

No 157 (General Reconnaissance) Wing

No 166 EGS / SE166 EGS

No 166 GS

No 234 Sqn

No 245 Sqn

No 277 Sqn

No 278 Sqn

No 313 Sqn

No 322 Sqn

No 350 Sqn

No 402 Sqn

No 416 (Army Co-operation) Flight

No 416 Sqn

No 421 (Reconnaissance) Flight

No 441 Sqn

No 451 Sqn

No 453 Sqn

No 501 Sqn

No 504 Sqn

No 567 Sqn

No 605 Sqn

No 611 Sqn

No 613 Sqn

No 616 Sqn

No 658 Sqn

No 854 Sqn

No 855 Sqn

No 1334 Wing RAF Regiment
No 2709 Sqn RAF Regiment
No 2733 Sqn RAF Regiment
No 2767 Sqn RAF Regiment
No 2799 Sqn RAF Regiment
No 2813 Sqn RAF Regiment
No 2826 Sqn RAF Regiment
No 2828 Sqn RAF Regiment
No 2886 Sqn RAF Regiment
No 2955 Sqn RAF Regiment
No 3201 Servicing Commando
No 3203 Servicing Commando
No 3210 Servicing Commando

Aircraft Transport & Travel

ASR Flight

'D' (Army Co-operation) Flight

Home Command Gliding Centre

Pilotless Aircraft Section

WRAF Depot

WRAF Officer Cadet Training Unit
Photographs and video from the unveiling of the ABCT memorial marker on 11 July 2015: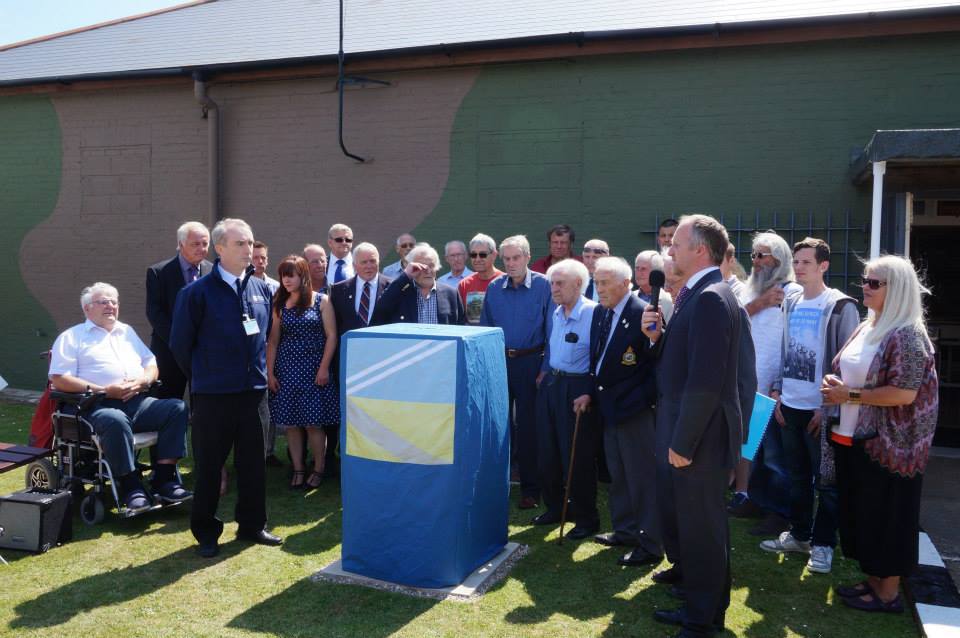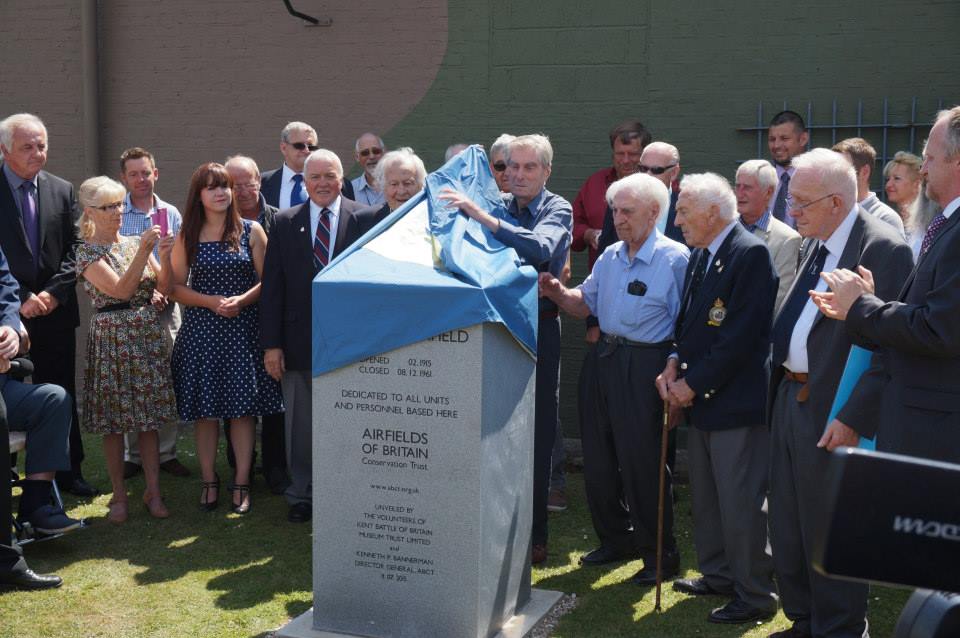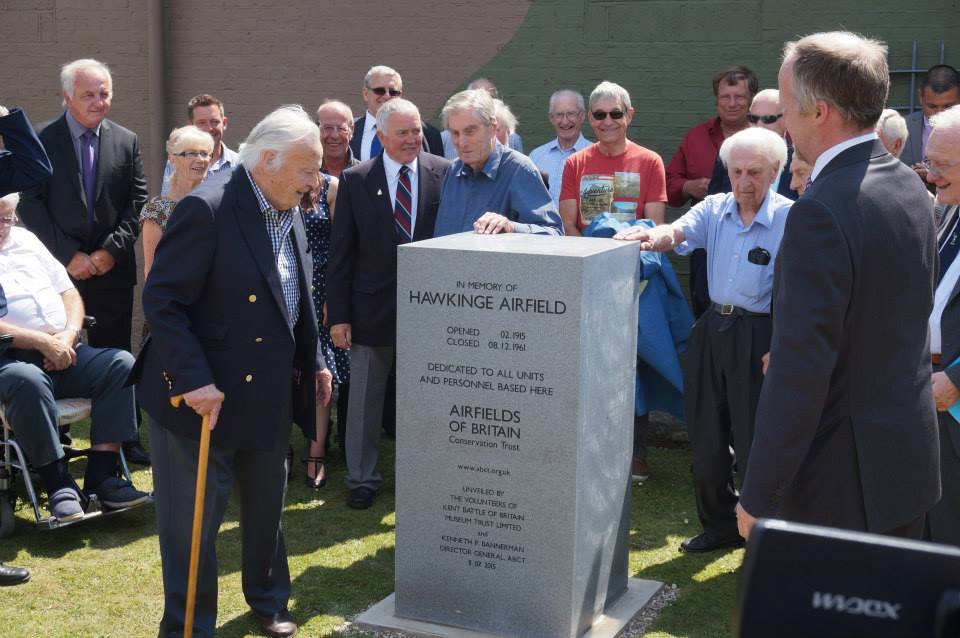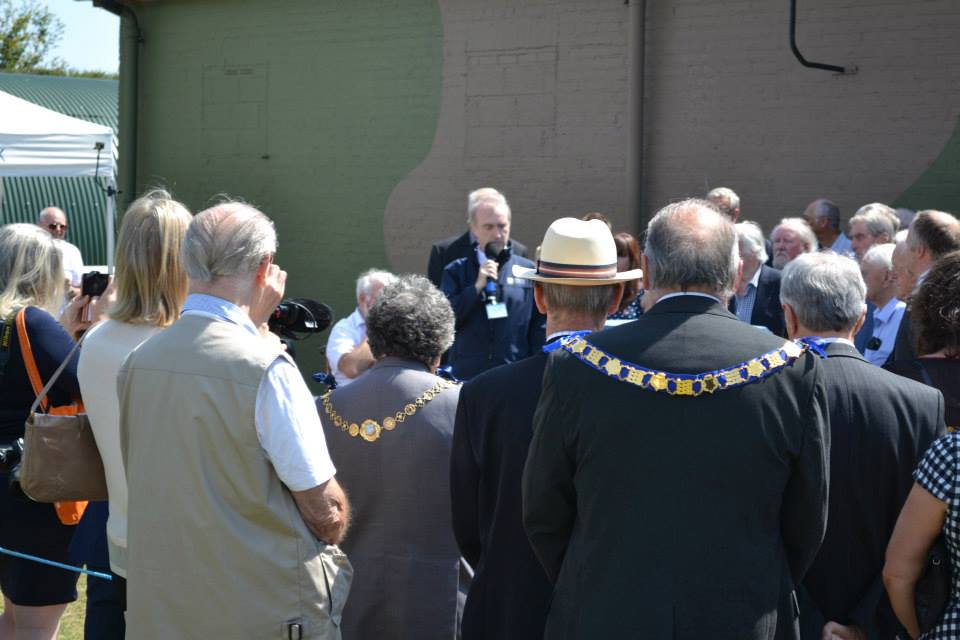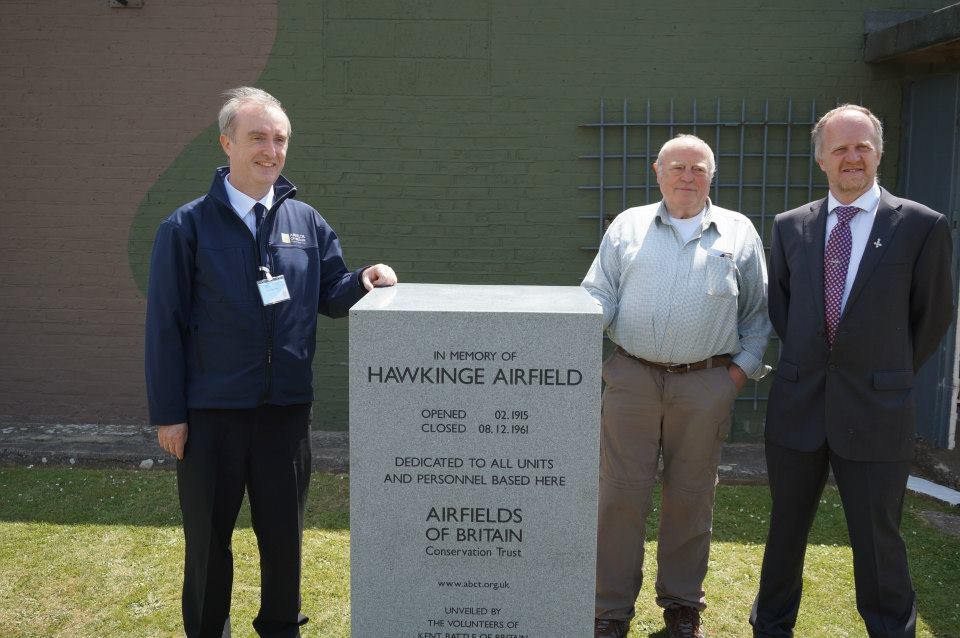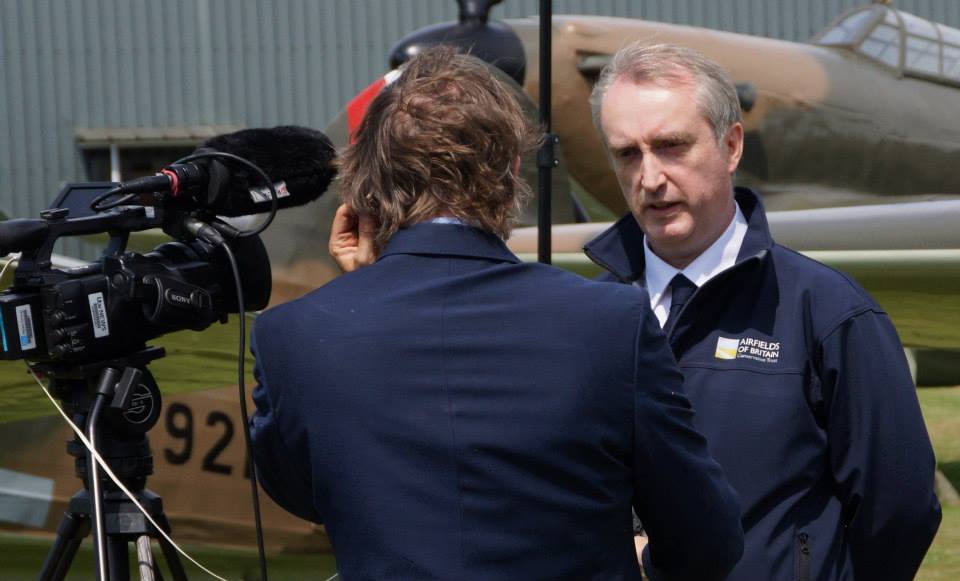 Footage from Hawkinge, 1919. Courtesy of British Pathé
Aerobatics at Hawkinge, 1933. Courtesy of British Pathé
Air Training Corps Gliding at Hawkinge, 1956. Courtesy of British Pathé
Footage taken during the filming of the Battle of Britain film at Hawkinge. Courtesy of Elvisdukebox
Behind the scenes footage of the filming of "The Battle of Britain" film. Including footage of Duxford, North Weald and Hawkinge, 1968. Courtesy of CVU500
Footage of Hawkinge on 8 June 2008. Courtesy of John Vaughan
The Officer's Mess at Hawkinge. Courtesy of IKS Exploration
A bunker at Hawkinge, 2010. Courtesy of IKS Exploration
| | |
| --- | --- |
| Decoy Airfield(s): | |
| Associated Airfield(s): | |