Did you know?
"
An industrial estate and otherwise anonymous fields hide the fact that Dundonald surely saved at least hundreds of thousands of lives through station resident No 516 Squadron providing simulated attack training and enable fully prepared Allied ground troops to safely land on the various Normandy beaches at D-Day.
"
| | |
| --- | --- |
| Also known as: | Dundonald Aerodrome / Olympic Business Park / RAF Dundonald |
| County: | South Ayrshire |
| Current Status: | Farmland (main position) / Industry (main position) / Leisure activity |
| Date: | 21 March 1940 - 1 August 1945 |
| Current Use: | Disused |
| Used By: | RAF (main user) / FAA |
| Landing Surface Types: | Unpaved, later metal (1943) |
| Aircraft Roles: | Combined Operations training (main role) / Fighter-reconnaissance / Naval aviation / Trainer |
Almost impossible to either comprehend or visualise today but Dundonald played a remarkably big part in D-Day being the tremendous success this momentous event became. First employed as a RLG for de Havilland Tiger Moths of No 12 Elementary Flying Training School at Prestwick from March 1940 until the unit disbanded a year later, it then took until October 1942 for the airfield to really start making a major mark upon general events.
Precursor of that change was No 1441 (Combined Operations Development) Flight which had originally formed at Abbotsinch the previous January. Equipped with a small number of diverse aircraft ranging from Hawker Hurricanes and North American Mustangs to Bristol Blenheims and Westland Lysanders, its role was to assist the other armed services with realistic training for an eventual invasion of Europe. Expanded and renamed as No 516 Squadron in April 1943, Dundonald-based aircraft participated in a remarkable mixture of exercises until after D-Day, including practice attacks with live ammunition, smoke screen laying and aerial close support. These activities frequently had to be flown at low level and often proved extremely dangerous as aircraft flew across many stretches of beaches and sea areas, primarily in and around the Firth of Clyde but often much further afield.
Activity at Dundonald yet more intensified in the final few months preceding D-Day as a number of RAF and particularly FAA Supermarine Seafire squadrons briefly passed through for especially bombardment spotting courses. Inevitably the Allied advance in continental Europe after June 1944 brought much less work for No 516 Squadron and the unit disbanded on 2 December 1944. After some little use as an ELG, Dundonald closed on 1 August 1945. The land was eventually derequisitioned in 1952 and taken up by textiles firm Monsanto in the 1960s.
Today this unsung airfield is home to a major industrial business park and has served as such since the mid-1980s. A few traces can still be seen of its past, notably some rare sections of its original two metal runways. A Mains naval hangar which is readily visible from the main road running between Kilmarnock and Troon is not original as Dundonald was only ever equipped with a couple of Blisters for hangarage.
The following organisations are either based at, use and/or have at least potentially significant connections with the airfield (as at 01/09/2011):
Acreburn Ltd
Arran - Sense of Scotland - formerly Arran Aromatics
Braemar Finance
C I C S Ltd
Corporate Jets Ltd
D2 Trading Ltd
DBC Food Service
Drive Business Ltd
Dual Fitness
Dundonald Community Council
Dundonald Library
Enrich Consulting
Funky Power
Grant Welsh Commercials
Home Textiles Ltd
K S M International Ltd
Lamar UK Ltd
Longlife Custom Stainless Exhausts Ayrshire
McDonald Transport
mobilevalet.scot
Pacific Shelf 1348 Limited
PFP 2000 Ltd
Pickfords Business Moving
Planet Performance
Sovereign Blinds
Tower Tools & Equipment Ltd
USC Group Ltd
Warrix Flying Group
West Coast Capital
Main unit(s) present:
No 2 Sqn
No 12 EFTS
No 18 Sqn
No 26 Sqn
No 63 Sqn
No 268 Sqn
No 414 Sqn
No 516 Sqn
No 808 Sqn
No 879 Sqn
No 885 Sqn
No 886 Sqn
No 897 Sqn
No 1441 (Combined Operations Development) Flight
Photographs from the unveiling of the ABCT memorial marker on 16 October 2010: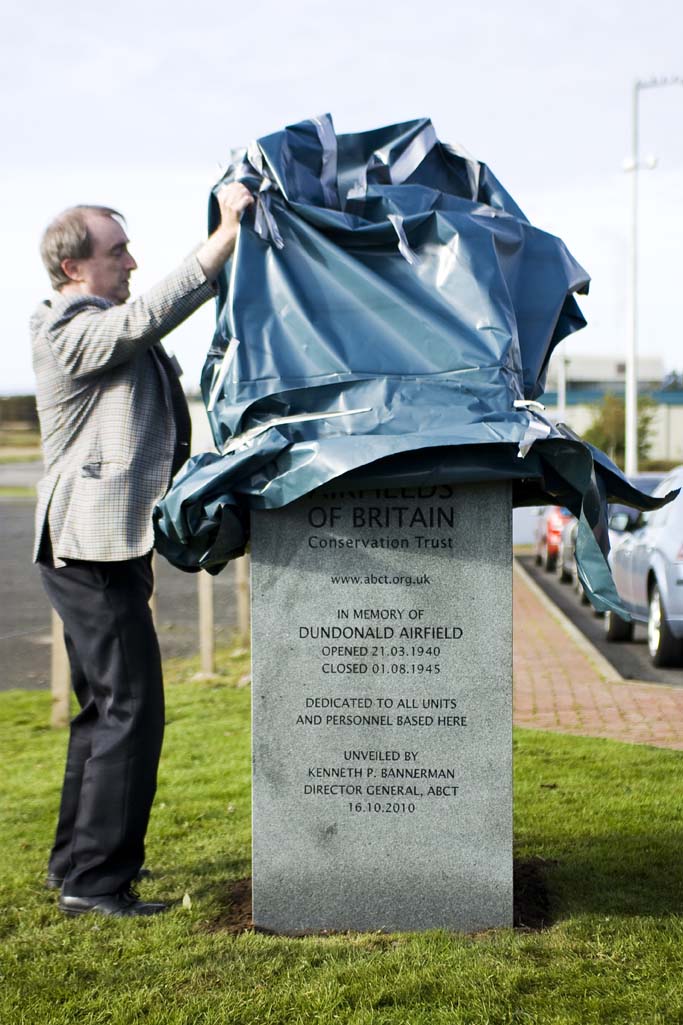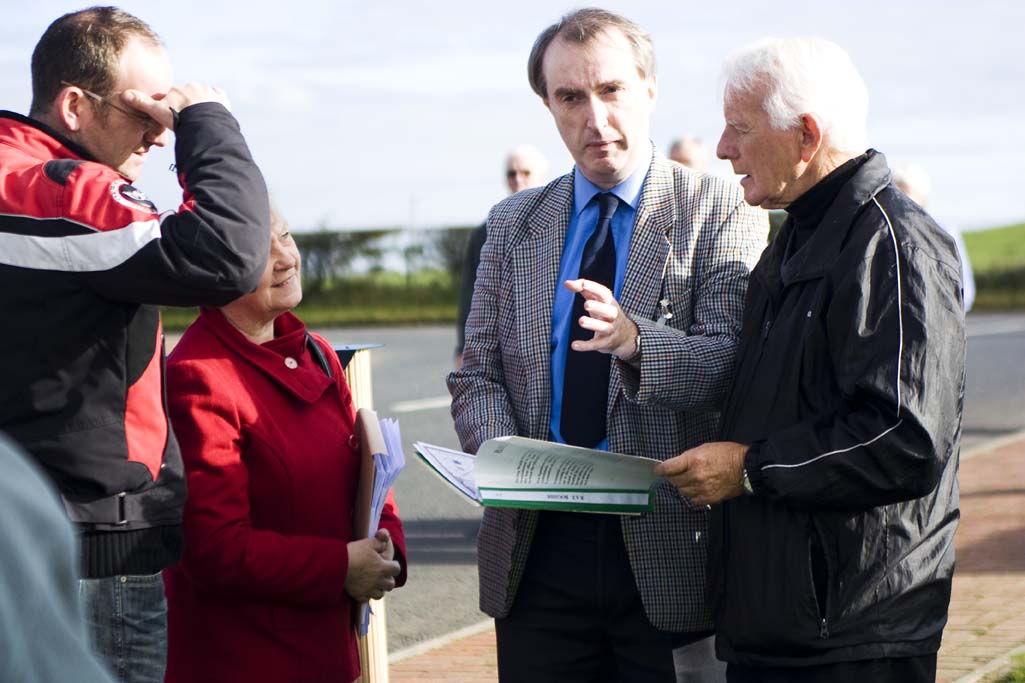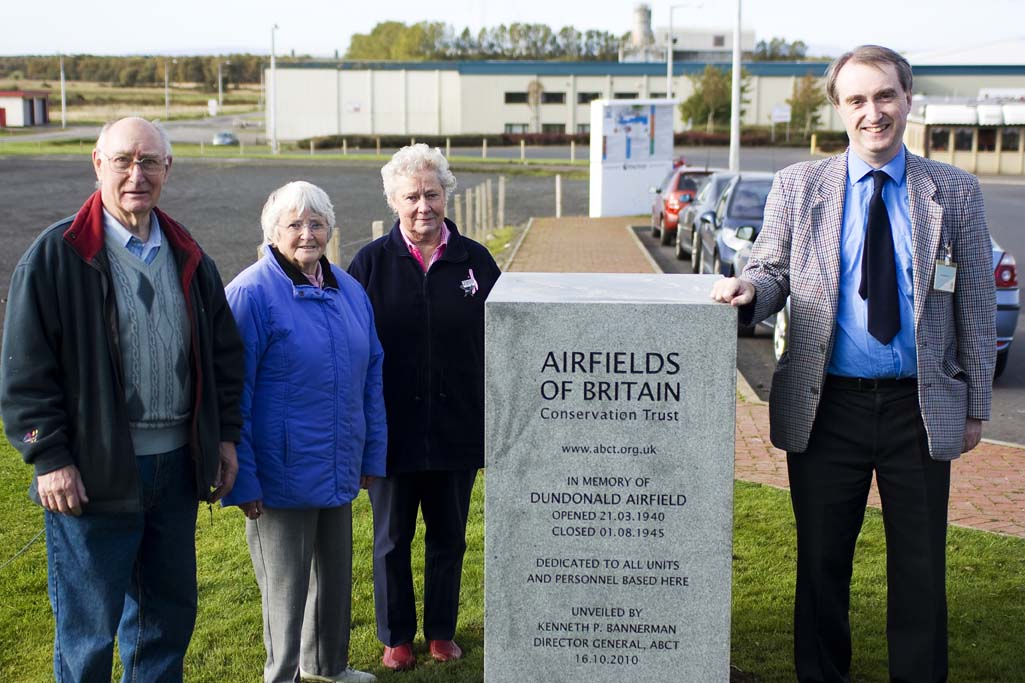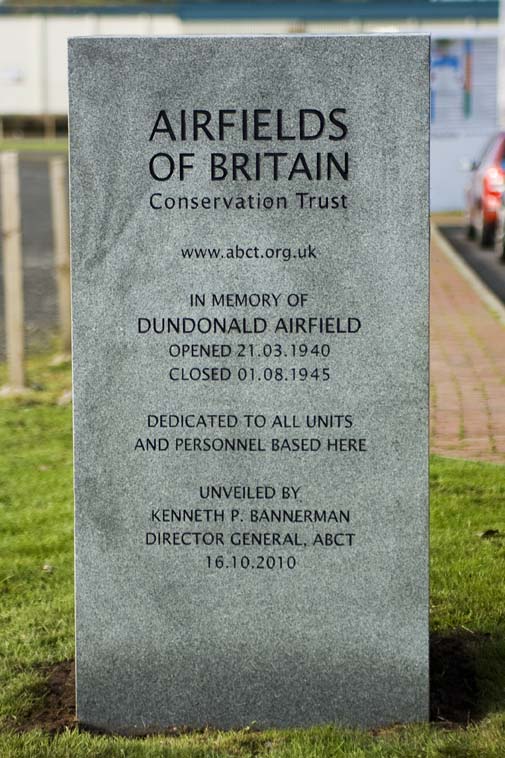 | | |
| --- | --- |
| Parent(s)/HQ Airfield(s): | |