Did you know?
"
In 1989 RAF Binbrook alongside RAF Little Rissington served as the USAAF airfield for filming the 1990 movie Memphis Belle.
"
| | |
| --- | --- |
| Also known as: | Binbrook Aerodrome / Binbrook Technical Park / Binbrook Trading Estate / Binbrooke (misspelling) / Brookenby / Brookenby Business Park / RAF Binbrook |
| County: | Lincolnshire |
| Current Status: | Farmland (main position) / Housing (main position) / Industry (main position) / Museum |
| Date: | 27 June 1940 – 12 July 1992 |
| Current Use: | Disused |
| Used By: | RAF (main user) / FAA / RAAF (main user) |
| Landing Surface Types: | Unpaved, later paved (1943) |
| Prominent People: | Hughie Edwards |
| Aircraft Roles: | Anti-aircraft co-operation / Bomber (main role) / Fighter (main role) / Military development/support / Naval aviation / Target facilities / Trainer |
Forming part of the distinctively isolated Lincolnshire Wolds, famous RAF bomber, and later fighter, base Binbrook opened in June 1940 and in time saw three of the most familiar aircraft types in RAF service. Slow construction work meant it remained an incomplete late Expansion Period grass airfield when the station initially welcomed Nos 12 and 142 Squadrons which had returned from their ill-fated French sojourn with Fairey Battle single-engined bombers. Vickers Wellingtons replaced these outmoded aircraft in the autumn, No 12 Squadron relocating to Wickenby in September 1942 for Binbrook to receive hard runways.

Once back in action from May 1943, Binbrook accommodated Avro Lancasters of the Australian-manned No 460 Squadron which remained heavily in action until the end of World War Two (they are still much remembered today for their exploits and presence with a unit memorial in Binbrook village). This squadron quickly left in peacetime, more Bomber Command squadrons equipped with Avro Lincolns arriving until the early 1950s.

Aircraft development was as ever ongoing and both of the English Electric company's most famous products (the Canberra and Lightning) established extremely strong links with Binbrook as the airfield itself turned into a key player in the Cold War. The 1950s first saw the Canberra jet bomber establish roots in the RAF here, long resident units, as was by now standard RAF policy, including Nos 9 and 101 Squadrons gradually converting from Lancasters and then Lincolns to this new superb aircraft. A decade later, and after a period of closure during 1960-62 for reconstruction, Binbrook switched to Fighter Command for the introduction of the equally popular Lightning supersonic fighter which perhaps above all was most associated with the airfield. Many a time, between 1965 and the type's retirement in 1988, intruding Russian aircraft over the North Sea would encounter these rugged aircraft operated by Nos 5 and 11 Squadrons.

Binbrook's fortunes dramatically declined once the Lightnings left. The airfield continued as a Relief Landing Ground for Scampton, while a military gliding school also helped to maintain activity, but official closure finally occurred in the summer of 1992.  The next few years saw many of the facilities and especially the landing area suffering the most brutal and unwarranted destruction, leaving this most distinguished place looking much sadder. Thankfully the main C1 hangars still survive, as do many technical site buildings – albeit often in a rundown condition – as part of an industrial estate, though the main beacon of hope for the future is the new village of Brookenby which was the former service married quarters area and arose as the airfield finally closed. Buildings which one resounded to RAF personnel now accommodate elements such as the local church and community centre and fortunately illustrate how Britain's airfields will never fade away. 
The following organisations are either based at, use and/or have at least potentially significant connections with the airfield (as at 01/07/2013):
ABS Motor Sport
Alpine Cold Stores Ltd
Bill Blackmore
Binbrook Church of England Primary School
Binbrook Parish Council - name only
Brookenby Parish Council
Cartledge
Chestnut Trading Ltd
Classic Furniture (Binbrook) Ltd
Cosmic Fireworks
Credenza Seaproducts Ltd
Dundurn Foods
Fishgate Ltd
Frame And Log
G.R.P Lighting Ltd
Garness Jones
Lifestyle Express
Limelight Theatre
Lincolnshire Aircraft Preservation Trust
New Century Industrial
Panda Fireworks Ltd
PlanesTV.com Ltd
Pure Azure LLP 
Roland International Seafoods Ltd
RPC Welding & Fabrication Ltd
St. Mary & St. Gabriel's Church, Binbrook
St. Michael and All Angels Church,  Brookenby
Structured Conduits Ltd
The Bar - former RAF Sergeants Mess
The Defiant
Thoresway Parish Meeting
Thorganby Parish Council
Winchester Marine Ltd 
Main unit(s) present:
No 1 Gp TT Flight

No 5 Sqn

No 9 Sqn

No 11 Sqn

No 12 Base

No 12 Sqn

No 50 Sqn

No 64 Sqn

No 85 Sqn

No 101 Sqn

No 109 Sqn

No 139 Sqn

No 142 Sqn

No 460 Sqn

No 617 Sqn

No 643 VGS

No 819 Sqn

No 849 Sqn

No 849B Flight

No 1481 (TT) Flight

No 1481 Target Towing and Gunnery Flight

No 2842 Sqn RAF Regiment

Air Bomber Training Flight (No 1 Gp)

Air Fighting Development Sqn

Bomber Command Acceptance and Modification Unit

Bomber Command Aircraft Maintenance Unit

Bomber Command Jet Conversion Flight

Bomber Command Supply Support Unit

CFE

Day Fighter Combat Sqn

Instant Readiness Reserve Unit

Lightning Augmentation Flight

Lightning Special Engineering Project Team

Lightning Training Flight
Photographs from the unveiling of the ABCT memorial marker on 2 August 2014: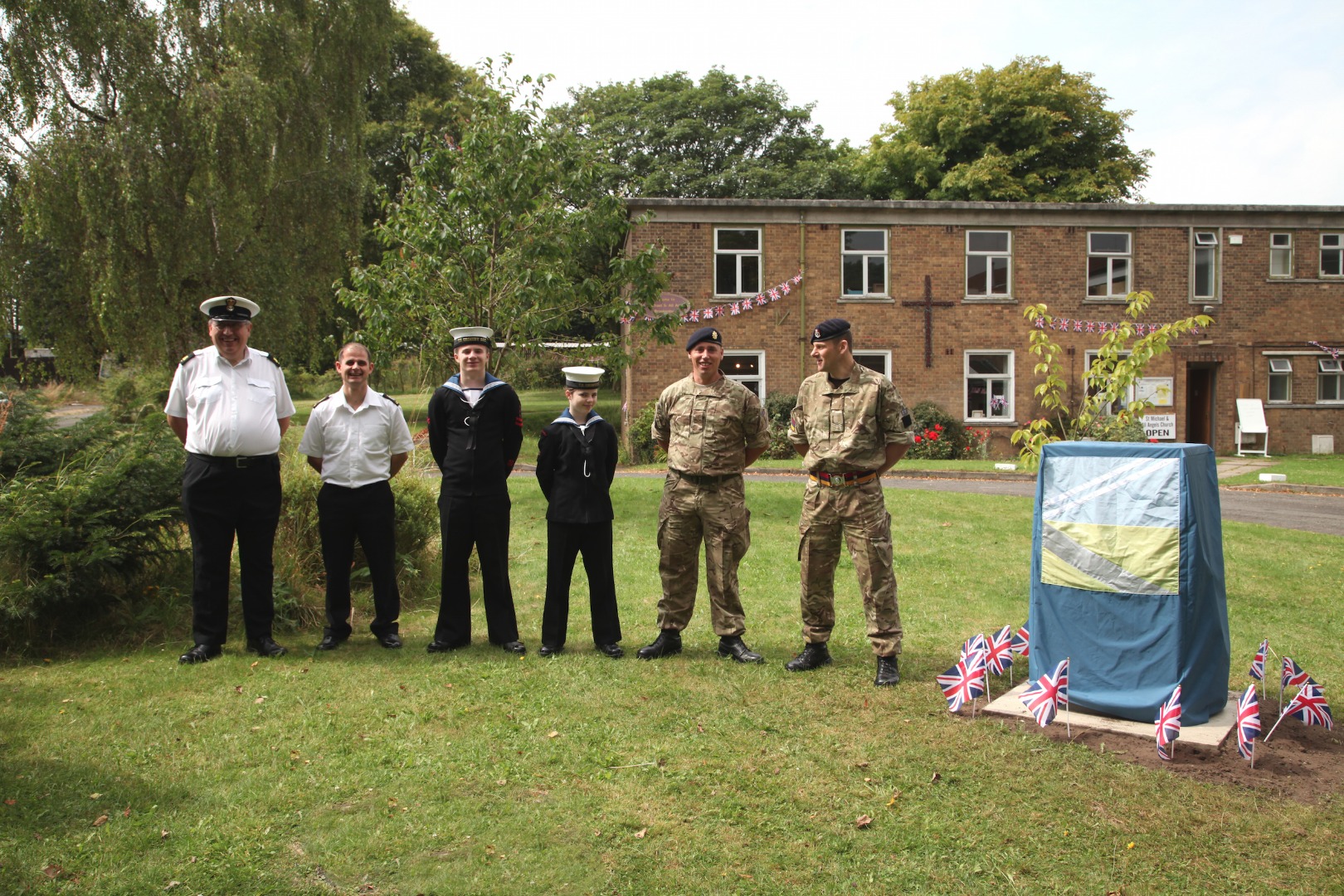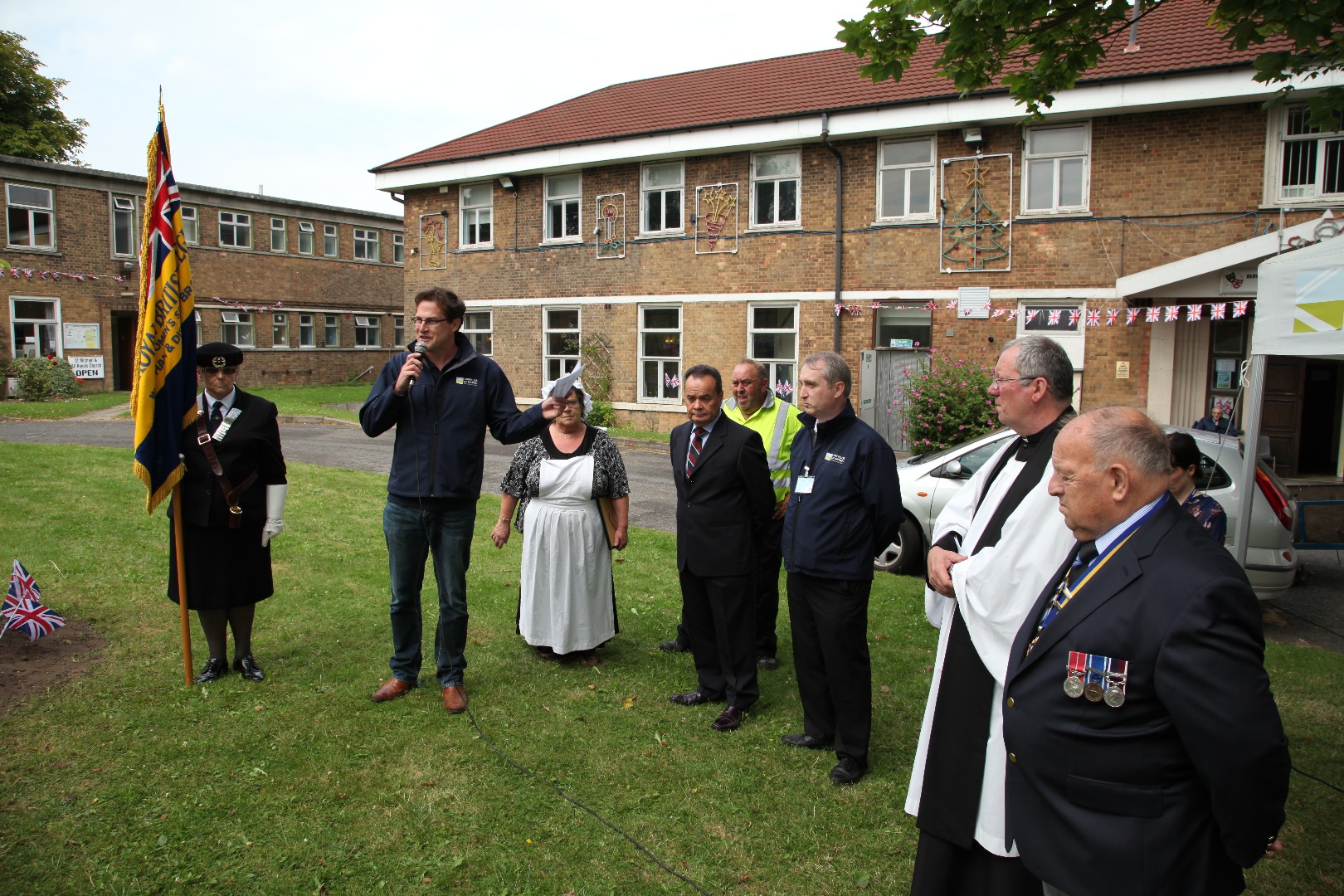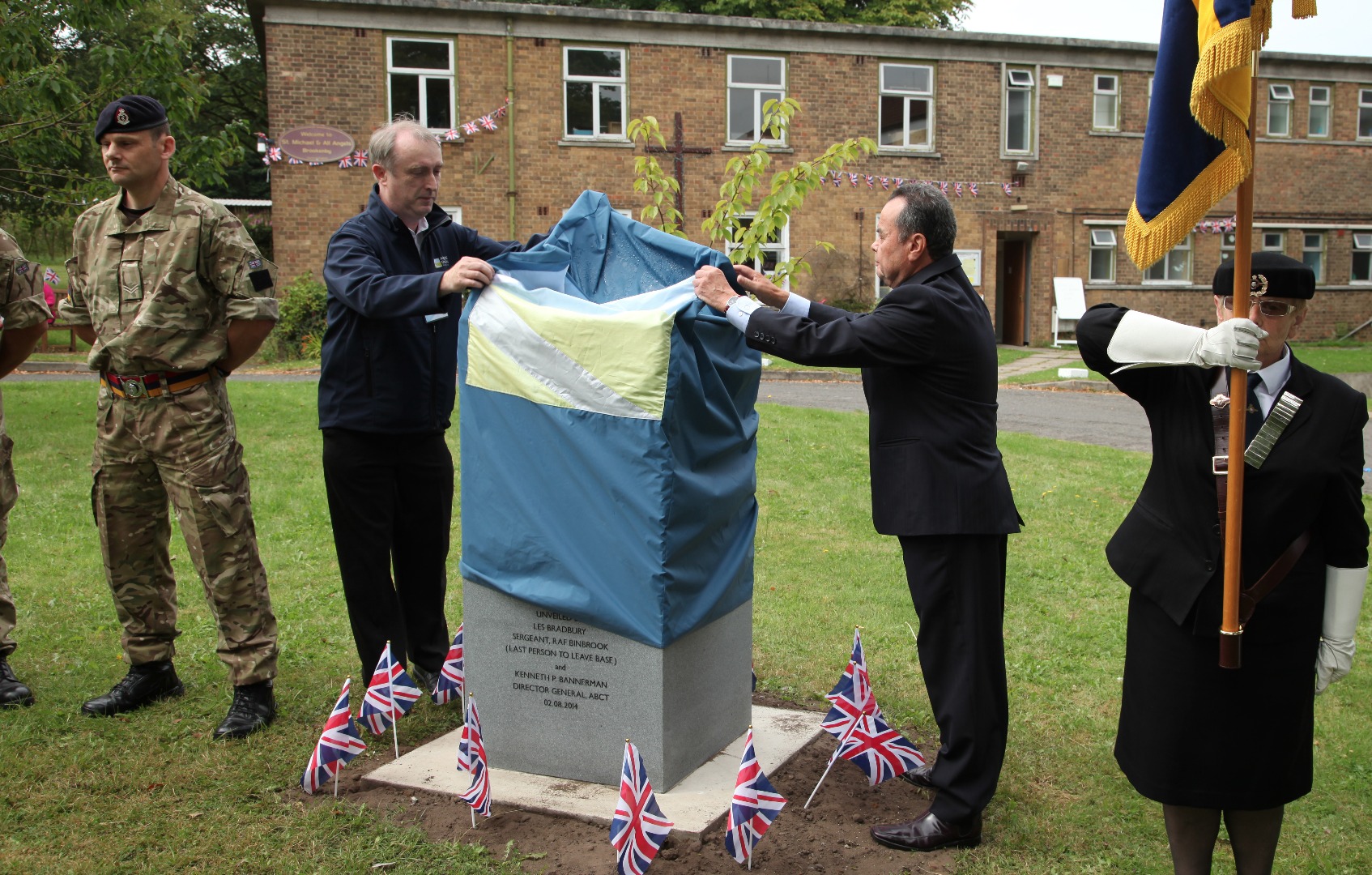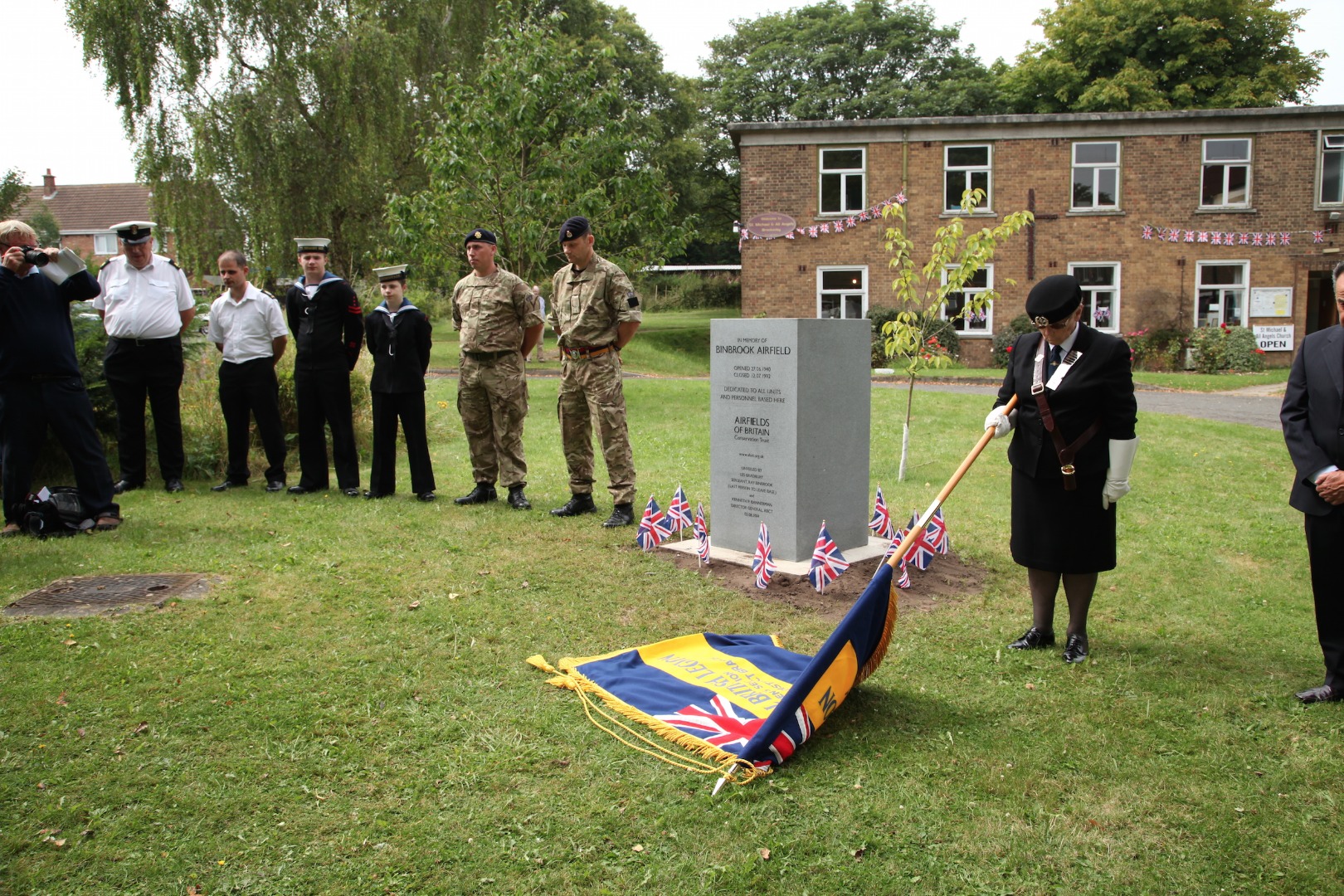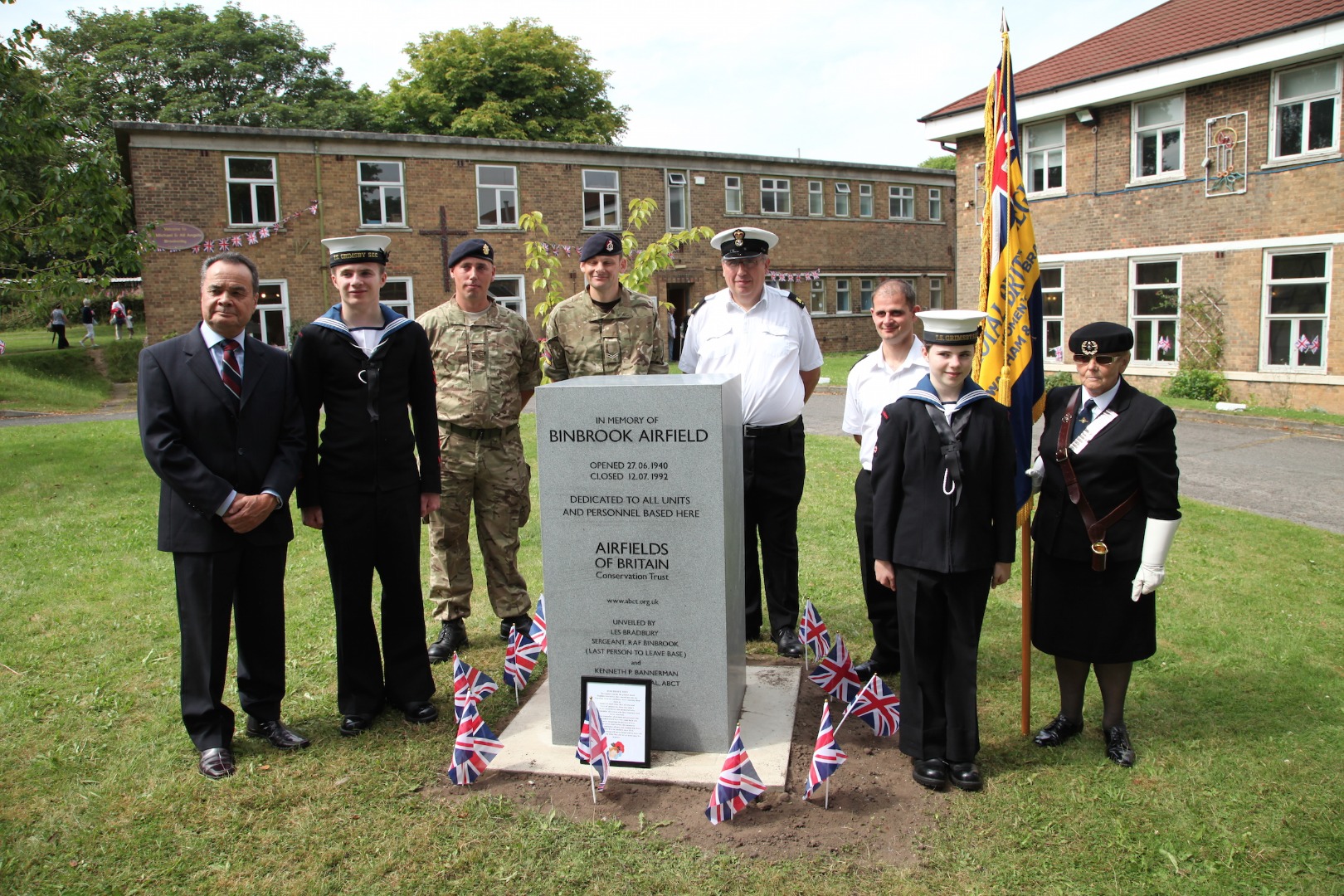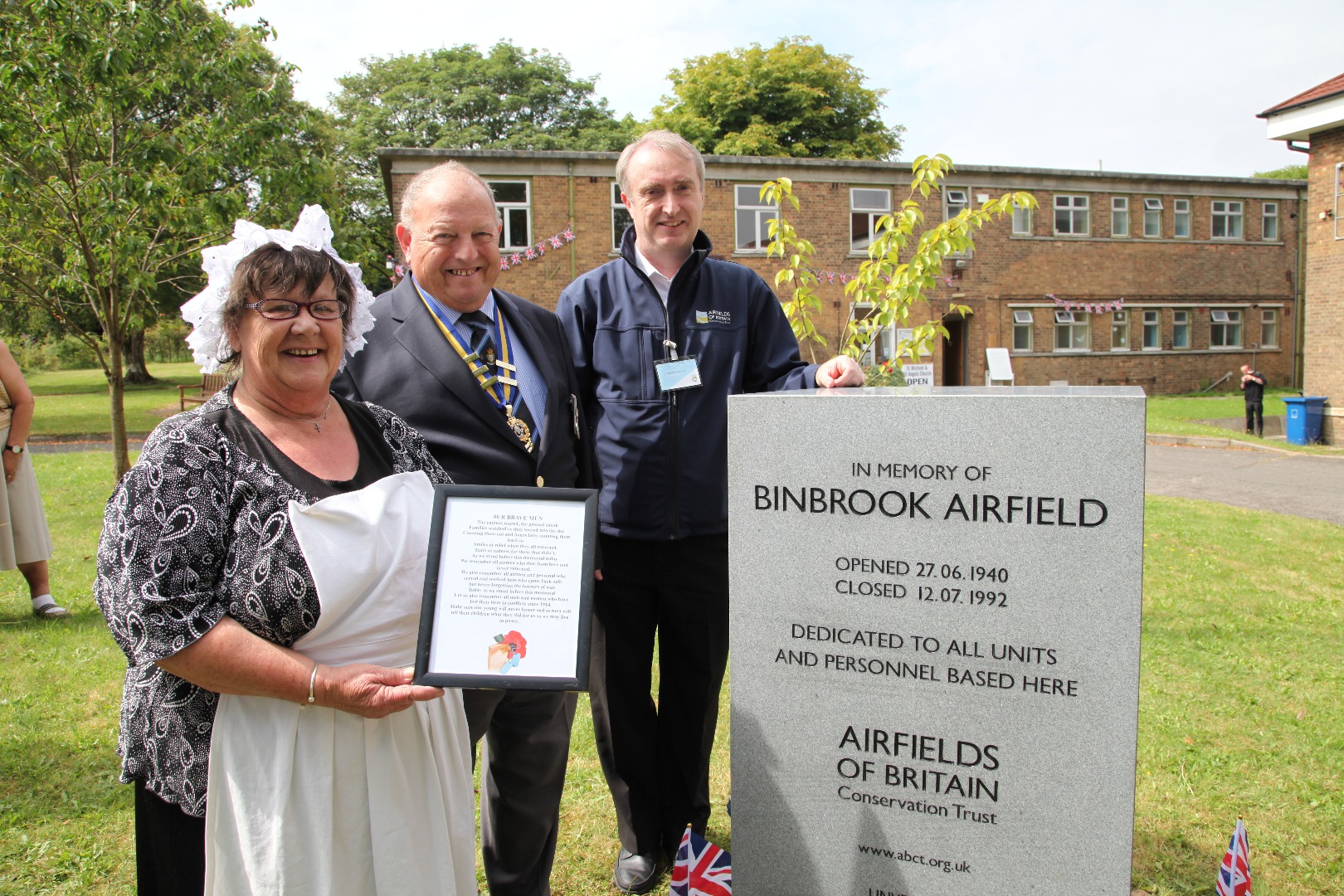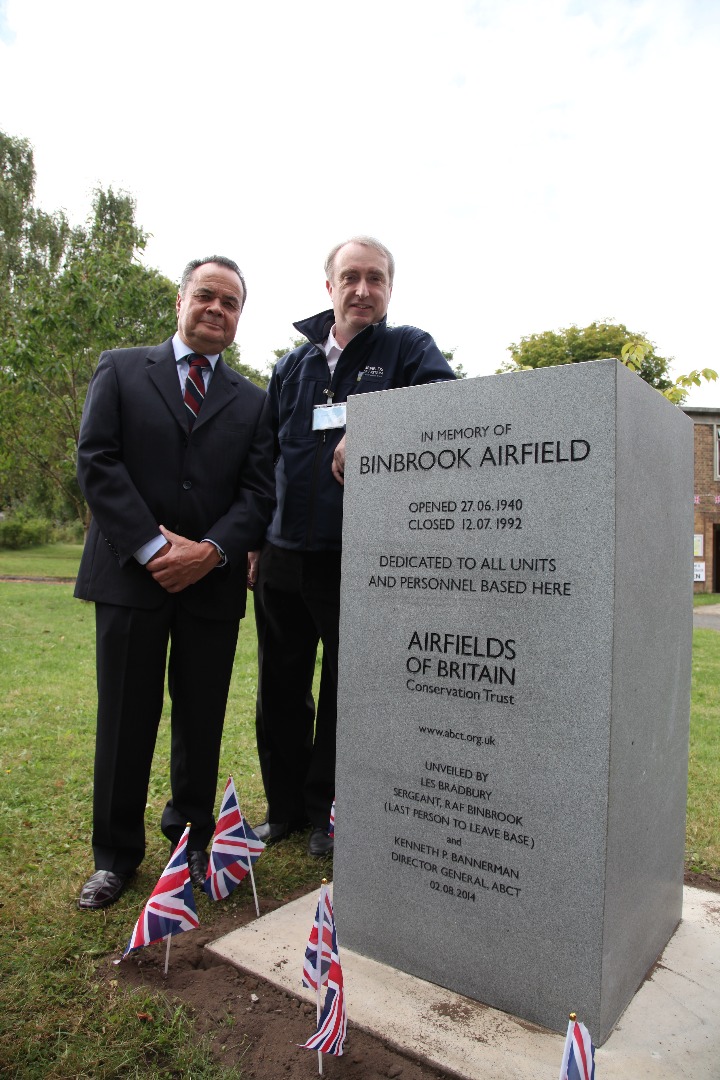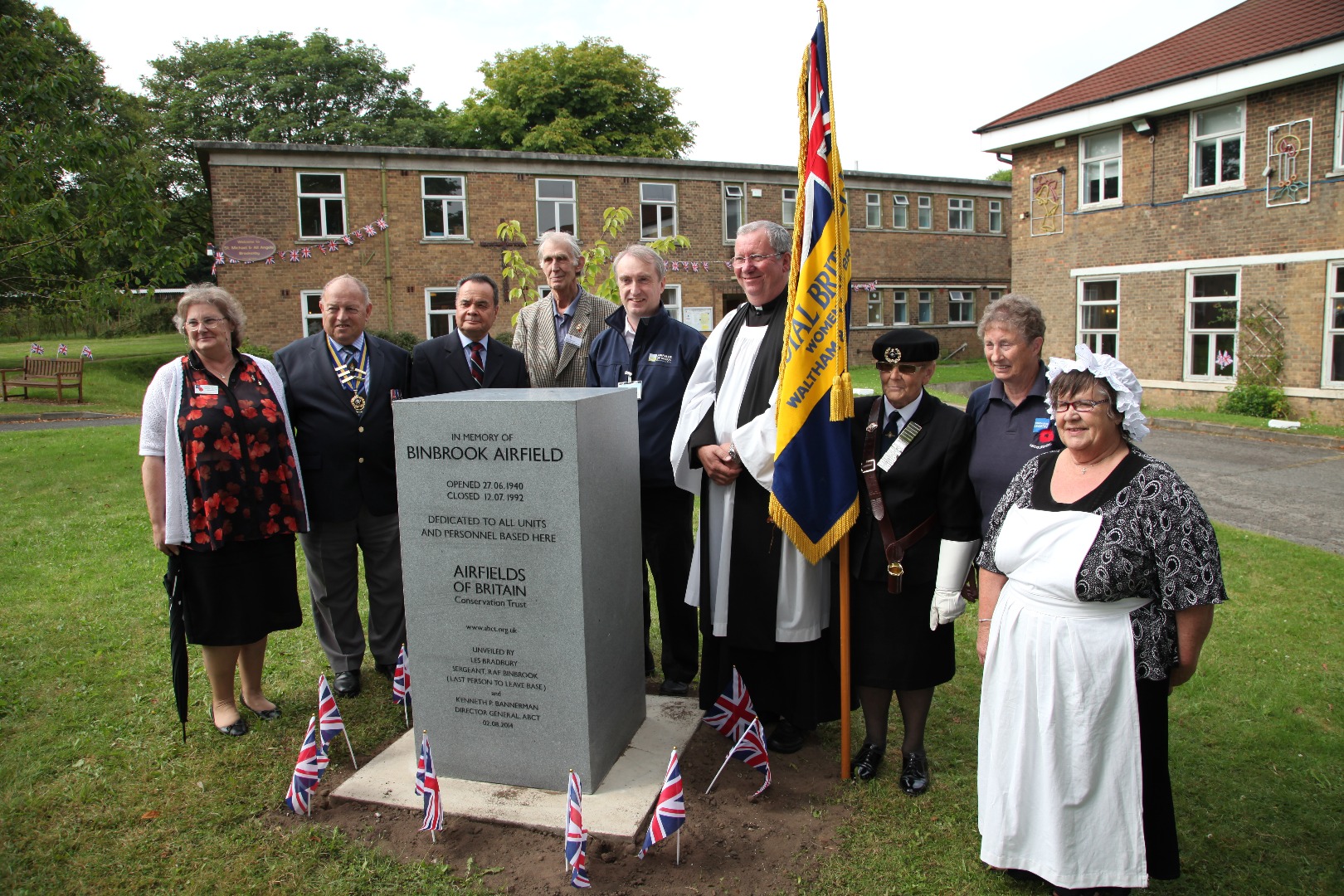 English Electric Canberras at Binbrook, 1952. Courtesy of British Pathé
English Electric Lightnings at Binbrook, 1987. Courtesy of farmerkristian
English Electric Lightning XR724 returns to Binbrook, 1992. Courtesy of PlanesTV
Footage from Binbrook, 1994. Courtesy of usafe
Demolition of the Officer's Block, 26 February 2011. Courtesy of Andrew Robinson
Aerial footage of Binbrook, 2016. Courtesy of Richard Lawson
| | |
| --- | --- |
| Bomber Command Base Sub-Station(s): | |
| Decoy Airfield(s): |   |