| | |
| --- | --- |
| Also known as: | Billesley Aerodrome / Birmingham / RFC King's Heath |
| County: | Warwickshire |
| Current Status: | Housing |
| Date: | 23 July 1915 - January 1921 |
| Current Use: | Disused |
| Used By: | RFC / Civil |
| Landing Surface Types: | Unpaved |
| Aircraft Roles: | Fighter / General aviation |
Occasional early glider and model aircraft flying had occurred at Billesley long before World War One, as well as the odd individual full-sized aircraft giving demonstration flying, but regular airfield use only began when the Midland Flying School started operations on 23 July 1915. After gales in early 1916 had badly damaged the airfield, the Horace Wright Aviation Company soon took over the school, another school then also opening during 1917. 
From the previous year Billesley had also become a Home Defence landing ground for No 38 Squadron. Officially known in this capacity as King's Heath, Royal Aircraft Factory FE2b fighters of No 38 Squadron had the airfield available to them into the initial months of 1918.
Historical information about this place continued to be patchy into peacetime but Billesley continued to be a recognised and licensed civil airfield for a time afterwards. Three Avro 504Ks of the Vickers company drew great crowds in August 1919 for joy-riding, and the Berkshire Aviation Company provided a similar activity in October 1920. This was the last recorded use of Billesley but by then the nearby farm and surrounding land had already been earmarked for housing which remains today.
The following organisations are either based at, use and/or have at least potentially significant connections with the airfield (as at 30/04/2019):
Billesley Primary School - where memorial plaque sited
Kings Heath Library
King's Heath Local History Society
South Yardley Library
Yardley Wood Library
Main unit(s) present:
No 38 Sqn
Berkshire Aviation Company
Horace Wright Aviation Company
Midland Flying School
Photograph of the plaque at Billesley. Courtesy of Helen Mallard and Billesley Primary School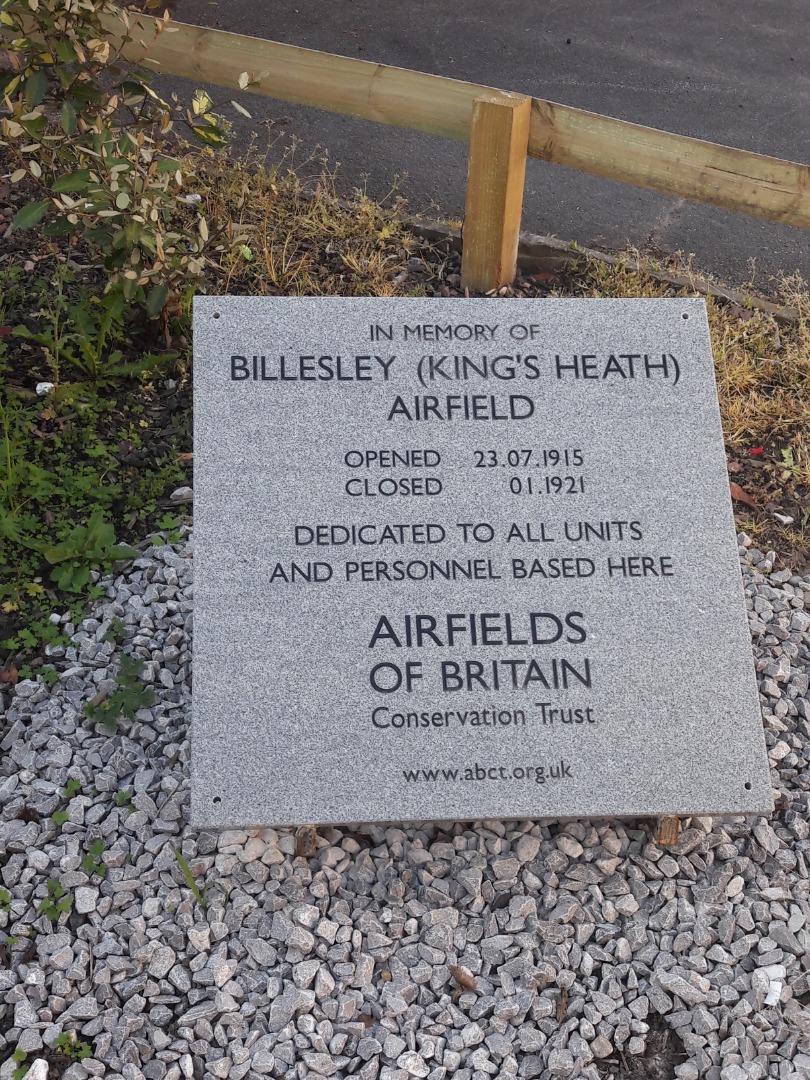 | | |
| --- | --- |
| Home Defence Flight Station(s): | |